It's widely accepted that if you want to wear stunning shoes, you're going to have to sacrifice a little pain. But these 15 comfortable bridal shoes prove that it isn't true.
Every woman wants to look fairytale beautiful on her wedding day and she deserves to do so.
The dress, the hair, the makeup – all of it has to be perfect. When it comes to putting the ensemble together, ignoring the shoes is a big no-no.
But it's not just the look of the shoes that matters. In fact, the comfort level often trumps style when it comes to wedding shoes because you'll want to be able to wear them all night and day and successfully make it down the aisle without any pain.
These 15 comfortable bridal shoes are the perfect choice for those brides that refuse to spend their wedding day with heel pain.
1. Chloe Ballet Flats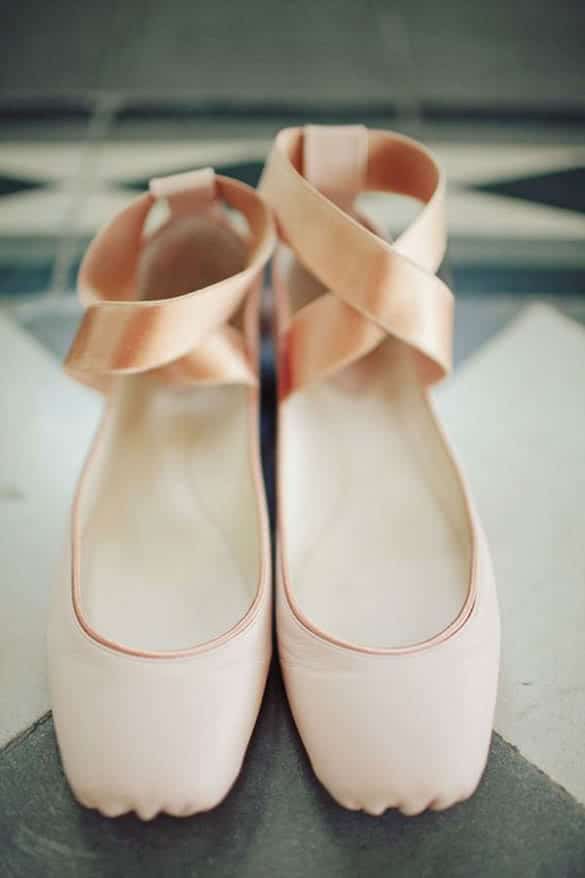 These beautiful ballet flats are not only chic and classy, they'll also have your feet thanking you while you and your new husband take to the dance floor.
With a very light pink hue that will accent even the whitest wedding dress perfectly and a touch of gold in the ankle straps, these comfortable flats are the perfect choice for an elegant look without all the jazz of the high heels and embellishments.
2. Badgley Mischka Gigi Pointed Toe Flat Evening Shoe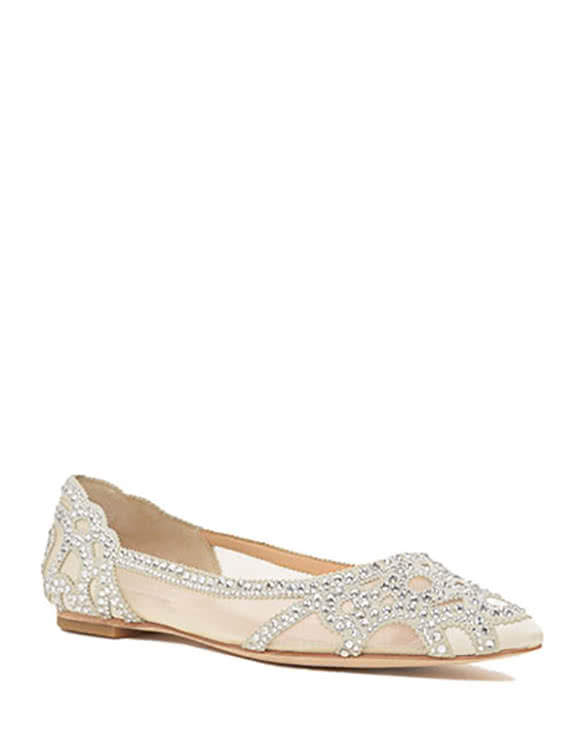 Another pair of comfortable flats, the Gigi Pointed Toe Flat Evening Shoe is the perfect addition for any comfort conscious bride.
The satin will feel amazing against your feet and the pointed toe will add a little more oomph to your look. Equipped with mesh insets on the sides on toes for optimum comfort and embroidered with embellishment, this comfortable bridal shoe will have you jumping for joy well into your wedding night.
3. Phoebe Lace Wedges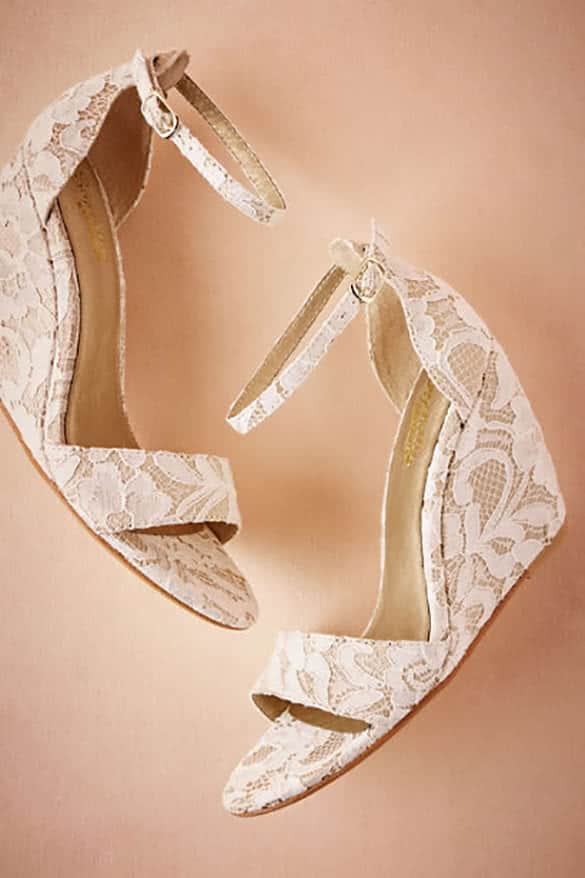 The Phoebe Lace Wedges are perfect for any outdoor wedding and the wedge heel and open toe will allow your feet to breathe while not causing too much strain.
The floral lace covering the entire shoe along with a dainty ankle strap gives your wedding dress the extra femininity it needs to have you looking back on those pictures and wanting to wear it all over again.
The best thing about these bridal shoes and that they're so beautiful and comfortable that you'll want to and can wear them over and over again.
4. Amelia Heels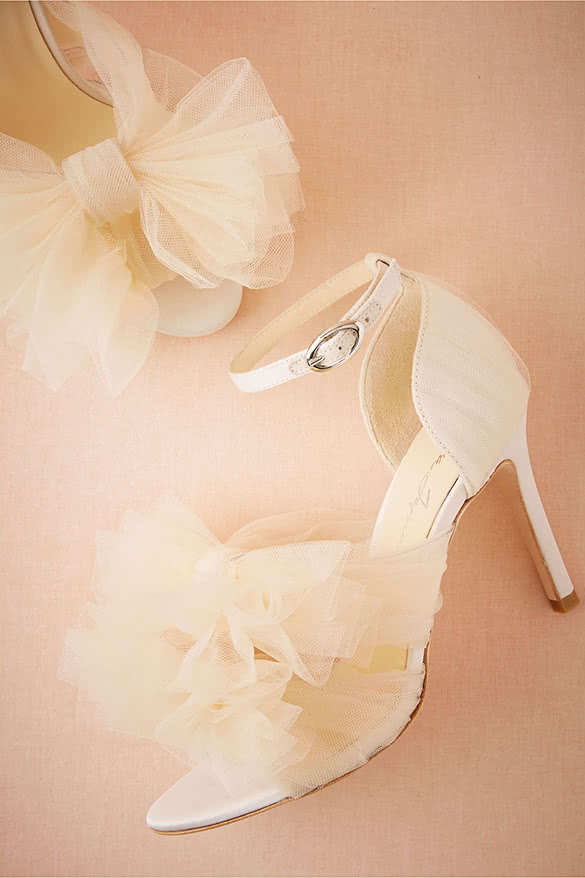 For the Carrie Bradshaw in all of us comes The Amelia Heel. Although heels don't seem all too comfortable for your big day, these are a smaller heel and since they're satin, they will feel like soft clouds covering your feet.
In the colour rose, these will accent any wedding colour scheme you choose and the flirty bow will add the needed romance that any wedding shoe deserves.
5. Nakita Embellished Evening Shoe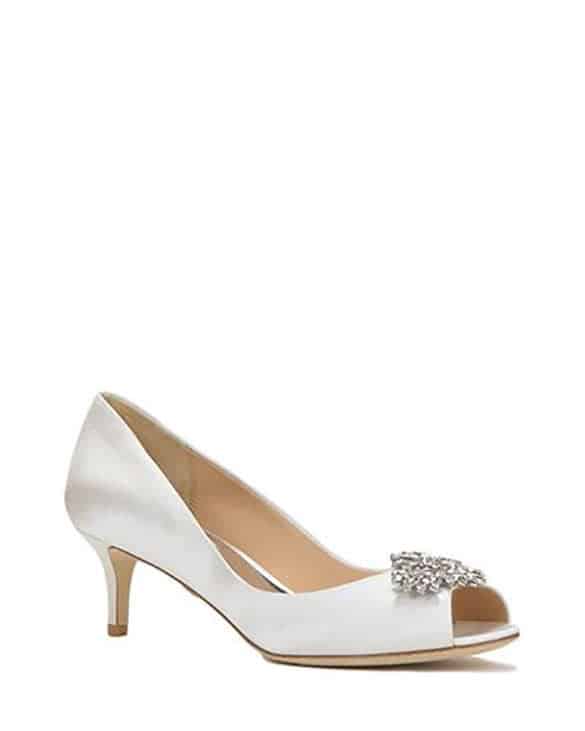 Another from Badgley Mischka, the Nakita Embellished Evening Shoe comes in the classic white hue with only a 2-inch heel height for that bride that wants the heel look without all the fuss.
The satin heel screams elegance and comes with a peep toe and a classic embellishment to add a little glam to your bridal look.
The peep toe will allow you to show off your perfectly pedicured toes all the while giving you the confidence to walk down the aisle and dance to the tune of your love.
6. Vintage Satin Chunky Heels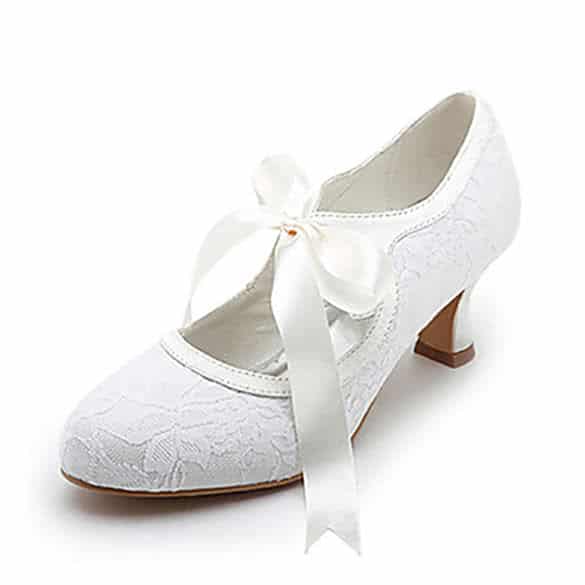 The vintage look is huge right now and these shoes will fit right in with your wedding day if your paying homage to all that is classically beautiful. With a heel that is less than 3 inches and satin lace combo, this shoe will look beautiful and feel beautiful.
A lace ribbon tie comes just below the ankle and the closed toe makes it so that you can wear this shoe anytime of the year. The classic white will match your dress perfectly if you decide to stay elegant with ivory.
This shoe is perfect for any wedding lover that won't sacrifice comfort for style but refuses to sacrifice style for comfort. And even better, it's less than 100 dollars.
7. Manolo Blahnik Hangisi Flat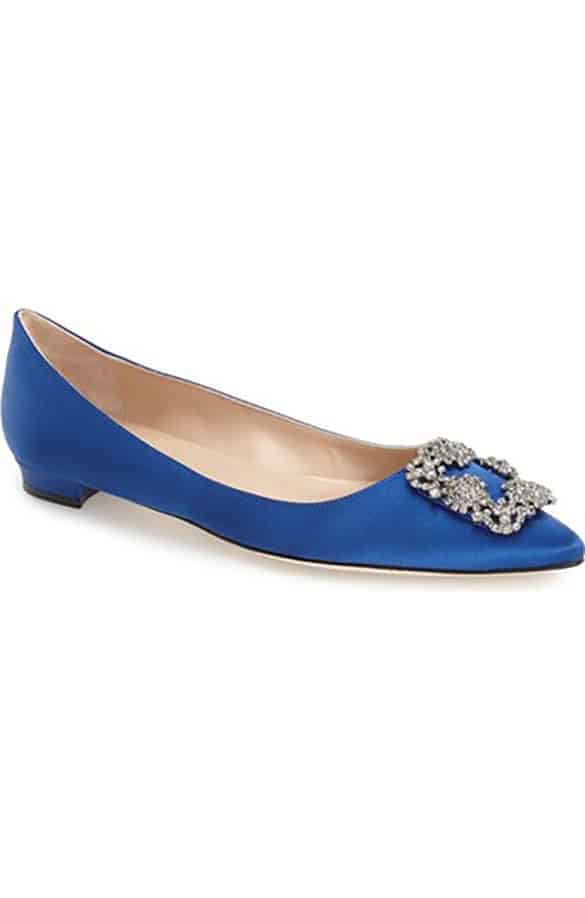 For the more adventurous brides, bordering on the less traditional, the Manolo Blank Hangisi flats are the perfect shoe for that big day.
Coming in a wide array of hues to add a pop of colour to an otherwise ivory or white look, these satin upper flat with later lining will keep your feet happy and your guests marvelling at your unique style.
Embellished with a sparkling crystal ornament and an almond shaped toe, the elegance along with bold colour will give that wedding look a fun and flirty vibe.
And can you ever go wrong with a good pair of Manolo's?
8. Christian Louboutin Pigalle Follies Pointy Toe Pump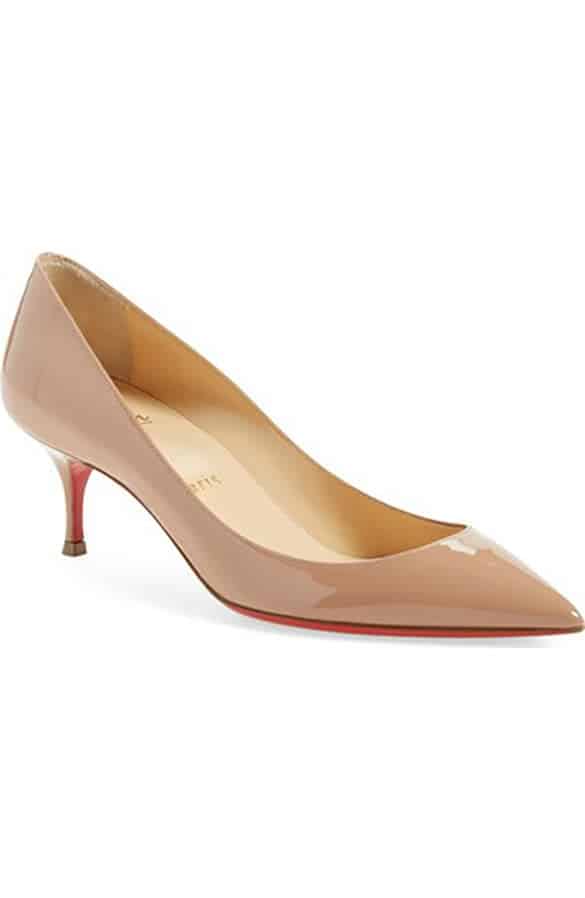 The not-so-basic Pigalle Follies Pointy toe pump in nude will up the "it" factor all the while keeping your feet pain-free throughout your wedding day.
This comfortable bridal shoe comes with the traditional Louboutin red bottom and a glossy calfskin leather finish which brings an elegance all its own.
With a small kitten heel, you'll have no problem walking down that aisle toward the man you love all the while flashing that red bottom to all those that watch from the rows.
9. Pink Paradox London Emotion Peep Toe Pump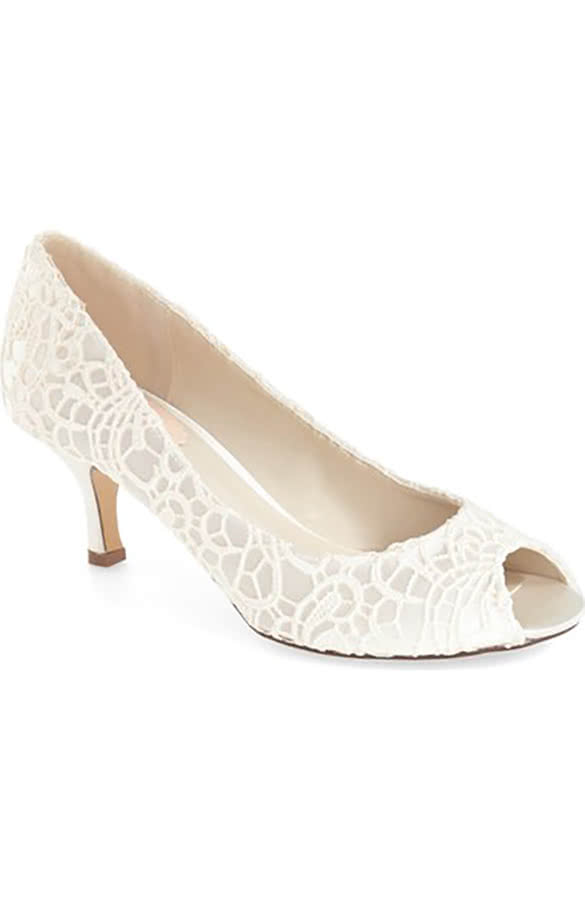 Another comfortable bridal shoe that will allow you to show off your pre-wedding pedicure is the Emotion Peep Toe pump by Pink Paradox London. The shoe comes in both ivory and taupe so you can pick and choose which colour matches your dress and colour scheme accordingly.
The lace overlay plays a romantic tune while the vintage satin gives that elegance that is a much-needed element when it comes to choosing your perfect wedding day shoe.
The heel is just over 2 inches which gives you just enough height to stay comfortable while striking a pose for your wedding photographers.
And at less than 100 dollars, you can't go wrong with the Emotion peep toe pump.
10. Kate Spade New York Lisa Pump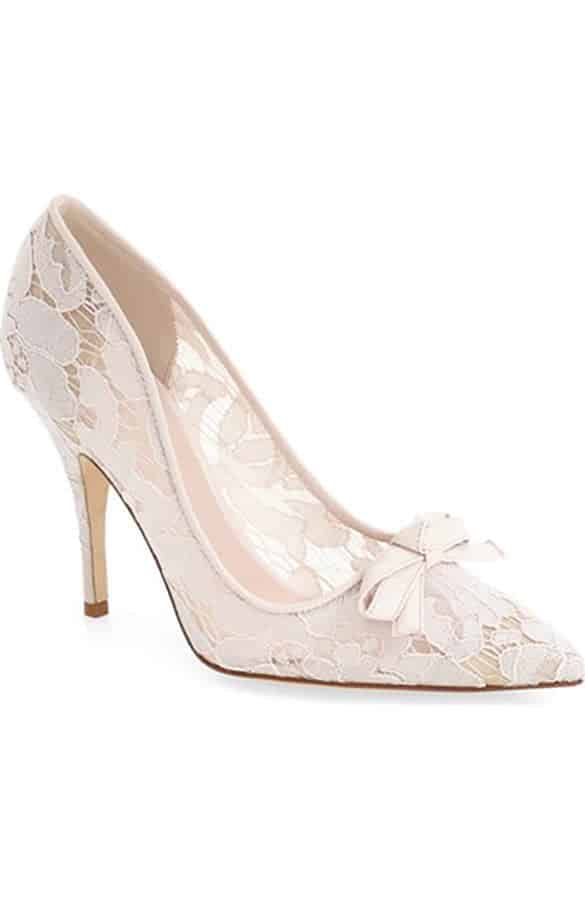 For those blushing brides that enjoy a blush shoe, the Kate Spade New York Lisa Pump is a perfect choice. It's simple elegance and blush colour with lace overlay gives your feet the much-needed femininity you'll need to take your wedding look from beautiful to brilliantly stunning.
With a heel height at least than 4 inches, mesh upper and leather lining and sole, this comfortable bridal shoe is a must have for that big day if you want to look pretty in pink.
Walking and dancing will be a breeze in these shoes and the contrast trim along the entire shoe, including the heel, will give your elegant look a little playfulness.
11. X Megan Hess Fleur-de-list Sparkle Flat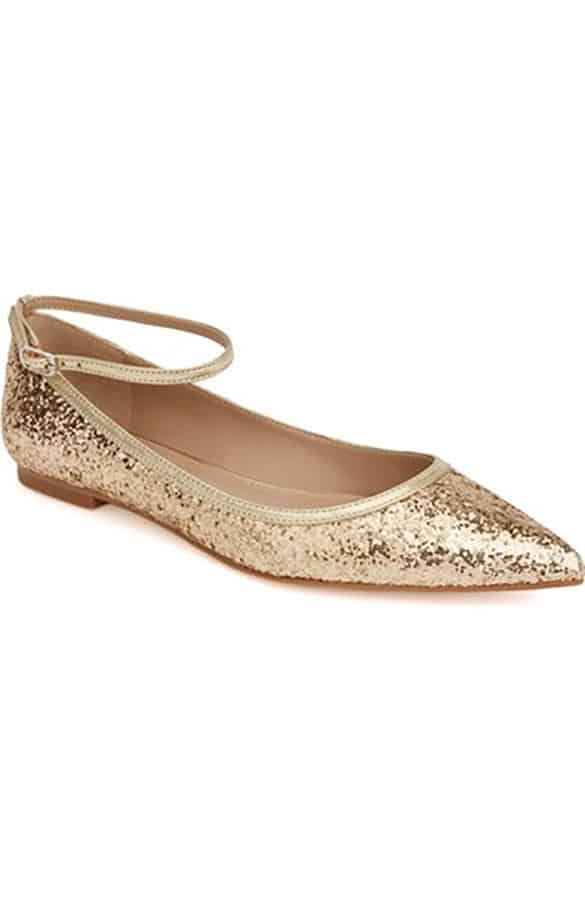 For a touch of gold, the x Megan Hess Fleur-de-lis Sparkle flat is the perfect addition. This comfortable bridal shoe will bring a vibrance to your gown that will only provide a perfect amount of provocative show to your elegant wedding look.
The pointy toe flat is covered with gold sequins and paired with an adjustable ankle strap with golden buckle, there's no compromising style or comfort with this one.
At less than 200 dollars, this perfect wedding flat will take you from aisle to dance floor with ease and style.
12. Manolo Blahnik Nadira Crystal Embellished Pointy Toe Pump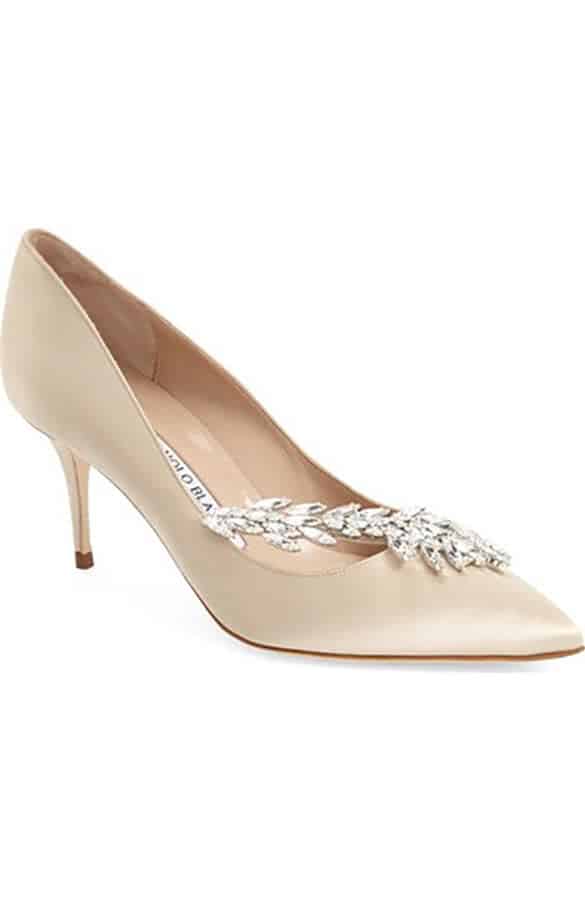 Another by the infamous Manolo Blahnik, the Nadira Crystal Embellished Pointy Toe Pump pairs classic elegance and flirty decadence. The comfort level comes from its 3-inch heel and it's leather lining.
With a crystal embellishment sweeping across the pointed toe and up towards the curve, this satin shoe is designed with a slender, feminine feel. The beige colour is perfect for those brides who don't want to go simply white and the crystal adds the wow factor.
13. Pink Paradox London Heaven Jewelled Sandal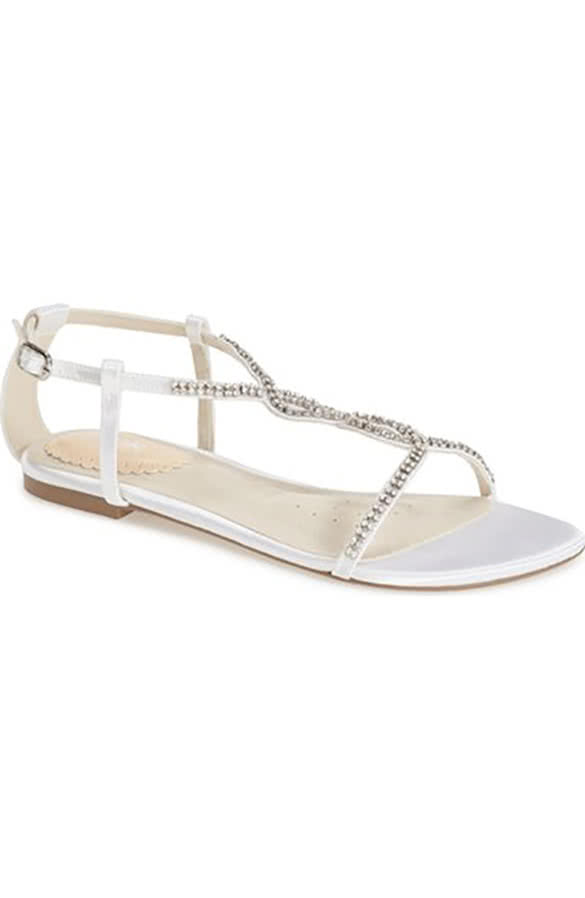 For the boho bride, the Pink Paradox London Heaven Jewelled Sandal is the perfect, comortable, bridal shoe. Its effortless beauty and white satin finish are the perfect addition to any low key, no fuss ceremony.
Whether you're doing it simply on a beach or outdoors in the middle of summer, this sandal full of shimmering crystals will bounce off the sunlight and give your look that dainty feel it so desperately needs.
The adjustable ankle strap with buckle inclosure allows for you to fix the shoe to your foot and the textile upper/synthetic lining will have your feet gliding through the sand pain-free.
14. Christian Louboutin Follies Strass Pointy Toe Flat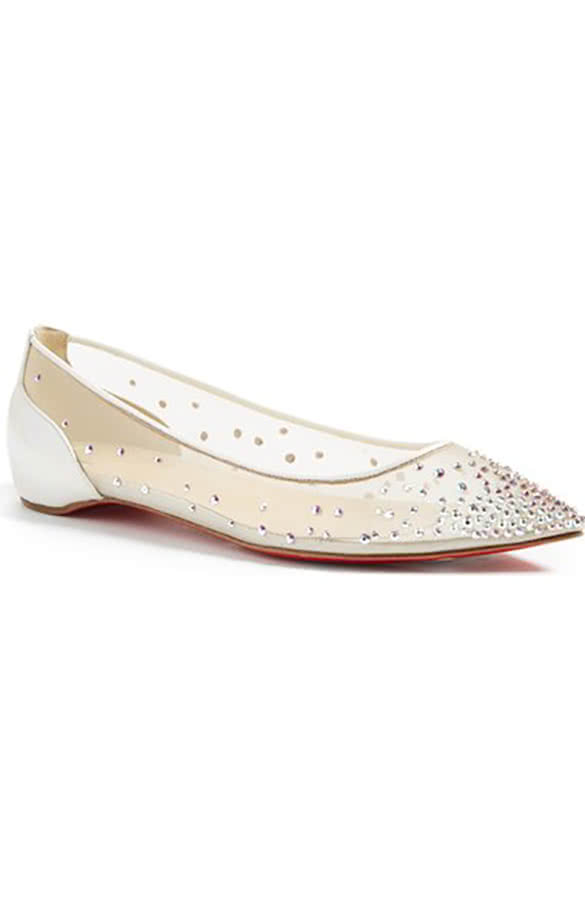 With the iconic red bottom paired with the tiny glass crystals running along sheer mess, the Christian Louboutin Follies Strass Pointy Toe Flat is the picture of comfortable bridal footwear perfection.
With a solid white heel addition and that f
iery red pop of colour, this elegant shoe is a force to be reckoned with for anyone's big day. The show of skin allows for a bit of seduction along with playful elegance.
15. Mary Jane Pump by Shoes of Prey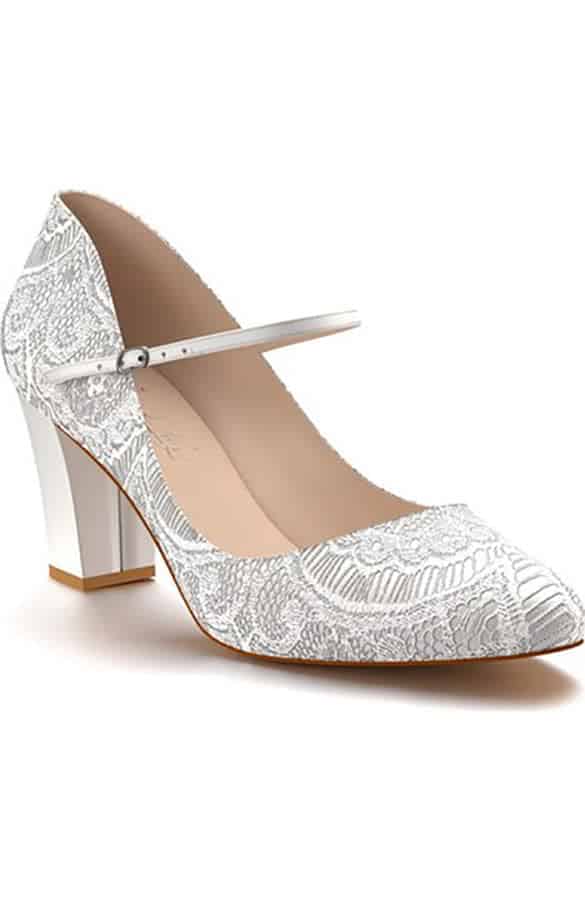 Last but certainly not least, the romantic yet basic Mary Jane Pump by Shoes of Prey is the comfortable bridal shoe for the simplistic bride.
The flirty style of the classic Mary Jane paired with the lace overlay and chunky white heel gives the word simple new definition. With the heel being less than 3 inches but blocked, walking and dancing won't be a problem the same way it would be with stilettos.
There's nothing wrong with a good pair of Mary Jane's, even on your wedding day.
These 15 comfortable bridal shoes will keep your mind focused on the beauty of your day all the while looking just as stunning as you feel. No more pain with the same amount of elegance and you just can't go wrong with that. Which shoe is your favourite?