Move aside booties! If you haven't already discovered, we want our boots to be as long as our legs. Check out these tips for how to wear thigh high boots.
For the longest time, fashion was obsessed with booties or knee-high boots. The trends are definitely taking a turn with the latest hot trend. Gone are the shorter boots and they have been quickly replaced with thigh high (or over-the-knee) boots.
Although the shorter boots aren't necessarily "gone," the long-standing trend has been mastered for years. Now, we're spicing things up with these skyscrapers. If you're looking for tips on how to wear thigh high boots, check out our list below!
How to wear thigh high boots… AND LOOK CASUAL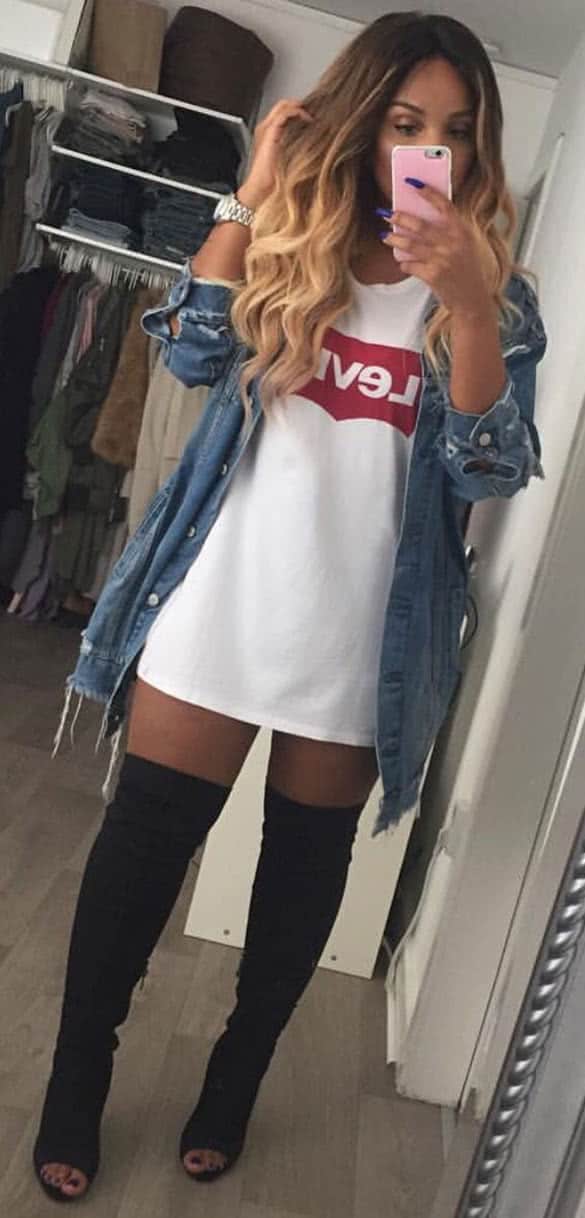 One of the plights of thigh high boots is that once you throw them on, your level of effort just shot up 5 points. With their sleek and edgy styles, thigh high boots can instantly look like you're trying to dress up an outfit. What do you do when you want to look casual?
The latest trend is pseudo t-shirt dresses. Now the reason I call them pseudo is because they're not actual dresses. We used to the actual t-shirt dress that is a dress but looks like a shirt.
The new trend is to wear a piece that is a shirt and wear it as if it's a dress. This trend has definitely shot up with the rise of thigh high boots. For the perfect casual look, pair your thigh high boots with a loose-fitting oversized t-shirt and be sure to pair it with a jacket on top.
How to wear thigh high boots… AND LOOK DRESSED UP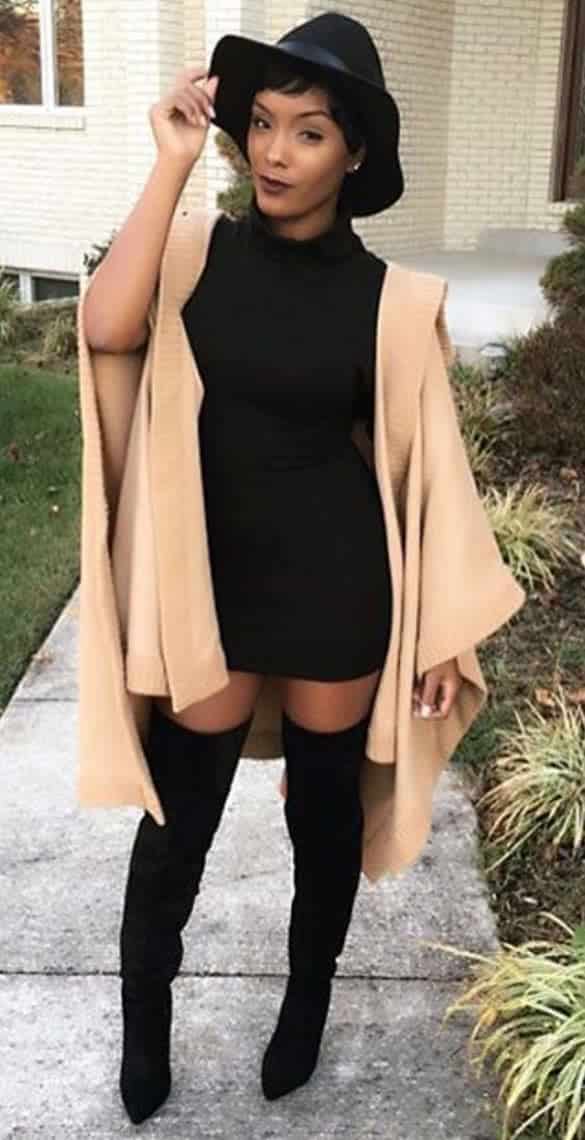 When you throw on a pair of thigh high boots, you might be trying to slay your entire existence. If you're looking to appear dressed up in your thigh high boots, do the opposite of what you'd do when looking to go casual.
When you're planning a casual outfit with thigh high boots, your best bet is to go with a loose-fitting dress, but when you're aiming for a dressier look, opt for that figure-hugging body-con dress.
In this outfit, we have a black mock-neck body-con mini paired with suede thigh high booties and a tan cape.
How to wear thigh high boots… IN THE FALL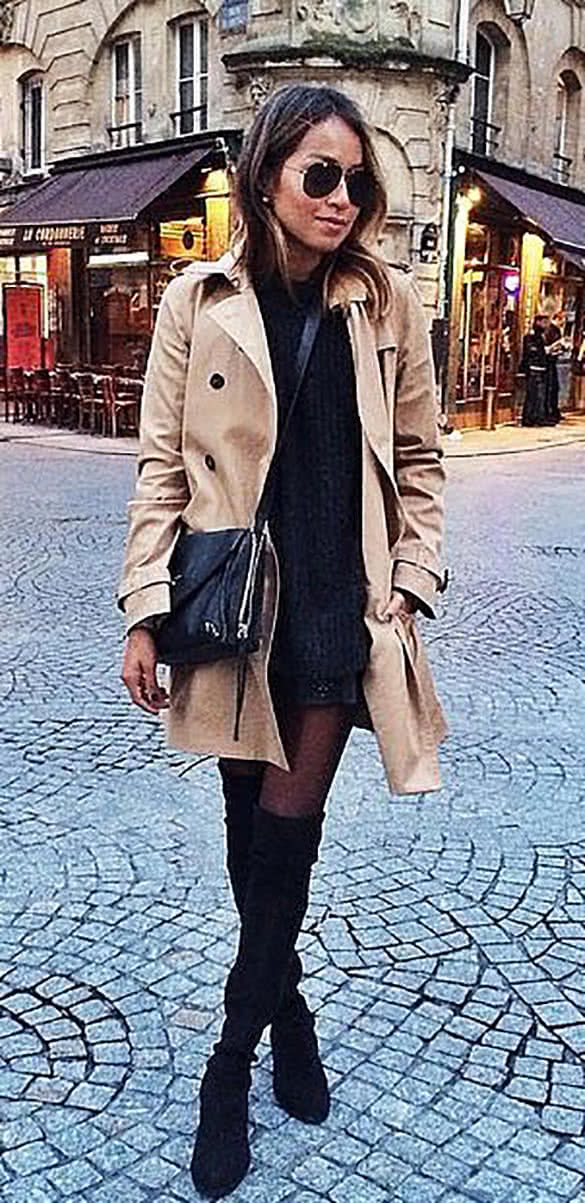 The fall season is all about layering your clothes and this outfit is a great way to pair your thigh high boots during the season. Perfectly paired, this outfit features a gray knit sweater layered over a short mini skirt.
As the temperatures get colder, you have to think about leaving your legs exposed to the chill. All you need is a pair of tights. Although we all know that they probably warm up the legs by .5 degrees, they help give you that look of warmth and a dash of style.
How to wear thigh high boots… IN THE SPRING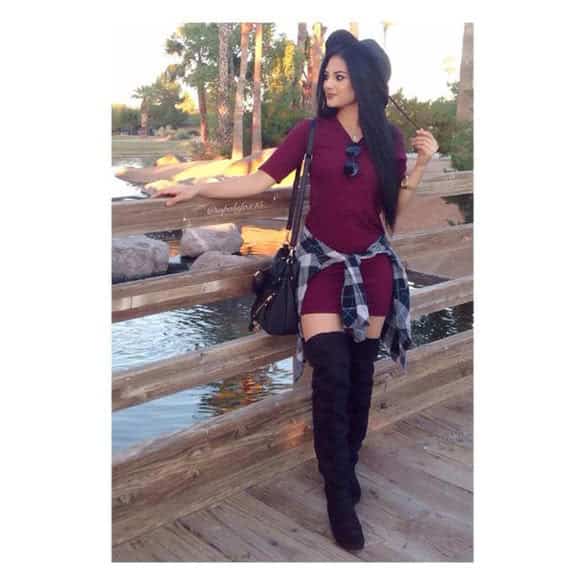 As the winter starts to warm up into the spring months, we're all scrambling for ways to make our wardrobe work without dying under layers of clothing. In the spring time, a great way to make your thigh high boots work for you is by ditching the tights from the fall outfit.
As seen in this outfit, thigh-high boots work phenomenally with body-con dresses. For a touch of more style, you can tie a flannel or plaid shirt around your waist to complete the look. If you get cold, you can quickly transition to wearing it around your shoulders.
How to wear thigh high boots… IN THE SUMMER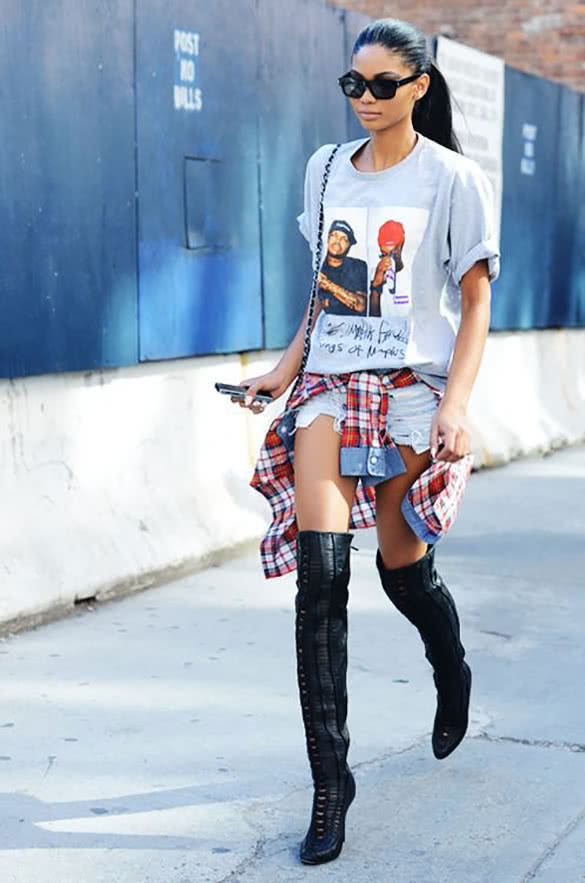 Some people might think you're crazy if you're trying to wear thigh high boots in the summer, but let's face it – we're all a little bit crazy. One thing to notice is that celebrities set a lot, if not most, of the fashion trends and this is definitely one that they're ahead of.
If you constantly watch celebrity fashion, you'd notice that influencers like the Kardashians and Jenners have been photographed many times over the summer with thigh high boots.
Model Chanel Iman is another example of a trendsetter. If you're going to wear thigh high boots during the summer, make sure everything else you choose is lightweight.
Not only do the boots feature a perforated design, but her outfit is complete with a simple tee-shirt and denim cut-offs. If your shorts are too cheeky, you can pair them with a lightweight flannel which could also come in handy for the cooler nights.
How to wear thigh high boots… IN THE WINTER

Wearing thigh high boots in the winter is easy. Since the winter is filled with frigid mornings, cold afternoons, and freezing nights, our one goal is to cover up.
This reason alone is why thigh high boots are perfect in the winter season. Whether you're going with a laid-back, casual look or a chic and edgy outfit, you can pair them with your favorite leggings or jeans.
In this chic outfit that's perfect for the winter season, we see a stunning pair of black thigh high boots styled with a black top and trench coat. The outfit is lightened with a pair of light wash jeans.
How to wear thigh high boots…WITH A SKIRT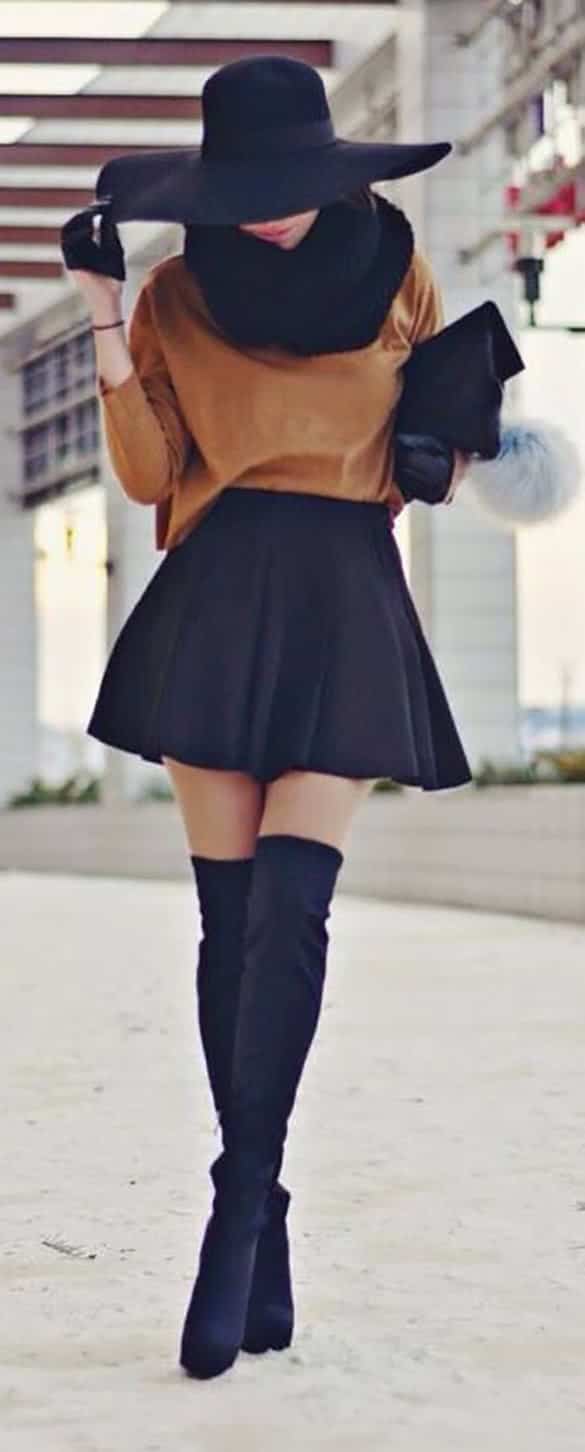 If you're like me, you're probably looking at this picture and wondering where to get all the pieces for this outfit. The style and sense of fashion are clear in this outfit and the thigh high boots just help to enhance it. When you're looking to pair your thigh high boots with a skirt, your best bet is with an A-line skirt.
If you want your bottoms to be form fitting, the ideal choice would be to achieve that look with a body-con dress. Pairing your thigh high boots with an A-line skirt will give you a fun, flirty, and even sexy appearance.
Another fashion tip for pulling this off is with suede. Suede has become a huge trend this year, so finding a suede A-line skirt would definitely have you off of the fashion Richter scale.
How to wear thigh high boots… WITH JEANS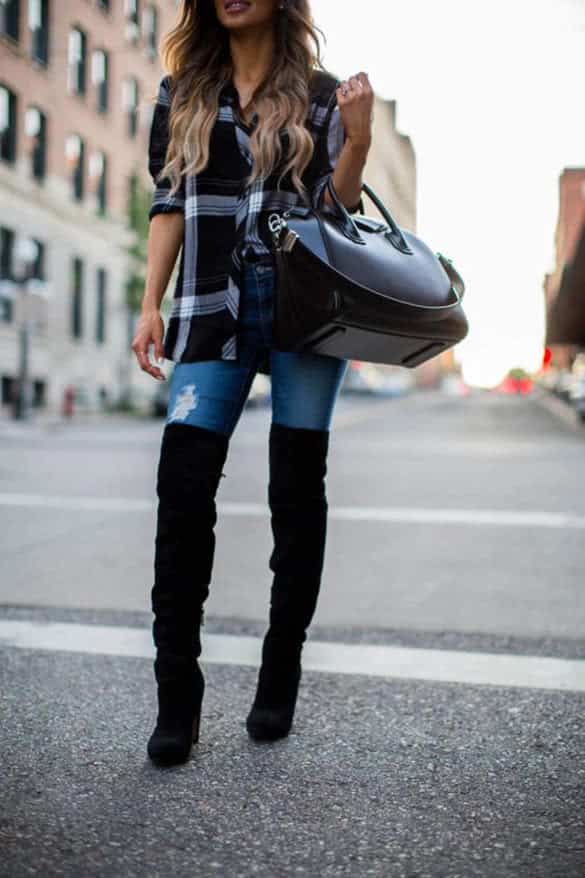 You might think there's no struggle to wearing over the knee boots with jeans. If you've attempted to try it, you'd know that there is a definite struggle.
Most thigh high boots aren't made to be bulky so often times, fitting a regular pair of jeans into your boots will be futile. You might find that you are able to get them into the boots, but it will start to appear bulky and unflattering around the ankles.
When you're trying to pair your jeans with thigh high boots, make sure they are the most form-fitting jeans you own. The more they stick to your body, the easier it will fit down the boots.
If you're a leggy fashionista, you know the plight of buying jeans that are too short for you. If you never got around to returning one, this would also be the best pair to wear under your favorite thigh high boots!
Now that this fashion lesson is over, what have we learned? Oversized t-shirts are perfect for a casual outfit, tights are a quick way to make your outfit seem warmer and more weather appropriate, and the slimmer the jeans, the better. You've now mastered "Fashion 101: How to Wear Thigh High Boots."
In the comments below, let us know what other fashion trends you need help mastering!