If you can't take the heat, stay out of the kitchen! If you can take the escalating temperatures, make sure you're stoking the fire with these aphrodisiac foods.
Cooking isn't always a thing of romance, but it definitely can be! You might be sweating over a hot stove when you should be sweating after a well-timed romp in the sheets after a delicious meal.
Having the perfect meal or snack can get your libido rising is a great way to spark some romance into your relationship.
If you're looking for a few foods to add some joy to your taste buds and sex life, check out our list of aphrodisiac foods below!
Artichokes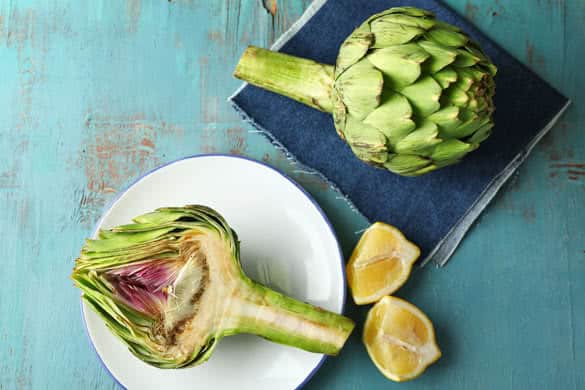 Although you might be used to the taste of artichokes alongside spinach in a delicious dip, it is also known for being an aphrodisiac.
While looking at the fruit might not get your blood pumping, its savory taste will surely have some blood rushing to a few certain organs.
It might not be easy coming up with artichoke recipes, so below we've listed an easy recipe courtesy of the Food Network.
Artichoke & Tomato Panzanella
This dinner recipe is easily prepared in less than 20 minutes. All you'll need is around 10 minutes dedicated to food prep and a little over 5 minutes for cooking the food. For the ingredients, you'll need:
3 Cups 1 ½ inch-cubed Whole Wheat Bread
1 10-oz. package frozen artichoke hearts
2/3 Cup extra-virgin olive oil
½ Tsp. salt
½ Tsp. freshly ground black pepper
3 large red tomatoes (cut in wedges)
1 Cup pitted black olives (halved)
¾ Cup chopped basil
¼ Cup white wine vinegar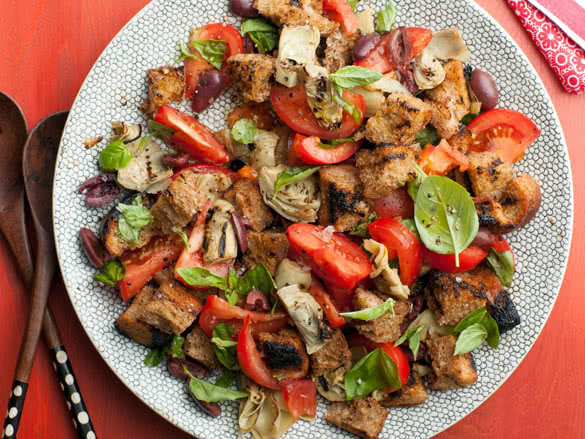 The number of ingredients might look misleading, but the recipe is super easy.
First, you'll start off by preheating a grill and placing a grill pan over medium heat.
After combining the bread and artichoke hearts, you'll drizzle them with olive oil and season them with salt and pepper.
Once they are seasoned to your liking, you'll grill them until the edges are golden brown. Once you have finished cooking them over the grill, you can transfer them into a bowl alongside the tomatoes, olives, and basil.
To make the dressing for the Panzanella, you'll combine the white wine vinegar, olive oil, and ½ Tsp. of salt and pepper each. Once you have stirred, it is ready to be poured over the Panzanella.
Et voila! You're ready to enjoy a delicious meal and hopefully a fun post-dinner activity!
Avocado
If you're a health nut, avocado might be a regular part of your diet, but you probably never knew it's considered an aphrodisiac.
Since the time of the Aztecs, avocado was named as an aphrodisiac. So much so that avocado trees were referred to as testicle trees!
Since avocado is known to increase testosterone production, it's a good food to help your man get in the mood!
Banana
Maybe it's the phallic shape of bananas that somehow gets people into the mood.
Similar to avocado, bananas contain an enzyme that plays a huge role in testosterone production.
Just like many other fruits, bananas work exceptionally well when paired with chocolate, another aphrodisiac food we'll soon explore.
Cherries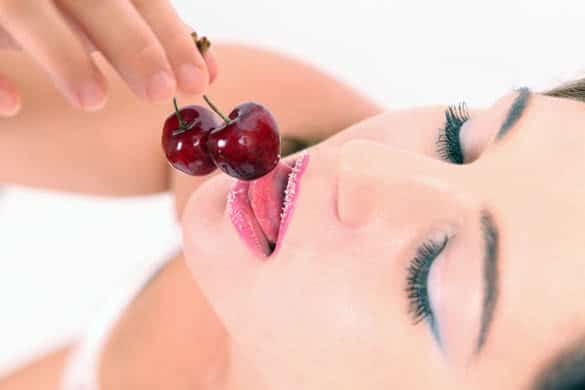 Pretty please? With a cherry on top? Before you start turning your lover into an ice cream sundae, you should continue down the list!
Cherries are also considered a very sensual fruit, so why not use them to add some heat to the kitchen and your romance?
You've also probably heard that people who can tie a knot with a cherry stem just using their tongue are the best kissers.
You and your partner should definitely take turns before demonstrating on the other!
Chili Pepper
Out of all the aphrodisiac foods, chili pepper is probably the hottest. There's nothing like spicing up your actual love life than with a spice!
If you're wondering how chili pepper will get your motors running, the food has a chemical, capsaicin, which will increase blood flow and stimulate all the right nerves!
For an easy recipe, try Emily's Chipotle Chili, courtesy of AllRecipes!
Emily's Chipotle Chili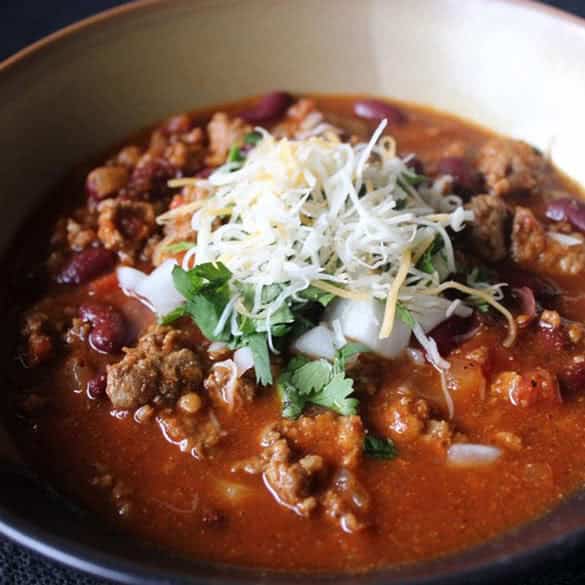 Although this recipe will take over 8 hours to be complete, the work is minimal! To start off, you'll need these ingredients:
Hot Italian Sausage (1 lb.)
Ground Beef (2 lb.)
Chili Powder (5 Tbsp.)
Ground Cumin (1 Tbsp.)
Ground Coriander (1 Tsp.)
Minced Garlic Cloves (2)
Large Diced Onion (1)
Diced Tomatoes (1 Can ~ 28 oz.)
Tomato Sauce (1 Can ~ 15 oz.)
Kidney Beans (1 Can ~ 14 oz.)
Minced Chipotle Peppers in Adobo Sauce (2 Tsp.)
Tomato Paste (1 Can ~ 6 oz.)
To get started, you're going to start off with the ground beef and sausage and brown it over medium heat in a large pot.
Once it starts to brown and the grease starts to drain, remove the grease from the pot.
Then you can season the meat with the coriander, chili powder, and cumin.
After cooking and stirring for approximately one minute, add the garlic and onion to the pot while continuing to stir. Allow the onion to cook until it is translucent.
After the onion has turned translucent, add the tomatoes, tomato sauce, kidney beans, chipotle peppers, salt, and pepper to the pot while stirring.
Once you have stirred all the ingredients together, lower the pot to a simmer before pouring the chili into a slow cooker. Cover the pot and allow it to cook on low heat for 8 to 10 hours.
Don't forget about the tomato paste! Add it to the chili an hour before it is done cooking.
Chocolate
Do I really need to explain why chocolate can act as an aphrodisiac? Just the idea behind the food makes it sensual and perfect for increasing the libido.
If you and your lover are dabbling in chocolate, make sure it's dark chocolate!
The rich taste and implications will definitely get your blood pumping, and not to mention it works well with other aphrodisiacs like bananas and strawberries.
Coffee
Coffee might be something you indulge in every morning, but it's also something you can enjoy a few moments with your lover.
If you're drinking caffeinated coffee, it makes sense why coffee acts as an aphrodisiac.
The caffeine acts as a stimulant that will definitely get your blood pumping and elevate your senses! Instead of enjoying a cup of coffee in the morning, enjoy a small cup before a long, romantic night. You won't regret it!
Honey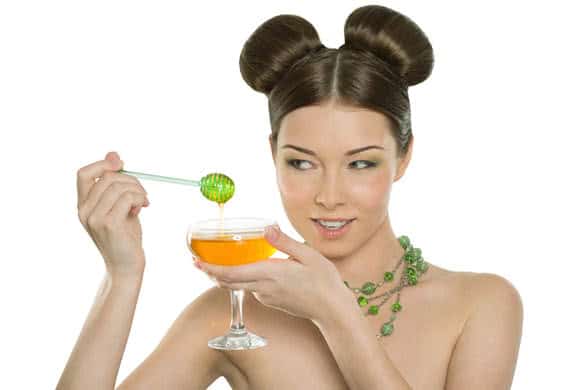 Honey is thick and sweet, exactly what you might like to expect in aphrodisiac foods.
While it's delicious and works wells on top of many treats, there are specific reasons why honey can act as an aphrodisiac.
According to PBS, honey contains nitric oxide, which gets released during arousal. Next time you're looking to spice up the mood, just take a shot of honey!
Oysters
Out of all the aphrodisiac foods, oysters are probably one of the most well-known and confusing.
When looking at the food, some might question why it's appealing when it doesn't necessarily give off that look.
Oysters contain a lot of amino acids which are important in the production of sex hormones. If you've never tried them, don't be afraid to order them on your next date night!
Salmon
You might not expect salmon to be an average aphrodisiac, but it definitely is.
The fish is packed with omega-3 fatty acids which help with sex hormone production.
If you need a salmon recipe to raise the temperature of your date night, check out this recipe courtesy of the Food Network.
Salmon with Lemon, Capers, and Rosemary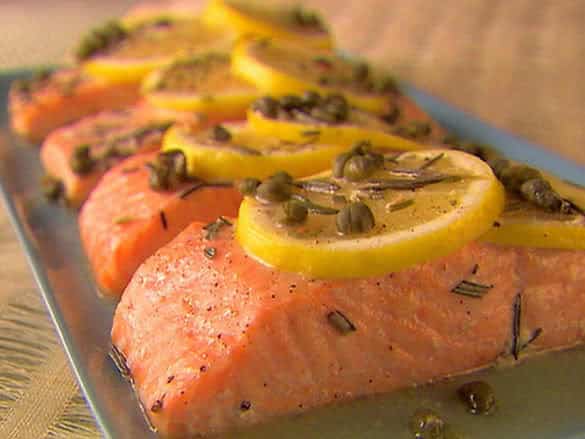 To make this delicious dinner, you'll only need a few ingredients and about a half hour of your time. To start off, you'll need these ingredients:
4 Salmon Fillets (6 oz.)
Extra-Virgin Olive Oil (1/4 Cup)
Salt (1/2 Tsp.)
Freshly Ground Black Pepper (1/2 Tsp.)
Minced Fresh Rosemary Leaves (1 Tbsp.)
Lemon Slices (8)
Lemon Juice (1/4 Cup)
White Wine (1/2 Cup)
Capers (4 Tsp.)
Aluminum foil (4 pieces)
To start this easy recipe, you're going to first coat the top and bottom of the fillets with olive oil.
You'll then season both sides with salt, pepper, and rosemary. Once you have finished seasoning the fillets, you will place 2 lemon slices, 1 Tsp. lemon juice, 2 Tbsp. wine, and 1 tsp. of the capers on the top of each filet.
You will then wrap each fillet in aluminum foil, making sure it is completely sealed. After, you will place the foil packets of a grill pan and cook for approximately 10 minutes.
Strawberries
Strawberries are another food that has the implications of romance and seduction.
Luckily enough, this fruit is shaped like a heart and is very sweet. A symbol for Venus, the goddess of love, strawberries work well with other aphrodisiacs like chocolate and taste delicious with a dash of whipped cream.
Whipped Cream
Not everything needs to be an aphrodisiac! Just the implications can get your blood pumping! This definitely holds true for whipped cream!
While you might be thinking of adding some whipped cream to a slice of pie, we're making human sundaes.
With a few other aphrodisiac foods on this list like chocolate and cherries, you can definitely make use of this treat in the kitchen and in the bedroom.
Aphrodisiac foods are a great way to spice up the life in your kitchen and bedroom. The foods on this list are sure to be delicious and get your blood pumping!
Before you run off to enjoy these foods and some one-on-one time with your lover, let us know in the comments what foods usually get you into the mood!