If you want to spice up your cooking routine, you must try these almond recipes tonight! Not only are they yummy, they are incredibly healthy as well. Enjoy!
After being wrongfully shunned for their high fat content over the course of a couple unfortunate, fat-free decades, nuts are hot on the health and culinary scene—and thank goodness for that. Nuts are #trending, despite being ancient in their use and nutritional value. If you aren't a fan, you might want to become one; your heart and waistline will thank you.
Nut butters, of all different flavors, are lining grocery store shelves and nut-themed bars, snacks and cereals grace the breakfast aisle. Each nut has its own claim to fame, but of all the nuts in the jar, the one leading the pack in popularity is the almond.
Why has the almond become the nut MVP?
Good marketing for one, but the proof is also in the pudding (or should I say in the almond butter?). Almonds have a long list of health benefits and culinary uses that make them the preferred nut. Let's look at nutrition first.
Fat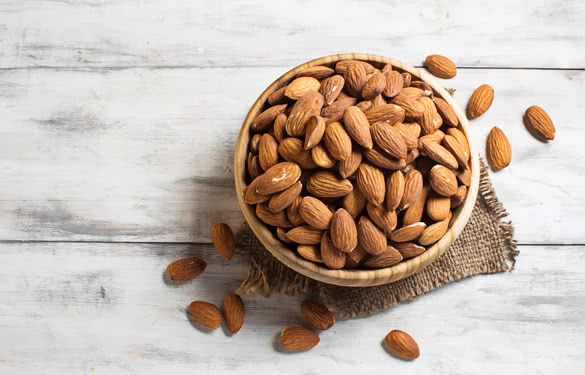 Almonds are the most nutrient-dense tree nut, providing a host of essential micro and macro nutrients, including fat. We're talking monounsaturated fats. These fats have been associated with favorable cholesterol outcomes and decreased risks of cardiovascular disease.
Almond's high fat content may make some people skeptical, fearing weight gain and overconsumption of calories. However, studies have found that those who consume nuts on a regular basis are actually at a lower risk of weight gain and obesity than those who don't.
A 2015 clinical study, published by the journal of the American Heart Association, found that swapping almonds for a high carbohydrate snack, while keeping calorie intake the same, led to less abdominal fat and lower LDL cholesterol while maintaining HDL cholesterol—all desirable outcomes.
Fiber
If one were to point out the single most under-consumed nutrient in today's modern day diet, it would be fiber. It's estimated that less than 3% of Americans are getting the daily recommended amount of fiber. Yikes. For women this is at least 25 grams and men at least 35 grams per day. Fiber is essential to keep things moving along in our digestive systems, but it's also helpful in balancing blood sugar, controlling cholesterol and potentially lowering the risk of certain cancers.
To close this alarming fiber gap, we need to replace refined, processed foods with high fiber options, like whole grains, vegetables, fruits, nuts and seeds. And what do you know, almonds have the most fiber of all the nuts! One ounce (about 23 almonds or a small handful) has 3.5 grams of fiber and 2 tablespoons of almond butter has 4 grams of fiber—both noteworthy contributors to our daily requirements.
Vitamins and minerals
Almonds are a significant source of many vitamins and minerals, micronutrients we need for every single function, process and reaction in our bodies.
Almonds are most notably high in vitamin E, a fat soluble vitamin necessary for the proper function of the immune, neurological and circulatory systems. Some essential minerals like calcium, magnesium, manganese and phosphorus are also found in significant amounts in both the skin and the meat as are a variety of antioxidants.
Cooking with almonds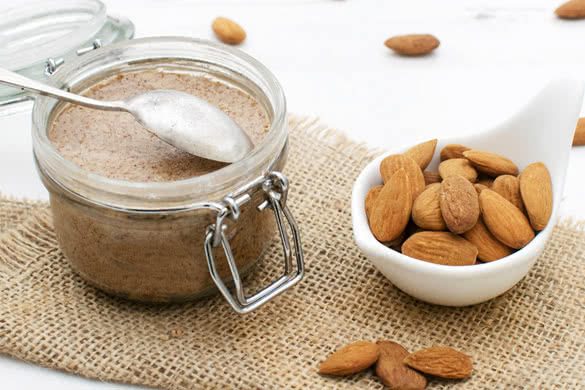 Almonds have proven to be key components to countless healthy recipes and not just snack foods or breakfast meals. Almonds and almond butter are turning up in savory entrees and appetizers as well. Even though it makes a killer AB&J, almond butter packs a whole lot of culinary potential, way beyond the butter knife.
Flavor
Almonds have a delicate flavor: smooth with just a hint of sweetness. Fresh almonds lack the bitterness of other nuts, like walnuts, making them very agreeable to cook with and also allowing them to cozy up nicely with other foods and flavors. Ginger, sweet potatoes, and fresh basil are just a few flawless almond butter pairings.
Texture
Almond butter's creaminess makes it finger-licking, eat-right-out-the-jar good, but it also raises the consistency of soups, stews and sauces to a whole new level. You can use this nutrient-dense nut butter instead of cream or oils to thicken savory sauces and finish off hearty soups.
Emulsification
This is not as technical as it sounds. Emulsifiers allow fat and water-based substances to blend together. An emulsifier is a key ingredient in making most salad dressings.
Take oil and vinegar for example: if you whisk them together, a homogeneous mixture is created temporarily, but the layers always separate. Fat and water aren't friends; they like to go their separate ways—unless you introduce an emulsifier.
Examples of emulsifiers include mustard, syrups, eggs and, you guessed it, nuts! Nut butters do a wonderful job of marrying fats and oils to create a smooth and uniform final product.
Now, let's get cooking! Here are some savory and sweet almond and almond butter recipes for dinner (and dessert) tonight!
Chickpea Curry Soup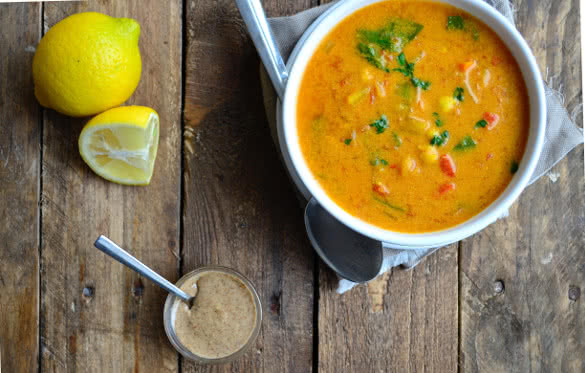 – 1 Medium Onion (small diced)
– 1 Large Carrot (small diced)
– 1 Medium Red Bell Pepper (medium diced)
– 3 Large Garlic Cloves (minced)
– 1 TS Mild Curry Powder
– 1 ts Turmeric
– 1 ts Cumin
– 1 ts Coriander
– ¼ ts Red Pepper Flakes
– 2½ Cups Vegetable Broth
– 1 15-ounce Can Chickpeas (rinsed and drained)
– 1 28-ounce Can Diced Tomatoes
– ½ ts Sea Salt (or to taste)
– Freshly Ground Black Pepper (to taste)
– 2 TS Almond Butter
– 1 Cup Unsweetened Almond Milk
– ½ Cup Cooked Quinoa, Brown Rice or Millet
– 1 Cup Packed Baby Spinach
– 1 TS Lemon Juice
Directions:
Sauté the onion, carrot and bell pepper in a few tablespoons of water until the onions are soft and translucent. Add the garlic and spices, and cook for another 2 minutes.
Add the broth, chickpeas and diced tomatoes and simmer for 20 minutes.
Take ¼ cup of the soup and put in a bowl with the almond butter. Mix until the nut butter is dissolved and then whisk it back into the soup.
Add the almond milk, grains and baby spinach stir until the spinach is wilted. Finish with the lemon juice and serve!
Almond Pad Thai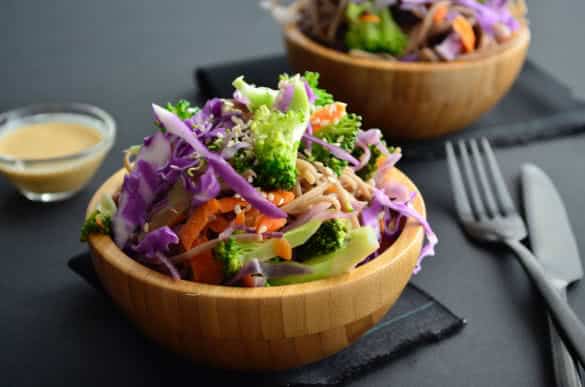 – 1 Package (307g) Whole Wheat, Gluten Free Quinoa or Brown Rice Linguine
– 1 Cup Grated Cabbage (red or green)
– 2 Large Carrots (grated)
– 1 Cup Broccoli (finely chopped)
– 1 Cup Edamame
– 1 Batch Pad Thai Sauce
Sauce
– 2 TS Almond Butter (preferably raw)
– 2 TS Lime Juice (juice of about 1 lime)
– 2 ts Sriracha Hot Sauce
– 1 TS Toasted Sesame Oil
– 1 TS Maple Syrup
– 1 TS Fresh Ginger (grated)
– 3 TS Water
Garnish
– Sliced Green Onion
– Sesame Seeds
– Chopped Almonds
Directions:
Bring a large pot (4 qt) of salted water to a boil. Add noodles and cook according to directions. (See step 3)
Meanwhile, add the cabbage, carrot and broccoli to a large sauté pan, and cook on low adding water (1 tablespoon at a time) to prevent burning. Cook until the colors become bright and the veggies just begin to soften (about 5 minutes).
When there are 3 minutes left for the pasta, add the edamame. Drain the pasta and edamame, rinse with cool water and add to the vegetables.
Sauce: put all ingredients in a blender and blend until smooth.
Add the pad thai sauce and stir. Divide into servings and top with green onion, sesame seeds or chopped almonds if desired.
Almond Butter Omega Chews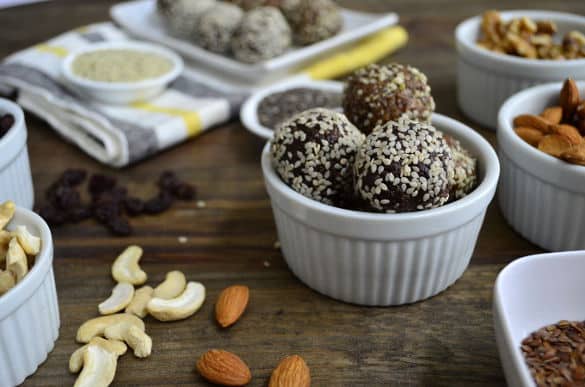 – ½ Cup Almonds
– ½ Cup Cashews
– 2 TS Ground Flax
– 1 TS Chia Seeds
– 1 TS Hemp Seeds
– ¼ Cup + 2 TS Raw Almond Butter
– ¼ Cup Rolled Oats (gluten free if desired)
– 1 Cup Raisins
– ½ ts Cinnamon
– ½ ts Vanilla Extract
– ¼ ts Himalayan or Sea Salt
– ⅓ Cup Hemp Seeds
Directions:
Line a large baking sheet with parchment paper. Put almonds and cashews in a food processor and pulse until crumbly. Remove from food processor and set aside.
Put almond butter and raisins in food processor, and blend until well incorporated.
Add remaining ingredients, including processed nuts, back to the food processor and process until well-combined. Transfer the mixture to a bowl.
The mix might seem a little dry, but it will stick together when rolled between your hands. Using a tablespoon measuring spoon, scoop out the mixture and roll into balls. Roll each ball around in the hemp seeds until covered and then place on parchment lined baking sheet.
Set baking sheet in fridge for at least an hour. At this point, transfer all the bites to a reusable container or Ziplock bag and keep them in the freezer. Remove from freezer about 20 minutes before eating.
Are you an almond fan too? Send us your ideas on how to include this amazing nut into our daily diet.