The holiday season is one of the most romantic times of the year to spend with your significant other and enjoy easy romantic desserts on cozy nights.
During the holiday season, the air will be high of indulgence with all the cookies, cakes and desserts being shared by all. It's the season of decadence and you need to hearken to its call.
Now, romantic desserts to share with your significant other don't need to be as complicated as some of the lovely morsels you share with each other at a restaurant or café. It can be something simple, sweet and easy to make…just like the following dessert ideas you absolutely need to try.
So forget about counting calories, lick your lips, and enjoy the holiday season with your taste buds and our easy romantic desserts that anyone can make!
1. Fig and Mascarpone Dessert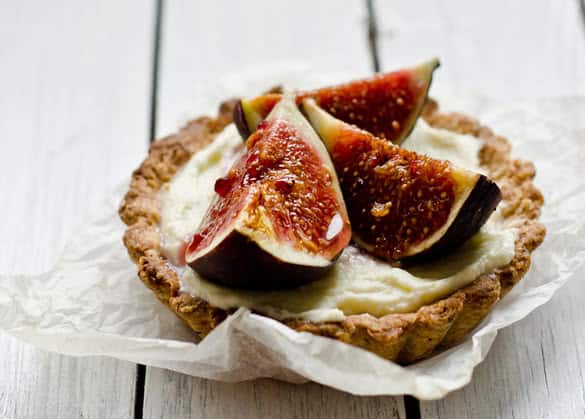 This first dish has a Mediterranean flair to it. Figs and mascarpone cheese are native to my family's country of origin, Italy. And, of course, Italy is known for being an incredibly romantic nation.
It is definitely true that figs and mascarpone are made for each other. The creaminess of the mascarpone balances the delicate sweetness of the fig in this easy to make dish. It's reminiscent of a good relationship. The best part is that you can quickly whip this up in less than five minutes.
All you'll need is three figs, three teaspoons of mascarpone cheese, some salt, some nutmeg (optional) and some sweetener (honey, stevia, agave, sugar). The directions are as follows:
Spread approx 1/2 tsp of mascarpone cheese on each fig half and arrange figs on a plate.
Drizzle agave syrup/sweetener (or honey) over and around the figs.
Sprinkle figs with 1 pinch of salt and 1 pinch of nutmeg.
You can enjoy this dish all year round, no matter where you live.
2. Chocolate Covered Strawberries
Nothing is more synonymous with romance than strawberries dipped in chocolate. It's sweet, tart, and irresistible at the same time.
Just the way that figs and mascarpone are made for each other, chocolate and strawberries are a food marriage made in heaven.
In essence, all you really need is parchment paper, a good semi-sweet chocolate to melt, and big, red juicy strawberries.
Melt the chocolate in a saucepan until it is smooth and free of lumps. For best results, set your burner to medium heat.
Cool the mixture slightly and dip the strawberries in it until coated well.
Lay the dipped strawberries on a parchment paper lined cookie sheet.
When you have dipped all the strawberries in the chocolate and have arranged them on the cookie sheet, stick the cookie sheet in the deep freeze (or in your refrigerator) until the chocolate hardens.
Enjoy!
Again, you have a quick, sweet, and quick to make a simple recipe to share with your lover.
3. Nutella Phyllo Dessert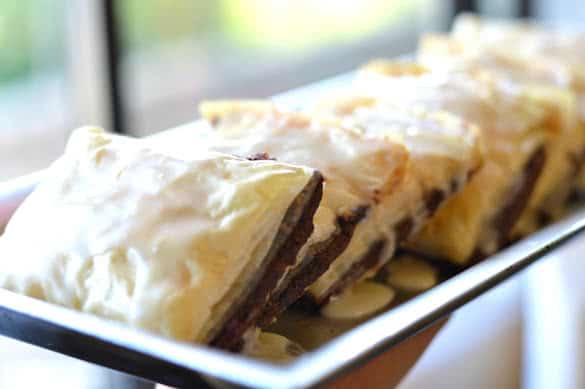 Nutella (or chocolate hazelnut spread) is a delicious, universal ingredient for any dessert, simple or not. It is velvety smooth and tantalizes your taste buds whether you just eat a spoonful, spread it on crackers, or dip fruit in it.
Phyllo pastry is flaky and light, so it balances the strong yet sweet flavors of Nutella. While phyllo is traditionally used for baklava, one of my favorite Mediterranean desserts, it is also a universal dessert ingredient.
For this delicious, simple dessert, all you need are 20 sheets of phyllo dough, ¾ cup of Nutella, ¼ cup light corn syrup, 1/8 cup cinnamon sugar, and ½ cup of butter. The directions are as follows:
Preheat oven to 375°F.
Measure Nutella, corn syrup, and cinnamon sugar in measuring cups.
Set aside the measuring cups (with the ingredients still in them).
Melt butter and set aside with a pastry brush in it.
Unroll 1 sleeve of defrosted phyllo dough on a workspace.
Grease a square baking pan with butter.
Now pick up a sheet of phyllo dough and put it into the bottom of the pan (some will lay over the edge of the pan so just butter it and stuff the thing in the pan, no big deal.).
Try to work fast because it's easy.
Use up 5 of the sheets this way.
Layer the next 5 sheets by sprinkling cinnamon sugar on top of the butter.
Put a sheet down and butter it.
Next, put a sheet down and brush it with butter and while holding down the phyllo sheet spread all of the Nutella on the sheet (if the phyllo moves around and you're getting uptight soften it in the microwave).
Don't worry about getting it perfectly smooth and even.
Use the rest of the sheets by alternating buttered sugar cinnamon layers and buttered corn syrup drizzled layers.
When doing the corn syrup, use the amount you think you would like (you might want less or more than the said amount).
Brush the top with butter and sprinkle cinnamon sugar and drizzle a tiny bit of corn syrup.
Cook in the oven on the bottom rack (to be sure that the bottom layers get cooked) for about 9 minutes or until the top layer is nice and brown.
Cut and eat!
Enjoy this dessert in front of a roaring fire with your significant other.
4. Strawberries Romanoff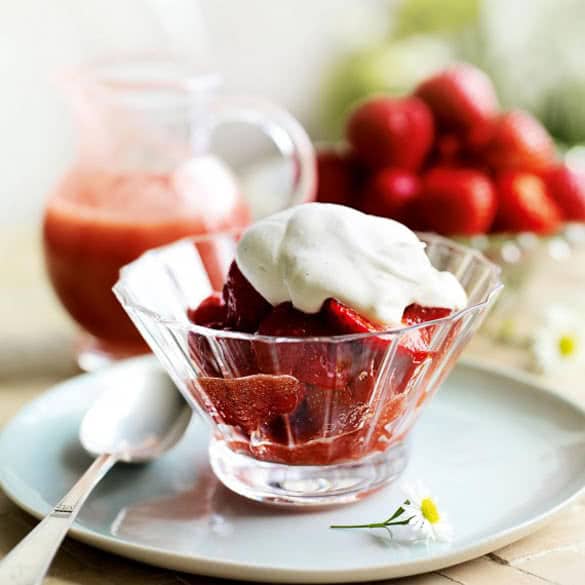 Strawberries are most likely the most romantic of fruits, so it's no surprise that it's incorporated into another dessert on this list. If you're not much of a chocolate person, then Strawberries Romanoff is right up your alley. It's creamy, fruity, and sweet with a hint of alcohol.
For this recipe, you will need: ½ cup of sour cream, 3 tbsp of brown sugar, 1 tbsp of brandy (or cognac), ½ cup of heavy whipping cream, 3 tbsp of white sugar, and 4 cups of fresh strawberries.
Here are the directions for this fruity indulgence:
Mix sour cream, brown sugar and Brandy in a bowl.
In a separate bowl, whip cream until starts to thicken and add sugar–whip until thick.
Fold cream into sour cream mixture and blend well.
Serve with fresh strawberries.
It only takes minutes to prepare and soon, you have a decadent dessert you can hand-feed your significant other. How romantic!
5. Chocolate Mousse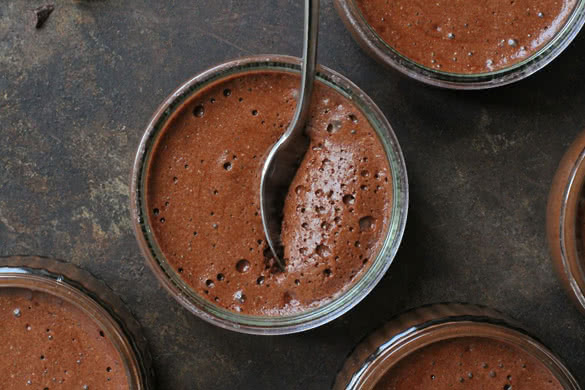 Chocolate mousse is one of the most staple romantic desserts of all. It's smooth, creamy, chocolatey and decadent until the very last spoonful. Best of all, it's easy to make so you'll have more time to spend indulging with your partner.
While a traditional chocolate mousse is a little more complicated to make, this simpler recipe is just as delicious as it's more difficult counterpart. You will need: 8 oz of chocolate chips, 6 tablespoons of water, 2 teaspoons of vanilla, 2 cups of heavy whipping cream, and ¼ cup of confectioner's sugar.
The simple instructions are as follows:
Melt chocolate and water in a saucepan.
Whisk in the vanilla.
Allow to cool.
Whip the cream.
Add the confectioner's sugar.
On low beater, blend in the chocolate.
Scoop the Chocolate Mousse into a clear, glass bowl.
Garnish with grated chocolate or some of the chocolate from the pan drizzled on top.
Enjoy!
In essence, romantic desserts don't need to be the complicated debacles they appear to be. There's no pomp or circumstance to it. All it takes are simple ingredients, a little bit of time, and a LOT of love.
So, instead of wasting time worrying about what romantic dessert you'll be sharing with your partner over the holidays, use one of these simple recipes and enjoy the delicious, indulgent result with the one you love the most. Happy holidays and bon appetit!!