There's nothing better than snuggling up with a hot drink next to the fireplace in winter. Here are some hot drink recipes to take you through fall and winter!
Fall and winter are either dark and miserable or filled with cozy moments, such as hot baths, snuggling up by the fireplace, candlelit dinners, ice skating with friends, doing charitable acts for Christmas and baking for the neighborhood.
There is plenty of cheer to be had in the dark season and there's also plenty of hot drinks recipes that will help you stay warm and cozy!
Baileys Irish Coffee – a Hot Drinks Recipe to Warm You Up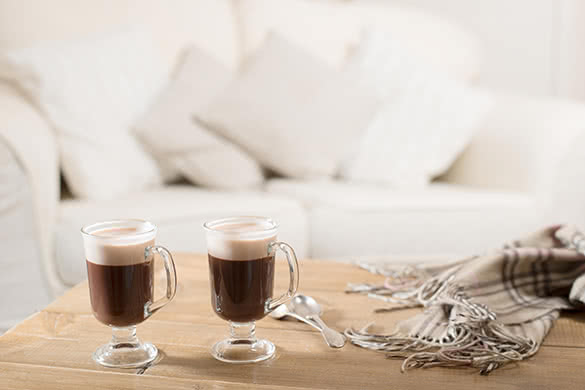 If you are anything like me, an Irish coffee with just whiskey can be a bit…too much whiskey! Baileys, on the other hand, is sweeter, so I managed to find an Irish coffee recipe with Baileys that I can enjoy!
This recipe is straightforward too – just combine 2 oz Baileys, with 1 oz Irish whiskey (could sub with Baileys) and 6 oz hot coffee. Serve with whipped cream.
Chai Latte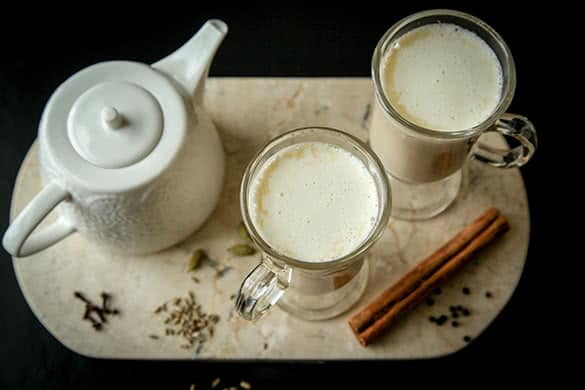 I'm a cardamom and gingerbread lover. I think it has something to do with being brought up in Sweden – we put cardamom in a lot of our cakes and we bake gingerbread cookies like there's no tomorrow around Christmas time.
Chai tea, on the other hand, stems from India, but the spices are almost the same as the ones you'd put in gingerbread cookies (and, if you're American: pumpkin pie), so not surprisingly it was love at first sip when I had a chai tea latte around age 20 or so. If you love the warming scents and spices of the Christmas season, I'm fairly sure you'll love it too.
I found a recipe over at Emilie Eats, that lets you make your own chai from scratch. This recipe does contain allspice, which I doubt you'll find in most Indian recipes, but when I make it, I put it in there too, so I think you'll like it! (I made minor edits to the recipe below.)
Ingredients
For the Chai Spice Mix (yields ⅓ cup):
1 tablespoon ground cinnamon
2½ teaspoons ground cardamom
1½ teaspoon ground ginger
1 teaspoon ground allspice
1 teaspoon ground cloves
½ teaspoon nutmeg
For the Vegan Chai Lattes:
2 cups water
2 black tea bags
2 tablespoons chai spice mix (see above)
3-4 tablespoons maple syrup, to taste
1 cup canned coconut milk (light or full-fat), or other milk
Instructions
1. In a small bowl, mix all ingredients until fully combined. Store in an airtight plastic bag or glass jar.
2. In a small saucepan, place water, tea bags, and 2 tablespoons chai spice mix. Bring to a boil; put the lid on, remove from heat, and let it steep for 15 minutes.
3. Remove the tea bags and stir. Pour equally into two mugs. Sweeten with 1-2 tablespoons maple syrup in each latte.
4. Heat the milk and pour ½ cup milk into each mug; stir until well combined. Garnish with coconut whipped cream, or other whipped cream, and a sprinkle of the spice mix.
5. *Optional: Instead of pouring the tea into two mugs, pour the maple syrup and coconut milk into the pot and warm over low heat. Then separate the mix into two mugs and serve.
Mulled Wine – the All-Time Favorite Hot Drinks Recipe for Winter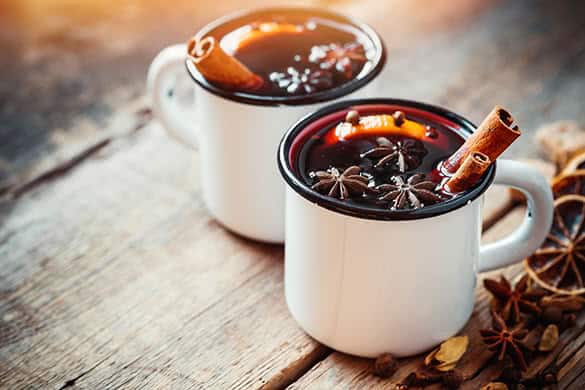 There's nothing like a cup of mulled wine to warm you up on an icy day! Found in Christmas markets all over Europe, served hot in paper cups, you can just as easily make it at home. I think winter would be a little less romantic if there was no mulled wine!
I stole this recipe from Adventures in Cooking – I always say if you're gonna steal, you might as well steal from the best…and this particular blog has such mouthwatering pictures you might just swoon. Plus Eva, the author, uses natural ingredients, which is a must if you ask me.
Ingredients
1 orange, organic
1 pear, cut into eighths
2 bottles dark red wine, such as Pinot Noir
1 cup apple cider
1 cup pear cider
2/3 cup honey
1/2 teaspoon whole cloves
2 cinnamon sticks
3 whole star anise
1/2 of a vanilla bean pod
Instructions
Use a vegetable peeler to get the zest off of the orange, trying to get as little of the bitter white pith as possible and only the bright orange peel. Wrap the orange in plastic wrap and refrigerate for another use.
Place the orange peel, pear slices, wine, apple cider, pear cider, honey, cloves, cinnamon, and anise in a medium saucepan and place over medium heat. Scrape out the vanilla bean pod over the pan, and then add the bean husk to the pan as well, stirring to incorporate.
Bring the mixture to a simmer, then reduce heat to low and allow to cook for 1 hour, stirring every 10 minutes. Remove from heat. You can strain the mixture, or leave the spices and peels in it for garnish. Serve immediately.
As for my own personal notes when it comes to this recipe – you can omit the cider. Not all mulled wine calls for cider. You may also omit the vanilla, as well as the pears, or sub for apples.
Personally, I sometimes add raisins and almonds (it's a Swedish thing – we have something called glögg which is similar to mulled wine and served with raisins and almonds in it).
And whilst I do tend to use honey as a sweetener when making mulled wine, I've also experimented with elderberry cordial/syrup which is surprisingly refreshing. Of course, it's always best to try the original recipe once, before you start experimenting, subbing and omitting ingredients!
The cooking time in this recipe is fairly long, which means you will taste the spices much better, but if you're in a hurry, you can make mulled wine in ten minutes too!
Cardamom Hot Chocolate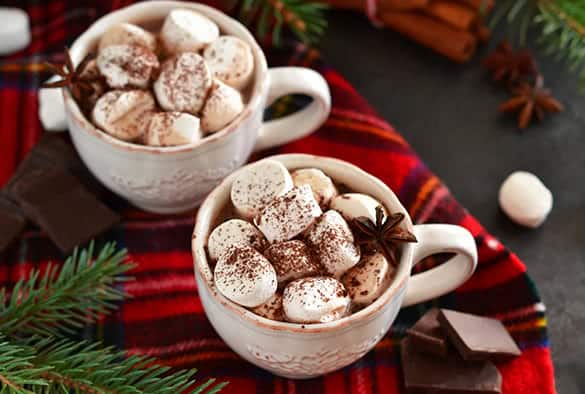 Did I mention my obsession with cardamom? One of my favorite drinks to put cardamom in is hot chocolate. Another is coffee. OK, so I put it in everything, but it is especially tasty when mixed with chocolate. Divine, if I may say so myself.
I went and found you the perfect cardamom-chocolate recipe so that you can try a taste of divinity yourself. (If you're asking why I'm not sharing my own hot drink recipes, it's because I don't use recipes very much. I tend to make things up on the spot.)
This time the recipe comes from The Baking Bird, who has an accompanying recipe for rose marshmallows if you go to her blog. Making marshmallows is fun – I once decided to make them with my best friend on Valentine's Day. We had no electric whisk, so it took some time, but it was a blast. And they do make a jolly good companion to hot chocolate.
Ingredients
1 Tablespoon dried rose petals in disposable tea bag
½ cup full-fat coconut milk
½ cup milk
2 ounces dark chocolate, chopped
2 ounces bittersweet chocolate, chopped
1 Tablespoon raw cacao powder
1 Tablespoon brown sugar or honey
¼ teaspoon cornstarch
⅛ teaspoon ground cardamom
Instructions
1. In a small saucepan, add the coconut milk and cow's milk (or another milk substitute), and submerge the rose petal tea bag into the milk mixture. Bring to a boil, and simmer for 10 minutes, covered.
2. Squeeze tea bag over pot before removing. If it is too hot (and it likely will be), press the tea bag into the side of the pan with a spoon to extract the rest of the rose flavor.
While on medium heat, whisk in the chopped chocolates, cacao powder, sugar, cornstarch, and cardamom. Stir until all ingredients dissolved, blended and to the temperature of your liking. Pour into your favorite mug and top with rosewater marshmallows!
If you're not a fan of coconut milk you can sub with milk or half-and-half.