Ever wondered what Australian foods should be a must on your culinary bucket list? This article has the answers for you! Check out our cool recipes that you should try today!
In a country where 'barbie' does not refer to a doll and 'thong' does not mean underwear, Australia can be a journey of discovery of the nuances of language, culture, and food. Here are some of Australia's iconic foods to tickle your taste buds and some recipes to bring the taste of 'Down Under' to your homes.
1. The 'Barbie'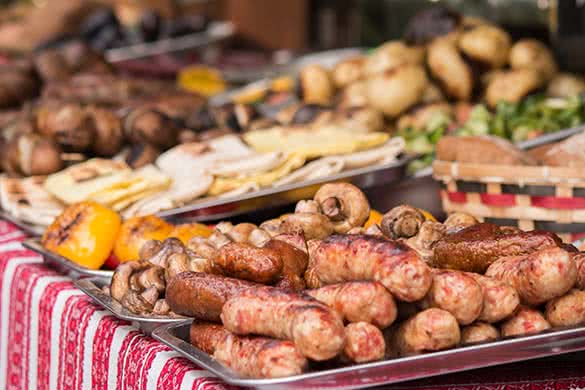 One of the first foods you'll learn about is the barbecue, fondly called the 'barbie' by the locals. "Throwing a shrimp on the barbie" became a popular phrase after Paul Hogan starred in a commercial to promote Australian Tourism in America, but Australians don't eat shrimp; they eat prawns, which is a popular fare for most Christmas banquets.
Getting back to the 'barbie,' this piece of cooking equipment occupies a position of pride in most Aussie homes, and come summer, spring, autumn and even winter, barbecues are a popular thing to do for social gatherings. All kinds of meat (lamb, beef, chicken, prawns, kangaroo, and emu) are cooked on an Aussie 'barbie,' and Australians typically cook a piece of meat, slap it between a slice of bread and pour some sauce over it. The sausage sizzle or cooking snags (sausages) are so common that you find sausage sizzles even at promotional events and fundraisers.
2. Vegemite
This little jar of dark brown paste is on all the supermarket shelves and in every home. Kids grow up on it, and they are often called "little vegemite." Vegemite is made from all sorts of vegetables, yeast extract and spice additives, and is touted as a healthy alternative to other spreads since it is nutritionally balanced and rich in vitamin B.
A number of recipes have spawned using Vegemite, from spreading it on your toast to combining it with cheese and avocados (another Aussie favorite) or baking it with pastry into 'Cheesymite scrolls.' To a visitor, the strong, salty, yeasty flavor can hit you like a brick, and it can safely be said that Vegemite is an acquired taste.
3. Pavlova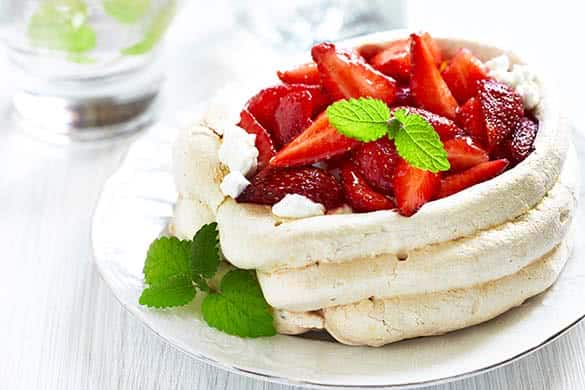 The origin of this classic dish has been disputed for many years with the Kiwis (New Zealanders) claiming to be the inventors. Legend has it that it was created in honor of the Russian ballerina Anna Pavlova when she visited Australasia in 1920. Despite the disagreements on the origins, the 'Pav' is Australia's favorite dessert made from fluffy egg white and topped with whipped cream and seasonal fruits.
This meringue-based dessert is light and fluffy inside with a crisp crust and is an absolute delight bursting with fresh flavors. There are many recipes and variations of the Pavlova, but here is a simple recipe for you to try at home by Donna Hay, Australia's leading food personality.
Serves: 6-8
Cooking Time: 1 hour
Ingredients:
– 150ml Egg Whites (approximately 4 x 60g eggs)
– 1 Cup (220g) Castor Sugar
– 3 tsp Cornflour
– 1 tsp White Vinegar
– Whipped Cream and Fresh Fruit to Serve
Directions:
1. Preheat the oven to 150°C (300°F).
2. Place the egg whites in the bowl of an electric mixer and beat until soft peaks form. Gradually add the sugar, beating well until the mixture is glossy. Sift the cornflour over, add the vinegar and fold through.
3. Pile the mixture into an 18cm-round on a baking tray lined with non-stick baking paper. Place in the oven, reduce the heat to 120°C (250°F) and cook for 1 hour.
4. Turn the oven off and allow the meringue to cool in the oven.
5. To serve, top with whipped cream and fresh fruit.
4. Meat Pie
The humble meat pie is a favorite Down Under. You'll find it at the local bakery, parties and picnics, the supermarkets and it's usually the go-to lunch option. If you are used to pies filled with gooey fruits and other such sweet delights, then this one will be a big surprise.
The Aussie meat pie fondly called 'dog's eye,' is packed to the brim with a combination of meat, a few vegetables, and spices. These little hand-sized pies are made from delicious golden flaky pastry, always accompanied by lots of tomato sauce (ketchup) and are often devoured at football and rugby matches in the cold soggy winter months. In fact, crossing over for a meat pie is rugby slang for trying to score. Here's a recipe from Readers Digest:
Serves: 4
Preparation: 20 minutes, plus 3 hours cooling
Cooking Time: 55 minutes
Ingredients:
– 2 TS Dripping or Oil
– 1 Onion (peeled and finely chopped)
– 500 g Lean Minced Beef
– 2 TS Plain Flour
– 1¼ Cups Beef Stock
– ⅓ Cup Tomato Sauce
– 1 TS Worcestershire Sauce
– 2 TS Parsley (fresh, chopped)
– Salt and Freshly Ground Black Pepper
– 4 Sheets Ready-Rolled Frozen Short Crust Pastry
– 4 Sheets Ready-Rolled Frozen Puff Pastry
– 1 Egg (beaten)
Directions:
1. Heat the dripping or oil in a medium frying pan. Add the onion and cook, stirring often until the onion is soft. Add the minced beef, increase the heat to high and cook, stirring with a wooden spoon to break up any lumps for 6–8 minutes or until the mince is brown.
2. Sprinkle the flour over the meat and cook for 1 minute. Add the beef stock, tomato sauce and Worcestershire sauce. Bring to the boil, reduce the heat to medium and simmer, stirring occasionally to prevent the meat from sticking to the base of the pan, for 10 minutes, or until the sauce is thick. Stir in the parsley and season with salt and pepper. Remove from the heat and set aside to cool completely.
3. Preheat the oven to 200°C (400°F). Using a small plate about 17 cm in diameter as a guide, cut four circles from the shortcrust pastry and use them to line the base and sides of four 1-cup pie tins. Fill the pastry with the meat mixture—avoid spilling any on the edges.
4. Using the same plate as a guide, cut four circles from the puff pastry. Brush the short crust pastry edges of the pies with water to moisten and top with the puff pastry circle. Press the pastry edges together to secure. Trim the excess pastry with a sharp knife and crimp the edges. Cut a small cross in the center of each pie and brush the top with beaten egg.
5. Bake the pies in the preheated oven for 10 minutes, reduce the oven temperature to 180°C (360°F) and bake for a further 20 minutes or until the pastry is puffed and golden. Serve the pies immediately with some extra tomato sauce if desired.
5. Kangaroo Meat
Yes, Joey is served on a plate Down Under. This national animal is available at the local butcher or the supermarket shelves. Kangaroo meat is lean and methane free, making it a great option for healthy meat. It is usually cooked on one side, medium rare and can be tough if overcooked. Kangaroo can be prepared as burgers, steaks, sausages and much more. Try it with a Bush tucker (native Australian food) marinade; it is awesome.
6. Anzac Biscuits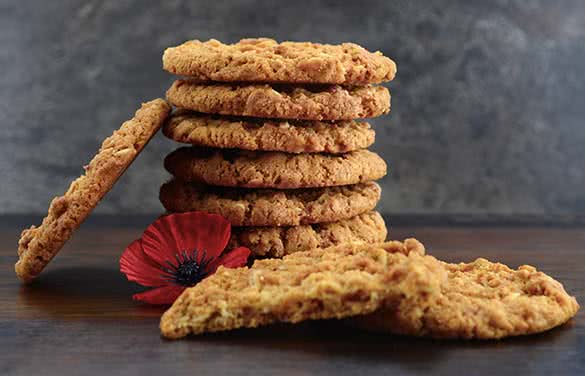 These biscuits have a very memorable history backing its recipe. Made out of oats, sugar, and coconut, these delicious biscuits were sent to ANZAC (Australian and New Zealand Army Corps) who fought in World War I by the wives and families of the soldiers. The ingredients used kept well on long boat journeys. Here's a recipe by iconic Australian cook and food author Maggie Beer:
Cooking Time: 16 minutes per batch
Ingredients:
– 1 Cup Plain Flour
– 1 Cup Rolled Oats
– 1 Cup Shredded Coconut
– ¾ Cup Firm Packed Brown Sugar
– 1 Lemon Zest
– 125g Butter (melted)
– 2 TS Golden Syrup
– 2 TS Water
– ½ tsp Bicarb Soda
Directions:
1. Mix the plain flour, rolled oats, coconut, brown sugar and lemon zest in a medium bowl.
2. In a small saucepan, melt butter with golden syrup and water. Once the butter has melted, bring it to a simmer and then add the bicarb soda.
3. Add the butter and sugar mix to the dry ingredients and fold through.
4. Roll into balls of about 2 cm and place on a lined baking tray.
5. Bake at 160°C (320°F) for 16 minutes.
7. Fish and Chips by the Beach
Who can deny themselves fried fish and chips? It's mouth-watering, absolutely enjoyable and found at every fish and chip shop at every corner of nearly every street—you get the point. A day at the beach always ends up being a day of hot fish and chips served in a paper box or yesterday's newspaper with lots of tomato sauce and lemon. You have to feed some to the seagulls, though, as they surround you and grunt every time you take a bite.
8. Lamington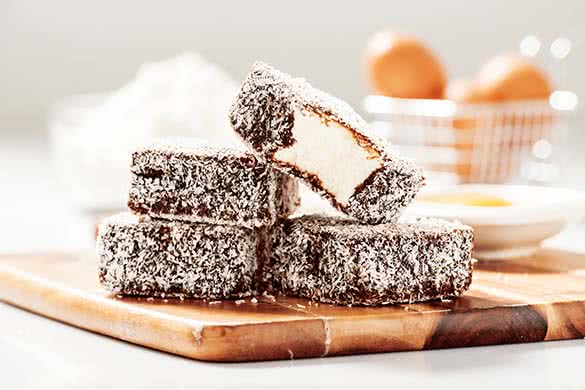 The lamington is over a century old and named after Lord Lamington, who invented this iconic Aussie cake due to a kitchen mix up. The lamington is a sponge cake, dipped in chocolate and sprinkled with desiccated coconut. Sometimes you will find layers of jam or cream in the middle of the sponge cake adding an extra depth of sweetness to these little cakes. This perfect little accompaniment to tea or coffee is found at local bakeries and cafes and is also baked for fundraisers. Here is a recipe I found on Australian Gourmet Traveller:
Ingredients:
– 8 Eggs
– 250g Castor Sugar
– 250g Plain Flour
– 30g Unsalted Butter (melted)
– 400g Shredded Coconut
– Chocolate Ganache Coating
– 600g Dark Chocolate (coarsely chopped)
– 300ml Pouring Cream
Directions:
1. Preheat oven to 190°C (380°F).
2. Whisk the eggs and sugar in a heatproof bowl over a saucepan of gently simmering water for 5-10 minutes or until warm (about 40°C), pale and frothy. Transfer to an electric mixer and whisk on high speed for 10 minutes or until mixture has tripled in volume. Sift over plain flour in batches and, using a metal spoon, fold gently to combine between additions. Just before adding the last of the flour, fold through melted butter.
3. Divide the batter between 2 lightly greased and base-lined 20cm square cake pans.
4. Bake in the center of the oven for 20 minutes or until a skewer withdraws clean. Stand in the pans on wire racks for 10 minutes, then turn out onto racks and cool completely.
5. For the chocolate ganache coating: combine the chocolate and cream in a heatproof bowl over a saucepan of gently simmering water. When the chocolate begins to melt, stir gently until combined and smooth and set aside in a warm place.
6. Scatter shredded coconut over a tray.
7. Cut each sponge into sixteen 5cm squares. Using 2 forks, dip each square into the chocolate and shake to remove excess coating. (If chocolate starts to thicken, place bowl over gently simmering water to thin.) Roll each square in coconut, shake off excess and place on a wire rack (sitting over a tray). Stand for at least 1 hour or until the chocolate sets.
8. Store in an airtight container in a cool dry place for up to 3 days.
Try these recipes, and if you liked this article, then share it with your friends or send me a shout out—though in Australia that would mean buying me a complimentary drink!