There's nothing that tastes better than a simple, crispy black bean burger. While many recipe variations of these delicious patties exist, the first fundamental ingredient is always, and forever, beans: smooth, delicate, pasty textured black beans! Check out this quick and easy, black bean burger recipe and satisfy your palate immediately!
Black Bean Burger Recipe
Ingredients:
2½ cans (16 ounces each) of black beans, rinsed and drained
1 small onion, coarsely chopped
2 cloves of garlic, chopped
2/3 cup of bread crumbs
chili powder
2 tablespoons of freshly chopped cilantro
2 tablespoons of freshly chopped basil leaves
2/3 tablespoon of toasted sesame seeds
salt and ground black pepper
extra virgin olive oil
Directions:
Preheat oven to 375 degrees F (190 degrees C).
Put 11/2 can of black beans into a bowl, and mash them well with a fork until they are pasty. Place onions, garlic, cilantro, basil and toasted sesame seeds in a food processor and blend until they are finely chopped. Add mashed beans, egg, bread crumbs, and a few drops of extra virgin olive oil. Blend one more time to make a thick mixture.
Pour the paste into a large bowl and add the remaining whole beans. Season to taste with salt, pepper, and chili powder. Mix the paste with your hand, or with a wooden spoon, until all flavors are well blended.
Shape mixture into patties. Line a broiler pan with parchment paper, and place patties on top. Broil them about 7 inches from the heat, for 5 to 7 minutes on each side.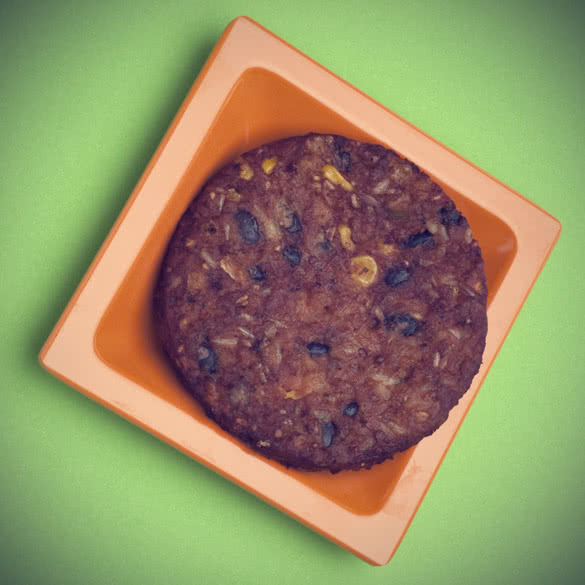 Cooking variations:
Oil the grill, and allow it to warm up for about 20 minutes over medium-low heat. Place black bean burgers on the grill, and cook them for about 5 minutes on each side, or until they are golden brown and crispy.
Put vegetable, or olive oil into a skillet, or a griddle, and heat oil over a medium heat. Place patties in a single layer into the pan, and cook them for 3 to 4 minutes, or until they are brown on the bottom side. Then flip them, and allow them to cook 3 to 4 more minutes, until they are crispy. Transfer them on a plate, covered with paper towels to absorb excess oil.
Sauce and Dressing Suggestions:
Avocado goes great with black beans. Use your imagination to prepare different types of pastes by combining avocado with garlic, herbs, spices, chilies, tomatoes or other vegetables. You can spread these dressings on top of your burgers, or use them as dips if you've made smaller black bean patties.
Prepare delicious salads by finely chopping (1/5 of an inch or smaller) different vegetables, such as tomatoes, onions, green and red peppers, and cucumbers. Season them with salt, pepper, herbs and olive oil, and serve on top of your black bean burgers.
Use yogurt to create tasty dressings and dips. Mix it with garlic, chopped cucumbers, olive oil and pepper. Try also other variations, by combining yogurt with curry, and a small amount of mashed potatoes. Add salt and other spices if you like and just spread it over your burgers.
Make flavored creamy cheeses. Melt cheese with herbs, spices, mustard, honey, mayonnaise, vegetables, or spicy sauces. They are absolutely yummy!
Check out the video below, and find out how to make black bean burgers.
Cover photo: cuisinenie.blogspot.com