The wine lover on your list doesn't want any old gift. Try giving them one of these unique ideas and watch them love you forever!
With the holidays quickly approaching you might want to start planning your attack when it comes to gift giving for the ones you love. It's not always easy to get people in your life what they want but when it comes to the wine lover on your gift roster, these next ten items are sure to impress!
From wine accessories to holders, to some pretty unusual ways to open their bottles of wine, this list is full of unique ideas. Some fun, some classy, but all are sure to a smile on their faces.
1. Winestein wine mug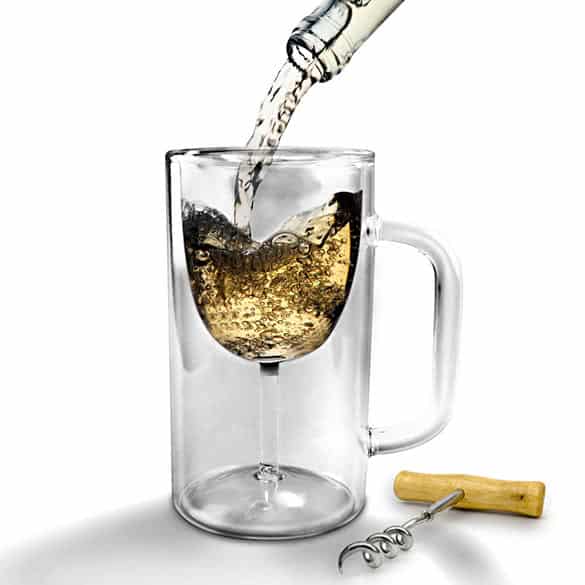 Sometimes carrying around a stemmed wine glass can be a little more difficult so why not give the wine lover in your life the Winestein Double-walled Glass Mug. This handy little innovation by Fred and Friends takes your traditional wine glass and turns it into a classy, yet easily holdable mug.
The wine stemmed glass appears to be inserted into a beer stein. Wine on the inside beer on the outside is what this mug is all about.
It adds a little beer mug to your wine drinking and who doesn't love the idea of that? The mug retails for about 15USD so it's an inexpensive gift for all wine lovers.
2. Black and Plum flow wall wine rack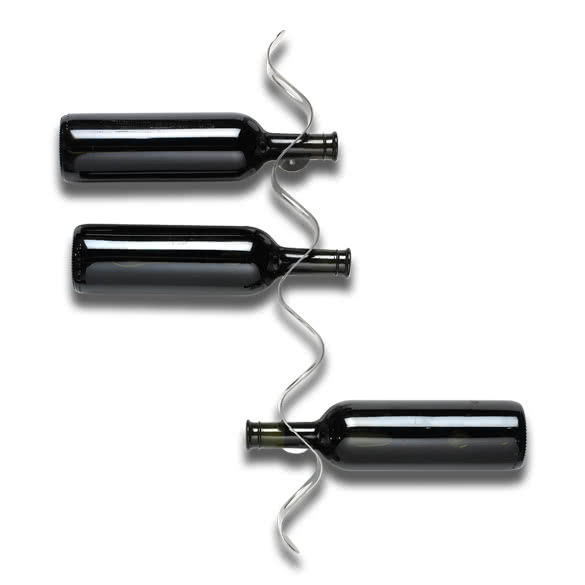 One of the best things about being a wine lover is getting to display your tastes for all your guests to see so the wine lover on your gift list will absolutely love the Black and Plum Flow Wall Wine Rack.
It's simplistic design will fit into any decor and although there's not much to it, it's quite the conversation piece. It doesn't take up too much space but can hold 8 standard bottles of wine and it's wall mounted for extra space saving abilities.
Finished in a stainless steel and coming it at around 40USD, this wine rack will impress any wine lover.
3. Bosch IXO Vino Cordless Lithium-Ion Screwdriver with Corkscrew Attachment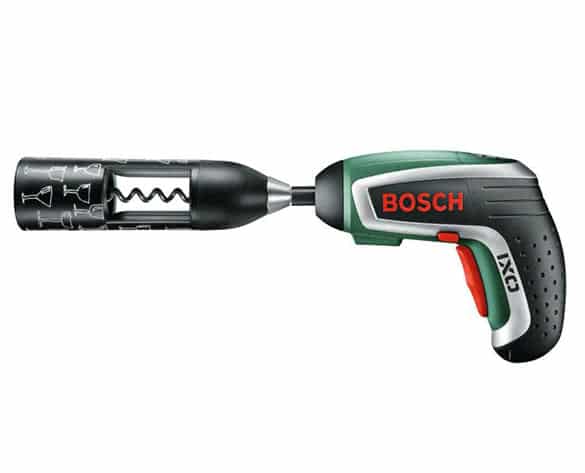 For the handy man wine lover in your life, why not go with the Bosch IXO Vino Cordless Lithium-Ion Screwdriver with Corkscrew attachment. This gift for your wine lover is more fun than utility because a traditional corkscrew would do the job just fine, but this adds a little spice to popping open that bottle of wine.
The Bosch IXO takes a possible wine problem of not having a corkscrew and getting inventive and goes ahead skipping the guess work. It will have your bottles opened in a jiff and the best part is, it can be used as a normal drill when the wine is on the shelf.
Found on Amazon UK for about 50USD, it's quite the steal for a gift for your wine loving man.
4. Wine bottle condom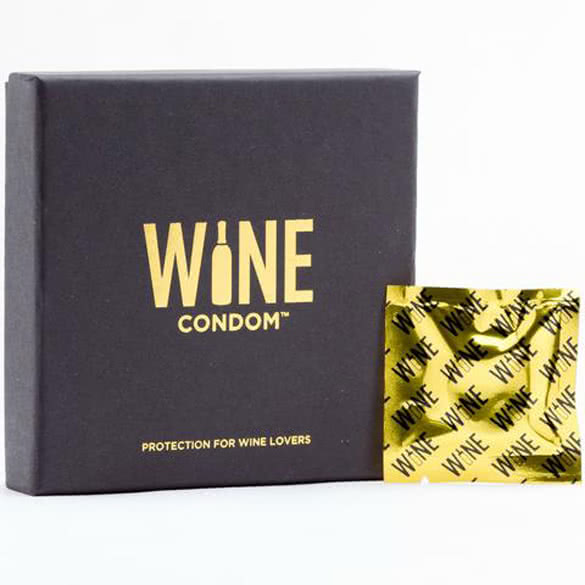 The perfect gift for wine lovers, the wine bottle condom is something that you won't have to worry about them using. There's nothing worse than having to re-cork a great bottle of wine but with this wine gift, they won't have to!
The wine bottle condom comes in a pretty little box, packaged just like traditional condoms and create a water tight seal so that no matter how they store their opened wine (sideways or upright) it's safely protected inside the bottle.
They sit flush with the rim so no spillage is a guarantee, they can be used 1-2 times per condom and at only around 10 USD for a box of a six, it's a steal your wine lover will thank you for.
5. Riedel Black Tie Bliss Wine Decanter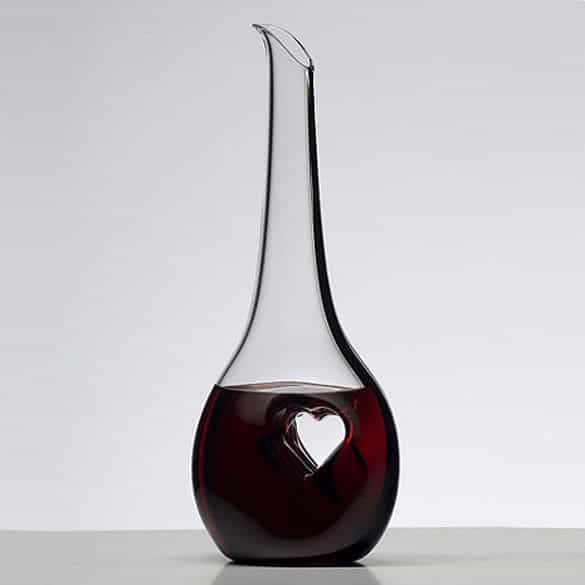 Every true wine lover knows how important it is to have a decanter, but this gift for the wine lover in your life is a bold statement piece that will have them in love with wine all over again.
The decanter is has a black accent streak on one side with a hollowed out heart shaped center allowing for a little help while pouring. The great part of this gift for your wine lover is that it's a classically beautiful piece, complete with 24 per cent lead crystal, so whenever they're decanting their next bottle of wine, they'll think of you fondly.
One of the more expensive pieces on the list at 189.95USD, this piece is a true personal gift for the wine lover in your family.
6. Winem Wine Monkey Wine Caddy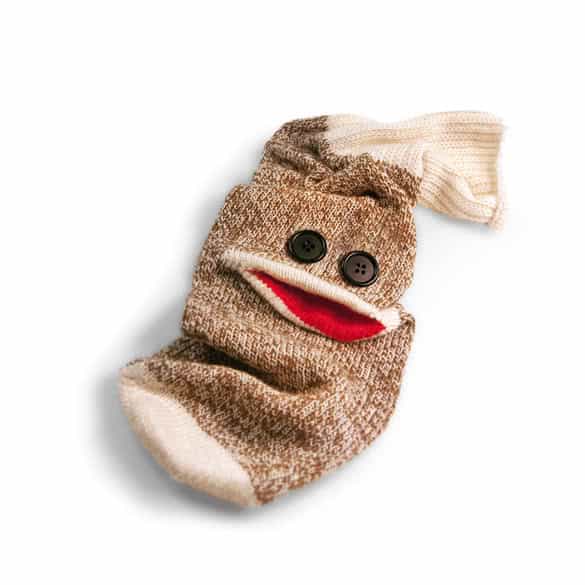 A little silliness goes a long way sometimes and with the Winem Wine Monkey Wine Caddy, you can bring some fun to the party with your wine lovers.
Another item from Fred and Friends, this bottle caddy is made from all-american red heeled socks and is designed for the on-the-go-wine lover on your list. It's big enough to hold small or larger bottles of wine and is just plain adorable.
The Wine Monkey Bottle Caddy sells for only 10USD so you get a few of them for all the wine loves on your list.
7. Giant Wine Bottle Wine Glass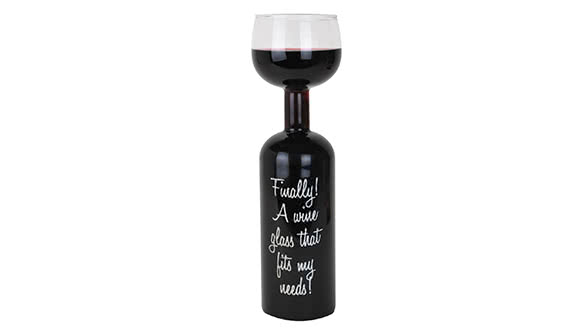 The overindulgent wine lover on your list will thank you for years to come when you give them the Giant Wine Bottle Wine Glass. Made by BigMouth Inc., the Ultimate Wine Bottle Glass is no ordinary wine glass.
Standing at almost 12' tall, this made of glass bottle plus glass combo will allow an entire bottle to be poured and sipped on in one sitting. More of a gag gift for wine lovers, this giant bottle is a funny conversation piece and well worth the around 40USD you'll pay for it.
Available on Amazon and other retailers, this is the perfect gift for your wine lover.
8. Before and After 5 Coffee mug and wine glass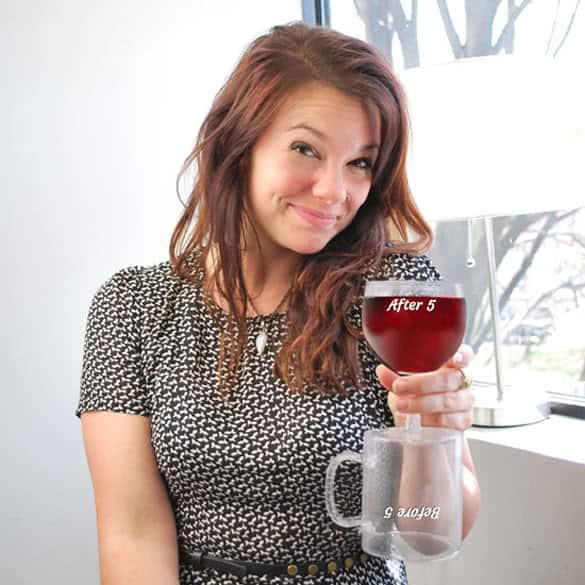 A gift your wine lover will get multi use of is the The Before and After 5 Glass by Bigmouth Inc. This fun gift is a double sided mug/wine glass with the words before and after 5 written on the appropriate sides so that they can have their latte before 5, their wine after 5, and they only have to use the one glass.
This fully equipped stemware wine glass along with glass mug will have your hardworking wine lover happy to stay on task happily, whatever time of the day. It's easy to clean and at less than 20USD, it's the perfect choice of gift for your wine lover.
9. Wine Cork Map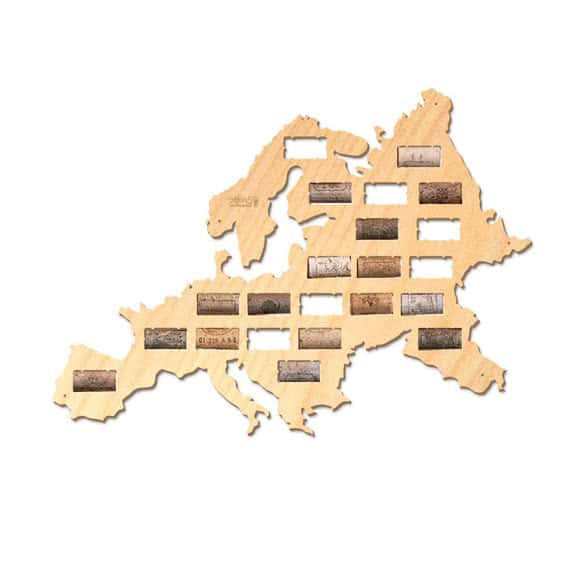 Instead of throwing out all those unused corks, with the Europe Wine Cork Map, the wine lover can recycle them into one beautiful piece of home decor. The Wine Cork Map is made of birch wood and has cork slots that they can fill as they go.
Adding and removing corks is incredibly simple and it's a great way to reduce the waste your wine lover may have from having to throw all those corks away. This gift for wine lovers falls under the categories of environmentally sound, convenient and self-made art.
At around 45USD, this gift is the one that keeps on giving.
10. Wine bottle candle wicks
For a little more romantic of a gift for the wine lover in your life, the Wine Bottle Candle Wicks are perfect. When the wine is finished and you don't want to just get rid of those used bottles, use them as table centrepieces of accents around your home with these beautiful candle wicks.
All your wine lover will have to do to use this gift is fill their empty bottles with lamp oil, insert the wick and light. The ambiance these wicks will provide is right on par with the classy aura that wine already has on a night in with the one they love.
The wicks are 12' with wick-holders made of ceramic and come in at around 10USD for 2. This inexpensive gift for your wine lover will light up their life, pun intended.
These gifts for wine lovers are just a few of the great things out there but any wine lover would appreciate any of the ones on this list. With gift-giving season quickly approaching, add a few from this list to your list and watch your wine loving friends smile with glee when they open their presents. What other gifts for wine lovers do you think should have made it on the list?