Instead of sticking to boring cocktails for this holiday season, try out one of these fall cocktail recipes to spice up your holiday party and your taste buds
Tis the season for comfy sweaters, relaxing in front of the fireplace and enjoying the foliage. It's also the season for parties and getting together with family and friends to celebrate the holidays.
After all, autumn is the beginning of quite a few holidays around the world that we can all happily take part in. Especially considering all the delicious and inventive cocktails! These following 10 fall cocktail recipes will spice up even the dullest of family occasions.
1. Vanilla Bourbon Hot Toddy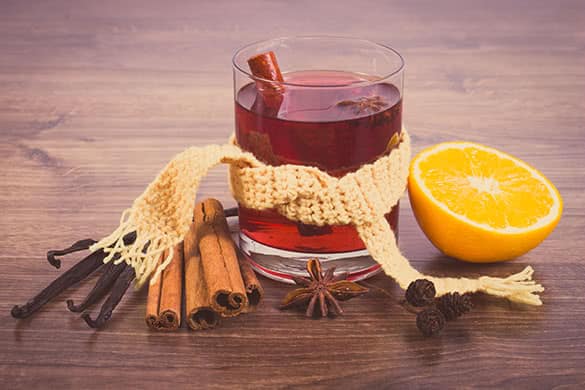 A hot toddy is one of my personal favorites and this festive take on the classic favorite is just as satisfying. The second best thing about this cocktail (besides how good it is) is how simple it is to make. Besides the bourbon all you need will probably already be sitting in your pantry or fridge!
Take one part bourbon and pour into your favorite mug. Stir 1 teaspoon of honey into the bourbon and toss in half a cinnamon stick. Next, you'll want to fill the rest of the mug with boiling water and stir in a slice of lemon. Easy as pie and just as delicious. Your guests will love you for this cocktail!
2. Apple Cider Sangria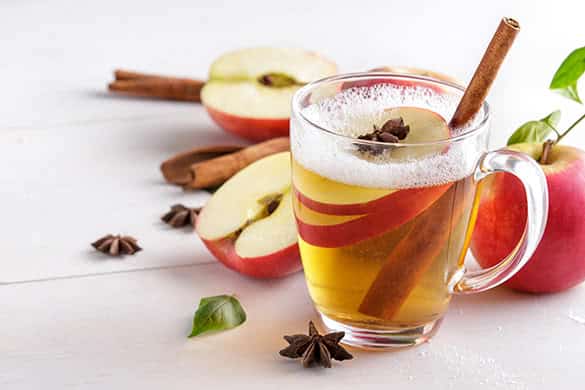 A fun holiday twist on every wine lover's favorite summer drink is the next fall cocktail on the list, Apple Cider Sangria. This is the perfect drink for sharing so it will be perfect for that girls Thanksgiving dinner.
What you'll need for Apple Cider Sangria is:
1 bottle of pinot grigio (or your white wine of choice)
2 and 1/2 cups of fresh apple cider
1 cup club soda
1/2 cup honey brandy
some pumpkin spice
2 honey crisp apples
2 pears
cinnamon sticks
To create this wonderful fall cocktail all you need to do is chop up the apples and pears and combine all the ingredients in a festive jug. For an, even more, fun way to serve, hollow out large apples and serve the delicious sangria right inside the apple. Your guests will love you and this cocktail.
3. Pumpkin Cider Beertail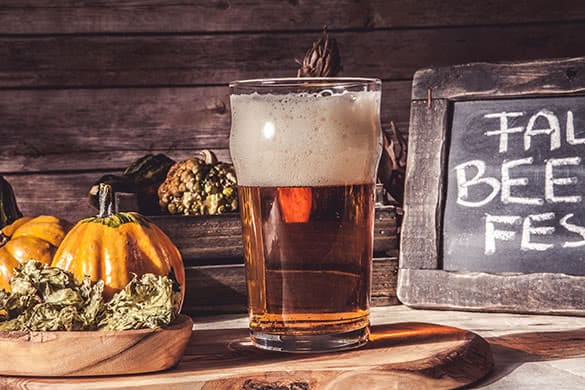 For the beer lover in all of us, the Pumpkin Cider Beertail is the perfect version for the fall cocktail lover that doesn't enjoy all those overly sweet or sour drinks.
All you need for this inventive and festive cocktail is:
3 bottles of Blue Moon Harvest Pumpkin Ale
1/2 a bottle of Martinelli's Sparkling Cider
4 cinnamon sticks
4 lemon wedges
cinnamon spice
If you want to simplify, mix the cinnamon sticks, lemon wedges and cinnamon spice for a just-as-great fall cocktail with little to no fuss.
Fill up a mason jar 3 fourths of the way with the Pumpkin Ale and then add the cider until the jar is full! For a festive look, it's better to add the cinnamon sticks but it's an option depending on personal preference. This simple beer fall cocktail will be a hit at any holiday gathering.
4. Cranberry Cinnamon Whisky Sour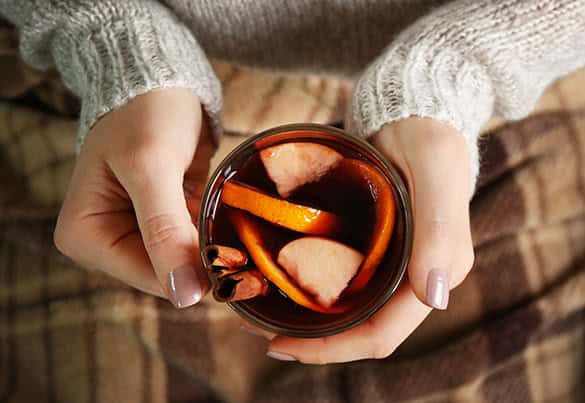 The perfect nightcap after finishing that giant holiday meal is our next fall cocktail, the Cranberry Cinnamon Whisky Sour. A festive take on the OG, this rendition is sure to have your holiday guests warm and bright by the end of the evening.
For this cocktail, you'll need:
3/4 cup of whiskey
2 cups fresh cranberries
2 cups water
2 cups sugar
2 cinnamon sticks
1/2 cup lemon juice
1/4 cup orange juice
1/4 cup lime juice
ice cubes
cocktail shaker
To create this vibrant and delicious fall cocktail you add the cranberries, water, sugar, and cinnamon sticks to a medium sized pot and bring to a boil over medium heat. Once the concoction is boiling, reduce heat and stir occasionally while it simmers. When the mixture is smooth in consistency, remove from heat and strain the liquid into a bowl.
Once done, allow the mixture to cool and then add the whiskey, lemon juice, orange juice, lime juice and the ice and shake it in the cocktail shake for about 30 seconds. Split into 4 cocktails and serve!
Although this fall cocktail takes a bit more prep, it will be worth it and your guests will thank you.
5. Spiced Apple Cider Margarita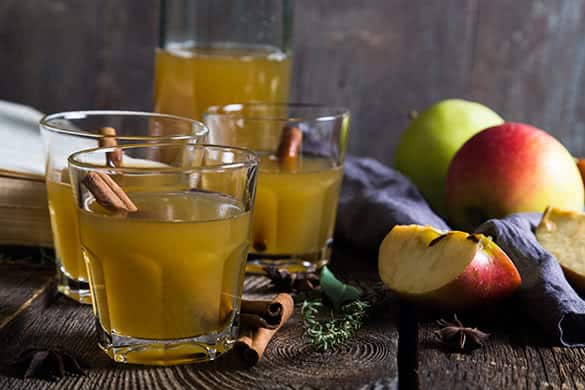 The Spiced Apple Cider Margarita is a fall cocktail for the ages. It is above and beyond when it comes to autumn flavors and is one of the most inventive on this list.
What you'll need is:
5 ounces of spiced apple cider
1/2 teaspoon lemon juice
1/2 ounce of Grand Marnier
1/2 ounce of mescal or gold tequila
2 tablespoons of raw sugar
ground cinnamon
cinnamon sticks
apple slices
To create this wonderful drink you'll want to start by rimming the glass like you would with any other margarita. Combine the raw sugar and cinnamon in a bowl and dip your glass of choice in the Grand Marnier and then into the sugar and cinnamon mixture.
Next, you'll want to pour the rest of the ingredients in a cocktail mixer and shake until they're all mixed thoroughly and pour over ice in the rimmed cups.
If you're feeling a little more adventurous you can garnish the drinks with a cinnamon stick, a slice of apple and a dash of cinnamon to really impress your guests.
6. Autumn Russian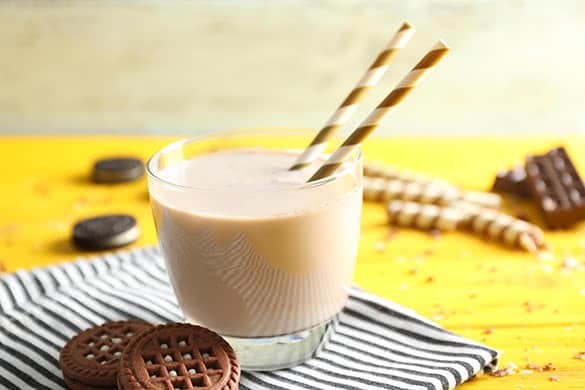 The classic White Russian gets a fall cocktail twist with this next recipe! The Autumn Russian is a perfect cocktail to replace that after dinner coffee or tea. The best thing about it, too, is that it's simple and easy to make.
All you'll need for this tasty treat is:
Pumpkin Spice Kahlua
2 parts vodka
1 part heavy cream.
The Pumpkin Spice Kahlua does all the work for you! Mix the 3 ingredients and voila! A festive fall cocktail any White Russian lover will enjoy.
7. Pumpkin Pie Shooters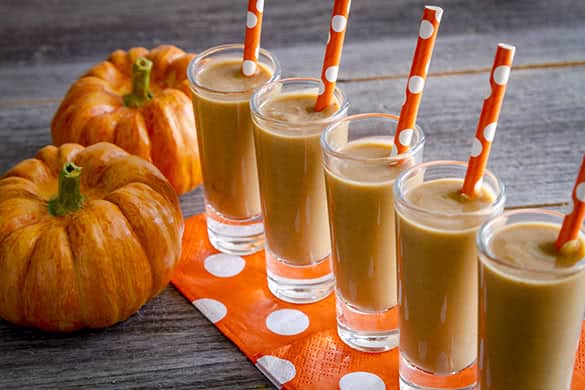 For the sweet tooth in all of us is our next fall cocktail, the Pumpkin Pie Shooter. These half dessert half cocktail drinks are perfect for sipping on or even indulging in over the holiday season.
What you'll need is:
3 tablespoons of pumpkin puree
1/4 cup International Delight Pumpkin Spice creamer
1/2 teaspoon of vanilla
2 ounces of whipped cream vodka
marshmallow fluff
graham cracker crumbs
To begin, you'll want to dip your shot glass of choice in marshmallow fluff until the rim is coated and then dip into the graham cracker crumbs until you can no longer see marshmallow.
Next, mix the rest of the ingredients and blend until smooth. When the mixture is good and blended, pour into your rimmed shot glasses and serve! The perfect fall shot for the perfect holiday hostess.
8. Warm Apple Pie Cocktail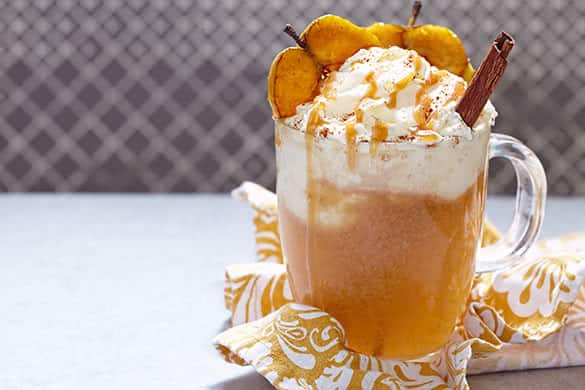 Another sweet cocktail for any dessert love is the Warm Apple Pie Cocktail. This ingenious take on the holiday favorite dessert will have any pie lover rejoicing.
For this warm fall cocktail, you'll need:
6 cups apple cider
4 cinnamon sticks
6 whole cloves
8 whole allspice
1 cup rum
whipped cream and cinnamon
Combine apple cider, cinnamon sticks, cloves and allspice in a saucepan and bring gently to a boil. Then you're going to want to turn heat down and simmer for about 10 minutes. Strain the mixture and stir in the rum.
Top with whipped cream and ground cinnamon and serve to your impatient guests immediately! They're going to want this drink post haste so don't wait!
9. Kahlua Pumpkin Spice Hot Chocolate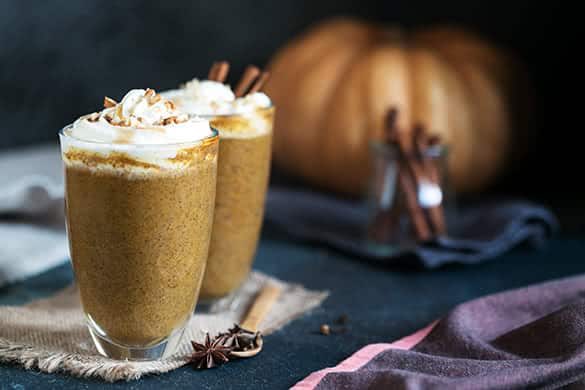 Who doesn't love a good hot chocolate when the weather starts to drop and the leaves start to fall? This fall cocktail recipe is one that anyone can enjoy because seriously, who doesn't like hot chocolate?
What you'll need for the Kahlua Pumpkin Spice Hot Chocolate is:
Pumpkin Spice Kahlua
4 cups whole milk
1/2 cup granulated sugar
1/2 unsweetened cocoa powder
pinch of salt
1 cup pumpkin puree
1 teaspoon pumpkin pie spice
whipped cream
shaved chocolate
To begin you'll want to combine milk, sugar, cocoa, and salt a whisk over medium heat until sugar is dissolved. Do not let this mixture boil! When it becomes hot enough before boiling, whisk in pumpkin puree and pumpkin spice, whisking, and heating as before.
Once heated, remove from heat and add Kahlua. Choose your mug of choice, pour the mixture in and add whipped cream and chocolate shavings to top off this beautiful, delicious treat of a fall cocktail.
10. Apple Bourbon Bellini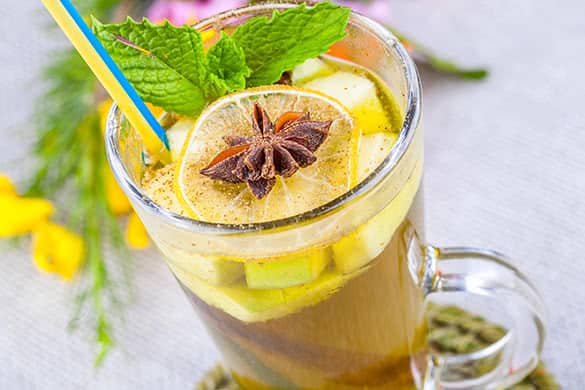 Last but definitely not least on our fall cocktail recipe list is the Apple Bourbon Bellini. A festive take on the classic Bellini, this holiday treat will spice up any holiday party.
For this awesome cocktail, you'll need:
3 apples
2 tablespoons of water
1 teaspoon granulated sugar
6 ounces of apple bourbon
1 teaspoon lemon juice
1 bottle of prosecco
Take 3 apples and remove cores and cut into wedges. Put the apples into a food processor (or blender if that's what you have on hand) with the water, lemon juice, and sugar.
Blend up and put in a small bowl. In the bottom of a champagne flute, you'll want to put a large tablespoon of the puree then top with 1 ounce of bourbon and top with prosecco.
This simple yet delicious recipe is one that your guests won't stop talking about!
These 10 fall cocktail recipes are sure-fire ways to take your party from boring to bumping and will have your guests not only satisfied but even a bit jealous that they didn't think of them first! If you have any of your own wonderful fall cocktail recipes, share them below in the comments!