Eat like a queen for less in the jewel of Eastern Europe. Read on to discover five little known foodie gems and best cheap restaurants in Budapest.
Budapest is having a moment—a very long moment—which has seen the city straddling the Danube become the most sought after destination in Europe for food, culture and partying.
It really is the city that keeps on giving—steeped in history and gourmet gastronomy by day and a vibrant nucleus of dance and play when the sun goes down.
The beer is good, the food is better and the prices are so reasonable that you'll be planning your next trip before you've even left! Tickle your taste buds with delicacies from these five restaurants in Budapest that will keep you well within budget.
1. Soul Food
Nestled in the heart of Budapest's eclectic, pulsating Jewish quarter, the exceptionally welcoming staff at Soul Food serve up the best Creole cuisine east of Baton Rouge.
Think succulent, smoky ribs, seared corn on the cobs, more-ish sweet potato chips and enough Caribbean jambalaya to feed all of Hungary.
There's something for everyone at Soul Food, and with a large plate of assorted Southern delicacies coming in at 2100 HUF (about $7/€7), it's suitable for all budgets! Don't leave without trying it!
2. Selfie Bar and Grill
If you ever find yourself hung over and in Budapest, look no further than Selfie Bar and Grill. Service is quick and with a smile, and the portions are just what the doctor ordered after a heavy night in the Ruin Pubs or at the Bath Party.
The salads, burgers and fries are all reasonably priced. A word of warning: if you aren't accustomed to Eastern European milk, best to avoid the coffee or go 100% Americano. The traditional goulash is also a winner if you're feeling adventurous!
3. Go Free Café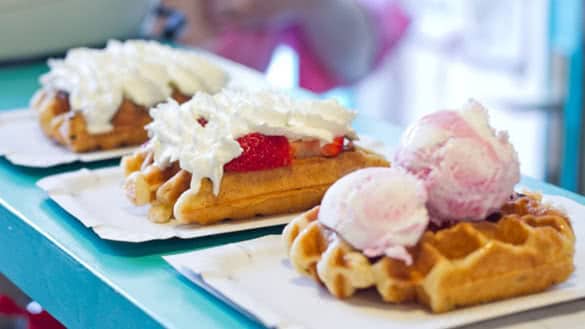 A hidden gem and a bit of a diamond in the rough, the Go Free Café offers the most incredible Belgian waffles that Forints can buy (or any currency for that matter). Deceptively humble and a little dishevelled, you could easily pass this tiny eatery without realizing it ever existed.
Whether you prefer to indulge in sweet or savoury, Go Free has it all: warm, toasted waffles covered in generous helpings of cream, fresh fruit, Nutella or M&Ms for the sweet tooth, as well as savoury gourmet crepes stuffed with tender meats, flavour-filled cheeses and tangy salads for the salt lovers.
A sweet Belgian waffle covered in cream, Nutella and fresh strawberries with a coffee will set you back less than $3/€3 and will also set you up for the day!
4. Grandio Party Hostel
A hippy paradise that found its current incarnation in the shell of a disused Jewish elementary school, a stay at Grandio is an experience you will never forget.
The staff are a collection of fairies, nymphs and humans with the kindest souls—it's impossible to leave Grandio without a plethora of new friends from far flung corners of the globe.
The bar in the hostel courtyard is a great place for travelers to mix, while the alcohol is standard price for Budapest, but the atmosphere is unbeatable.
If a few nights at the hostel that never sleeps (really, never) seem too much for you, Grandio also serves amazing food during the summer, including mountainous burgers and eggs any way you want them.
Grandio also runs pub crawls and hosts the ancient game of Beer Olympics in their sister hostel Retox, where no night is complete until you take part in the Strawpeedo competition. (Don't know what a Strawpeedo is? You'll have to pay the guys and gals at Retox a visit.)
*Side note: If you want to try something truly unique in Budapest, visit one of the many 'Escape Room' locations near Grandio in the 7th District.
Lurking in the cellars of restaurants and ruin bars, Escape Rooms challenge participants to use teamwork and logic to break out of underground labyrinths. Teams of six people pay an average of $35-$40/€35, so it's also a pocket-friendly activity to pass the time if money is tight!
5. Bors Gasztro Bar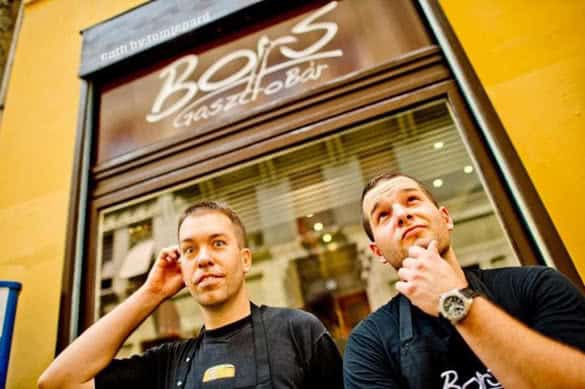 Bors is a local Hungarian restaurant and deli that offers top class street food at pocket friendly prices. The traditional soups coupled with their unusual sandwich combinations are the perfect lunchtime meal for visitors to Budapest, especially during the winter months when temperatures are a bit harsh.
The staff are extremely friendly, and a stop at the Gasztro Bar will introduce you to the fantastically bizarre world of Hungarian rap music. There's plenty of choice for vegetarians, too.
Whether you're planning your route across Europe or simply choosing a destination for a short city break, look no further than Budapest. Bathed in history, culture and a whole lot of night-time fun, the Hungarian capital is a one-stop-shop for travelers of all ages and all budgets.