Toronto not only has amazing food and coffee shops, but also many places to see and things to do. Read on to find out what things to do in Downtown Toronto.
Downtown Toronto is something that might not come to your mind when you hear someone say Canada. Instead, you'll likely think of the beautiful nature in various other provinces and regions of this country.
However, Downtown Toronto is a concrete jungle full of many adventures. Some of these activities are right in the open and easy to find, while other treasures are harder to find but definitely worth the effort.
The CN Tower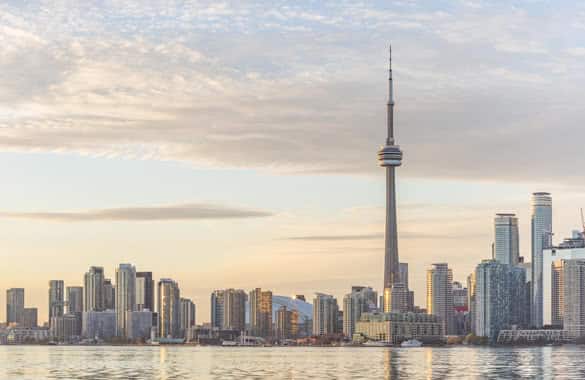 Standing at 457 meters tall, this monument is a landmark and major tourist attraction in what has been nicknamed the six. The CN Tower does more than just stand tall and look pretty: it offers people the chance and opportunity to walk up all 1,776 steps, which, on average, takes people 30-40 minutes to get to the top, to see an amazing 360 degrees-view.
If walking (or should I say climbing) isn't your thing, or you wore your favorite pair of heels for date night, there is always the elevator.
Along with the gorgeous view, there is also a rotating 360 degrees-restaurant, and the opportunity to stand on a 64-millimeter thick glass while looking 342 meters down. At night, the CN Tower lights up with colors to support sports teams, world events or to celebrate holidays.
The Ripley's Aquarium of Canada
Right at the base of the CN Tower is the Ripley's Aquarium of Canada, which is the home to 16,000 aquatic animals. As you head down the gradual slope from the entrance, you also get deeper into the the sea life that exists and will end up with sharks and turtles swimming above your head.
You will also have the opportunity to see many amazing other types of fish and will have an amazing experience. There are lots of things to see and do at the Ripley's Aquarium of Canada.
Nathan Phillips Square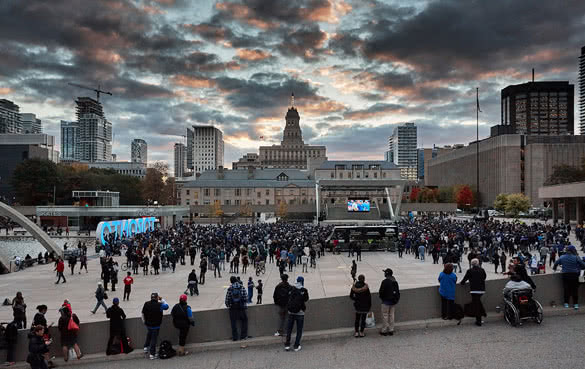 This is what is considered an Urban Plaza, which is outside of the new City Hall. This may seem boring, but it is home of the Toronto LED sign that everyone loves and has a great water feature.
There are various events that take place in the summer, and in the winter, the water feature is turned into a skating rink that is constantly crowded with people of all ages skating and having fun.
Sports, Plays and Concerts
Depending on the season you are in Downtown Toronto for you can catch a Raptors game and cheer on Toronto's beloved basketball team in the Air Canada Center, or if you don't actually want to go into the A.C.C, you can always stand in the Jurassic Park outside and cheer them on with the rest of the fans. The A.C.C is also home to the Toronto Maple Leafs, where you can cheer on Toronto's favorite hockey team.
If you're a baseball fan, Toronto also has the Rogers Center, home to The Toronto Blue Jays.
Toronto is not stage shy either: there are plenty of renowned theaters such as the Ed Mirvish Theater and the Royal Alexandria Theater. This is where all of the big musicals and plays take place, and they are always booming.
As for concerts, Downtown Toronto is home to a local music and upcoming artists who play at clubs all the time. There are also major concert venues such as The Phoenix, The Sound Academy, The A.C.C, The Canadian Molson Amphitheater, The Sony Center, Massey Hall and many other venues.
The Distillery District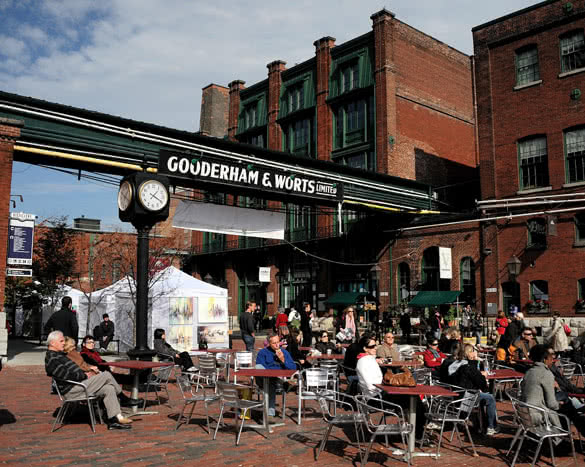 This gorgeous area contains numerous cafés, restaurants and shops that are in heritage buildings of the former Gooderham and Worts Distillery. As you walk through the cobblestone streets and alley ways, there are various shops and places to see. Around Christmas time, the whole area is transformed into a magical place with Christmas decorations everywhere.
Graffiti Alley
As shady as this may sound, it isn't. This alley may take some time to actually find, but this is a well known spot for amazing graffiti art in Toronto. There is gorgeous graffiti all over Toronto, but Graffiti Alley is the place you must see because there is a whole group of artists who do the unthinkable with their art.
Museums and Art Galleries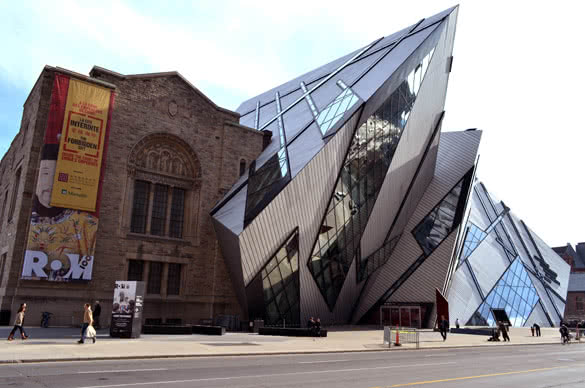 Toronto has the Royal Ontario Museum (ROM), which hold exhibits that change and vary from tattoos, mummies, Mayan ruins, Pompeii and dinosaurs. The city also has the Art Gallery of Ontario (AGO), which has renowned pieces of art for the public to see.
These two places not only  are the houses of art and history, but look like pieces of art themselves due to their modern architecture which gives these buildings a sharp edge that is only the beginning of the amazing sights to see.
Downtown Toronto has plenty of things to see and do. Toronto also features Kensington Market, home of amazing places to eat, shop and have coffee in. Kensington also has an amazing culture, heritage, sense of community and graffiti.
In Downtown Toronto, there is also the chance to explore the amazing St. Lawrence Market, Toronto Center Islands, Allan Gardens, Cherry Beach, the Harbor Front, and the Docs Drive-in movie theater. There are so many more places to explore and things to experience. If you have any more ideas of great places and activities to do in Downtown Toronto, feel free to share!