A Yogurt Mask for Acne Scars
It won't come as a surprise if I tell you that millions of people around the world have problems with acne, regardless of age or race. If not treated, they can put you in a very uncomfortable situation, leaving unaesthetic marks on your skin long after they broke out – when untreated, acne turn to scars.
There are a lot of different medications and treatments, but the truth is – none of them work 100%. Yogurt Masks are efficient, easy to make home remedies which will help you achieve the perfect complexion.
It is likely that your dermatologist will prescribe an antibiothic cream for your acne. Luckily, there are other natural and effective ways to fight acne without worrying about side effects of long term use of antibiotics.
I've chosen Yogurt as one of the most efficient among the variety of antibacterial remedies you can find in your fridge. Yogurt was first mentioned in ancient writings from the period of Mongol conqueror Genghis Khan.  The origin of this delicious dairy product comes from the Middle East.
Today, yogurt is a widely known as a healthy dietary choice and it's rightfully placed high on the list of good-for-you foods. It's made by natural fermentation of milk in the presence of certain benign bacteria. Regular consumption of this milky beverage has many beneficial effects on the human body. Refreshing and delicious, yogurt is directly linked to longevity.
Now let's see what Yogurt can do to make acne disappear.
Yogurt, Honey and Lemon Mask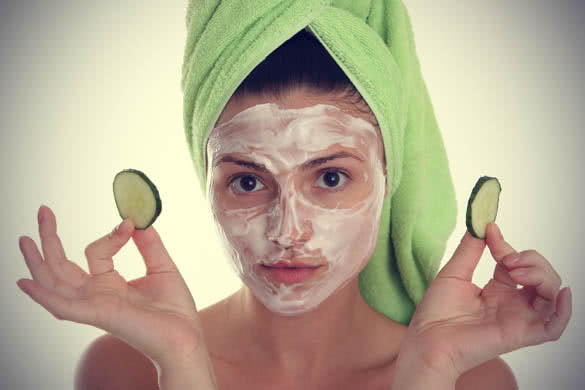 This is by far the best homemade mask against acne. Yogurt clenses and softens your skin while citric acid from the lemon juice unclogs your pores like a vacuum cleaner.
Ingredients: Two tablespoons of fresh milk, two tablespoons of honey, one freshly squeezed lemon, one tablespoon of yogurt and lukewarm water.
Preparation: Simply mix all of the ingredients until you get the lotion.
Application: Apply a layer of lotion on your face and neck. Wait a few minutes until it dries.  Apply another layer and continue the process until there's no more lotion. When you're done, wait about ten minutes, and then rinse with warm water.
Tips: Use a mask three or four times a week. Never use the leftovers, always prepare a fresh one.
Skin purity is directly related to digestion. Yogurt is very important for people who have skin problems like psoriasis, ringworm and acne. All these disorders are linked to poor digestion. If you want powerful digestive system, I recommend you consume plain yogurt on daily basis. Statistics have shown that acne appear in much greater extent among the population whose diet is based on carbohydrates and chemically processed grains.
The occurrence of acne and pimples in people who eat vegetables, fruit and meat is reduced to almost a zero. Consider going on a dairy diet, yogurt and other milk products will do wonders for your skin and you'll also lose a couple of unwanted pounds.
For best results, use yogurt topically and incorporate it into your diet for at least a month. This home remedy is cheap, effective and, unlike other store-bought masks, you know exactly what you're using – pure nature. Acne, be gone!