Find the perfect shoes to wear with a peach dress by checking out these combos.
Whether it's just for a coffee run, or an evening party, a peach dress can be a lovely statement. What's fun about this color is that it can be worn as a neutral or as a bold, bright color.
With the right accessories, you will get a trendy look for any occasion, so let's start with the perfect shoes. Now, depending on your dress and fashion habits, we give you the colors, and a bunch of types and designs you can choose from (flats, high heels…).
Nude
The praise for nude shoes never seems to stop, especially in the last few seasons. No matter what shade of peach you choose for the dress, nudes will accompany it perfectly by letting the color speak for itself. As seen on celebrities from Taylor Swift to Demi Lovato, nudes are a great choice for either a full length gown or a fun, flirty short dress. Keep it safe by choosing nudes with a long dress to avoid the "peekaboo" effect under the hem.
Flats will go great with the long look, and heels with a shorter dress. This color is awesome because it can look great with any type of shoe, from tiny sandals and ballet flats to some serious high heels.
Peach maxi dress (dorothyperkins.com)
Jimmy Choo mesh sandals (theoutnet.com)
Chameleon nude sandals (office.co.uk)
Ariella super high heels (boohoo.com)
Metallic
Always a great option for a classy look, metallic shoes will work for both day and evening. Go with your favorite shade of metal – gold, silver, copper, and coordinate the shoes and your jewelry. A matching, shimmering eyeshadow will add glitz to your whole look. Personally, I think that metallic looks best on sandals, as it adds just a touch of glamour, while full golden high-heeled pumps may be a bit too much. You don't want anything to distract people's eyes from your gorgeous dress!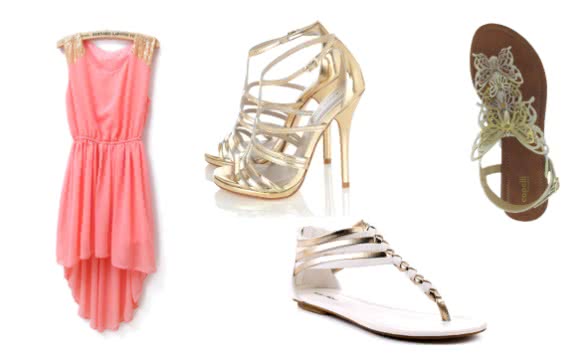 Peach sequined shoulder dress (sheinside.com)
Karen Millen strappy sandals (karenmillen.com)
Capelli butterfly sandals (amazon.com)
Michael Antonio Driver sandals (heels.com)
Dark
If you want to play it safe, black is the best choice, in any shape. However, if your complexion, eye and hair color allow it, navy blue also looks awesome with peach, and adds serious class to your whole look. Keep it in your style comfort zone by choosing ballet flats or simple pumps. If you want to rock the look at night, there are cool rock'n'roll black booties that you can wear with your peach dress while dancing the night away in clubs.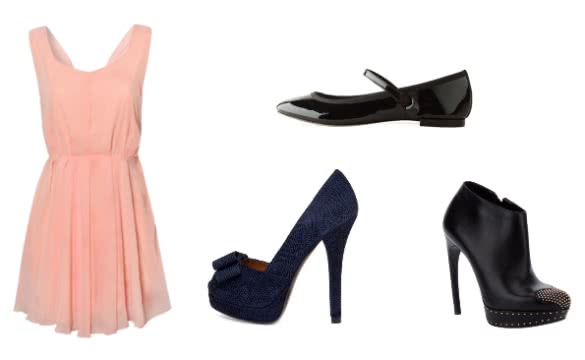 Rare Tie chiffon dress (bankfashion.co.uk)
Repetto Lio Mary Janes (lagarconne.com)
Fendi Bow pump in Navy (forwardforward.com)
Alexander McQueen studded booties (farfetch.com)
Fruity Colors
Why not step outside your comfort zone in a peach dress with some brightly colored shoes? Make it a fruit salad – combine your shade of peach with raspberry flats, lime sandals or matching peach ballet flats or pumps. Fun, young and yummy!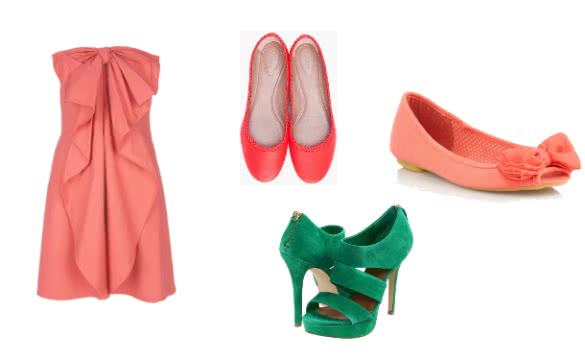 Valentino dress (farfetch.com)
Chloe braided flats (ssense.com)
Steve Madden sandals (zappos.com)
Chiffon bow pumps (debenhams.com)
Cover photo: www.justdandy.org
7 thoughts on What Shoes to Wear with a Peach Dress
I have this coral colored layered fitted dress. I am thinking of using a purple platform shoe. What do you think?

I have a peace sundress long from h&m with to slits in it I have a graduation to attend I was wondering how to accessory and style it before this weekend and what shoes because it long I'm 5.5

Sorry correction myself its peach

i just bought a light chiffon feel peach/soft pink shirt with gold metal stud accents across the chest. i dont know what style pants or color to pair the shirt with and also any color of pump suggestions?

Please I have a peach and wine color combined dress n Av bin racking my brain as to what color of shoe can be best paired wit it.Please I LL appreciate your suggestion soonest….thankx.

I have peach lingeri what color shoes and accessories

I have a pink strapless dress and underneath the breast is a design of diamonds but the dress is long from the back and short from the front but the color is in between pink and peachy what shoes do I wear I prefer heels not flats.