SUMMER [suhm-er] - noun - skin gets darker, days get longer, smiles glow brighter and hair gets... drier?
For all you beach babes out there, with summer coming up it's important to remember to take care of yourselves.Soaking up the sun sure gives you that "je ne sais quoi" glow, but your hair and skin could be suffering more than you realize!
Here's how to look and feel your hottest (literally) this time of the year without suffering the aftermath.
While it's important to keep your body protected with layers of moisturizing sunscreen, I'll start with the top—your hair.
The Facts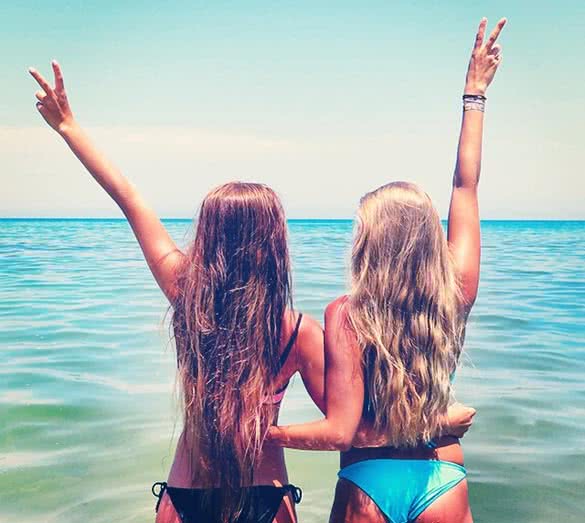 Beach waves are so in, Bumble and Bumble made a set so you can make them at home in the middle of winter.
What you may not realize though is that, in reality, while ocean water is fabulously healing for your body, it truly messes with your hair—especially if it's already dry and colored.
The high salt content sucks out moisture from your tresses then, if that wasn't enough, the wind and sand tangle them into messy knots.
In a perfect world, you should keep your head above water, but that's not much fun on the beach.
So, here are some best practices to ensure your locks stay shiny and strong and keep looking healthy after summer ends despite some rule breaking.
Keep Things Trim
It always helps to get a trim before summer.
The sun will do extra damage to your hair, so if you remove dead ends in advance, it will improve its condition ahead of frolicking outside.
If you usually get your hair cut every few weeks, hold off from getting it cut again until the end of the season so that you can treat all the damage during one comprehensive visit to your hair salon.
When in Doubt, Cover it Up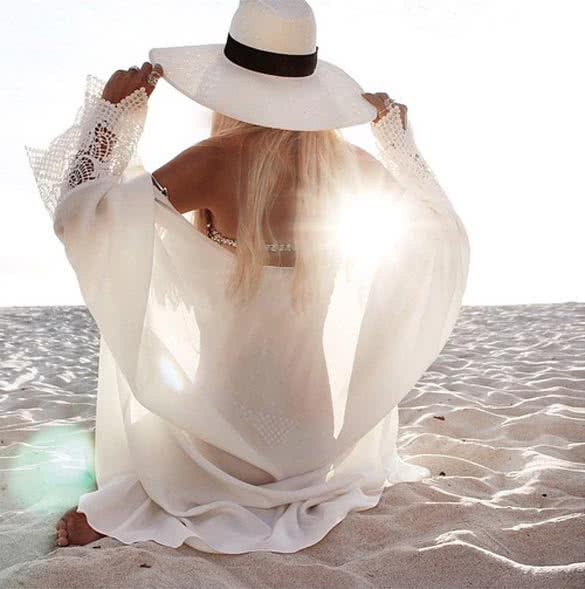 Staying fashion forward by the water by wearing a beautiful summer hat or colorful scarf may be your safest bet.
Head accessories not only add extra sun protection and keep your hair from getting too messy, but also help the skin on the top of your scalp to retain moisture.
If you dye your hair, this may save you from having to run back to your colorist to fix it up.
Go Au Naturel
Avoiding heavy styling products is important in protecting your tresses from getting damaged by the sun.
Skip anything that holds your hair in place—like gels, hairsprays and pastes—while out on the beach.
Instead, if you have dry hair, go heavy on conditioner and use a leave-in treatment cream with SPF like Swimcap. It moisturizes and shields your hair at the same time.
To continue nourishing your hair throughout the day, bring along some products like Kérastase Soliel Micro-Voile Protecteur and Aveda's Sun Care Protective Hair Veil.
You can keep them in your bag and reapply as needed. Argan Oil also does the trick, although it spills easily and is quite a pain to travel with.
Keep it Loose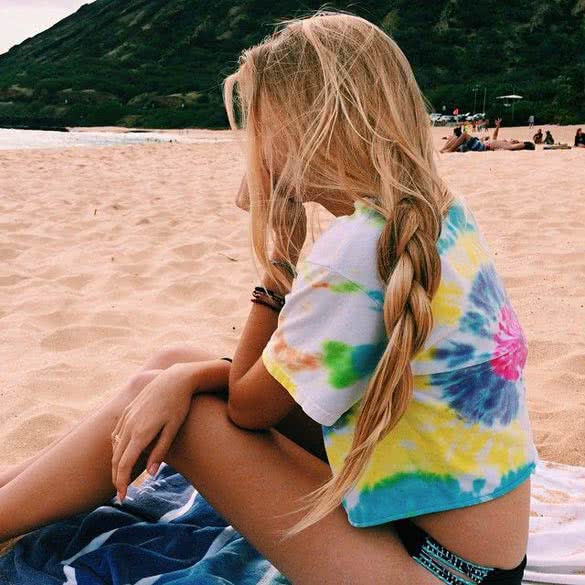 Tight hairstyles like ponytails can be damaging as they tend to pull and tear hair, especially if your hair is dry from the heat.
A messy braid on the beach is perfect for keeping your hair under control and minimizing exposure to the sun while you're at it.
Comb Carefully
After spending time on the beach, apply conditioner before combing your hair (never brush!) after you shower so that any knots become untangled and you don't break hair strands in the process.
If available, opt for a comb with wide teeth and rubber tips to be extra cautious.
This tip also holds true when you rinse off in the outdoor shower after going swimming; it helps to avoid frizz and damage that will only get worse over time.
Putting a moisturizing product in your hair will also help to keep it shielded from damage.
If it Needs an Outlet, Don't Use it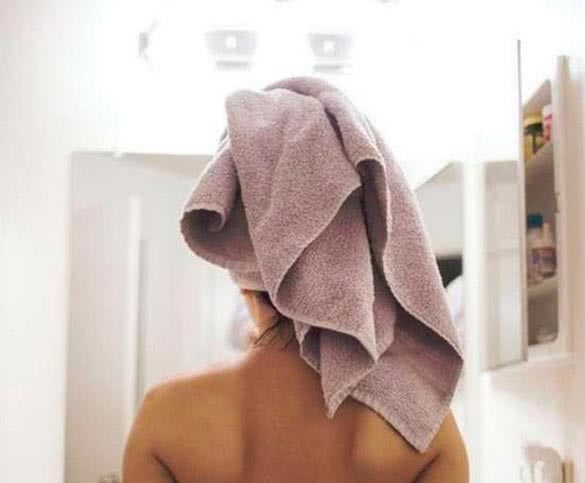 Our already distressed hair is better off without the intense heat that comes from a blow dryer or straightening iron, so let it air dry whenever you can.
If your hair doesn't look good without a little assistance, try putting it in a bun or braiding it with leave-in conditioner for a slightly wet, wavy look.
If you absolutely have to use appliances, use a heat protecting product like Phyto PHYTOKÉRATINE's Repairing Thermal Protectant Spray.
Your hair will look shinier and more bouncy.
Extra Help
It's hard to travel with many bottles of products in your bag, but if you're not flying and don't mind the extra liquid weight, add a step and bring along a pre-shampoo conditioning treatment, such as Philip Kingsley's Elasticizer, which delivers a rush of moisture inside the hair cuticle and improves its elasticity.
For more extra credit, add a weekly deep conditioning mask session to your routine. This may sound like overkill to you, but better safe than sorry!
There you have, YouQueeners! Tips to make sure that you flowing tresses survive the summer.
If you have any more tips or tricks to share, spread the news in the comment section below.