Here's an idea for a hairstyle that will make you look sophisticated for any occasion, be it an afternoon coffee date with a friend or a wedding reception.
Mermaid tail side braid may sound and look complicated and elaborate, but in reality it's very simple and easy to make. All you have to do is make a simple braid, well, a Dutch braid. But don't worry it's still simple. A Dutch braid is an inverted braid, meaning that you put the outside strands under the inside strand, unlike the normal braid where the outside strand go over the middle one. When you perfect the technique of the Dutch braid, you are ready to start on the mermaid tail braid.
Tools:
a hairbrush
bobby pins (smaller, if you can find them)
elastic bands
hair clip
(a curling iron or a flat iron – optional)
How to:
1. Start by brushing out your hair to remove any knots. Apply the usual products you use when doing your hair.
2. Bring all the hair to one side.
3. Divide the hair into 2 sections. Pin the one further from your face away with a hair clip to keep away while you're working on the other part.
4. Braid a Dutch braid (inverted braid) out of the first section of hair, closer to your face, and tie it with an elastic band.
5. Remove the clip and braid the Dutch braid out of the second section of hair and tie it.
6. Take the braid that's further from your face and start gently tugging the side of the braid that's furthest from your face.
7. Now, do the same on the other braid, tugging the side that's closest to your face.
8. Don't tug the inner edges that are next to each other.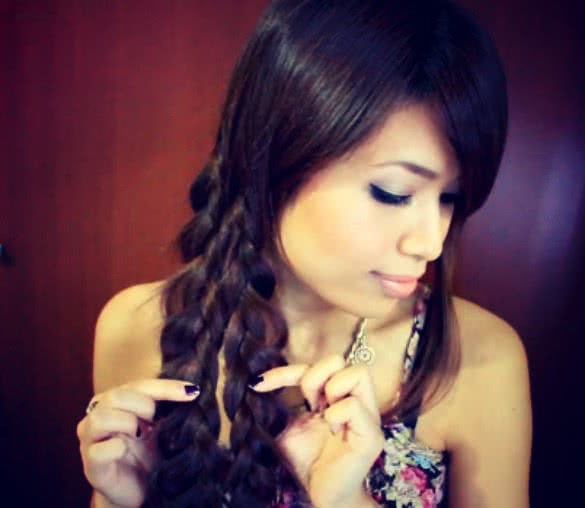 9. Now, line up the two braids together, they'll look like one big wide braid. Make sure they are aligned in the middle.
10. Using bobby pins, pin them together. Bobby pin under the braids so you can hide the bobby pins well. You can put one at approximately every 1 ½ inches.
11. When you finish the pinning, tie the two braids with an elastic (you can also first remove the elastics from the two braids).
The last few finishing touches are up to you and your preferences. You can put a flower or a vintage hairpin at the beginning of the mermaid tail braid, like in the picture. Also you can leave a few strands of hair around your face, which you can then curl with a curling or flat iron, for a more romantic look.
This look is romantic and versatile. You can wear it with either casual or more formal outfits, for every day or even for work, just without the accessories. It takes no time to make, but looks effective, elegant, and romantic.
Cover photo: klubok.kg7.ru