It's sophisticated yet casual, easy and versatile- we're talking about the messy bun. And here's how to do a messy bun with long hair in a few simple steps.
This style gives off the impression that you didn't put a lot of effort into styling your hair, almost as though you woke up looking that good … yet it still looks chic and amazing! There are different types of buns to choose from and I've named them to make it easier.
Basically, any of these approaches is simple and effective, so why not take a bit of a time out and have a pamper evening with some friends or alone and figure out which of the styles you prefer? Read on to find out how to do a messy bun with long hair in the simplest way possible.
First of all, brush your hair carefully to get rid of any knots or tangles. Some people choose to use mousse at this stage as well, as it can help some hair types 'behave' better when styling and keeping styles in place longer.
Whatever you choose, do not use too many products – you want the hair to behave naturally and wispy, fallen hair is all part of the overall finished look so you don't need it too neat and perfect.
1. Loop through bun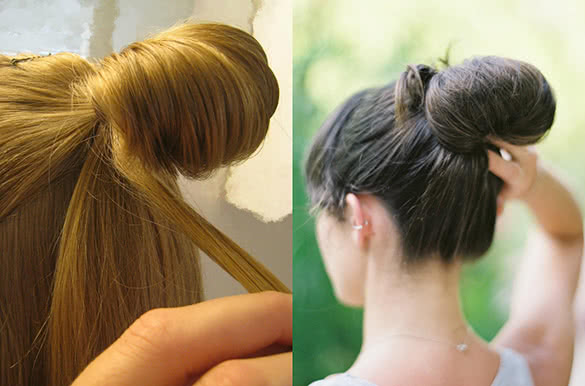 Create some volume in your hair using a brush, but be careful when backcombing because you don't want to break the hair. You want to create volume around the crown of your head and the sides of your hair (think 50s bouffant).
This creates a messy look with plenty of volume. Now simply flip your hair upside-down and gather it in your hands into a ponytail (you can use your fingers or smooth any bumps with a brush). Wherever you tie the ponytail – high or low – is where the bun will be placed.
Now, depending on your hair length, as you are tying your regular ponytail, loop the hair but do not fully pull it through. This means it will be looped over in an unfinished ponytail. This will leave a type of loop bun. If you have lots of hair and enough elasticity in the hair tie, tie it around again to secure it.
Now you can adjust the bun by giving it volume and widening it. This is such as simple way to create a bun style. You might need some grips to secure certain parts and make sure you don't pull it through too far or it might pop out completely during the day … meaning messy ponytail instead of a messy bun!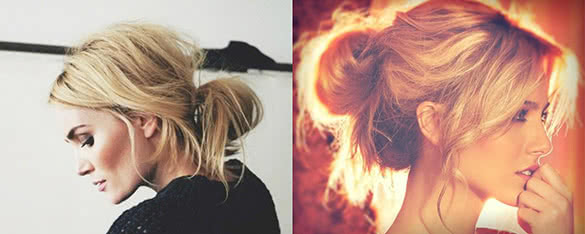 2. Twist and roll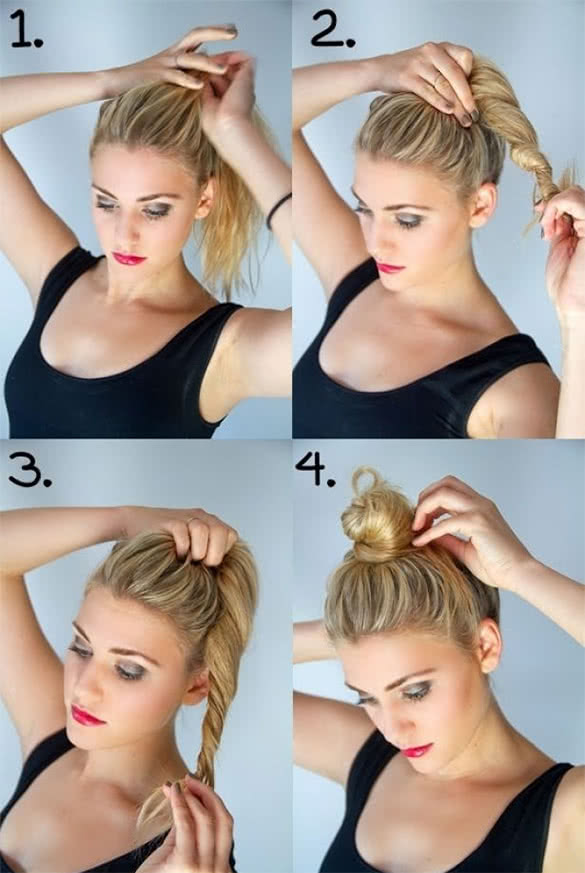 This is the classic bun and not necessarily a messy bun, but it depends on how much time and effort you put into it. You can leave sections of your hair loose around the ponytail and add volume to make it look 'messier.'
If you are in a rush and want the messy bun look, scrape your hair up into a ponytail using your fingers (don't worry about smoothing down with a brush). Use the hair in the ponytail to twist tightly and wrap it around the hair tie. This is the go-to approach for most people when they think of putting their hair in a bun.
Grip in place or secure with another hair tie or add a hair accessory. If you hair is on the shorter side or layered, some parts of it might fall out of the twists in the bun, but this adds to the messy style.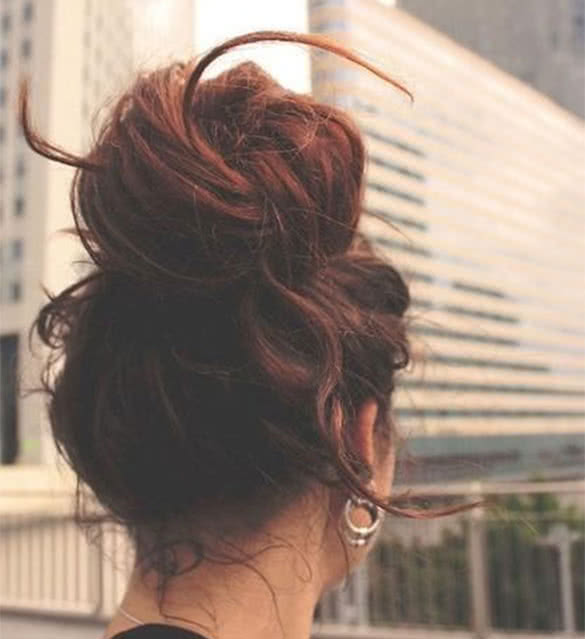 3. Flower power
This bun is not as difficult to make as it looks, so don't panic. It's one of the funkier buns out there. Simply start the way you would normally do with a ponytail. In the center of the ponytail, fan out your hair in all directions in a circle spreading outwards from the center. Sometimes it is easier then dividing into four parts.
Loop these pieces of hair back over themselves (over and outwards) and clip underneath (so the grips are not visible). The desired effect is like an open flower –the hair tie is the center of the flower and the hair is the petals going outwards.
It can take a bit of time to secure all the hair in place, but again, don't worry about locks falling out – it all adds to the desired messy look. This look is great for more formal occasions like weddings and parties, and looks great with a flower fastener or bow next to it.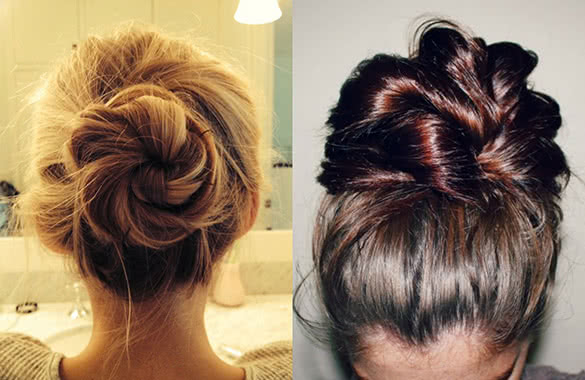 4. Bun maker
This one is for those days when you have barely any time at all! Again, get the high ponytail secured and use a bun maker or a hair tie or head scarf to wrap your hair around and pin in place.
Once you have got the hang of it, it is one of the easiest ways to get your hair into a bun and make a bun that lasts all day without falling out of place. This one probably won't look like a messy bun, but to 'mess' it up, simply pull out some hair and leave it wispy. Easy, but effective!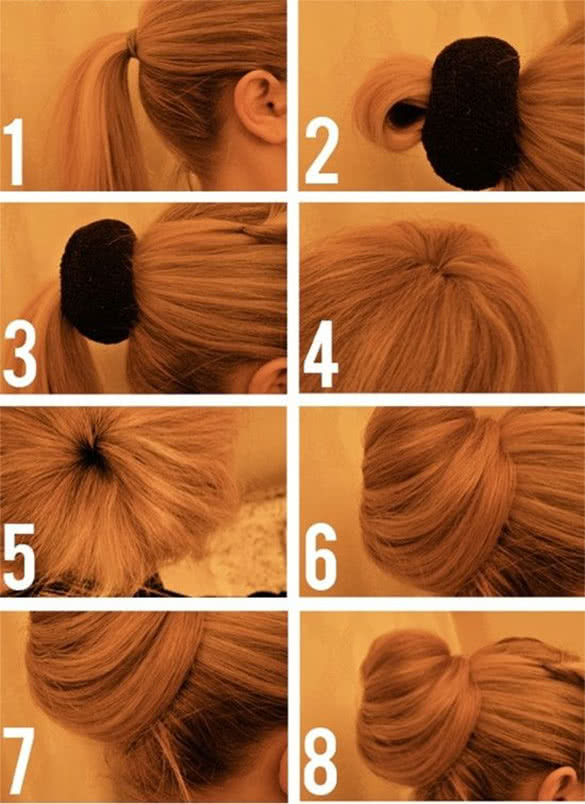 Tips and advice
One way to get natural wavy hair is to style your hair in a bun when it is damp and leave it like that overnight (if it is not too uncomfortable to sleep on). When you unravel it in the morning, it will have dried curly without having to use any heat. Perfect!
To get a messy look to your hair, it might need backcombing. Being too rough with your hair can cause breakages and split ends, so make sure not to overdo it, and always condition your hair well when you wash it.
Due to the messy and loose nature of these hairstyles, it is not recommended to wear them for exercise or any strenuous activity as they are likely to fall out, but are perfect for tying back and heading off shopping, to the cinema or work.
You can always wear buns casually in the day and then dress them up at night by adding a funky scrunchie, a sparkly hair clip or some other hair accessory.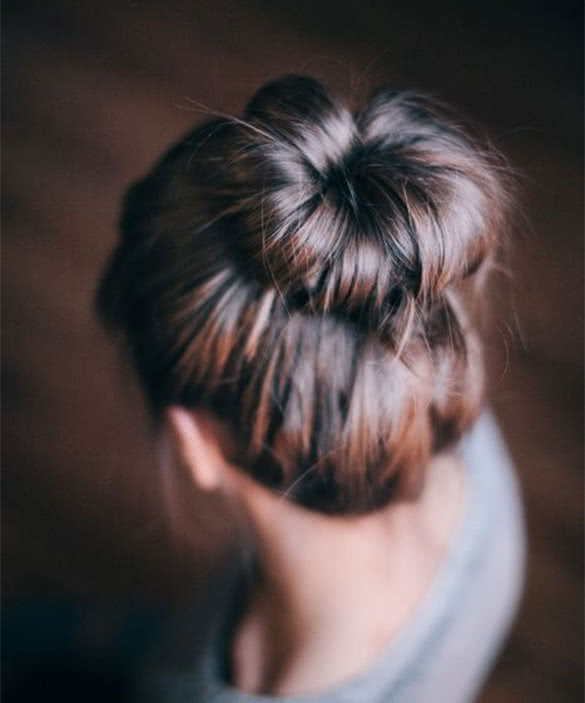 The look is so versatile, that you can mix it up for most events. Why not make it look that bit more romantic and elegant by curling the loose hair by the sides of your face into ringlets? There are also ways to mix up the looks, with a side bun, low or high bun, and even two buns! It can also suit long or short hair. What's not to love about a bun?
Secure your messy bun with a light spritz of hairspray, too much and it will look sticky and rock-like.
So with these different types of messy buns, there are loads of things to try with your hair and see what works for you and suits your hair type. Do you like the messy bun look? How do you perfect it? Share your ideas and comments below!