In summer, we want to wear makeup and achieve great coverage—without our faces resembling an ice cream sundae! Here's how to stay hot in the hot summer weather.
In order to look and, more importantly, feel beautiful as the weather heats up, it's a good idea to adjust your beauty routine to suit the change in climate. After all, not all products work well under the heat, so it's a good idea to pay attention to this to avoid any disasters.
It's all in the application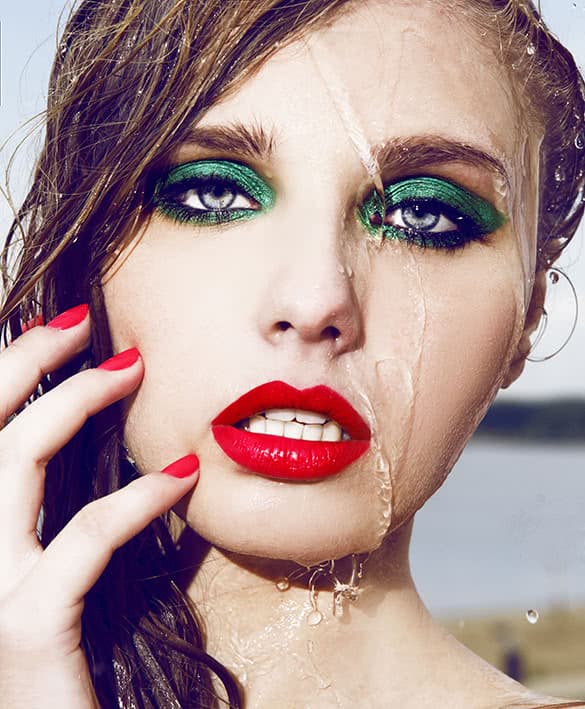 Before applying any makeup, make sure to prep the skin well; it's also a good idea keep it hydrated. Products that contain hyaluronic acid are perfect for retaining moisture and plumping up the skin, which is something we all need help with in warmer climates.
Finishing with an SPF followed by a primer will ensure you skin is protected and gives your makeup something to cling to, meaning it's more likely to last longer throughout the day.
Another tip I like to share is to buff thick slices of cucumber—that have been kept in the fridge—into the skin right after toning. Once the skin has dried, follow up with a product such as Aveda Botanical Kinetics Hydrating Lotion.
The combination of these two really cools the skin down before makeup application, and I genuinely find it makes a huge difference especially if your skin is cooled and refreshed as opposed to all hot and bothered.
When it comes to the makeup itself, full coverage foundations are a definite no-no in extreme heat and that goes for non waterproof mascara, too (which, if you are anything like me, will most likely end up somewhere down your cheeks as the humidity takes hold)!
I have recently got into the Bobbi Brown foundation stick, which is a lot more comfortable than a liquid foundation, especially in warmer weather, although there are plenty on the market to choose from.
If you wish to go ahead with liquid foundation, using a beauty blender or makeup sponge for the application is great at distributing face makeup evenly without caking on too much product.
While it does take a couple more minutes compared to a makeup brush, the result means less product will sit in areas you don't want and you can really control the coverage. You may also want to try a tinted moisturizer first before wading in with anything too heavy.
To finish, you should apply a powder or setting spray such as the Urban Decay all nighter, which you can also use to help refresh your face throughout the day without disrupting your makeup.
Many finishing powders also contain sunscreen and are great at adding additional protection as well as helping to keep the product in place. You can also use a pressed powder to top up areas that need it throughout the day.
Keep it chilled
Aside from the makeup, try to wear loose, light colored clothing to keep as cool as possible. Also, if you have long hair, try to keep it off your face (summer is a great time to perfect those up-do skills!) as it will only stick to your skin and makeup.
A braid or French plait—particularly around the hairline—not only looks great, but also keeps hair from disrupting your makeup.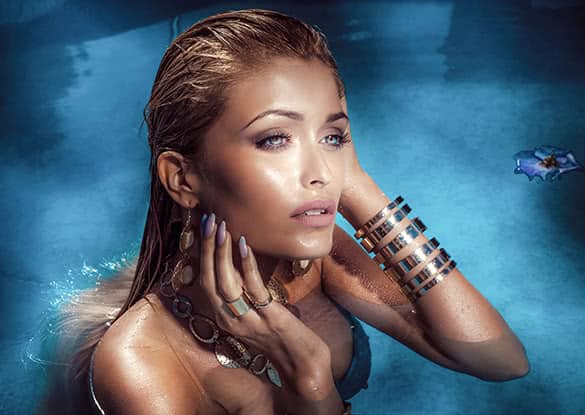 I think it's really important to feel comfortable in hot weather as if you don't feel nice, it's certain that you won't show it either. Tailor your look from your makeup to your outfit so that you feel relaxed and can breathe in what you are wearing.
Talking of keeping things chilled, if you live anywhere especially hot, try keeping liquid and cream makeup items in the fridge during the day to extend their shelf life. I always find that lipsticks in particular fall victim to the warmer weather, and nobody needs a MAC bill any higher than it already is!
In a crisis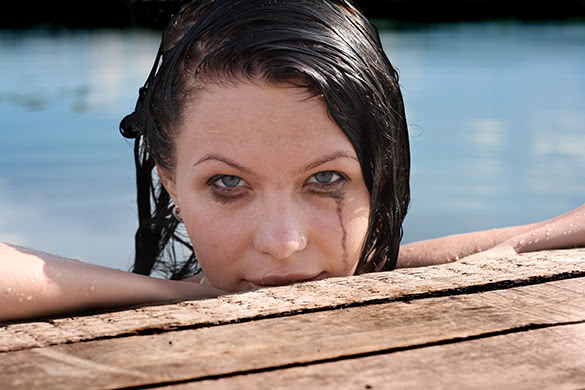 If you happen to be reading this while in the middle of a literal makeup meltdown, don't panic! Something you can easily carry around in your purse is the Sephora mattifying blotting films, which you can use to remove excess grease and shine that may have accumulated on the face. These will gently lift off any residue, allowing you to reapply product where necessary in a way that's disposable and fuss free.
I also find it advisable to carry a q-tip for any makeup movement, particularly around the eye area, as it will not only help to remove imperfections, but can also be used to help re-blend under the eye—especially if you are not carrying any makeup brushes with you.
Finally, breathe, calm down and don't sweat. The chances are that if you are caught somewhere really warm, especially at an event such as an outdoor wedding this summer, then it's highly likely you are not the only one feeling the heat. Relax and enjoy yourself, and remember you are just as beautiful no matter what the temperature.