Using homemade body wash is often safer and cheaper than conventional products, and you get to personalize it by picking the scents you want!
When I made my 2015 list of resolutions, I promised myself that I would live a lifestyle that's healthier, cleaner and greener. In a more concrete context, it meant ridding myself of many (often harmful) extras in life that were unnecessary, like pesticides in my food and chemicals in my beauty products.
Aside from choosing organic veggies and fruits, and getting as much fresh and raw food in my body, I promised to simplify my personal products this year, and I wanted to start by making homemade body wash.
While researching, I found out that homemade body wash was easier to make than soap. So, if you are looking forward to simplifying your lifestyle and getting rid of chemicals in the products that you use at home, then this may be a good start.
Why you should make homemade body wash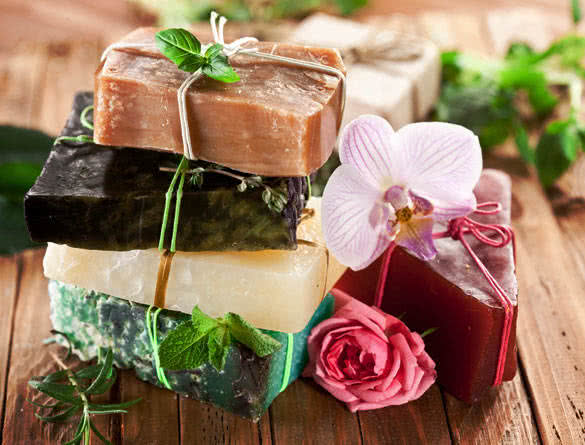 We live in a world of convenience, and are definitely willing to pay extra money just to take work off our hands. Who wants to spend time making homemade body wash when you can easily get a few bottles of liquid soap without doing a lot of work? Well, there are a few reasons why you may want to reconsider, and here are some of them:
1. It helps you live a more natural life
In the quest for all things natural, we often focus on what we eat, choosing organic over conventionally grown and manufactured foods or eating fresh fruits and veggies instead of processed ones. This lifestyle change is not bad at all. However, we often forget that our actions have to go beyond eating. Using natural products can help you live a more natural, holistic life.
2. It helps you avoid toxins and chemicals from conventional products
Our regular bathing and cleansing habits cause us to put loads of chemicals on our skin. The biggest organ in the body, the skin is designed to act as a barrier for many things. However, it is quite permeable allowing many chemicals in our bath and cleaning products to pass through and pollute the body.
Sadly, the majority of the conventional stuff we use every day have a profound effect on our health. Most body lotions and shampoos, for example, contain the ingredient Sodium Lauryl Sulfate, which is a mutagen. Most conditioners also include the ingredient methylisothiaolinone – another mutagen, which is also suspected to be cancer causing.
Shaving creams, body soaps and even conventional toothpaste have ingredients that are touted as cancerous or toxic.
So, all of these things sound quite frightful, but I am not bringing this up with the intention of causing a stir or scaring you into using homemade bath products. Instead, I'm laying all of these facts out to inform you of these real threats.
The human body does have a mechanism to flush out many toxins without getting sick, so it doesn't hurt to use conventional products from time to time. But, personally, I prefer to steer clear of them when it comes to everyday use.
3. It's easy to make
Homemade body wash is definitely easier to make than soap or shampoo. The most basic procedure requires only three ingredients – a bar or cup of organic soap, vegetable glycerin and a skin safe and high quality essential oil.
4. It's cheap
Drugstore brand body washes can cost somewhere around $5 a bottle. Higher end brands cost double the price or more. You can make a whole lot more for that same amount and save on money!
5. You can use it for many things
Homemade body wash can be used for many things. It's relatively gentle enough to use as facial wash, and you can use it as bubble foam when you take a bath. Don't forget your hair – you can use it as shampoo, too!
6. You can use it for kids
Homemade body wash – especially ones containing natural ingredients can be used on kids or even babies. You can make one big batch of body wash for the whole family, so there's no need to buy different products for everyone in the house.
Your top ingredients for homemade body wash
Before sharing a few homemade body wash recipes with you, I'll line up a few ingredients that you will most likely use for most of them:
Castile soap – Also known as vegetable soap, pure castile soap is one of the gentlest soaps available. It is made from non-toxic ingredients, safe on the skin and does not pollute the environment. It can come in liquid and bar form. Pure castile soap is unscented and looks quite dull, but you're getting something so pure it's just made from a few ingredients. You can also buy castile soap with added scents, or in bar form.
Vegetable Glycerin – Vegetable glycerin is a carbohydrate derived from plant oils and is widely used in the food and skin care industry. This compound is greatly used in cosmetics and skin products because it retains moisture, pulls oxygen to the skin and has a cooling effect.
Oils – Base oils allow the body wash to be easily absorbed by the skin, making it really moisturizing. There are many oils that you can use, including grape seed, olive, jojoba and coconut oil. Adding oils to the mixture creates a very luxurious wash. So luxurious in fact, that you may no longer need to add moisturizer after showering.
Honey – A secret ingredient in many recipes, honey has a wide range of benefits for the body. It helps keep skin elastic and moisturized, and is great for skin that is mature, damaged, itchy or dry. Since it is great for all those types of skin, it's a safe ingredient for everyone, even kids! Honey also contains antibiotic properties such as hydrogen peroxide. This compound stops the growth of microbes in the skin. For the purpose of a homemade body wash, it is best to use raw forms of honey.
Vitamin E Oil – A moisturizing and repairing addition to your body wash. As an antioxidant, Vitamin E oil can also lengthen the shelf life of your homemade body wash.
Essential Oils – Generally, the reason behind using essential oils for your body wash is to add scent to it. However, the effects of essential oils go beyond the additional scent. They also have various benefits and can either soothe, repair, heal, disinfect, deodorize or do all of these things to the skin. Some of my favorite essential oils include:
Peppermint – for that cool and invigorating scent. Peppermint is a perfect pick-me-upper that's great to use for mornings when you're feeling kind of tired and low.
Lavender – very soothing and has great calming properties. Lavender can help calm anxiety, soothe your emotions and help you fall asleep, and is perfect for washes for babies or little children.
Carrot seed – Produces a rejuvenating effect that is great for anti-aging.
• Frankincense – Anti-inflammatory and antibacterial. It's great if you're suffering from facial and back acne, as it kills pimple-causing bacteria and decreases the appearance of pores.
Geranium – Regulates oil production, tightens skin, and promotes blood circulation on the area where it is applied.
Lemon – A wonderful choice if you are planning on making a zesty pick-me-upper body wash. Also a great astringent and helps improve skin tone.
Tea tree oil – Great for acne prone skin and other bacteria-caused skin issues because of its antibacterial properties.
Ylang-ylang – Smells really great and lessens the occurrence of breakouts. It's a common essential oil for body care products because it's rich and floral.
Don't confuse fragrance oils with essential oils. The former are synthetically made and have no therapeutic properties. Make sure that you only use oils that are certified pure therapeutic grade – or basically anything natural and pure enough to take internally.
How to make your own body wash – some DIY tips
Now we can go to the highlight of this post, how to actually make your own body wash. I will be sharing a few recipes that you can use, incorporating most of the ingredients mentioned above.
Recipe 1: Easy honey body wash
This easy homemade body wash is very simple to make, and requires just a few ingredients. I recommend this recipe if it's the first time you're ever making it, since you'll only need four things. Plus, you can never go wrong with honey and coconut oil.
Ingredients:
½ cup liquid castile soap
½ cup raw honey
½ cup coconut oil
20 drops of your favorite essential oil (or 10 drops each if you want to use two essential oils)
Simply combine all of them and mix slowly, then transfer to a squeeze or pump bottle. Enjoy!
Recipe 2: Soothing coconut milk wash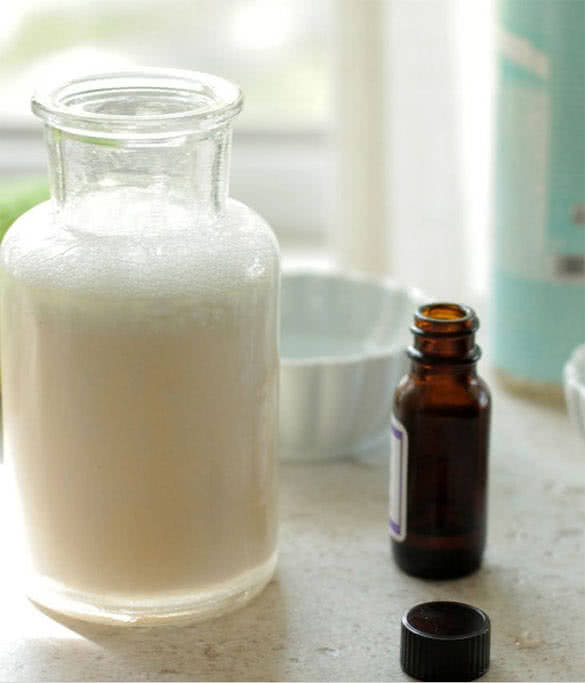 This is a soothing milky wash that is great for dry skin.
Ingredients:
1/3 cup liquid castile soap
 ¼ cup full fat coconut milk
10 – 15 drops of your favorite essential oil
I would recommend lavender essential oil to match the rich consistency of this wash. Use it for relaxing moments or long showers at the end of the day. The mixture tends to separate when left sitting for some time; this is normal. All you need to do is shake it up before using it.
Recipe 3: Lively orange body wash
For a vibrant smelling body wash, use orange or any citrus essential oil.
Ingredients:
½ cup pure castile soap
¼ cup honey
20 drops sweet orange essential oil
10 drops rose oil
2 tablespoons jojoba or grape seed oil
Add all the ingredients in a bottle and shake it up. Enjoy using it!
Recipe 4: Easy shower gel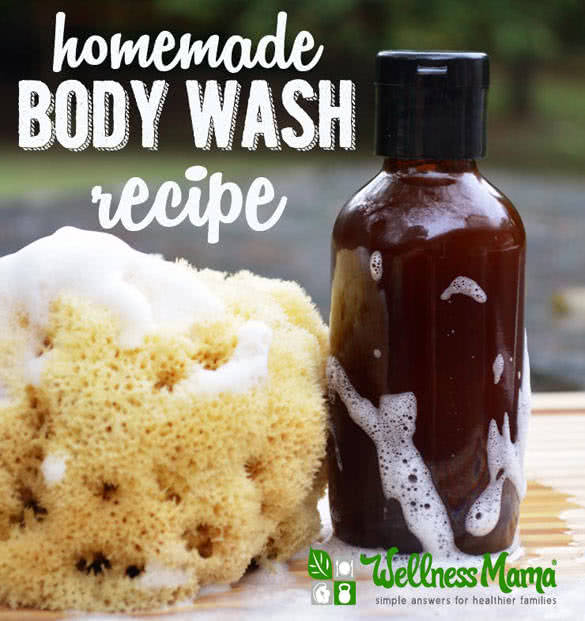 Get a gel-like consistency with this easy to make shower gel recipe:
Ingredients:
 ½ cup castile oil
1 tbsp raw honey
2 tsp vegetable glycerin
1 tsp vitamin E oil
 1 tsp olive, jojoba or grape seed oil
10 drops of your favorite essential oil (try ylang-ylang for this one)
Mix all the ingredients together and place in a pump bottle. Enjoy the rich floral smell of ylang-ylang and its surprisingly cool gel consistency.
Recipe 5: Fun body wash made from bar soap
Apparently, bar soaps and squirmy little toddlers always make for messy bath time, so you might want to try turning your existing bath soaps into body wash instead. This recipe calls for a little bit more work, but the grating and heating seem to be interesting activities. If you are slowly teaching the kids the importance of going toxic free, feel free to do this activity over the weekend with your little ones.
For this recipe, you will need the following ingredients:
Your favorite bar of soap (there's also castile bar soap, if you want)
2-3 cups water
Optional: 10 to 15 drops of your favorite essential oil
Begin by grating your favorite bar of soap using a cheese grater. Place the grated soap in a saucepan and add 2 to 3 cups of warm water. Stir over medium heat until all the soap chips dissolve. Add more water until you reach your desired consistency. Add in your essential oil of choice. If you're using scented soap, you may no longer need essential oils. Let the mixture cool for an hour and transfer into a squeeze bottle. Have fun!
A few things to remember
If it's your first time making body wash, you may want to try the easiest recipes first, then work your way up to more difficult ones. You can also experiment by adding drops of Vitamin E or substituting recommended oils for oils of your choice. Feel free to use your own essential oils as well. If you feel that the essential oils smell too feminine, then substitute them with more masculine scents like bergamot and pine.
Most body washes that do not use water can last for a few months, but the case may be different for those with water or coconut milk in it. These recipes can harbor bacteria and cause the mixture to go bad quite easily. I recommend making small batches of wash, perhaps enough to use for a week. You don't have to worry about making your body wash every now and then as the procedure is very easy and requires only a little time. Or, if you plan to make a big batch, keep half of the mixture in the refrigerator and take it out only when you need to use it.
Lastly, you may be surprised to find out that some of these body washes will not lather. Bubbles and suds do not necessarily equal clean. It does not mean that your body wash isn't working if you don't see bubbles. Still, if you want that sudsy lather, add more glycerin to the mix.
Vitamin E is a great addition to any body wash, as it acts as a natural preservative and moisturizing agent. Consider adding the content of one gel capsule to your mixture.
Going the natural route for personal care is definitely doable, as long as you know where to look for products or take the time to make your own.
Planning to go all natural on skincare? Check out other natural recipes for your skin, or if you don't have the time to make them, here's a list of great natural brands you can buy from the stores.
Do you have your own body wash recipe? Feel free to share it below!