It's that time of year where holidays take over, so you better make sure you have your gifts ready. Nothing says ''I care'' more than a homemade Christmas gift so get to it, and make some people happy!
This holiday season, show your mom, girlfriend, or best friend that she's the greatest gift you ever received by creating a special, handmade gift just for her. She'll feel warm inside knowing you didn't just walk around a department store to buy something, but instead, took the time to think about what makes her so special and created something with your own two hands and your heart.
1. DIY Photo coasters for her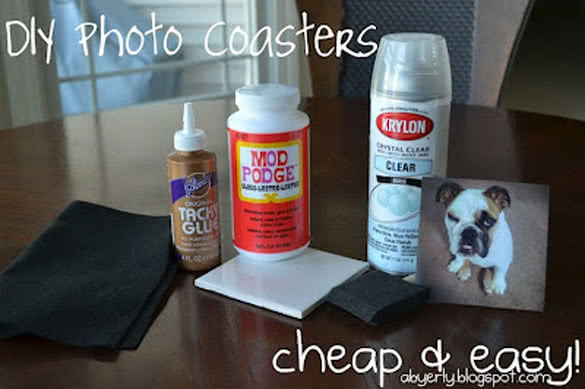 These cute, easy to make photo coasters will be a great addition to her coffee table (or the coffee table you share) for years to come. Use pictures of you two together or pictures of things she really loves. Remember not to make them look Christmas-y so that she can have them out all year, not just the holiday season!
You will need:
Square Tiles (4×4 works best for coasters)
 Felt
 Fabric Glue
Photos (Print and cut into 3×3 or 4×4 squares or print them from Instagram and forget the cropping and cutting!)
Mod Podge
 Sponge Brush
Acrylic Spray, Clear
How to make it:
 Mod Podge the actual tile. This helps the photo adhere better to the tile.
Place the photo on the center of the tile IMMEDIATELY after the tile has been ''mod podged'' so the photo adheres better. Then, cover the photo with mod podge.The mod podge will dry clear, just make sure you have an even coating and that the entire photo is covered. Again, this will help it adhere better and stay ''glued'' to the tile.
 Apply felt to the back of the tile. This will make sure the tile doesn't slip around on a surface or scratch it. I used tacky glue on the felt and just stuck it to the back of the tile! I didn't specifically measure the felt, just kind of eyeballed it.
Finally, ''waterproof'' the coaster by spraying it with clear, acrylic, water resistant spray. This will make sure the coaster is waterproof and keep the photo protected. I used krylon clear, glossy spray. Apply several coats of this, waiting for each coat to fully dry before adding another one.
All done!
2. Luxurious body butter for her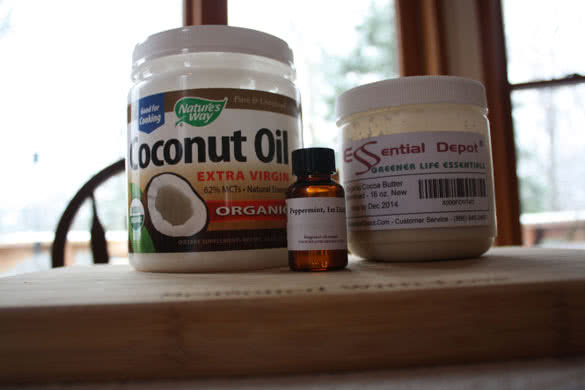 This super soft and creamy body butter is a great natural beauty product, and gift, to cure any woman's dry winter skin. Moisture her up with this super simple, 3 ingredient mix!
You will need:
1 cup organic coconut oil
1 cup organic cocoa butter
Essential oil of your choice
How to make it:
Measure out one cup of coconut oil and one cup of cocoa butter. Depending on the temperature of your kitchen, the coconut oil will probably be in a soft solid state similar to the consistency of Crisco. The cocoa butter on the other hand is more solid. I usually take a butter knife and hack at the cocoa butter container until I get enough chunks to fill the measuring cup. It's a great way to take out your frustrations from the week!
Put the coconut oil and cocoa butter into a small to medium saucepan on medium heat. Melt the contents until completely liquid, and there are no longer any chunks. It usually takes 4-5 minutes.
Transfer to a mixing bowl and refrigerate until the liquid becomes a soft solid again. In my case, this took about a few hours, but I'm sure all refrigerators are different.
Add your essential oil to your liking. (Add peppermint for a nice Christmas touch!)
Mix until light and fluffy, similar to whipped cream consistency.
Transfer to a jar, and enjoy. That's it!
** This body butter is made with coconut oil which changes quite drastically depending on the temperature. Make sure to tell your friends and family to store it at room temperature. If it is too cold it will become really hard and if it's too warm, then it will turn into oil again. If this does happen, all they have to do is get it back to the right temperature and maybe mix it a little bit.
3. Marbled clay ring dish for her
This ring dish is perfect for that accessory obsessed woman in your life!
You will need:
white, black, and colored oven bake clay
X-Acto knife or plastic clay knife
small bowl that is oven safe
gold liquid gilding and small paintbrush
rolling pin or large round jar
large can or jar to trace around
How to make it:
Roll each color of clay that you want to use into a snake about 5″ long. I usually make two larger rolls of white, a medium roll of grey, a small roll of any other color I am using, and then an extra small roll of black.
Combine the smaller rolls into one big roll and twist together.
Roll the large twist into a snake about twice the original length to combine the colors. Twist the ends opposite ways after every few motions to give the colors more of a candy cane look. Once it's twice the length, fold the snake in half and twist the two ends together, as pictured above. Repeat the rolling, folding, twisting, and rolling again process 2-3 times.
Smoosh all the clay into a ball. You want to see most of your colors on the surface of the ball, so pull the ball in half and re-smoosh together if you don't.
Use a rolling pin or glass jar to roll out your marbled ball. I like to use a glass jar so I can see what is happening as I roll harder or softer over certain colors. The colors should blend together and create a marbled pattern as you roll over it. Try rolling in different directions, from the edge, from the center, etc. to push the clay from different angles. Roll to 1/4″ thick.
Use a round item about 6″ wide as a template and cut out your dish circle with an X-Acto or clay knife.
Place your circle gently into an oven-safe bowl that is a little smaller than your circle so it will sag a little in the center and give you more of a dish shape. Bake the bowl according to the temperature on the clay package (mine was 15 minutes at 275°F). Remove the bowl from the oven and allow the clay to cool before turning the larger bowl upside down and tapping lightly until the clay dish falls out.
Use a small brush to paint the rim of the dish and allow the paint to dry.
4. No-sew DIY blanket scarves for her
This is such a great idea for a fashionista! Scarves are a must-have winter accessory and, man oh man, can they get pricey. Let her have it all this winter by making some super cute blanket scarves for her!
You will need:
2 to 2.5 yards of fabric per scarf
Scissors
How to make it:
Trim the edges of the scarf perfectly straight. If the pattern on the scarf is lined then you can use that to your advantage, otherwise you may have to measure.
Grab and pull the cut sides of the fabric to remove some of the thread. This will reveal a frayed edge.
DONE!
For this scarf gift, play around with square scarves, long rectangle scarves, etc. You can make a few really nice scarves for the price of one at the mall. Splurge a little and buy a couple yards of cashmere fabric! She will love it!
5. Ornate framed chalkboard for her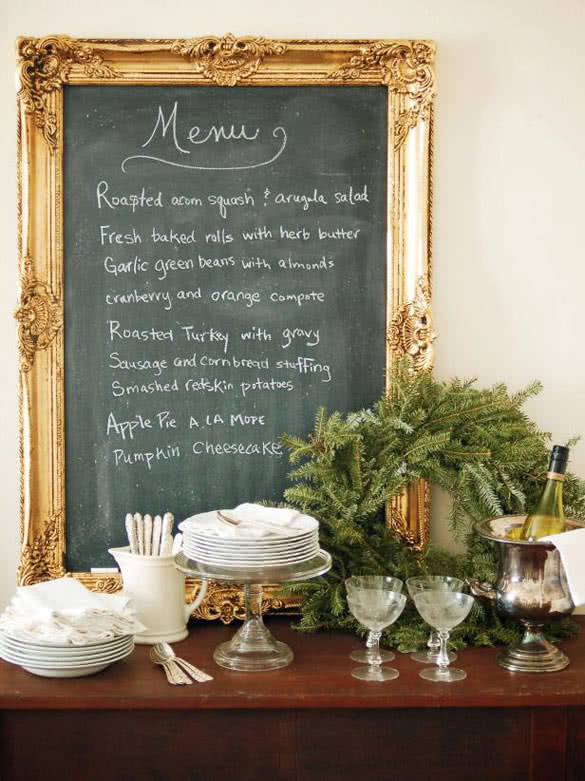 This vintage-esc chalkboard will be a great addition to any vintage lovers' home! Add a sweet message on it before wrapping it to add a personal touch.
You will need:
Large wooden frame
¼" hard board cut to fit in the frame (You can have it cut to size at a craft or hardware store)
2 – 3 packages of gold leaf
Leaf sizing
Paint brush
Soft mop head brush
Sponge brush
Latex gloves
Rag
Oil-based wood stain color of your choice
Spray primer
Chalkboard Paint
Foam roller
Paint tray
Small nails
Hammer
How to make it:
Apply Sizing: Use a paint brush to apply leaf sizing to entire frame. Allow to dry for approximately 30 minutes, or until sizing turns from milky-white to clear. Sizing should feel tacky to the touch.
 Apply gold leaf: Use a soft brush to gently lift gold leaf sheet and apply to frame. Brush gold leaf down onto sizing. Pieces will flake off while brushing. Pick up these flakes and use them to fill in small gaps in leaf. Continue this process until frame is fully covered in gold leaf.
Buff gold leaf: Gently rub mop head brush over gold leaf to buff surface and remove excess leaf.
Antique Frame: In a well-ventilated area, apply wood stain to a small section of frame using a one-inch foam brush, working the stain into mold. Gently rub off excess with a clean rag. Repeat process around entire frame. Wood stain will stain skin, so wear latex gloves. Leave it for about 24 hours of drying time.
Make chalkboard: Take your board insert and spray surface with primer, and allow it to dry. Apply two coats of chalkboard paint with foam roller, allowing ample dry time between coats.
Insert Chalkboard: Insert chalkboard into frame. Hammer the small nails into the back of the frame to secure it.
Season Chalkboard: Rub entire chalkboard with the side of a piece of chalk. This will season the chalkboard and prevent writing from being burned into the surface. Erase chalkboard with a wet paper towel for a clean look or with a dry one for a smeared, vintage look.
And you're done! Don't forget to write a personal message on the chalkboard for your loved one!
So, your man's got everything he'll ever need right? I mean, he's got you! So what could he possibly need or want for Christmas? Probably a brand new 80" flat screen and surround sound system in his man cave, but that's not going to happen (sorry, guys). Instead, here are a few fun, handmade Christmas gifts that will fill his heart with all the holiday joy he could ever dream of.
1. Rein-"beer" bottles for him
They say the key to a man's heart is through his stomach. Win his heart over quickly this Christmas with these cute reindeer beer bottles.
You will need:
Glass Beer Bottle
Brown pipe cleaners
Googly eyes
Red pom-poms
Hot Glue
How to make it:
 Create the antlers with brown pipe cleaners by wrapping them around the cap of the bottle, one over the other and twisting them tight.
Take a second pipe cleaner, cut it in half and make both halves into U shapes.
Twist these around the pipe cleaner attached to the bottle to make antlers.
Glue on the red pom-poms for nose
Glue on two googly eyes
Stick the beers or other drinks into a 6 pack holder and wrap with a simple red bow. So cute!
2. Beer bottle glasses for him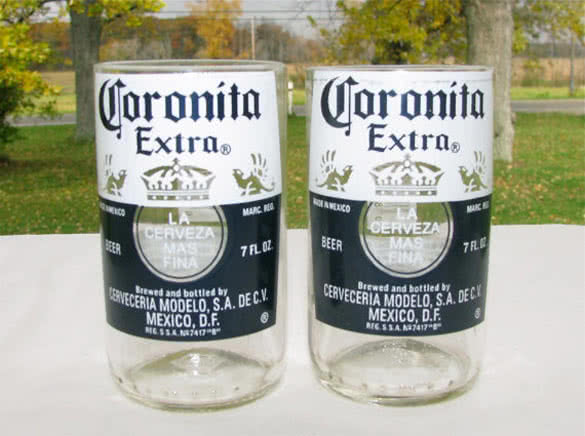 Turn those empty beer cans into something useful… and possibly something to hold more beer!
You will need:
Yarn
Sandpaper
Lighter
Lighter fluid or rubbing alcohol
Beer bottles
How to make it:
Fill up the sink or a large bowl with ice water. You are going to be placing the bottle in the water after the next few steps.
Soak the yarn in the alcohol or lighter fluid. Make sure to drip out all of the extra fluid.
Now tie the yarn around the neck of the bottle, making sure you have the cup height you desire.
With the soaked yarn tied tightly around the bottle, hold it from the neck or base, keeping it as far away from you as possible, and light the yarn on fire.
Rotate until the yarn has burned off and then dunk the glass into the ice water for a few seconds. Take it out and you should be able to separate the two pieces.
With your cup shaped piece, use the sandpaper to smooth out the top and you're done.
Continue this process until you have a nice set to give away for Christmas.
3. Uplifting eucalyptus-peppermint shaving cream for him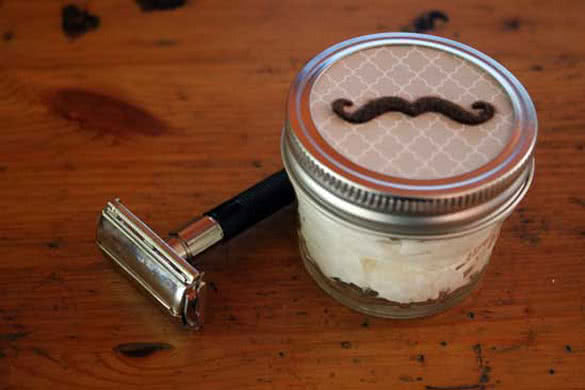 Now that no-shave-November is over it might be time for your man to get rid of his mustache. This all natural shaving cream will be the perfect thing to make sure he gets a clean shave… and he'll love the smell too!
You will need:
1/3 Cup Coconut Oil
1/2 Cup Shea Butter
1 Tablespoon jojoba or apricot oil
15 drops lavender essential oil
5 drops peppermint essential oil
5 drops eucalyptus essential oil
1 teaspoon baking soda
How to make it:
Place a glass bowl or measuring cup over a saucepan of water.
Put the coconut oil, shea butter and jojoba oil in the glass vessel.
Bring the water in the saucepan to a low boil and whisk the oils together until they go from white to clear.
Remove the oils from the heat and add essential oils and baking soda.
Whisk ingredients together and refrigerate.
When mixture is white and solid, whip with a hand mixer until light and fluffy.
Return to refrigerator for another hour.
Whip again until mixture resembles heavy whipped cream.
Spoon shaving cream into jars and decorate if you'd like.