Thinking about throwing away old furniture or items? Don't! You can breathe in new life to your worn out items if you learn how to decoupage.
Like everyone else, you have probably had to deal with piles of Christmas wrappers after the holiday. If you've kept them (for some reason) then you'll be happy to know that you don't have to wait for next Christmas to reuse them or look for ways to recycle. You can use them now for decoupage projects!
Decoupage is a process which involves the decoration of an object by gluing paper cutouts onto it, and combining it with special paint effects or even gold leafs. The finished product is a work of art. What appear to be images painted on a certain object are actually prints pasted and glued on the surface.
What looks like lacquer are actually just coats of clear varnish. What was once an old, battered object immediately becomes a wonderful piece that catches everyone's attention.
The term decoupage comes from the French verb decouper, which means 'to cut out'. After all, the process requires you to cut out various shapes from different colored papers which you then glue onto the object, and then coat with layers of varnish.
Whether you have tons of printed paper at home (or if you have to buy them right now), decoupaging is indeed an inexpensive way to jazz up old furniture that has been laying around your house for years, or to make your own wall decorations without spending too much money.
A little history of decoupage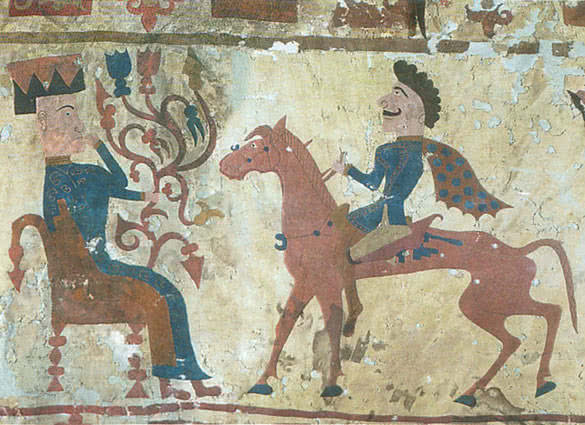 Historians believe that decoupage came from East Siberian tomb art, since nomadic tribes found in Siberia often cut out felts as ornaments for the graves of their dead.
The practice eventually spread out to China in the 12th century, where the Chinese used cutout paper in order to decorate their lanterns and other objects. Due to the trading system, the practice found its way to Europe through Italian traders, where it became very popular with the genteel ladies and nobilities.
In Europe, the popularity of decoupage spread since Venetian artists encouraged the demand for Eastern lacquerware. The artists took sheets of hand-colored engravings, cut them into various pieces in order to form a particular scene, or just randomly, and pasted them onto furniture.
They then proceeded to place layers and layers of varnish until it became glossy, akin to traditional lacquer work. The artisans profited more from this practice, since it was not as expensive as traditional lacquering.
What can you decoupage?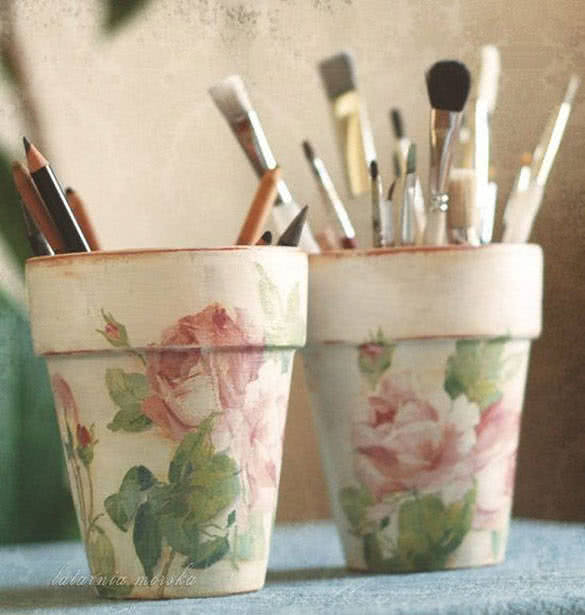 When it comes to decoupage, there is nothing that can stop you at all. You can decoupage anything you'd like, and here are some fun decoupage ideas by category:
Furniture
People mostly like to decoupage their furniture. You see, years of staring at the same thing can take their toll on you. You may want to buy something new to get that 'refreshing change,' but may not have the budget. Or you may just be tempted to throw that old thing out.
Good thing is – you don't have to. Indeed, you do not have to spend a lot of money, since you can transform a boring table into something pretty through decoupage. You can decoupage your end table, dresser, chair, benches or even your bookshelf.
Home accents and décor
Aside from prettifying your furniture, you can also use decoupage as a means of accenting the decors of your home. Make your accents conform to the theme that you have surrounded your home in by placing wall art from wrapping paper, performing decoupage on a boring glass vase, jazzing up the photo frames by adding funky paper, or making decorative balls. You can do it on candle holders, photo frames and vases.
Organizers
Annoyed by clutter at home? You can also place decoupage on your organizers from storage bins to boxes to magazine holders and even trinket boxes. The best thing is, you can choose colors or images for certain organizers, so that you can associate colors and patterns with what you are keeping. This way, you won't have difficulty knowing where you kept your things.
Special occasions
Decoupage is also a fun way to remind friends and family that you are thinking of them and your output can serve as a great homemade present to give away during the holidays or any other special occasion.
You don't have to spend too much, and your family and friends will appreciate your thoughtfulness and creativity, be it in the form of a greeting card or a gift. Speaking of special occasions, you can definitely decorate things associated with a certain season, such as Christmas ornaments and Easter eggs.
There is even a guide on how to decoupage pumpkins for Halloween! Of course, you can decoupage items to make lovely DIY wedding giveaways!
Wearables
Surprisingly, you can also decoupage wearables! If you are tired of the usual gold or silver (or faux versions of that) jewelry or accessories, you can make funky accessories to wear, like pendant necklaces, bangles, rings and even head bands.
They also work great for little girls who love all things pink and floral. If you have time, you can actually make them as giveaway items for Children's parties and events – all you have to do is use images that match the celebration's theme or your child's favorite cartoon character.
Lastly, you can also take up decoupage as a hobby, especially if you have loads of free time on your hands. This will sharpen your mind, encourage your creativity, and lift up your mood when you see your work finally done, and who knows, you might even turn it into a profitable business.
How to start
If you are planning to take on decoupage as a hobby or just for fun, you have to note that you will need quite a lot of materials. Good thing about this is that most of these materials may be found at home. Take a look at this list and check out what you have and what you need to acquire. This way, all you have to buy are products that you do not already have. For starters, you will need the following:
Precision scissors (the small ones, although you'll need big ones, too)
Craft knife specially designed for paper
Razor blades
Rolling pin (or your fingers to smoothen out wrinkles)
Thin plastic gloves
Polyvinyl acetate glue (popularly known as Elmer's Glue-All)
Paint thinners
Oil or acrylic paint;
Paintbrushes that don't shed – get at least two, one for applying glue and the other for lacquer;
Carnauba wax with metallic pigments;
Silk fabric paints (optional, if you want a transparent effect);
Mod Podge glazes;
Undiluted PVA glue;
Varnish, shellac, lacquer or other water-based wood finishes
Pearly or metallic nail polish
Rags and sponges for cleaning up
Sandpaper for evening out the base;
 Of course, sheets of paper that you plan to paste
Decoupage methods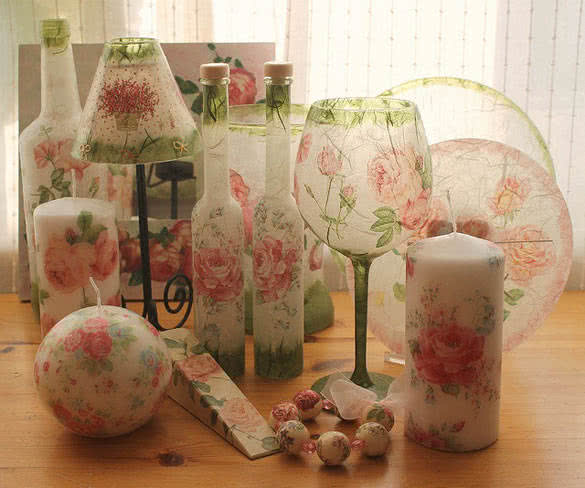 1. Prepping your materials
Prepare your decoupage project base by ensuring that the surface of your chosen item has been equally smoothened, and that it is free from specks of dust or lint. You may need sandpaper to smoothen out uneven parts of the wood.
Once you have made sure of this, you can start with the project by gathering the materials that you will need. If your project involves covering the entire wood with colored paper, then you don't need to place varnish anymore. If you want to place a painted background seal with spray primer, spray at least two to three coats of paint onto the base.
Do this after you have properly sanded and dusted the base. However, if you want your background to look stained, use a water-soluble wood stain since oil-based ones may cause a little trouble when you finish your project.
If you are working on glass, make sure that it has been properly washed and dried. As soon as it's dry, wipe the surface with isopropyl alcohol. For projects that involve working on a metal base, place a thin coating of rust-resistant paint before you add three thin coats of water-based paint.
2. Cut the patterns on your colored pieces of paper
After you have decided on a theme, or a particular picture that you want to place on your base, cut out the pictures or colored paper that you want to use. However, make sure to do a trial run before sticking it all onto the base – make colored copies of the image that you are planning to copy onto the base.
For those who love distinction between colors and images, or if the photo requires sharp outlines, set boundaries by tracing corners and edges with ink or a fine-tipped marker to ensure accuracy.
When it comes to precision cutting, make sure that you have sharp, fine scissors and/or craft knives in order to cut out the image. To cut it properly, you should angle the blade slightly towards the outer part of the picture so that it doesn't get torn or damaged.
3. Arrange your colored paper onto the base, and then glue it on
Before you paste the colored paper or image, arrange them onto the base so that you will see how the finished product should look like, and you can tell if there are crooked pieces of paper or if the angling is incorrect. You can distinctly separate the paper, or you may also overlap it to create contrasts in colors.
Make sure to work with small sections when you arrange the colored paper, in order to properly see the emerging image and ensure the straightness of the papers. When you're ready, you can start applying the glue underneath the paper. Start with small sections at a time as well.
It will take some time, but you will quickly be able to see if you made a mistake or not, and can easily adjust it if there is a need to. Push the paper down gently after you have applied the glue underneath so that it will not fall off. Use your finger to smooth out any wrinkles. Leave it to dry.
After you have made sure that the medium is dry, coat the entire image with the decoupage medium (the glue) and allow it to dry as well. Continue to apply glue until the edges of the picture that you have done are completely smooth and wrinkle-free. You can add some more coats until you are fully satisfied with the results.
When the decoupage is completely dry, you're done! You can hang it onto the wall, display it proudly on your coffee table as an accent, or give it away as a present to friends and family.
Where do you look for images?
To be honest – you can use any print, pattern or picture when you decoupage. If you don't have a specific image in your head on what kind of picture you're going for, you can always search for inspiration, or something to reproduce. If you're looking for inspiration, sift through books, magazines, patterns from tissue paper and napkins, gift wraps, doilies, old newspapers, old greeting cards or even your wall paper.
Most people don't like the idea of decoupage because there's always the misconception that it involves floral and shabby-chic prints, but images are not limited to that. You can use any image that you like and create items that fit certain themes, be it bold modern prints, pop art images or elaborate Victorian designs.
Decoupage is an art which travelled its way to modern times due to its sheer simplicity. It does not require a lot of materials, but it can be a test of patience and creativity, especially if you're going through a particularly complicated piece.
The enjoyment of having a finished project that you can proudly display in your home is no ordinary feat – it's a way to show that you have completed something that requires great patience and creativity.
Interested in other arts and crafts projects? Check out some other fun crafts that you can do at home.