Forget dated, tacky Easter doilies! Here are some updated crafts with a modern feel that won't make your home feel fusty.
With Easter right around the corner, it can be hard to find decorations that don't make your house look like your grandmother's. But never fear! Here are 10 Easter crafts with a modern feel – because  who says it has to be all pastel colors and bunny rabbits?
#1 Painted Eggs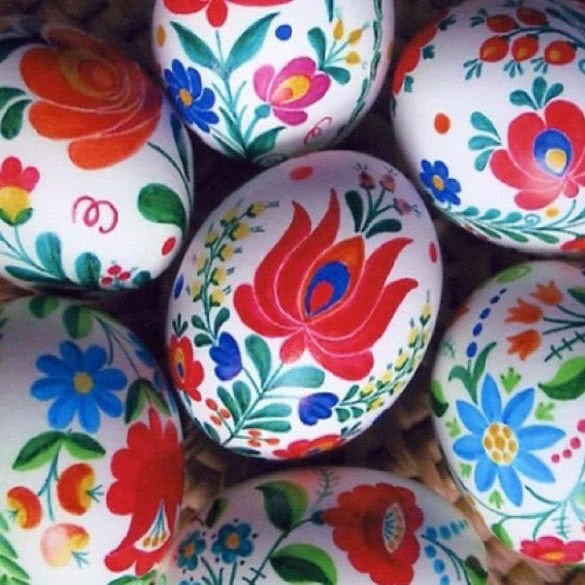 This beautifully simple display of painted monochrome eggs, with a splash of copper, is sure to make a bold statement. It is easily pulled together by painting wooden eggs in different shades of the same color. Put a few aside to paint copper or another metallic color depending on your first color choice. Then place them all in a trifle dish. You can place the dish on a wooden platter with moss or straight on the table or mantle.
#2 Modern Easter Wreath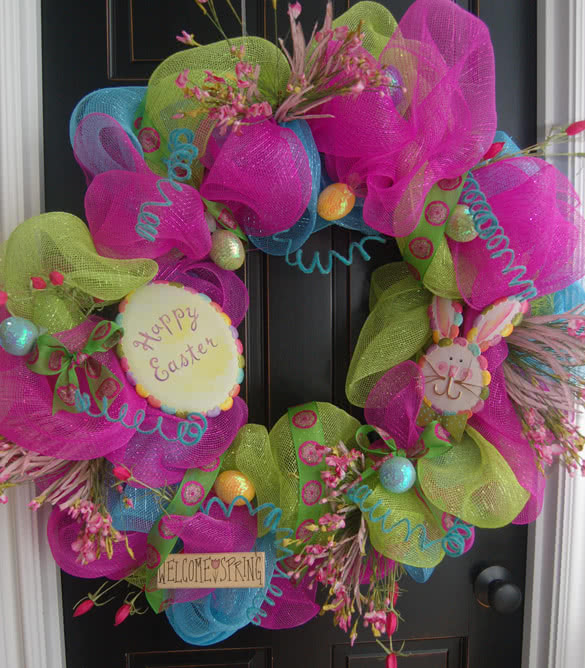 Want a more Modern looking wreath to hang on your door this Easter? Now you can have one with this easy to follow Easter wreath craft. Purchase a Styrofoam wreath, a jar of gumballs, and some blue gloss indoor/outdoor spray paint for this craft.
Glue gumballs onto the Styrofoam wreath using a hot-glue gun. Once the wreath is covered with gumballs and dry, apply 3 to 4 layers of spray paint to the gumballs. You will need a few coats to cover up those bright colors. Once it is dry, add a thick ribbon or piece of fabric to hang it from your door.
#3 Bold Black and White Eggs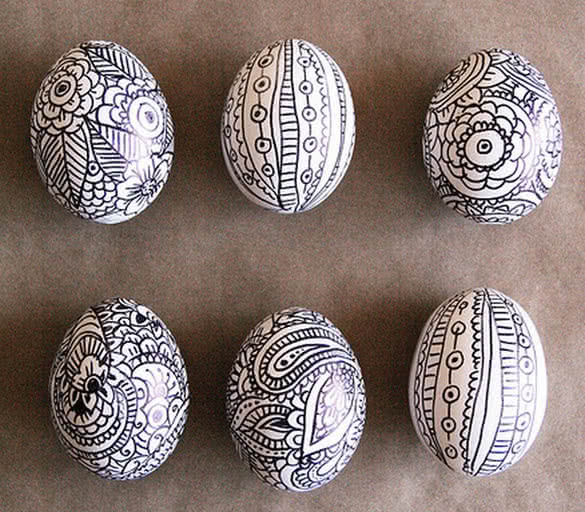 Easter egg decorations do not have to be bright or pastel colors. Give your Easter decorations an updated, modern feel by painting them in bold, monochrome colors with numerical accents. These eggs still stand out and grab your attention using different shades of grey and a contrasting tone design. These chic eggs make great décor for any modern home.
#4 Eggshell Garden
This is a great spring and Easter craft. Create a miniature garden using eggshells as planters by cutting the top of the eggs off. Fill the eggshell with potting soil and gently plant your miniature succulents and flowers. Use green moss to help fill in the eggshell around the succulent. Place planted eggs in a dish or egg carton for display.
#5 Dip Dye Table Runner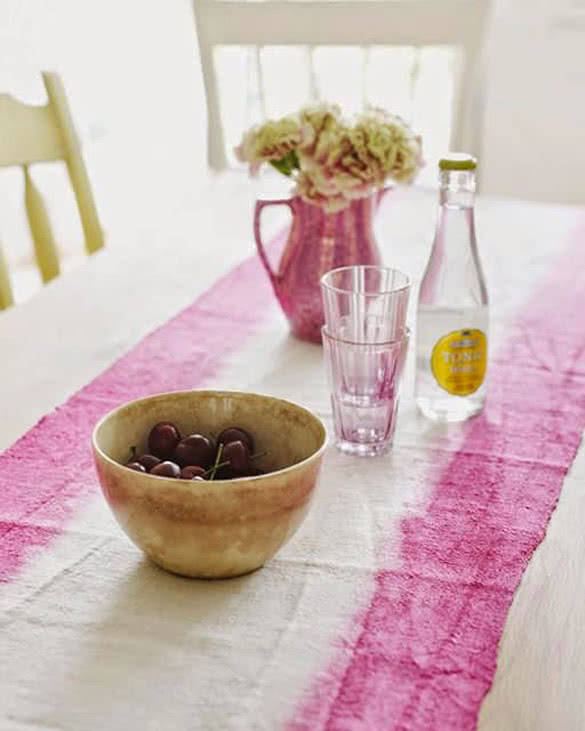 Add a splash of color to your Easter table by creating a Dip Dye Table Runner. To make this bright and cheery runner, you will need a linen or cotton table runner and some fabric dye. Make a dye bath using the instructions on the packaging. Roll the table runner up along the longest side. This should make a short roll that you then dip the end of into the dye bath. Do one side at a time; dip the end a couple of times, then rinse until the water is clear. Repeat the same steps on the other side. When it is all dry, you will have a beautifully dyed runner!
#6 Chalkboard Eggs
Chalkboard paint is all the rage and why not? It can go on anything. Try painting some wooden eggs with black chalkboard paint and drawing or writing your designs right onto them. Add a few gold eggs for a pop of color. Display them in a wooden tray and leave a piece of chalk for your guests to draw on them, too.
#7 Stamped Wooden Eggs
Here's a simple way to update your Easter decorations: Paint some wooden eggs with a matte paint. When they're dry, stamp some spring tidings right onto them! You can display them on a little bed of paper Easter grass to complete the look.
#8 Paint-swatch Chandelier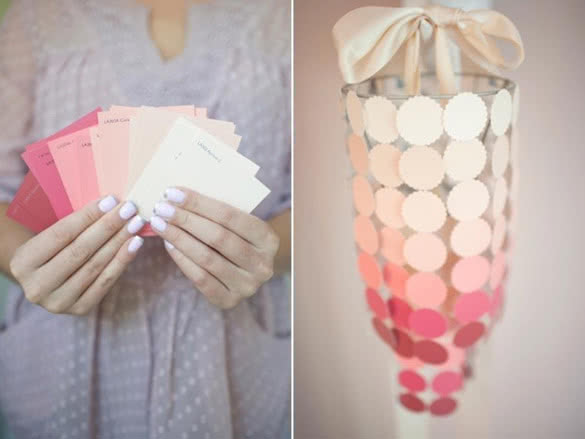 Create this beautiful ombre paint-swatch chandelier to hang in your home and add a touch of color. Gather a tapered lamp shade and a selection of swatches in the same hues and different values. Use a paper punch or you will need to cut out all of the medallions. Lay them down in the order you want, light to dark in this case, and tape a piece of thread all the way down the center back of the medallions. Tie each medallion string to the metal frame of your tapered lamp shade.  Repeat the last two steps until you have all the medallion strands hung on the shade. Add a ribbon and hang it up in your home – the perfect spring touch that doesn't look too dated.
#9 Table Setting
This modern take on a nest is sure to help your guests find their seat at Easter dinner. Take a collection of scrapbooking paper and place them through your paper shredder. Collect some of the shreds and form them into a ball. Place this on the napkin and make an indentation in the middle. Add your decorated egg in the middle of the nest. You can help your guest find their seat by placing a monogram on the egg.
#10 Sharpie Eggs
Another modern look for eggs with lots of design options is eggs decorated with Sharpies. Empty out each egg with an egg punch, select a black Sharpie in your preferred width and start drawing. You can use different thicknesses to create varying Sharpie designs.   Create stripe, intricate patterns, or just write a saying on them – the possibilities are endless!
Easter is such a wonderful time of year; full of hope and renewal as the final chill of winter starts to fade and crocuses begin to peek out of the soil. With these 10 crafts, you can lighten the look of your home and usher in the warmer weather without making your home look too dated. What could be better?
Do you have a favorite way to welcome spring or celebrate Easter? Let me know in the comments or tweet them over to @youqueenmag to share them with us!
Cover photo: www.greendiary.com