Affectionately known as NOOCH, nutritional yeast is taking over the plant-based culinary world, but does it live up to all the hype? In short: absolutely! Here's why.
If you aren't already familiar with it, let me help you get acquainted with nutritional yeast so that you can get cooking with this game-changing ingredient.
What is it?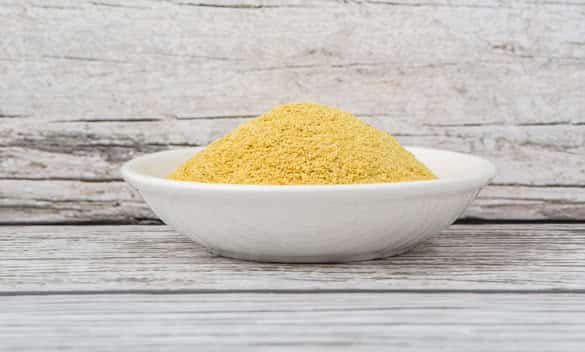 The word yeast conjures up some fairly unappetizing images, but disregard your initial impressions because we're not talking about that kind of yeast. Nutritional yeast is a type of yeast grown on beet molasses or sugarcane and commonly known as NOOCH. It's deactivated, meaning it's different from the yeast used to make bread or brew beer.
What does it look like?
Available in flake or powder form, nutritional yeast is generally found in the health food aisle. It's yellow or gold in color and should not be confused with brewer's or baker's yeast.
What does it taste like?
Nutritional yeast has a cheesy, nutty—some might even say meaty—kind of flavor profile that has it flying off shelves and into plant-based kitchens everywhere.
Why is it so popular?
NOOCH is revered by many because of its flavor, but also because it's vegan, dairy free, gluten free and oil free.
What is its nutritional value?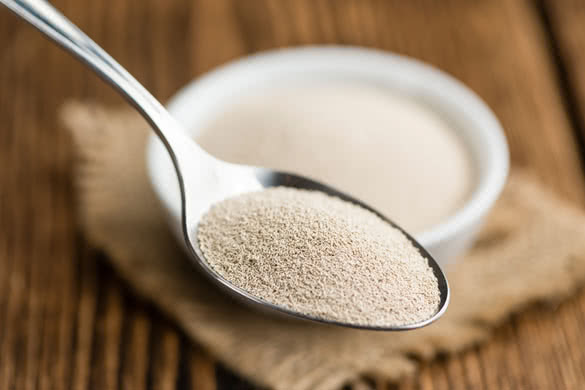 It's a considerable source of complete protein, meaning all essential amino acids are present as well as fiber. Two tablespoons of nutritional yeast provide 4 grams of protein and 3 grams of fiber. Note that nutritional data will vary with different brands.
Nutritional yeast is also a source of B vitamins, including B12. Vegans should not rely solely on nutritional yeast for their B12 requirements, however, as this B12 is not absorbed as well as other sources. It's worth noting that 'fortified' brands of nutritional yeast will provide more trace vitamins and minerals than unfortified varieties.
How do you use nutritional yeast?
That's the beauty of NOOCH: it's pleasantly easy to incorporate into recipes or to use all on its own. Check out these easy, fuss free ways to start enjoying nutritional yeast today!
1. Cheesy Popcorn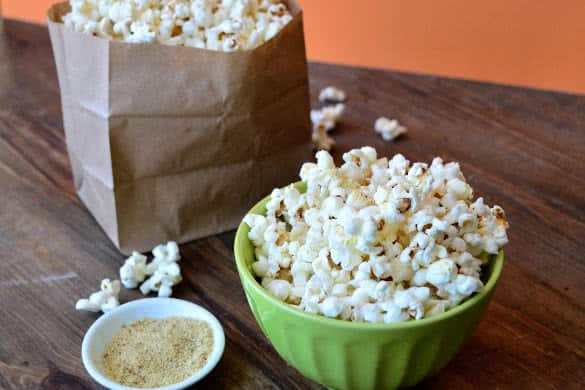 This is one of my favorite ways to use nutritional yeast—and probably the easiest. It's an example of how you can use NOOCH by itself without an actual recipe.
Simply toss air popped popcorn with coconut or extra virgin olive oil, a couple of tablespoons of NOOCH and a few pinches of chilli powder and sea salt. This makes for a delicious and healthy movie night snack.
Alternatively, and this is how I do it, use a Misto sprayer to spray popcorn with apple cider vinegar and toss with a tablespoon of nutritional yeast, freshly cracked Himalayan salt and pepper. Apple cider keeps things oil free and gives the NOOCH something to stick to.
2. Nut Parmesan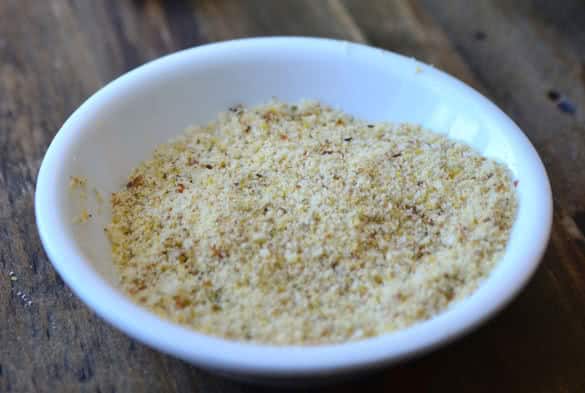 Mark my words: this recipe will change your life! Nut Parmesan cheese is revolutionary, upgrading many plant-based recipes. I add this nut cheese to pastas, pizzas, beans spreads and soups. It tastes like the real thing and you'll fool dinner guests when you tell them that it's not actually Parmesan.
I keep a jar of nut Parmesan in my fridge at all times. This recipe only takes 5 minutes, but the wow factor it adds to the simplest of meals is nothing short of jaw dropping. All you need is a food processor.
Almond Parmesan Cheese
Yields: 1¼ Cup
– 1 Cup Raw Almonds or Cashews
– ¼ Cup Nutritional Yeast Flakes
– 2 ts Thyme (dried)
– 1 ts Oregano (dried)
– 1 ts Sea Salt
In a food processor, combine the nuts, nutritional yeast flakes, herbs and salt. Process until everything is combined well and a fine texture is achieved. Use this as you would regular Parmesan cheese.
3. Cheesy Cauliflower Potato Mash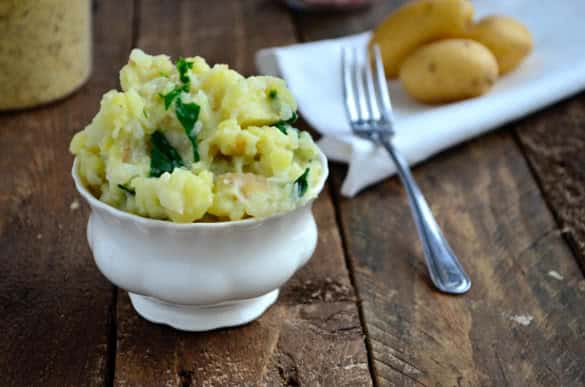 Cheesy mashed potatoes are a thing of the past for many vegans and dairy free folk. However, nutritional yeast can resurrect this comfort food without the use of any animal or dairy products. This take on mashed potatoes is even one step healthier than the traditional version because we're mixing in some cauliflower. This is mashed 'taters 2.0.
Cheesy Cauliflower Potato Mash
Yields: 4 servings
– 4 Cups Baby Potatoes (halved)
– 4 Cups Cauliflower Florets
– ¼ Cup Unsweetened Almond or Soy Milk
– 2 TS Nutritional Yeast
– 1 ts Garlic Powder
– 1 ts Himalayan Salt
Cut the potatoes and cauliflower roughly the same size. Depending on the size of your baby potatoes, you may be able to leave them whole. I suggest leaving the skins on for the extra nutrients hidden in the peel and for texture.
Add the potatoes and cauliflower to a large pot of salted water and bring to a boil.
Once boiling, reduce to a simmer and cook until the cauliflower and potatoes are tender—timing will depend on the size of your potatoes. You should be able to pierce the potato and cauliflower easily with a fork.
When the potatoes and cauliflower are cooked, remove them from the stove and drain in a colander.
Return the mix to the pot, add the milk, nutritional yeast, garlic powder and salt and mash everything together. Add more almond milk if desired.
Of course, these are just some of the ways in which nutritional yeast can be used. What's your favorite way to use nutritional yeast? We'd love you to share your ideas with other readers below.