Eating correctly and taking care of yourself can be difficult, but during pregnancy you need the top healthy foods to feed both of you. Here's how your pregnancy diet should look like.
It is nerve wracking at times to know which top healthy foods you should eat during pregnancy with so many contradictory facts and data around. I have done some extensive research into this topic and the total amount of fact and data to consider is quite astounding.
Therefore, I have compiled the best and most recent information, which I am sure will give you a positive guideline to work from. There are many questions to consider, such as which foods have too much mercury, cholesterol, protein or fat.
Are you consuming too much sugar, salt or other chemicals from the food you eat? There are also questions about vitamins, and studies that show certain foods can increase a baby's development.
Consequently, it is not easy and can take forever to get through all the reading. As always, though, it is essential to consult a medical expert before making drastic changes to your diet.
Top healthy foods for you and baby during pregnancy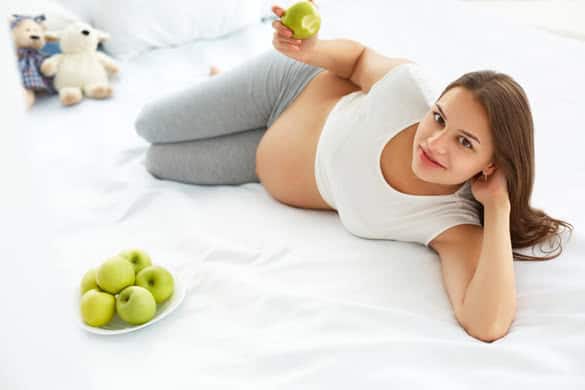 You and your baby have different needs at times, and this should be taken into consideration. Most fruit and veggies are safe for you and your baby, so be sure to get plenty of these in daily.
You should go for a variety of color as well to be sure you get an assortment of vitamins and minerals. Sweet potatoes, oranges, apples, cucumber, grapes, cauliflower, berries and avocados are some of these filled with pure goodness you may want to try and eat on a daily basis.
If you experience unusual cravings for non-food substances, you may have a deficiency or your body could be telling you that there is something you need and are not absorbing. You should consult your doctor for advice. It may be iron, calcium or another mineral or vitamin causing these cravings that can be supplemented.
Pregnancy and vitamins
Taking vitamin supplements during pregnancy is a good thing. Many of us do not always get the right amount of everything in that is needed while pregnant. However, vitamin and mineral supplements can assist in getting it right.
Talk to your GP and ensure that you get a balanced amount of what is required. Discuss your daily meals and habit so your doctor can give you the right vitamins and minerals. Sometimes, vitamin supplements can cause an upset tummy. If this is the case, just ask your GP to try another brand.
Grains and nuts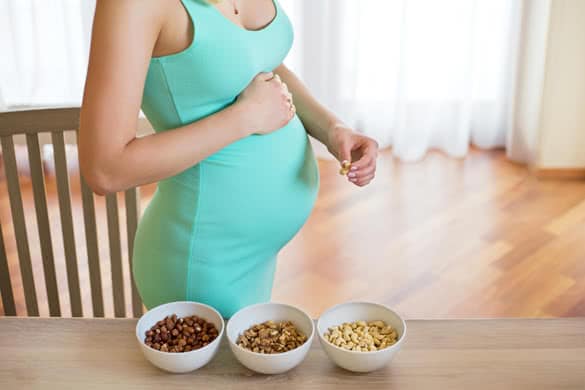 Grains and nuts are healthy for you and your baby during pregnancy. You should eat a range of grains from barley, oatmeal, brown rice, whole wheat, corn and even popcorn.
Yes, that is right: popcorn is also healthy and you can have plenty of it during pregnancy. It is generally the spices added to popcorn that makes it less healthy. Grains contain protein, selenium, iron, vitamin E and many other nutrients that your body and baby need.
Many nuts are superfoods and contain high levels of minerals and vitamins, so a little goes a long way. You should get some Walnuts, Peanuts, Brazil nuts and others in on a daily basis. These are high in omega-3, selenium, vitamin E, protein and antioxidants that you and baby need. A handful a day gives you all you need from these foods.
Beans and greens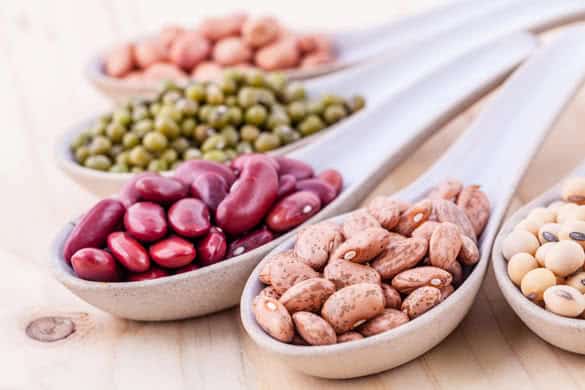 Beans are a good source of nutrients, and they come in a big array of different sizes, colors and tastes. Beans contain more protein and fiber than any other vegetable. Try chickpeas, lentils, black beans, soy beans, pinto, white, kidney or green beans.
These can be cooked in a number of ways that makes each meal unique. Try them with mushrooms, bacon and a cheese sauce, or add beans to your salads or any other cooked meal to get their wholesomeness in every day.
Green vegetables, especially those dark leafy ones, are a must during pregnancy. These include Swiss chard, spinach, lettuce, broccoli and kale as they are filled with vitamins K, A and C. These and other green leafy vegetables also supply good amounts of minerals you and baby need during pregnancy.
There are many other foods to also keep in supply such as yogurt, sardines, eggs, salmon and lean meats, which are all great sources of energy and nutrients. Each meal you eat has an impact on your baby during pregnancy and you must eat healthily for both of you. Share your thought on these top healthy foods for you and baby during pregnancy and tell us which ones you prefer to eat by leaving a comment below.