Do you have enough reasons to like cantaloupe or to include it in your diet? No? Then, you need to know five benefits of eating this delicious fruit.
Cantaloupe looks like a bit like the inside of a papaya, but the two fruits don't have the same flavor. Every time I buy this fruit, I go crazy eating it because it is so much better than eating candy. Also, you don't feel full quickly when eating this fruit, which is probably why I keep eating more and more.
The cantaloupe is a member of the cucurbit family of plants (Cucurbitaceae), which also includes cucumbers, pumpkins, squashes, gourds and a long list of melons.
You can find it in big quantities in China, the United States, Turkey, Egypt and Iran. It contains vitamins C, B1, A, B3, B6 and K, fiber, folate, copper, magnesium and potassium as well as other nutrients, including carbohydrates, sugar, sodium, minerals, fatty acids, amino acids and more. The best part is that you don't need to worry about calories as one large melon has 274 calories.
Besides being delicious, having a pretty color, few calories and many nutrients, this fruit also has many healthy benefits. Here you will read five of them. Unfortunately, some people are allergic to the fruit or the cucurbit plant family, so if you have never eaten the fruit before, do an allergy test first. Also, remember to refrigerate the fruit once it's been cut as it doesn't last long.
1. Anti-inflammatory properties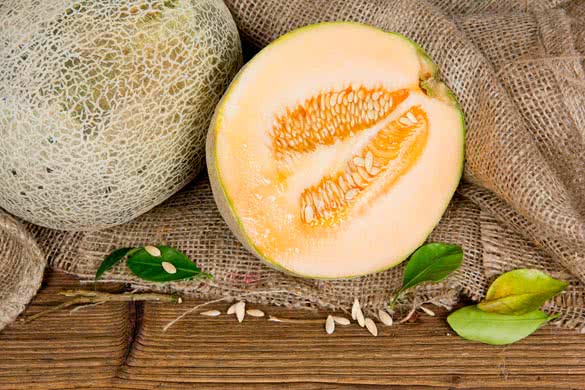 This refreshing fruit has cucurbitacins, including cucurbitacin B and E, and both have anti-inflammatory benefits. They are known as anti-inflammatory compounds that alleviate pain and symptoms caused by inflammatory diseases.
To be more specific, there are studies in which people who ate cantaloupe and other fruits in high intakes had lower levels of C-reactive protein (CRP) present within the bloodstream.
This C-reactive protein is used to assess levels of inflammation in the body, and showed positive results for the people who ate cantaloupe. In other words, cantaloupe stopped dangerous inflammation and autoimmune responses that can lead to disease.
2. Boosts immunity
I bet you can guess why cantaloupe is good for your immune system. It has carotenes, vitamins and antioxidants, which help to boost the immune system and to prevent infections or diseases.
For example, one specific carotenoid, the beta-carotene, is responsible for boosting immunity and other chronic diseases. Also, if you search for studies about beta-carotene, you will find that the carotenoid may enhance immune cell function. This means that the carotenoid is useful in fighting not only common illnesses but also serious conditions like cancer.
3. Protects your eyes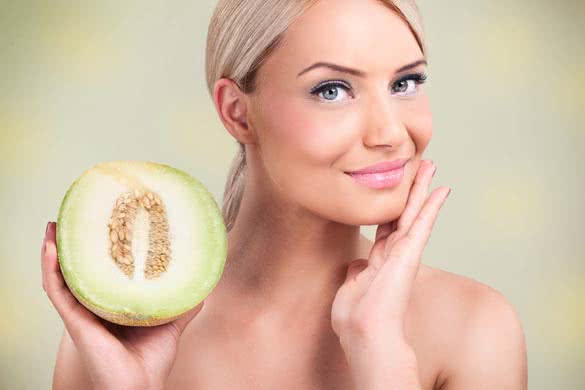 Which nutrients of this fruit help to protect your eyes? Some nutrients that help are beta-carotene, vitamin A, vitamin C, lutein and zeaxanthin. If you have never heard about zeaxanthin, this nutrient is an important carotenoid that is absorbed into the eye's retina. There it provides antioxidant and protective UV light-filtering functions.
Any fruit that has carotenoids is good for your eyes. Some studies show that they help to retard destructive processes that occur in the retina, processes that could lead to age-related macular degeneration.
Other studies remind us to be careful of a vitamin C or A deficiency, which can lead to glaucoma and macular degeneration, a thickening of the cornea—or, worst case, blindness. If you want to prevent these disorders from developing, start eating cantaloupe or other foods that have carotenoids.
4. Normalizes the body's pH level
Alkaline foods normalize the body's ph level. The different types of melons, including cantaloupe, are considered alkaline foods. This type of food helps to restore the pH level of the body to its natural level.
Cantaloupe and other alkaline foods can protect your body from inflammation and diseases mostly because it is believed that diseases have a harder time developing in an alkaline environment inside the body compared to an acidic environment.
5. Supports weight loss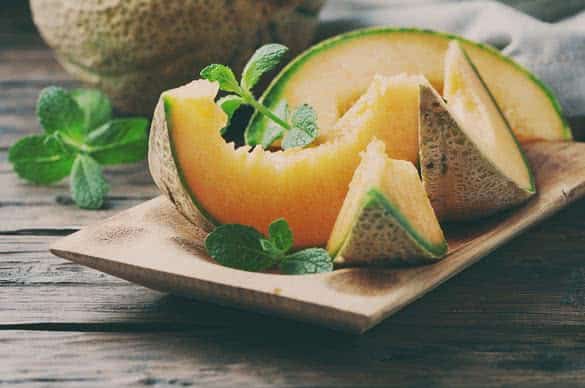 If you have a weight loss plan, you can add this amazing fruit to it. It contains only 60 calories per cup, and is high in water and nutrients. Another reason to add it is that it can help you to avoid nutrient deficiencies, poor digestion, low immunity and weakness.
All of this could happen if you follow a low calorie diet. So, if you want to be healthy while losing weight, add cantaloupe to your diet. It will help you to balance these risks and act as a supplement.
I know what you are thinking: this fruit is perfect. It has health benefits, low calories and many nutrients. Now, are you going to include this delicious fruit in your diet? Do you know of any other health benefits of cantaloupe? If you do, share them below with our other readers.