Do you dream of having a bedroom that just screams romance? Learn how you can decorate your bedroom to make it sexier, saucier and all out raunchier.
If you don't walk into your bedroom and practically swoon with delight, then something is wrong. Your bedroom is your sanctuary and the essence of your home.
It should be the place where you feel most at ease, calm and balanced. It should also be the place where you feel the most comfortable getting down and dirty, if you know what I mean.
But if your bedroom is looking a little drab, rejoice in the knowledge that there are things you can do to improve the appearance of your bedroom and make it a little more sexy time-friendly. Wink, wink.
Okay, enough of the sleaziness from my end, let's get into our DIY tips to make your bedroom look more romantic.
Light my fire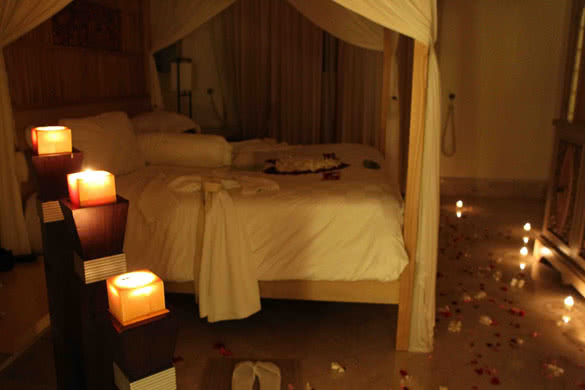 I've put this tip first because if you have a limited budget then this one change will make a huge difference to how your bedroom feels. Well, okay, it might be a few changes depending on how many candles you decide to buy.
That's right – this tip is about candles. Because candles are about one of the smallest changes you can make that also have one of the biggest impacts on how your bedroom looks and feels.
My suggestions are to choose a few bigger pillar candles as well as a stack of smaller tea light candles. Tea light candles look beautiful around window edges and up the top of cupboards while the bigger candles can help your room smell pretty and romantic.
If you can get away with it (and it's not too much of a fire hazard), try to use just candles to light the bedroom during nighttime. It creates such a soft, romantic glow that you'll feel calm in next to no time.
Always remember to trim the wicks after every use though and do not leave your candles unattended (or lit while you're sleeping).
It's all in the lighting
Since we're on the topic, let's delve into the next aspect of romantic rooms 101: lighting. Because you can hardly enjoye a romantic atmosphere if there are fluorescent lights beaming down on you like a UFO, right? Well, unless you find that romantic, of course.
But for the more mainstream of us, a little soft lighting goes a long way.
You can either start from scratch and pick up some gorgeous new lamps and find low wattage bulbs to fit them (I suggest using yellow tones rather than white for the light bulb) or you can pick up some light bulbs only. Either way, it'll make a huge difference to how romantic your room seems.
Oh, and while you're at it, get the energy-saving light bulbs. It'll decrease your electricity bill and you'll have to change them less often.
Tip: For an extra boost of romance, add a delicate chandelier to your bedroom.
Bed worthy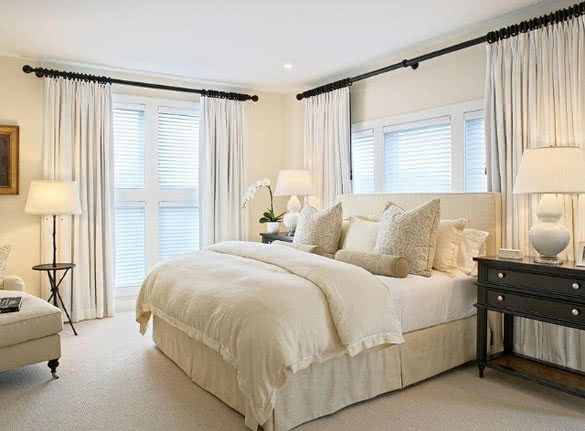 Now for the most essential part of your bedroom: the bed. If you're starting with a pretty crappy base (for instance the single bed your parents bought you when you were 12), then perhaps you might like to save up for a new bed and maybe some bedside tables too. You can pick furniture packages for relatively cheap if you keep your eyes open for a good deal.
Particularly romantic beds are canopy style beds or four-poster beds, although anything can be prettied up.
Otherwise, you can make your existing bed a little bit more appealing by adding a new duvet cover, pillow covers and throw. Now while the colours are up to you, for maximum romance I'd stick to neutral colors with splash of an accent color.
Avoid pink, because although it's pretty and sweet, it's not very romantic. If there's too much of it, it can also make you want to throw up in your mouth a little bit. Sorry.
Anyway, here are some of our favorite boards on Pinterest that have awesome bedspiration for you.
Release your inner artist
And by artist, I mean painter. And by painter, I mean grab some paint from your local hardware store and repaint your room.
There's a reason why people are always going on about how much of a difference a coat of fresh paint makes to a room … because it really does! It has the potential to freshen up your bedroom, as well as make it look cleaner, bigger and newer.
And while it might sound a little boring, the best shades to stick to are cream and beige. Try not to choose anything too dark as it will make the room appear smaller.
What you can do however is choose one wall to be a feature wall. From there you can paint it a contrasting color, or add wallpaper.
There is some really great textured wall paper on the market that adds class and romance to a room, and best of all it changes the entire style of the room without you having to renovate!
Choose your art wisely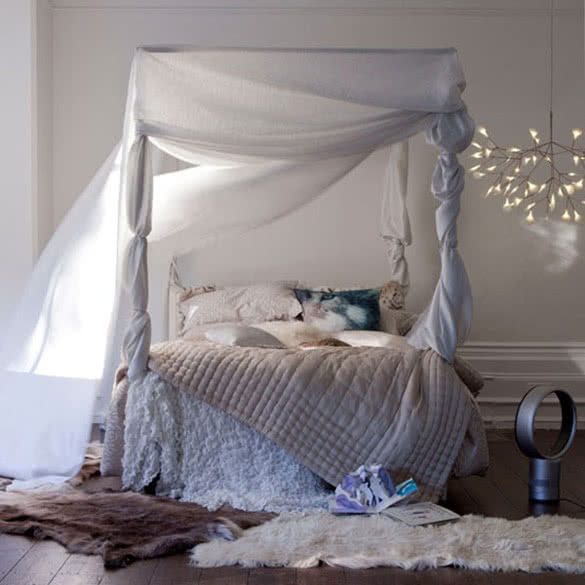 One of the biggest influencers on a room's mood is artwork. Imagine for a moment that you're settling down to bed and as you slip under the covers you look at the wall opposite you. And then scream a little. Because the picture of the wide-eyed (but definitively) creepy girl is a little too much for you to handle before you go to sleep.
We all know that art can influence our moods, so why not our rooms? Choose art that is soothing and that makes you feel good. And if you're not sure how the piece of art makes you feel, don't buy it. Art should be evocative, not neutral, so choose something makes you feel passionate and romantic. 
Add a nook
One of the best things you can do to add romance to the room is to add a cozy nook. Whether it's a chair, a window sweat or even an ottoman, just add some cute pillows, a delicious throw and somewhere to place your tea or coffee and voila – instant romance!
Rugs, throws and pillows, oh my!
Another great, and easy, way to insert instant atmosphere is to add some throws and pillows to your bedroom. You can have quite a few pillows on the bed and mix and match them to look as cute as possible. Etsy has some great handmade pillows that are affordable and unique.
Another romance tip is to add an elegant rug to the room. Interior decorators suggest that you put the rug under the bed (so it peeks out from around the edges) rather than positioning it in front of the bed for maximum oomph.
Curtain power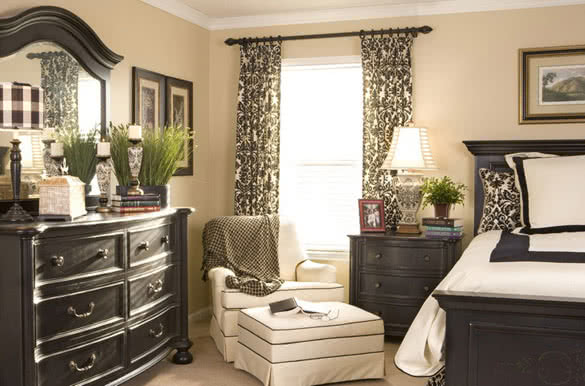 What do your curtains say about you? Are they dusty, old, worn out or out dated? If so, it's time for a refresh. The good news is that there are so many great curtain and blind designs now that you won't feel even remotely sad about donating your old ones to charity.
Curtains and blinds are a great way to frame a room and can add valuable atmosphere where you need it most.
Home depot stores and bigger hardware stores offer DIY jobs if you have standard size windows, otherwise you can enlist the help of an artistic friend or if you have a larger budget, go to a curtain specialist.
Cleanliness is next to romanticness
And finally, my last tip is to make sure your bedroom is sparkling clean. Nobody wants to curl up in a bedroom that hasn't been vacuumed since the 1980s or has so much dust that you think the furniture is grey, not the black you bought it in.
Schedule a day over the weekend to do a complete clean out of your room. Anything that you haven't used or worn in two years, throw out or donate to charity.
Clean every surface and crevices, including the ones that aren't in plain sight, and even invest in a carpet cleaner to come in and give your floors a good scrub a dub dub.
I also suggest you wash all your linens, organize your drawers and clean your windows. Even just giving your room a good spring clean will make it feel a little more romantic, so this is one of the absolute must-do's.
How about you? Do you have any tips to add some romance to the bedroom? Let us know by leaving a comment.
Cover photo: theplace2.ru