We always think about how great it would be if our husbands did something nice for us. We also think about nice things we could do for them. If you want to do a nice thing for your husband, you don't need to do something huge. Look at these 3 small, simple and yet nicest things you could do for your husband.
#1 Kiss
There is nothing as nice as a kiss, so whenever you could kiss your husband do that. Kiss him in the morning when you wake up, kiss him in the evening for good night. Kisses are wonderful and they are the most intimate bond between you and your husband.
Kisses are the expression of your love, so when you want to show your husband how much you love him – give him a kiss. If he asks why, say "just because I love you". Those simple kisses can even lead to a night of passion, so don't ever miss a chance to kiss your husband.
#2 Hug
Coming right after kisses, hugs are the second best thing you can share with your husband. Give him a hug when he leaves for work in the morning, give him a hug when he comes back home or snuggle together and watch a movie in the evening. Hug whenever you can or whenever you need to.
There are not a lot of things that can be so comforting like a hug. If your husband is going through a rough time, hugging him and telling him that it will all be all right and that you will make it through together, will make him feel a lot better. Hugs are not only nice, they are also healing, so give hugs to your husband both when he needs them and for no special reasons. After all, experts say that hugging brings people closer together, so, hug every day and build a closer and more intimate relationship with your husband.
#3 Smile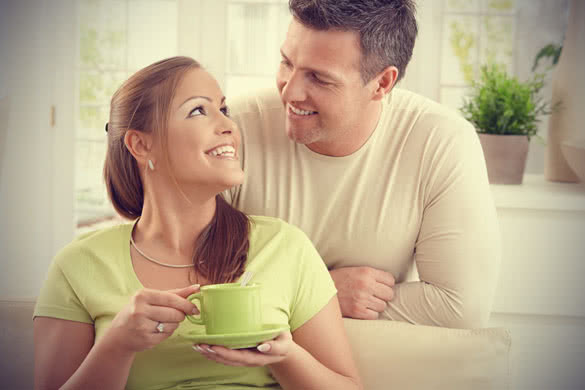 We all know how beautiful, encouraging and refreshing a smile can be. It's contagious too. Just think about it – can you resist and not smile when you see someone else smiling? I know that I can't. You want to make your husband smile – smile at him first.
Imagine how nice it would be if you and your husband were standing in a large crowd, and then there comes that one moment when your eyes meet and you smile at each other. Wonderful, right? I'm guessing you will both be over with your conversations as soon as possible just so that you can enjoy each other's company again.
Even if you don't believe this, your husband probably remembers the first time you smiled at him when you met. So, smile, even when you don't feel like it, because all of your problems will be smaller and easier to solve with a smile.
There are so many other nice things you could do for your husband, but none of them is worth without these three. There are no greater and more important gifts than a kiss, a hug and a smile every day.
What nice things do you do for your husband?