Bora Bora is often given a 10 out 10 on the amazement scale by visitors, so here are 10 fun facts to go along with the 10 stars given to this location.
Bora Bora is known as an island paradise to those who visit and know about it. Many tourists go there to enjoy the soft white sand beaches, crystal clear waters, sapphire blue skies and the sweet escape to seclusion. Sometimes that's all the information you need to travel, but in case you want to know a little more about paradise, here are 10 things you might not have known about Bora Bora.
#1 Bora Bora is part of France
Bora Bora is a tropical island in French Polynesia (more commonly known as Tahiti) which is made up of 118 islands that are divided into five groups. The volcanic Society Islands in the middle South Pacific Ocean is where you'll find Bora Bora, halfway between Australia and the USA.
#2 There is no 'B' in the entire Tahitian Language
The island was named Pora Pora, which means "first born" by the original Polynesian settlers that inhabited the islands.  However, the first European settlers to visit the island misheard and believed the natives had said Bora Bora and that is the name it goes by today!
#3 It is a pest free zone
Bora Bora is a pest free space; not only the island of Bora Bora but all of French Polynesia is poisonous snake and insect free! You could literally go for a stroll without bug repellant, take a nap on the beach and not have to worry about insect or any critters on you at all! Talk about paradise!
#4 Bora Bora is known as the 'Romantic Island'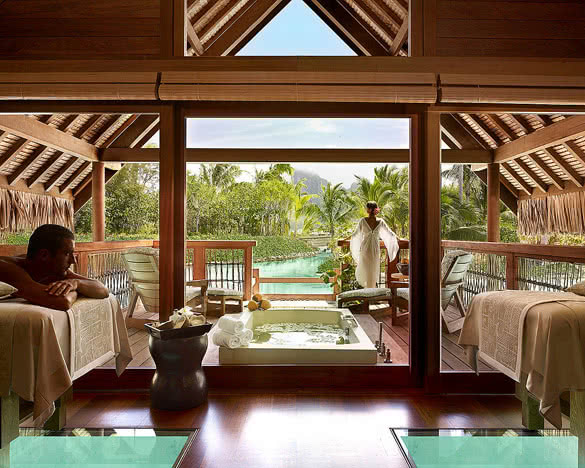 Because of its amazing beauty and isolation, it is a hugely popular place for couples and honeymooners. Not only that, just 19 km north of Bora Bora, by helicopter or boat, you can take a ride to Tūpai (also called Motu Iti), which is a coral reef formation that looks like a heart!  This magical piece of nature is 11 km in area and is totally gorgeous!
#5 Flowers can be used to show your relationship status
A flower placed on your left ear is a signal that a female has a special someone in her life.  On the other hand, if you place a flower on your right ear, it means a female is single and ready to mingle. This can also attract some male attention from Bora Bora natives and they will indulge girls with flirtations. Half of the population of Bora Bora is below 20 years. Expect to see many beautiful people enjoying the sun on the beaches.
#6 There is no public transit in Bora Bora
Bora Bora is a tiny island made up of 3 villages: Anau, Faanui and Vaitape. There are fewer than 9,000 permanent residents! That means the entire population of Bora Bora can sit in the Louis Armstrong Stadium in New York and there'd still be seats free! This little island, which has a total area of 29.3 km, is so small that there are no forms of public transit. If you plan to visit, be prepared to either walk, or rent a car, bike or two seater buggy.
#7 There are hundreds of underwater species around Bora Bora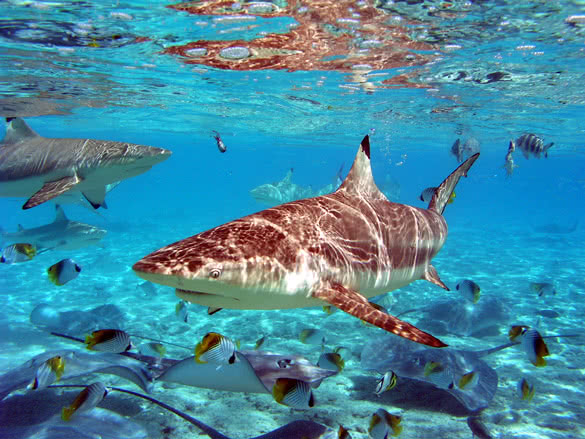 Snorkeling and scuba diving is a huge attraction in Bora Bora. There are hundreds of underwater species that can be seen while out exploring the calm, blue waters around Bora Bora. There are colourful reef fish, sea turtles, starfish, manta rays and sharks!
#8 The best beach in the world
In 2013, CNN did an article on the World's 100 best beaches – Matira Beach in Bora Bora made the top 10! The soft white sands and calm waters claimed spot number 8 on the list and is described as a beach that is 'a little too perfect to be believable.'
#9 Tattooing is a sacred art in Bora Bora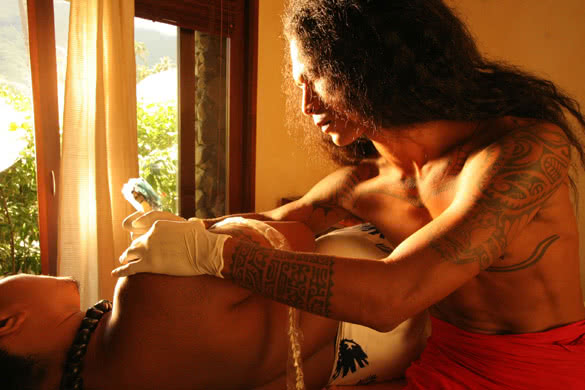 The art of tattoos is believed to have come from the two sons of the God of creation, Ta'aroa. Tattoos are considered a sign of beauty and were used to show ones position in society and has seen a resurgence in Bora Bora.
#10 Bora Bora is a Hollywood destination
Bora Bora may be out of reach to many of us right now, but you can get glimpses of it in film and televisions. Couples Retreat, the 2009 romantic movie starring Vince Vaughn and Kristen Bell was filmed at the St. Regis Resort. The Bachelorette season finale starting Ali Fedotowsky was filmed at the Hilton Bora Bora Nui, the same place Keeping up with the Kardashians shot 3 episodes of season 6 while on the island.