There are many events worldwide that allow for all the beautiful cultures to be seen, here are just a fraction of the places where you can experience them.
We read about the beauty around us in our everyday lives through various social media accounts and magazines. However, do we really know where to go to experience these beautiful cultures that are open for us to explore? No, we don't.
Everywhere we go, we experience culture. The further and more exotic the place, the more different the culture will be. I like to say that the world is yours to discover, which it is. Despite there being amazing cultures everywhere, there are certain events that allow for people to experience cultures through festivals, events and special holidays. Here are some great places to travel to and experience great culture.
Dia de los Muertos a.k.a Day of the Dead, Mexico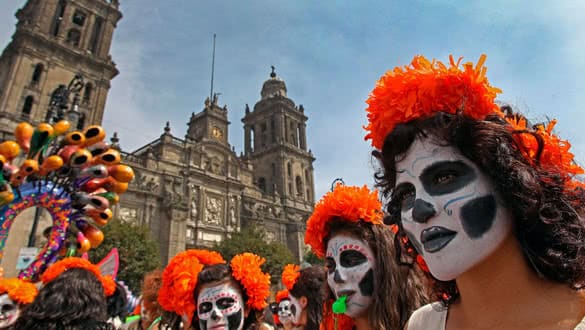 This holiday is a fantastic celebration that takes places in the central and southern parts of Mexico on November 1st and 2nd. The purpose of this holiday is to celebrate the lives of loved ones; it is believed that spirits join their families on these two days for the celebration.
Massive alters are prepared everywhere with toys, bread, candy, hot chocolate and lots of flowers for the spirits of children and cigarettes and shots of mezcal for the adult spirits. These altars are adorned with bunches of gorgeous flowers that are traditionally wild marigolds (cempasuchil) and bright red cock's combs along with plenty of candles. Late at night, people play cards, listen to music and clean grave stones as well as celebrate.
As sad as this holiday may sound, it is not. In fact, it's quite the opposite. This holiday is a very happy one where everyone celebrates, laughs and enjoys life. This is also the holiday on which Mexican candy skulls are worn. Women and men dress up beautifully and luxuriously (for the most part, not all the time). Mainly, the women paint their faces with gorgeous Mexican candy skulls as a sign of remembrance. These can mainly be seen not in the rural streets and neighborhoods, but in the big parts of cities and town squares where there is a big street party and festival.
Carnival, Rio de Janeiro
Brazil bustles for 5 days, 40 days before Easter. Carnival traditionally starts on a Friday and ends on Fat Tuesday, which is right before Ash Wednesday when Lent starts. Since Lent is when you give up something you love, Carnival is seen as the farewell to partying and the pleasure of sex for Lent. Therefore, Carnival is a massive, 5-day, non-stop party with live music and lots of parades with ornate costumes, dancing and lots of fun. The party never stops! It is an all-day and all-night affair through various venues such as bars, restaurants, the streets and everywhere else.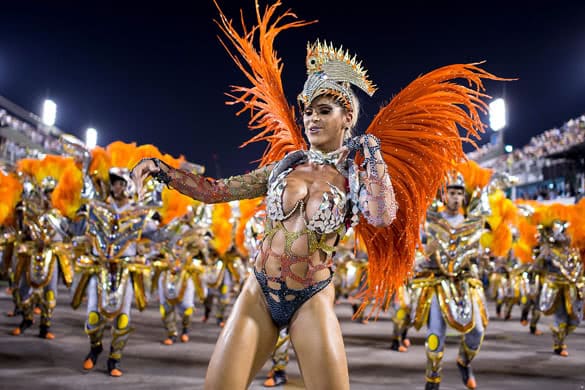 The point of Carnival is for people to see how fun-loving and easygoing people in Brazil tend to be. No matter the time of year, they stay up late partying, having fun, and enjoying and celebrating life. Despite the mass celebration happening all over Brazil, Rio de Janeiro is the best place to experience this mass celebration that is exploding with culture and confetti.
Holi Fest, India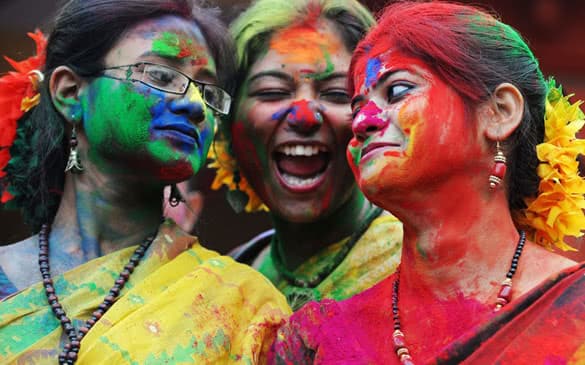 Also known as the Festival of Colors and the Festival of Sharing Love, Holi Fest takes places in India and Nepal during the spring. This is a Hindu festival where people throw colored powder at other people. Fun, right?
As fun as this event is, it also has great cultural relevance. The Holi festival celebrates the victory of good over evil that was brought to the people by the burning and destruction of a demoness named Holika. This victory was won by the Hindu God of preservation, Lord Vishnu. In honor of Vishnu, the festival was named by Lord Krishna, who was a reincarnation of Lord Vishnu. Lord Krishna liked to play pranks on the village girls by drenching them in water and colors, hence the event of throwing colored powder at everyone.
The festival marks the end of winter and the abundance of the upcoming spring harvest season. This festival is tons of fun and is extremely friendly; it is when everyone is bringing in great vibes and enjoying life and the good fortune to come.
The world is a massive place full of diverse traditions, cultures, celebrations, festivals and experiences to be discovered and enjoyed. There are many other places to experience great culture like: China for Chinese New Year; Spain for La Tomatina; New Orleans for Mardi Gras; Venice for Carnivale; Scotland for Up Helly a.k.a Fire Festival Scotland; Spain for the Running of the Bulls; and Nevada for Burning Man to name but a few.
The world is yours to discover, so why not explore it and the cultures of other people. If you have ideas for more places that have great cultural events, feel free to share!