Whether it's a regular vacation or a special occasion, when you are looking for a romantic getaway a Caribbean all-inclusive can be just the ticket to paradise you are looking for.
Some vacations are meant to satisfy your inner explorer while others are meant to just give you a break where you don't have to do anything but relax and enjoy.
For most of us, the latter means quiet days on the beach soaking up the feel good rays of the sun and enjoying a dip in the ocean. It can be a week away with girlfriends or a romantic getaway for just the two of you.
When choosing an all inclusive, it is important to read the bottom line and fine print. Some all inclusive are much more inclusive than others. Some include more when you get a fancier room as well.
Only the most luxurious (and expensive) include scuba diving and off site excursions but most will include all food and alcohol, non-motorized water sports like windsurfing and snorkeling, and activities on site.
They usually have arrangements with local companies for those interested in diving, boat excursions, parasailing, and touring local sites. Upgraded rooms often have Jacuzzis and sometimes even private pools for two as well as pillow menus, bed turn down service, and even butler service for those who want to indulge in the lap of luxury.
If you want to get super luxurious there are some very expensive all inclusive out there that cost $1,000 or more a night. There are also the ultra cheap and crowded ones that are $150 a night.
Then there is the middle ground where you can find some privacy, decent service and good food, and lots of great beaches and pools. The five romantic all inclusive resorts shown below are less than $500 a night and offer lots of great perks for visitors.
1. Emerald Bay Sandals Resort – Bahamas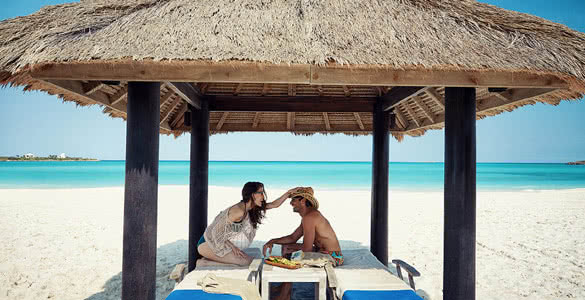 Sandals has resorts of varying quality all over the Caribbean. This is one of the newer and nicer ones. It includes a pro designed golf course, motorized water sports, diving, snorkeling, and for those looking to take the next step, a basic wedding for free. There is are spa services available at an additional cost.
Local tours available at an additional cost include bonefishing, snorkeling trips to Thunderball Grotto which is a series of caves and canyons, swims with sharks (friendly, of course), ecotours focussing on the marine life, and private getaways for two – just you and your lover, a picnic, and private beach for a whole day of fun on the sand.
The accomodations range from simple rooms to luxury suites complete with a real English-trained butler. There are buffets, a Parisian patisserie, a pizzeria, a beach restaurant, and English pub, and Italian and French restaurants for those wanting something more upscale.
2. Couples Tower Isle – Jamaica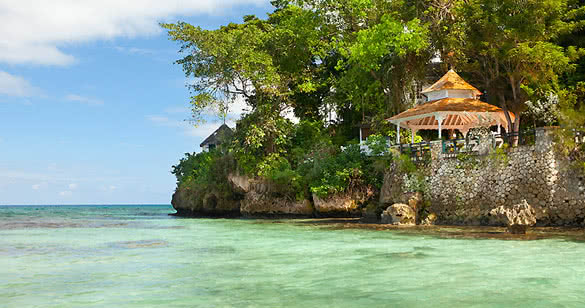 Couples is a much smaller company than Sandals but they do have four resorts in Jamaica and one in Barbados. The Tower Isle is the best of the bunch.
As the name implies, these resorts cater exclusively to adults and romance is the goal. Like Sandals, they offer free scuba diving (including instruction for those who aren't dive certified), water sports including waterskiing, golf, and snorkeling.
It also includes free of charge escorted excursions to places like Dunn's Falls and Margaritaville, catamaran and glass bottom boat cruises and tours, offsite snorkeling excursions and shopping trips.
There is also a private beach for au naturel sunbathing as well as the usual bevy of pools, restaurants, and bars to enjoy. All rooms include a private balcony or patio, mini bar, and turn down service. If you go all out you can have your own Jacuzzi, and separate living areas.
3. Cocobay Resort – Antigua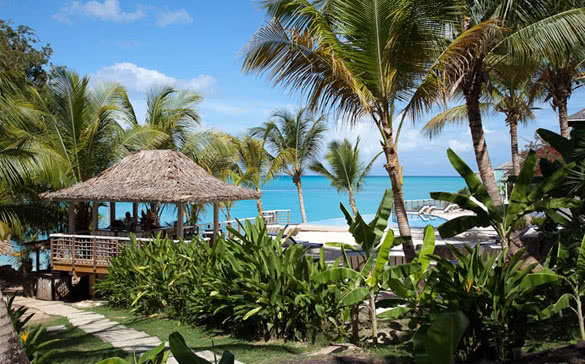 Cocobay is a private resort, not part of a chain. Its designed for those truly looking to get away from everything, meaning there is no television in room (there are some in public lounges onsite) and WiFi is available at an additional cost.
Accomodations are a series of cottages ranging from a very basic one to plantation houses and waterfront suites with their own private plunge pools and outdoor tubs for romantic evenings.
Activities that are included are sailing, snorkeling, guided nature walks, cocktail parties and live entertainment. Available nearby for a fee are a spa, golf, and excursions into town.
The Cocobay experience is about quiet time for the two of you to spend together.
4. Excellence Playa Mujeres – Mexico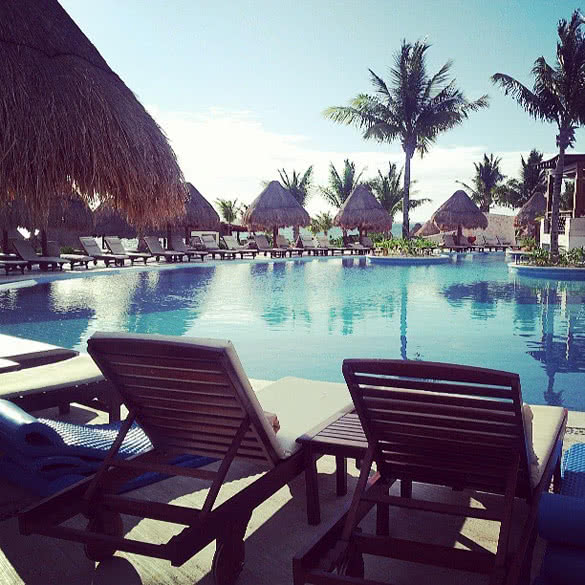 Excellence is a small chain of adults only resorts. They have two resorts in Mexico, one in the Dominican and a new one opening up in Jamaica. The Playa Mujeres resort is in Cancun and one of their best.
Included with your accommodations are non-motorized water sports such as windsurfing and snorkeling, scuba lessons, fitness center, tennis, basketball, volleyball and other sports. For a fee they can arrange golf, spa sessions, evening cruises on catamarans and yachts, deep sea fishing, and shipwreck dives.
As well as two miles of sandy beach, they offer seven pools, four Jacuzzis and five in-pool whirlpools, nine gourmet restaurants, and many bars. If Cocobay is about privacy, Excellence is about excess. All accommodations are suites and include your own Jacuzzi.
If you want to spend the extra you can get one with a swim up from the pool entrance. If you want to go all out get an Excellence Club suite and you'll enjoy things like room service, turn down, private pools, lounges, and beach areas and lots of extras from the concierge.
5. Iberostar Grand Bavaro – Dominican Republic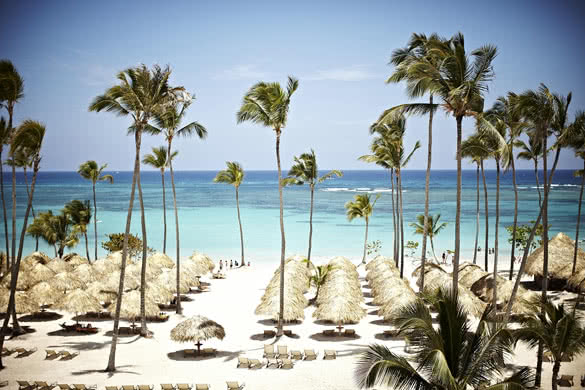 Iberostar Grand is a small chain of resorts found around the world. It is couples only and all rooms are suites. You can choose from ocean views and swim up suites. All of the suites have their own Jacuzzi and Grand Star inclusive means you have your own butler as well.
There are four restaurants plus a buffet and a beachfront casual dining place. There are multiple pools and Jacuzzis, a gym, the usual water sports plus parasailing, boat trips, a spa, golf, and shopping galleria.
The website is a bit vague about what is and isn't included in terms of the spa and water activities so be aware that extra charges may apply. The room cost is quite low though.
When it comes to all inclusive resorts, there is a huge variety to choose from. Decide on the things that are important to you and the activities you most enjoy before narrowing down your search. Read online reviews from groups not affiliated with the hotel or resort for some honest opinions.
Occasionally you get someone who is never satisfied and always finds something to complain about but if you have a whole screen full of people complaining about the facilities or service, it may be worth noting.
You can make anything romantic if you work at it but adults only resorts do tend to focus a bit more on the romantic touches like beachfront private meals and sunset tours.
Private resorts have some advantages and individuality but chains have become successful enough to have multiple resorts for a reason. It's all about balancing the options available.
The important part is finding the right one for the two of you to relax and enjoy some private time away together.
Cover photo: gocaribbean.about.com