Do you ever see the travelers who have only one bag – (that's not even bulging!) – that look super put-together and get right off the plane and into a cab? Do you wish you could be more like them?
Walking through a hotel lobby or past the check-in desks at the airport or watching families that seem to bring everything they own on vacation makes one wonder how much they paid in baggage fees and chiropractor visits. Now that many airlines have started charging for checked bags, it is time to downsize.
Making a commitment to becoming a to "carry-on-only" traveler can not only save money, but also time and headaches. No more waiting at the baggage carousel forever wondering if your suitcase will be, yet again, the last one off the plane. No more worrying that you will have to vacation with just the few clothing items in the carry-on or what is on your back. No more backbreaking trips up the stairs hauling too-heavy bags behind you.
Yes, it can be difficult at first to ditch the comfort of a large suitcase that can carry all your shoes and hair products and "what if" items. It is better to pack by a set list of rules and go on vacation with everything you'll need and only a few things you might need. So, how is it possible to pack so little and not go crazy? Here are the rules to travel by:
1. Mix and Match Everything You Take
Pick a few things you love and want to take with you and then build a travel wardrobe around them. Make sure everything is in the same color palette. If you like bright tops, then bring neutral bottoms. That way, everything you take will match other things in your travel bag. Bringing mix-and-match separates is the perfect way to travel, because if you have four bottoms and five tops, you can make 20 different outfit combinations! It also helps with Rule #2.
2. Two Pairs of Shoes are all You Need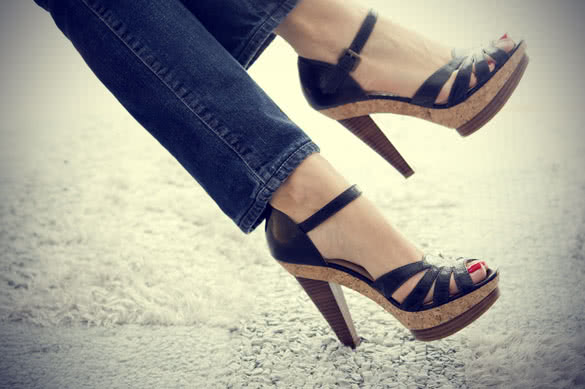 When everything in your bag has a similar color scheme, it's much easier to find shoes to coordinate. Almost everywhere for the same two kinds of shoes: general walking shoes and comfortable dress-up shoes. With ballet flats being so popular these days, it's easy to find a great pair that will be comfortable to walk in all day and still look good with everything from shorts to dresses. Wear your heavier shoes on the plane and pack the smaller ones, so you have more room for clothes and other necessities.
There is an exception to this rule and that is for flip flops or similar sandals. They take up little space and are convenient for many things, so shove them into an empty space in your bag and pretend they aren't shoes. You can wear them to the pool, to do laundry, get your continental breakfast, the beach and so much more.Travelling could be exhausting, especially if it lasts longer. Read more tips on choosing the best travel shoes for women.
3. Prepare to Do Laundry
When you take so little, unless you want to walk around in dirty – and possibly stinky – clothes, you will want to throw them in the wash at some point. Most decent hotels and vacation rentals have laundry facilities. You can pop your clothes in on your way to dinner or when you get back from sightseeing. It will take much less time than you think and then you will be fresh the next day.
If your accommodation doesn't have on-site laundry, you will normally find a Laundromat nearby. If you are at a destination long enough to need to do laundry, you will have enough downtime to do it.
4. Don't Forget to Layer
When traveling to cold weather destinations, or even preparing for chilly nights during your stay, don't start dumping in bulky sweaters and jackets. You will get three of those in your bag before it's full and you can't pack anything else in it. Look for lightweight fabrics that pack well and can be layered with other pieces. These pieces work well over most of your normal clothing, like a t-shirt or tank top, and can be crammed into your day bag when not being used.
If you are traveling in the winter time, layering works just as well. Sweaters that are thin or lightweight fleece pieces are great, because sometimes you think it'll be cold and then it's not as cold as expected. If it is, you can wear layers underneath these to stay warm. T-shirts and tanks work here, too, but if it's going to be really cold, look to purchase base layers – thin, but super-warm separates that look like long underwear. They trap heat to your body, but also wick moisture, so you don't sweat to death while trying to prevent hypothermia. You can pack several sets of these in your bag and they take up little room and are undetectable under your everyday clothing.
5. Downsize Your Toiletries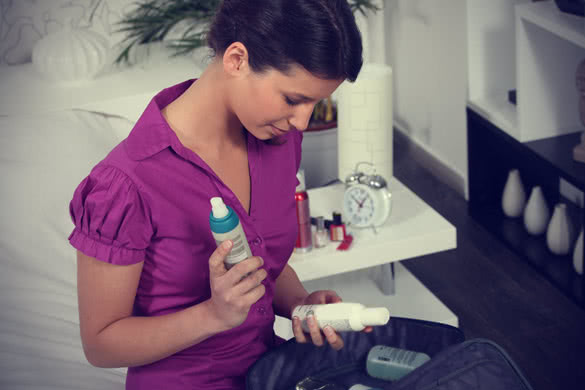 How long does it take you to go through a full-size bottle of shampoo? Two months? So why take that big thing with you on your vacation? TSA rules allow you to bring a one-quart plastic bag full of three-ounce bottles. If your problem is that you can't find your same shampoo, conditioner, facial scrub, hairspray or whatever else in a travel-size container, make your own. Purchase small bottles, pumps, vials or jars and decant your favorite items into them. This gives you just the right amount you need for your trip and allows you to take them with you in your carry-on.
If you're one that needs to carry beauty tools with you, like a flat iron or curling iron, purchase a mini version specifically for your travel bag. You can normally find the same brand you use at home that works just as well, only smaller.
6. Streamline Your Beauty Routine
Don't stuff your toiletries bag full. Your objective here is to pack as little as possible. Look for make-up palettes and multipurpose products that will enable you to pack less. Tinted moisturizer that has SPF in it pairs perfectly with a powder foundation for a flawless look. Lip tint is often used as cheek tint, plus it can be applied with your finger, so you don't need to pack another brush.
We've compiled a guide for you to follow in preparing your beauty essentials, as well as some important skin care tips that'll make sure that you'll be looking your best while travelling. Here it is.
There you have it: 6 easy rules to pack by that will help you travel lighter and save you tons of hassle. If you can't lift your bag to put in the overhead, you probably have too much in it. It's really true what they say: Lay out all the clothes you want to pack and then put half back in your closet. Creating a detailed packing list can help you see if you have way more than you really need, and helps reminds you of the essentials (– like underwear!) – and also helps you repack on the way home.
When you travel with an organized carry-on, not only do you save money on baggage fees, but it helps your trips go smoother, so you only have to worry about what to do first when you get to your destination.