Looking for romantic winter getaways to enjoy with your man? There are plenty of places to get inspired by and we've listed some of the best. Check them out!
Winter can be long, dark and dreadful. Thankfully there are those dreamy winter spots which make winter worthwhile – romantic winter getaways that reawaken the soul.
From snow covered little villages where you sit by the fireplace, sipping hot chocolate, to exquisite and luxurious ski resorts – there are plenty of spots that will bring out the romance.
Winter can be cozy, beautiful and filled with cheer if you only find the right places to visit!
Stargaze in a Glass Igloo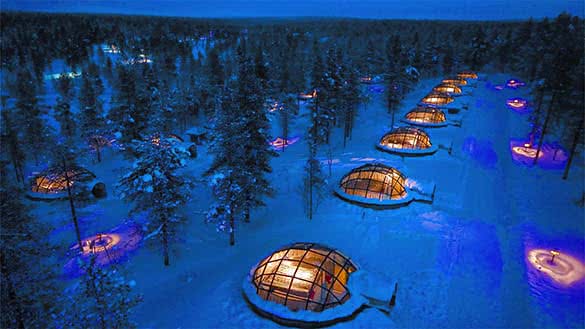 It might sound a bit…frosty, but staying in a glass igloo in Finland, looking at the stars and the Northern Lights is quite romantic after all! Which is why Kakslauttanen Arctic Resort offers it.
If you fancy something more traditional, you can stay in a snow igloo or a log cabin. There's even a larger, traditional, cabin with an old-fashioned decor that will transport you right back to ca. 1890. There are now also log cabins with glass igloos attached, so you can have the best of both worlds – no need to freeze!
Whilst at Kakslauttanen for your romantic break you can also go aurora hunting (chasing the Northern Lights at night), or why not go on a reindeer or husky safari? Or maybe an icebreaker cruise? There are plenty of other things to do as well and one thing is for sure – it's bound to be an incredible adventure.
Romantic Spa Winter Getaways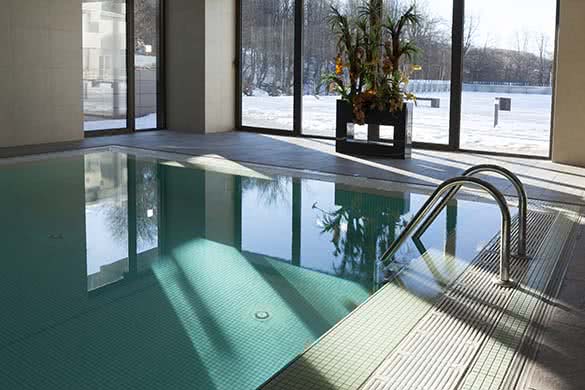 Looking for a cozy spa with something…a little bit different? Then you will want to try the Norwich Inn in Connecticut. The red brick stone inn is a Georgian Colonial manor house which looks like something out of a fairytale, but their spa is what makes it unique.
That's to say – not all spas offer tarot readings, reiki and special winter spa treatments such as the Chocolate Mandarin Spice Body Wrap. At one point they had a medium, so you could try asking for that as well…
Speaking of ghosts, Dunton Hot Springs in Dolores, Colorado is a restored ghost town…not that you'll necessarily think much about that as you soak in their hot springs and relax in the rustic log cabins.
It's one of those places that are so incredibly beautiful and cozy you might have to pinch yourself to know you aren't dreaming. It's a rural setting, so perfect if you're looking for a romantic winter getaway in nature. Bring warm clothes so you can go for walks with your partner before snuggling up by the fireplace, or relax in one of the hot springs, or indoor pools.
The Romantic Castle Getaway
If money isn't an issue and you're looking for something in the US then Belhurst Castle might be just the thing. After all, what's more, romantic than a snow covered castle where you can cozy up by the fireplace? Or relax with an incredible massage?
As Belhurst Castle is just by the Finger Lakes region, there is plenty of natural beauty, as well as plenty of vineyards, so you're in luck if you enjoy wine tasting!
The Ultimate Moroccan Winter Getaway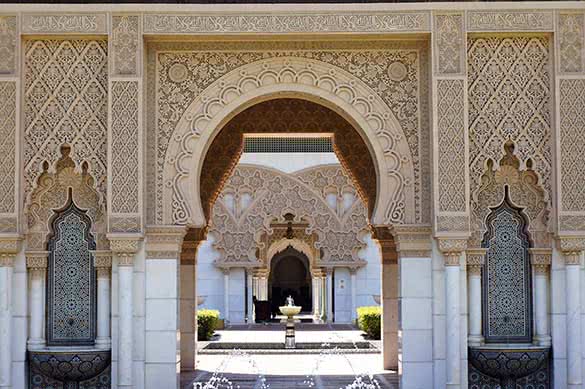 I had to include at least one place you can only get to by donkey. After all, some of you are looking for more of an adventurous romantic winter getaway, aren't you? Perked high in the Atlas Mountains, two hours from Marrakech, you find Douar Samra – a traditional Berber home done up as a hotel.
It's incredibly charming and romantic and some rooms come with their own fireplaces! Their website alone is worth visiting – it's very creative and colorful. Dinner here is communal so you'll be sure to explore the Moroccan cuisine properly and as someone who has been to Morocco, I can assure you it's well worth exploring!
If you think arriving by donkey back (you can also walk) is too much of an adventure, you can check out their sister hotel, Riad Samsara, in Marrakech. Another very charming hotel.
Morocco in winter is maybe not your traditional winter getaway – whilst you might get snow in the mountains you won't see it in Marrakech – but the bright colors and the spicy food could be just what you need in the midst of winter!
Shopping at the out-of-this-world medina in Marrakech whilst haggling spiritedly with the shopkeepers, having traditional hammams (being scrubbed down in spa using a specific Moroccan soap) and discovering the architecture will be sure to re-invigorate you.
French Romantic Winter Getaways – from Paris to Provence
When you're talking romantic travel destinations, you sort of have to mention France, don't you? After all, it's home to the city of light and romance – Paris.
Paris in December offers Christmas markets – stands selling craft gifts, as well as fresh produce, condiments, and the likes. They'll also be sure to serve mulled wine and various hot snacks in some of them.
There are smaller markets (such as the one by Abbesses) and larger markets, like the one in Montparnasse, but wherever you go you're bound to bump into one. If you want to explore in advance, though, you can find out more about the different markets here and here.
You will want to stay in a cozy, romantic, hotel such as Hotel Luxembourg Parc, Hotel Particulier, or Hotel Ermitage (the latter two being in Montmartre). If you want something a bit more kinky, try One by the Five – exploring your five senses – or Hotel Amour, which used to be a brothel back in the day. Oh, la la.
Avignon might be more famous for its fringe theater festival in summer than anything else. But it's a splendid medieval village, filled with a charm that's absolutely magical at any time of the year.
Here are 7 things you should make a point of seeing while in France.
Old Fashioned European Charm
A slightly different take on a medieval village is Bouillon in Belgium, intact with its very own castle. It looks like you stepped right back to ca. the year 1500. There are plenty of modern shops selling chocolate and patisseries, though, which is enough to put a smile on anyone's face. If you are looking for a true "hideaway-getaway" this could be it. Perfect if you like hiking as well.
For some true old fashioned European charm, you should also visit Venice. Whilst the city is always filled with tourists, there are slightly less of them in winter.
There are plenty of places to see in Venice. The best way to explore the town is simply to walk around aimlessly. Get lost and find yourself in one of the many alleyways. It's the kind of town where getting lost is an incredibly pleasant experience.
Best Places to Travel in January
January in the Northern Hemisphere is cold and generally quite miserable. What better way to relax then by heading south for some warmth and beautiful beaches.
If you're still undecided where to visit this January, here's some inspiration to get your holiday planning started right.
How do you like our romantic winter getaways? Share your ideas.