Tired of white sand beaches, dense green woods or endless blue oceans? Love nature but longing to see something different? Visit the Land Down Under for a unique kind of outback adventure.
Seeing a photo of Prince William and Kate Middleton's recent visit to Uluru made me remember my own trip to that famous rock many years ago.
Uluru, also known as Ayers Rock, is that iconic monolith in the middle of the Australian desert called the Red Center — so-called because of the bright red sand covering much of that area in the Northern Territory.
Uluru itself has a stunning, burnished orange hue. Whether it's from its high iron content or from the reflection of the terra cotta sand (or both), it is a mesmerizing and unforgettable sight to behold.
Uluru and its cousin Kata Tjuta, a cluster of 36 red, majestic dome-like rocks some 30km away, are the two main attractions in the Ululru-Kata Tjuta National Park, a UNESCO World Heritage site in the Red Center.
Only portions of their bases are open for tourism, though, as the rocks are considered sacred by the Anangu – the Aboriginal people who've been living in the area for as long as 10,000 years.
Climbing the top of Uluru (348m high, 3.6km long and 9.4km in circumference) is discouraged by management, and scaling the walls of Kata Tjuta (546m) is forbidden.
Apart from the Anangu culture, wildlife here is just as revered and heavily protected. The Park is home to hundreds of plant species, 24 native mammal species and 72 reptile species. Off-road access away from the Park is prohibited, and the nearest accommodation, located in the small resort town of Yulara, is 18kms away.
However, there are numerous ways to experience the Red Center's unique landscape, which is a vast expanse of rust-colored sand punctuated by sage green vegetation, stunning slabs of rock and enchanting waterholes. The place is absolutely fascinating!
Australia's Red Center is a must-see both for foreigners visiting Australia as well as interstate locals looking for a different kind of adventure.
Three to four days probably won't be enough to experience its grandeur but it should be sufficient enough to give you an introduction to this magnificent landscape and the captivating world of the Anangu.
#1 Do the Uluru Base Walk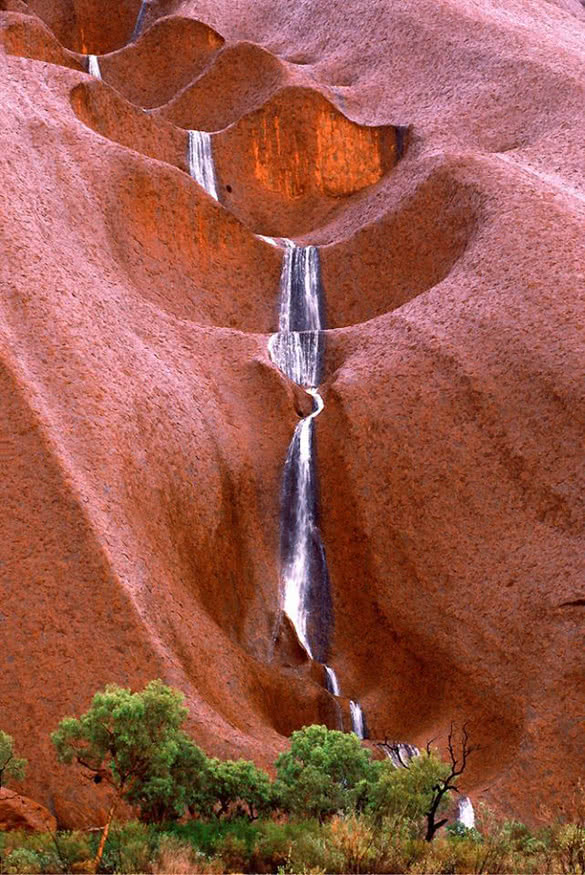 Various companies offer guided walks to let you hear Aboriginal stories of dreamtime (creation) legends, see rock art in cave overhangs, explore scenic gorges, gaze at charming waterholes, and observe the region's diverse flora and fauna.
The full 9.8km circuit around Uluru takes about 3 hours, but there are shorter versions like the 2km Mala Walk, which starts at the carpark and ends at the beautiful Kantju Gorge.
#2 Soak In the Sun
View the spectacular colors of Uluru at sunset, which seem to gradually change from orange-brown to blazing red then deep mauve and, finally, charcoal grey.
Sunrise is just as breathtaking as the colors reverse to their original hues. There are platforms by the road leading to the domes for optimum panoramic viewing.
#3 Explore Kata Tjuta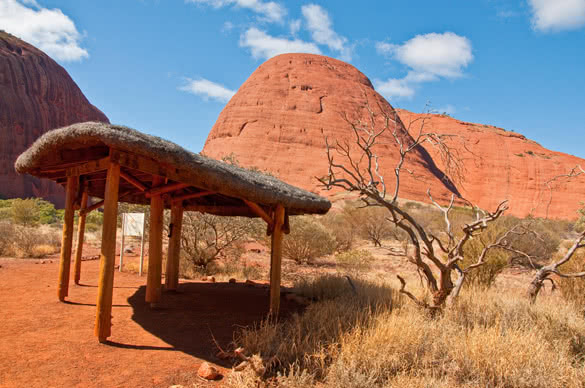 Also known as the Olgas (meaning "many heads"), Kata Tjuta's domes are said to have been formed through 500 million years of erosion. The whole cluster of rocks spans 36km.
Take the three hour 7km Valley of the Winds Walk, which meanders through its huge boulders, gallery-like walkways and hidden crevices.
#4 Go On an Aboriginal Tour
Experience aboriginal culture firsthand as Anangu guides demonstrate various bush skills including hunting, spear and boomerang throwing, and identification of various plant and animal life for food and medicine.
#5 Wine and Dine Under the Stars
The Sounds of Silence Dinner is the best way to watch the sun going down over Uluru and The Olgas while sipping champagne and enjoying canapés to the sound of a didgeridoo – a large, wooden Aboriginal trumpet.
As Uluru's colors fade into a silhouette, guests are ushered into a gourmet buffet of barbecued bush tucker: crocodile, kangaroo, barramundi and emu, served with bush ingredients like lemon myrtle, tomato chutney, quandong, native mint, wild lime and wattleseed.
You can sit back, look up and listen while a resident astronomer points out the stars and constellations, which are exceptionally visible in the clear, unpolluted Southern Sky. Telescopes are available for viewing afterwards.
There's also a traditional performance by the Wakagetti, an Aboriginal group who dance by the bonfire, imitating animals like the echidna and the emu.
The Sounds of Silence Dinner is a multiple winner of the Australian Tourism Awards for Australia's best tourism restaurant – certainly not to be missed.
#6 Ride a Camel, a Harley Or a Chopper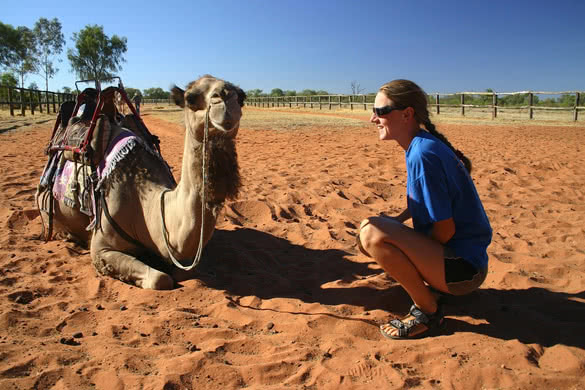 Wake up before sunrise for a tour of the outbacks on a camel's humpback.
The gentle, slow-paced ride will let you sink in the sights of the Australian bush.
Knowledgeable cameleers will tell you about desert ecology and wildlife, and give you an appreciation of Australia's traditional transport before the roads and railway were established in this part of the continent.
Billy tea and freshly baked beer-bread with quandong (native outback fruit) jam are served after the ride. Other rides you can rent to explore the Red Center are Harley Davidson motorbikes, all-terrain vehicles and choppers or fixed-wing/small planes.
#7 Learn Indigenous Art
Learn the unique Dot Painting method used by Aborigines to depict their dreamtime stories. Art workshops are available at the Park's Cultural Center and at the Ayers Rock Resort. Create your own artwork to take home, post on your wall or show off to friends.
#8 Explore King's Canyon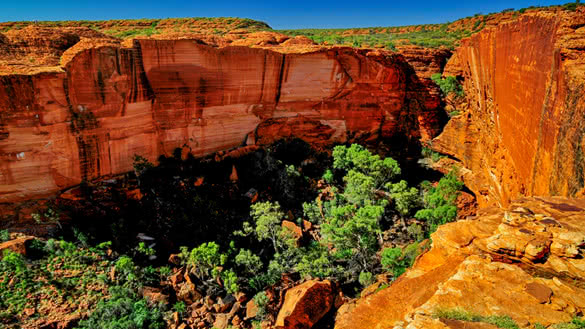 If you've got an extra day, venture outside Uluru-Kata Tjuta to Watarrka National Park (300kms) where you can trek to the rim of King's Canyon. Below, you'll see an oasis of lush green palms and rare foliage, a surprising scene right in the middle of the red, barren desert.
Swim in the warm pools of the Garden of Eden, see the weathered rock formations of the Lost City, and view the sunset at Carmichael Crag.
You can trek overnight on the Giles Track or, if you don't feel like camping under the stars, spend your final night in a wilderness lodge.
At Uluru-Kata Tjuta National Park, there is no accommodation within the Park grounds, and camping isn't allowed.
All accommodation, from 5-star to budget, is available at Yulara. Tours within the Park operate and depart from the Cultural Center, from Ayers Rock Resort in Yulara, as well as all the way from Alice Springs (5 hours' drive).
Flights to Ayers Rock/Connellan Airport are available directly from Adelaide, Alice Springs, Cairns, Darwin, Melbourne, Perth and Sydney.
In all of this, remember a few important things especially when hiking: bring a hat, sunscreen and plenty of water with you. And wear comfortable shoes – running or hiking shoes would be perfect.
Cover photo: www.pinterest.com