A volcano, an underground cave, the frozen tundra, a jungle trek and a musical tour. Start your life of marital bliss with one of these offbeat and different travel destinations.
When it comes to romantic getaways, it's the usual suspects that get all the attention: Spain, France, and Italy. They're known for inspiring great memories made up of paella, the Eiffel Tower and gondola rides, and are certainly unforgettable for the sentimental and affectionate. Thousands have flocked to their streets throughout the ages in hopes of sampling their culture, charm, and ambiance.
However, focusing on 3 out of 196 countries (and about 61 colonies) is a little limiting. Life's short, so make it memorable. Don't rely on standard staples for your honeymoon destinations; try something bold and different. Make your special, once-in-a-lifetime moment stand out from the rest by planning your trip to one of these off-the-beaten-track selections:
Mt. Kelimutu, Indonesia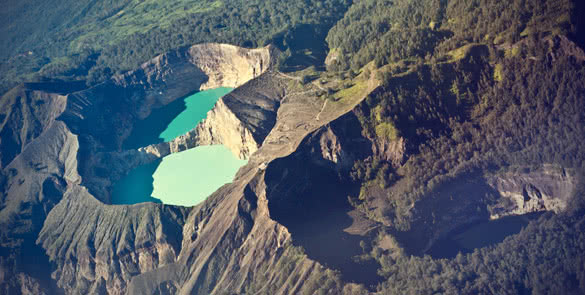 The archipelago nation of Indonesia has more than its fair share of picturesque beaches, gastronomical curiosities, and exotic wildlife. Some of its most popular attractions include fascinating sights of dragons, underground gardens, and mystical warrior dances. It's clear that there are numerous reasons to visit and see what Indonesia has to offer, but Mt. Kelimutu makes it on our list for its volcano with three crater lakes, with each a different color. Chemical reactions from the volcano constantly transform these wonders, making it impossible to predict when their color changes and of what hue they will be. They have been known to sport vivid variations of blue, green, and red, but have also been recorded to turn into white, black and even a chocolate shade of brown.
The fantastical folklore that surrounds them is evident with their names, as they are believed to be the resting place of departed souls. Tiwu Ata Polo, the easternmost lake, translates to "lake of evil spirits", while right next to it is the deepest of the three, Tiwu Nuwa Muri Koo Fai, or the "lake of young men and maidens". The westernmost lake, Tiwu Ata Mbupu (lake of old people) is a little further away. It is located about a third of a kilometer from Tiwu Nuwa Muri Koo Fai, but all three are densely surrounded by flora and fauna that is unique to Flores, the island which they are found on. A hike around these parts is a definite must for those looking for something strange, wonderful and extraordinary.
Puerto Princesa Underground River
The Philippines is the second largest archipelago country next to Indonesia, but it is famous in its own right for its unusual marvels. The Pearl of the Orient's northern island of Palawan has some of the most prized and celebrated beaches in the world, but it is the underground caves of Puerto Princesa that caught our attention and makes it a must-see for your honeymoon vacation. It is hailed as one of the New 7 Wonders of Nature, and up until the discovery of Mexico's underground river in the Yucatan Peninsula in 2007, was thought to be the world's longest underground cave system. Despite losing this title, it still holds the record for the world's longest navigable underground river route, making it the best viable option for those looking for a different kind of adventure.
The Philippines itself is a melting pot of different cultures and tastes, having been a former colony of Spain, Japan, and America, while being heavily influenced by Malay and Chinese traders as well. So if you're concerned about getting around because of language barriers, don't fret; because of its multiethnic mix, many of the locals speak English relatively well. The island is a great alternative for couples to visit rather than its better-known counterpart, the infamous party-haunt Boracay, as it is a more relax and secluded for those desiring privacy and intimacy. Aside from exploring this notable and mysterious underground cavern, recommendable activities include snorkeling in one of the most biodiversity-rich coral reefs in the world, island hopping in renowned crystal clear blue waters, and visiting the little known but nonetheless engaging World War II museum chronicling the American and Japanese occupation in the Philippines. Hungry? Have some fresh seafood in a restaurant built right on top of the waters of a mangrove habitat. Locals swear by it.
Ittoqqortoormiit, Greenland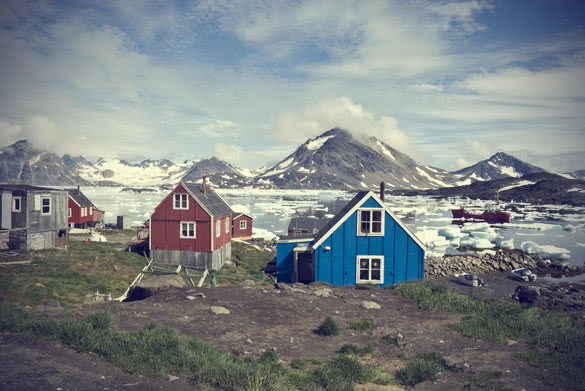 Not really too fond of the beach? Maybe the world's biggest fjord is something that appeals to your senses. Home to the world's largest national park, numerous walruses, polar bears, muskoxen, and seals, Ittoqqortoormiit, or "Big-House Dwellers" in Eastern Greenlandic, has a surprising amount of recreational activities for the curious and intrigued. Take a hike around the great outdoors, or ski downhill its pristine mountains and glaciers, then end the day with a dip in their year-round hot springs. Pass the time whale watching and iceberg spotting. Travel in Greenlandic style via kayak, dog sled, or skidoo and see what the second biggest island in the country has to offer.
The frozen tundra of the North makes the list for hosting one of the most romantic natural sights known to man:  the aurora borealis, or more commonly referred to as "The Northern Lights". Named after the Roman goddess of the dawn (Aurora) and Greek for the north wind (Boreas), the lights are a year-round occurrence but are most vivid during its winter and spring, which is during September to April. A constantly changing kaleidoscope of red, blue, white, and purple, around the middle of Greenland's coasts are known to be one of the most reliable for this natural light show. Snuggling with your loved one in the warmth of an igloo while enjoying the view in the truly remote and private wilderness is certainly a unique way to celebrate the start of your life of marital bliss.
The Amazon, South America
The largest and most species-rich rainforest in the world, the Amazon encompasses eight countries in various amounts, with most of it being contained within Brazil and Peru (varying degrees can also be seen in Bolivia, Ecuador, Colombia, Venezuela, Guyana, Suriname, and French Guiana). It is the last refuge for thousands of animals, including pink dolphins, jaguars, and a multitude of stingrays. Many of these creatures that are both fierce and captivating can be seen via jungle treks and guided tours offered throughout the terrain. There are also several musts when it comes to enjoying the Amazon; take a trip down the notorious river that shares its name, or swim in one of its reputable lakes for instance.  Be sure to see one of the major festivals in the region as well. Manaus' Boi Festival in June showcases colorful parades and bull-centered events, while Peru's Iquitos City has the San Juan Festival that pays tribute to St. John the Baptist. Here you can savor the local delicacies of juanes and tacacho while attending its animated procession along the river.
If you and your partner are looking to get away from modern living and are environmentally conscious denizens, then this is the perfect holiday for you. Most accommodations do not have electricity and are constructed with environment-friendly materials to minimize the impact on the local environment. The weather in the Amazon is always hot, humid, and rainy, so visiting is a year-round possibility. Some lodgings that are further down south, (mainly in Bolivia and Peru), have wetter seasons from December to April (incidentally, tours are also less crowded during this time), while the rest of the year is a little more arid in these parts.
With its exotic appeal and tropical variety, the Amazon makes our list as a definite recommendation for an uncommon yet notable destination for your honeymoon.
Cuba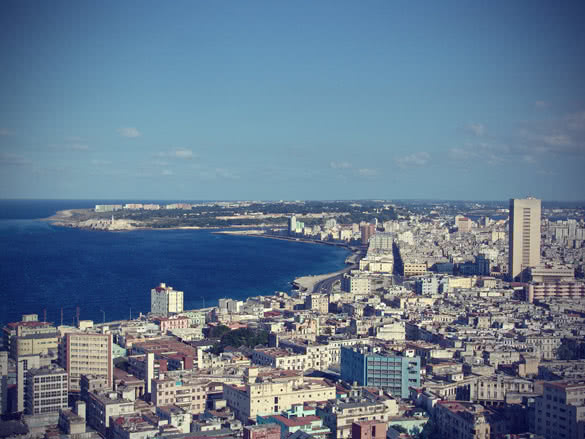 Nestled comfortably in the crossroads of the Caribbean, Cuba is host to celebrated salt-water lagoons, world heritage cities and sights, and beloved natural attractions. It is famous for cigars, communism, and cocktails, but this island country makes the list for its abundant and jam-packed melodic scene. A favorite amongst music lovers all throughout, listen and learn about the different styles of Afro-Cuban, Cubana Bolero, Classical, Jazz, Trova, Danzón, Salsa (locally known as Timba), and Son during your trip to the Pearl of the Antilles.
There are a multitude of places to check out, but there are key venues to take note of as local favorites and musts. Son, which is known as the quintessential Cuban sound, is routinely performed and celebrated in Casa de la Trova. It is the foremost house for a true Son experience, although the Copa Room Cabaret and Habana Café are great choices too as the Afro-Cuban All Stars perform there weekly.
After midnight, Casa de la Música in Varadero is the best place to see Cuba's top Timba bands, while the district of Vedado is a go-to for jazz enthusiasts. La Zorra y el Cuervo, Jazz Café, and Gato Tuerto are the most popular venues in that area. Vedado also has a Saturday afternoon rumba session in Conjunto Folklórico Nacional, but it is the city of Matanzas that is hailed as the place for Afro-Cuban beats. There are several dance companies and venues to check out, including the Cuban National Ballet, home of famed prima ballerina Alicia Alonso. If you're looking for something grander in scale, there are numerous festivals that are celebrated year-round all throughout the island.
You can't go wrong with planning a musical adventure in Cuba. With its rhythmic beats and celebrated performances, you are guaranteed to leave its shores with a song in your heart and a swivel to your hips.