Whether you're a bride or a wedding guest, having long hair means getting to have fun trying out lovely, lavish hair styles. Here are some ideas for you!
Whilst there's no denying there are some gorgeous hairstyles out there for those with short hair, long hair allows for so many lovely, versatile styles.
You can keep it down, pin it up, curl it, do complicated braiding- you can even turn it into a short bob if you like!
It's always fun to be able to play about with different styles, and what better occasion to try out some new looks for your long hair than for a wedding? Whether you're a bride, a bridesmaid or a wedding guest, I've got you covered!
1) Classic up-do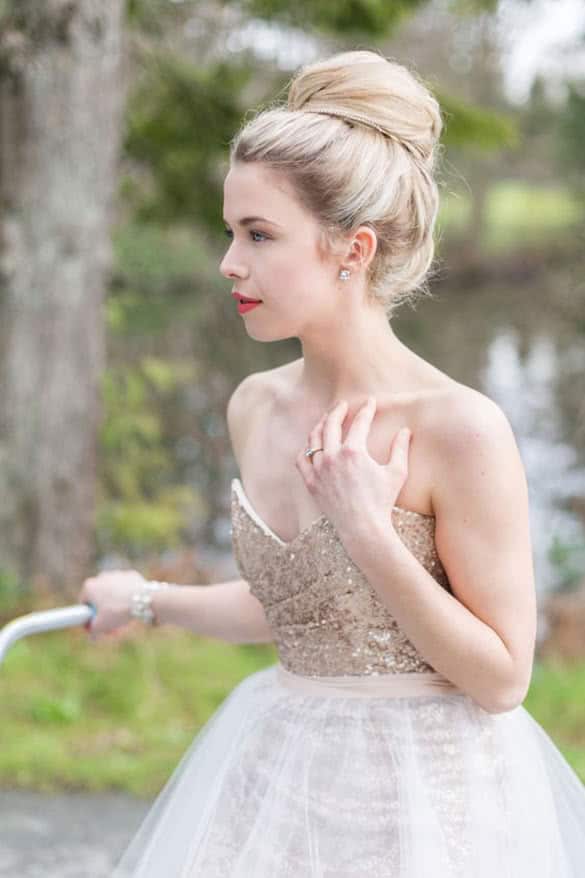 Having your hair in an up-do is a timeless classic wedding fashion statement, but one that is never boring.
Fashion your long hair into a messy bun and leave some wispy sections hanging down at the front, make it poker straight and fashion it into a neat up-do, or style a semi-neat bun and add a few braids over the top of your head, framing the base of the bun.
If your motto, when it comes to your hair, is the bigger the better, then why not go for the classic beehive. Just make sure you're prepared for all the hairspray that comes with that!
2) Feminine Chignon
Technically this one is an up-do but I thought that it deserved its own section as it's too versatile to be lumped in with the up-dos. For those of you who don't know what a chignon is its definition is hair scraped into a coil on the back of a person's head (so it's a low down bun).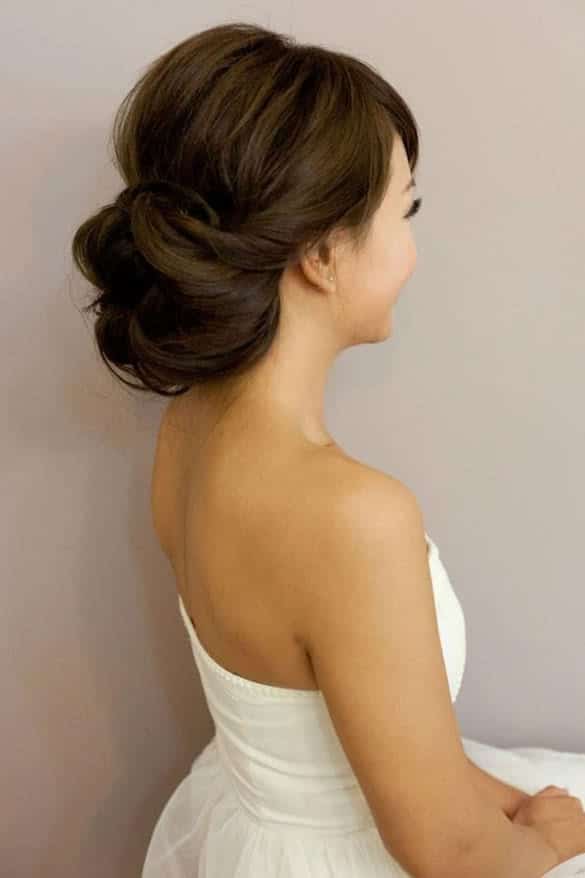 However, in their curly, lavish form, they have now become a popular choice for weddings.
For a simple chignon, Elle gives a great tutorial here using only 6 bobby pins. If you want a more intricate one, though, be prepared to use far more than 6! They can be done on straight or wavy hair and are a lovely, romantic bridal style.
3) Curl it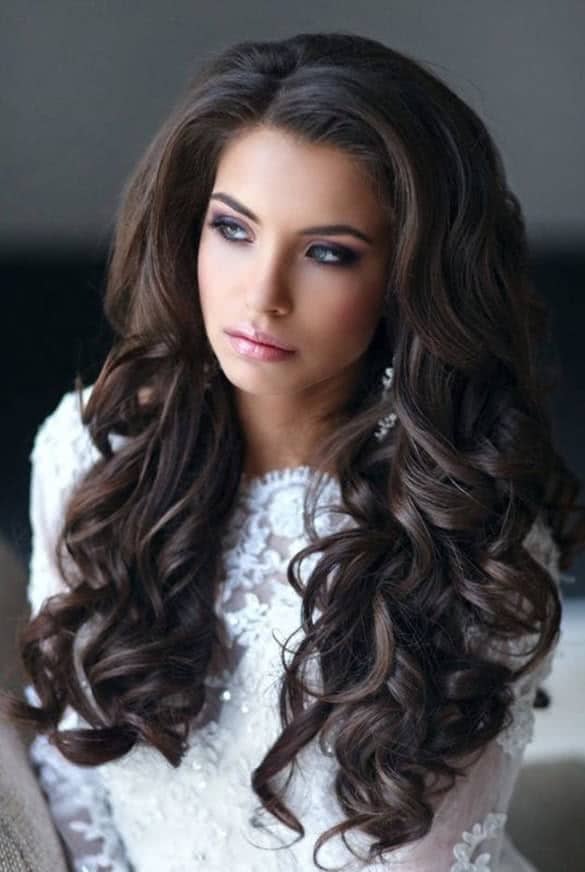 Whilst tight ringlets tend to be considered a bit old fashioned these days, tight curls are still a no-fuss, elegant wedding hairstyle for long hair. Curls can be big or small, and a whole head of them can add lots of volume to your hair.
The great thing about having long hair is, if you don't want a whole head of curls, you can just have the ends curled for a lovely, simple look. Straighten the hair from the roots first and then only curl from around two-thirds of the way down.
4) Decorate with jewels or flowers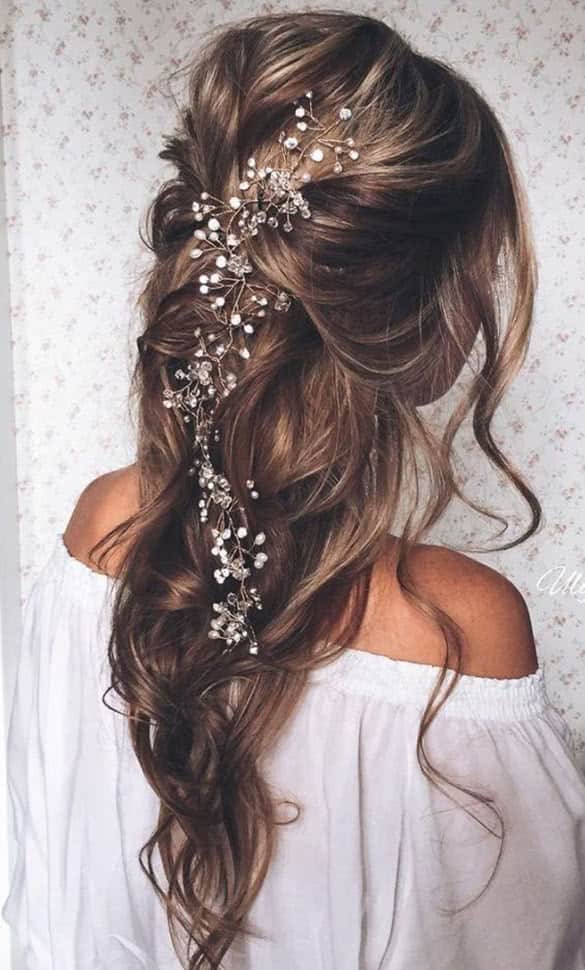 On your wedding day, it's perfectly acceptable- in fact, it's actively encouraged- to make yourself look like a queen and what better way to do that than by adding some sparkly jewels to your locks?
If you're less of a royal princess how about transforming yourself into a boho queen with a flower crown or flower clips? Flowers also work well if you're a bridesmaid or a wedding guest as they are an easy, understated way to glam up your hairstyle, without upstaging the bride.
5) Braided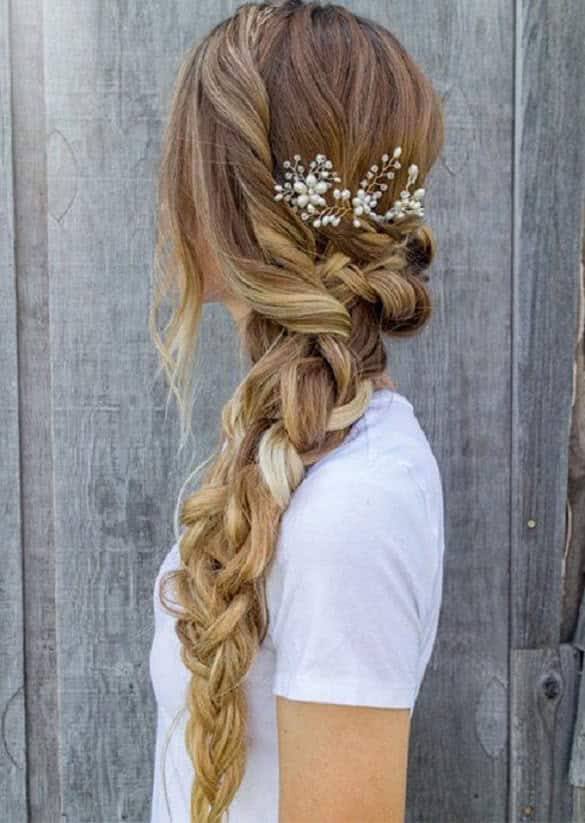 The great thing about braids is that they are extremely versatile; one big braid can be a hairstyle on its own, smaller braids could be used to add something extra to wavy hair, or intricate braiding can be used to add the wow factor to simple up-dos.
A good braided up-do is to scrape your hair into a neat but slightly wispy bun and add two thick braids over the top of your head, to cover the front of the bun. One braid should come from one side of your head and the other braid should come from the other side. They will pass each other in the middle.
For those of you who want to keep your long hair down, give yourself a center parting (if you haven't got one already) and loosely curl your hair. Grab a generous (but not too generous) section from the front of your hair at each side and braid all the way down. A regular braid works well, as do rope braids if you prefer that.
Once braided, pull both sections towards the back of your head and secure them when they meet in the middle. This will create a 'braid crown' around the top of your head. It's a no fuss braided style that works well whether you're a bride or a wedding guest!
6) Loose Waves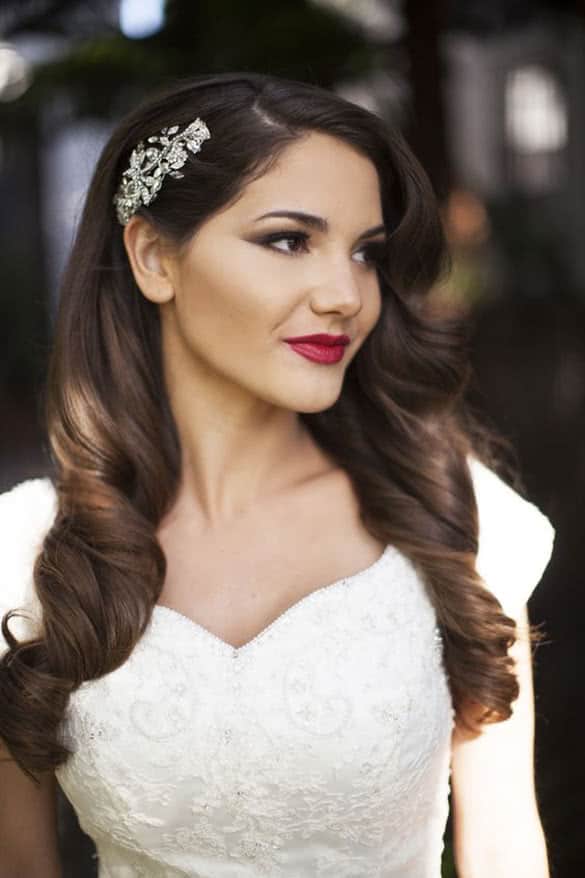 Loose, wavy hair is a simple, elegant, timeless classic. It doesn't take long to do and it looks anything but boring. This is a great look for boho-chic brides whose aisle is a sandy beach (or at least for those of you who wish you were getting married at the beach!).
Loose waves can be created by curling large sections of your hair and brushing through them to make them look neater and give them more bounce.
7) Half up, half down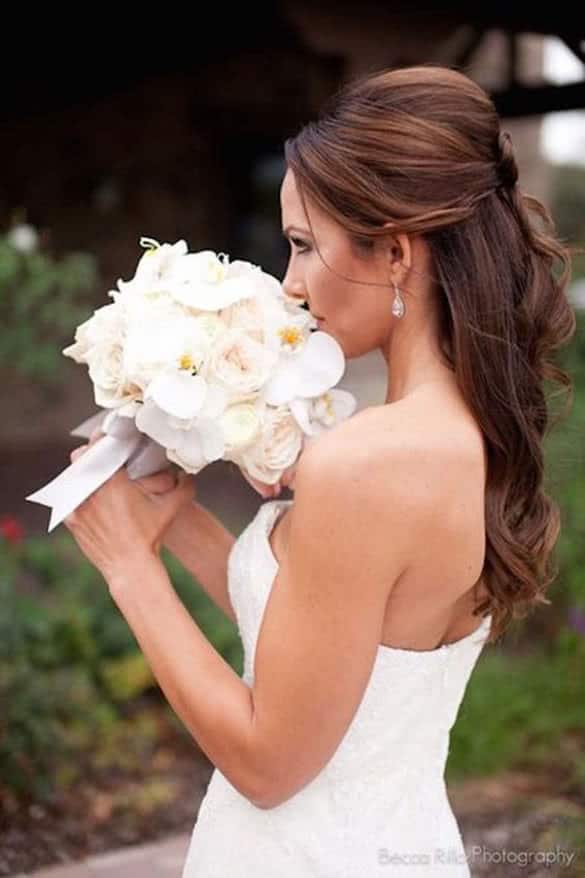 I personally wouldn't go for a complete up-do on my wedding day as I just don't think it suits me. If you're like me, or just can't decide between an up-do and leaving your hair down, you should consider a half up, half down do. This look usually works better when the hair is wavy so that it looks like the half up goes together perfectly with the half down.
The great thing about half up, half down styles is that they can be as simple or as intricate as you like. It's also a very versatile style as it can be very casual- which is good for wedding guests, or they can be extremely detailed, incorporating braids, curls, and jewels- which is good for brides.
You can make the half up a braid, a ponytail, a messy bun- whatever you like. The half down section can be wavy, straight, or curly- again, it can be whatever you like. For a lovely, curly half up, half down look create big barrel curls in your long hair. When the hair is curly, braid large sections at the front at then pull them back and secure them so that they hold the rest of the hair in a loose ponytail.
8) A combination of styles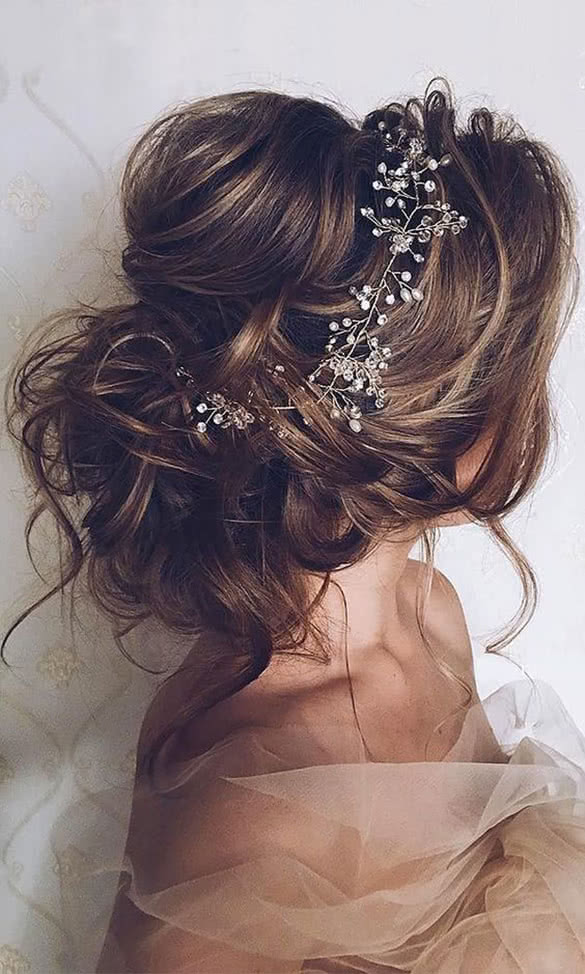 Of course, if you can't pick just one style then you can combine one or many. To combine braids, waves and flower decorations make your hair wavy (if it isn't already) then create a messy braid which hangs to one side (a fishtail braid would work here as well as a regular braid). Add on a flower crown or some flowers wrapping around your head at the top of the braid.
Long hair comes in all different textures and styles so what works for someone else may not work for you. If you have layered hair it may be difficult to create some of the braided styles out there. If your hair is thick and heavy then looser curls may work best as the weight may pull down on your tight curls and make them drop.
The trick with long hair is to play around and have fun finding the style for you. Have fun and enjoy your wedding!
Does anyone have any suggestions for other long hair wedding styles? Let us know in the comments!