Let your curly locks shine with one of the season's top hairstyle trends: whether you are looking for something classy or something with a daring twist, you will definitely find The One in our list of medium hairstyles for curly hair.
As a girl with curly hair, you might feel like your choices are limited, especially when it comes to finding medium hairstyles for curly hair. Although it is a bit more difficult to tame curls and find the perfect hairstyle, but don't forget how amazing and unique your hair is! There is something so special about naturally curly and wavy hair: it always looks shiny and healthy, and it frames the face beautifully.
The Fashionista – Balayage Hairstyle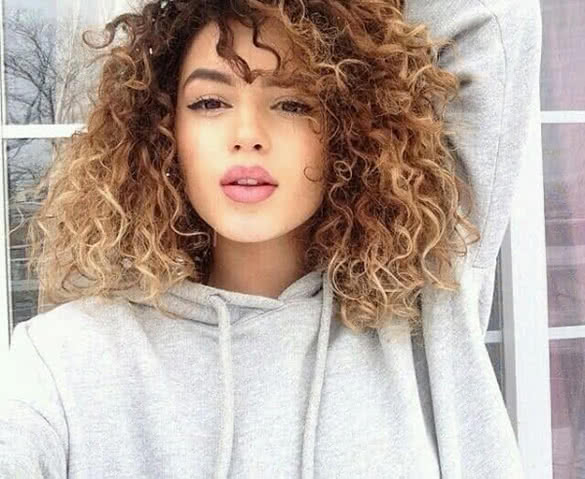 You might think balayage and ombré hairstyles were only for girls with long, straight or wavy hair, women with curly hair can definitely pull off this trend as well. Starting with a darker shade, balayage and ombré feature lighter shades at the end of the hair, creating a shinier and fuller illusion.
Already decided to go with balayage? We recommend a stacked bob or long bob for you so you can experiment with different colors in your hair. If you wouldn't like to damage your hair with dye, you can also apply the lighter shade only to the ends of your hair and leave the roots your natural hair color.
The Feminine – Long Bob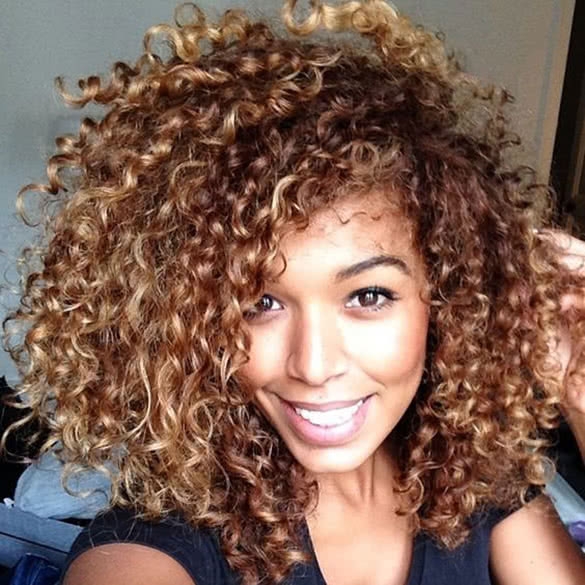 Long bobs are one of the most versatile hairstyles ever. It's not too long, but it's long enough to create beautiful buns and braids with. Long bobs can be casual, formal, elegant or sexy, depending on the styling.
Because the curls can give extra volume to the hairstyle, you won't have to worry about your long bob being too "flat", and with a long bob, you will have plenty styling options from waterfall braids to messy buns and half up-half down updos.
The Boho – Side Part Bob Hairstyle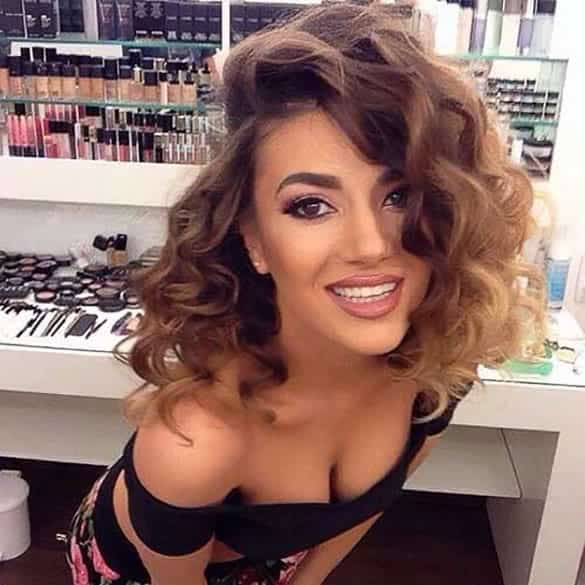 A side part can instantly add a bit of femininity and playfulness to any hairstyle, whether it's a bob, long bob or a longer hair. We all have a side of our face that we prefer more, and side parts give the opportunity to emphasize that side of the face.
Instead of the traditional center part, it's a bit edgier and fun, and you can style it various ways: you can clip one side back for an asymmetrical look or braid the side part in a waterfall braid.
The Daring – Pastel Hairstyle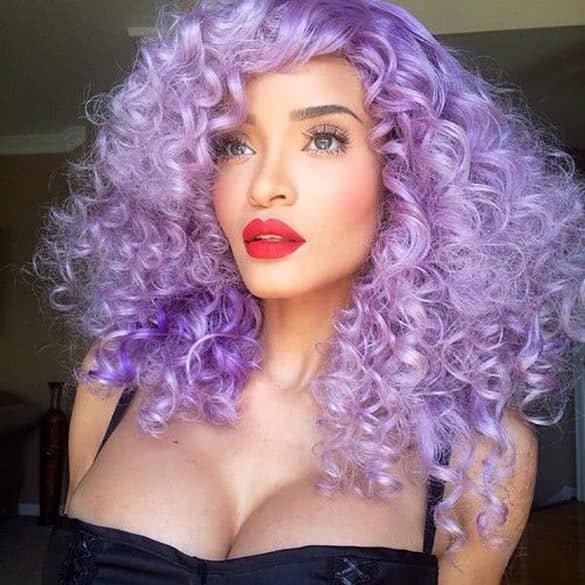 Curly with a crazy, pastel shade? Yes, please! I can't emphasize enough how much I love seeing wavy and curly hairstyles (whether it's a pixie, bob or long bob) with pastel shades. From platinum and silver to lavender, cotton candy pink, and turquoise, pastel colors do absolute magic to short, curly hair.
Depending on your wardrobe and personal style, if you prefer neutral shades, try out something lighter and stick with shades such as silver-lavender and pale pink, but if you want to think really outside of the box, try out a pastel rainbow dye or a turquoise shade
The Schoolgirl – Fringed Hairstyle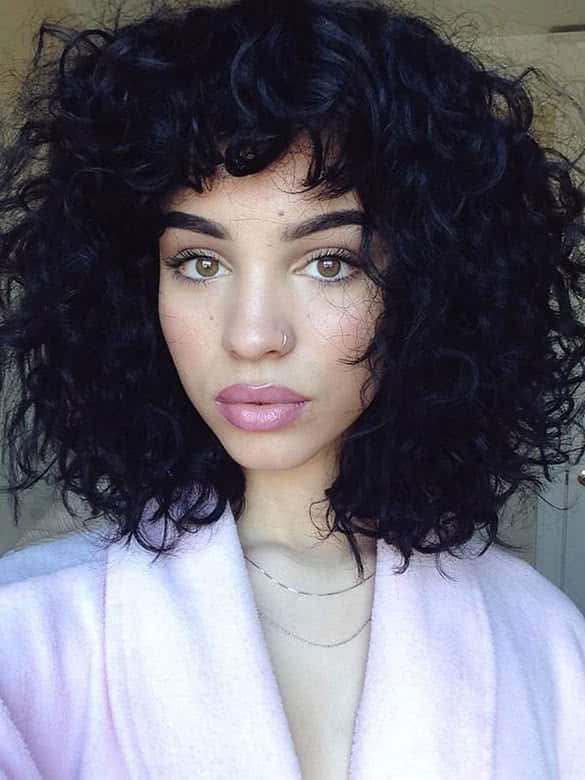 Fringes have been clearly the biggest hairstyle trend this year: celebrities such as Kylie Jenner, Emma Stone, and Bella Hadid have been rocking the fringes, and with curly hair, it will look feminine, cute and super stylish.
You can either choose to have your fringe straightened out a bit, but if you love the overall messy and boho chic effect, leave your fringes curly and fun.
Celebrity Inspiration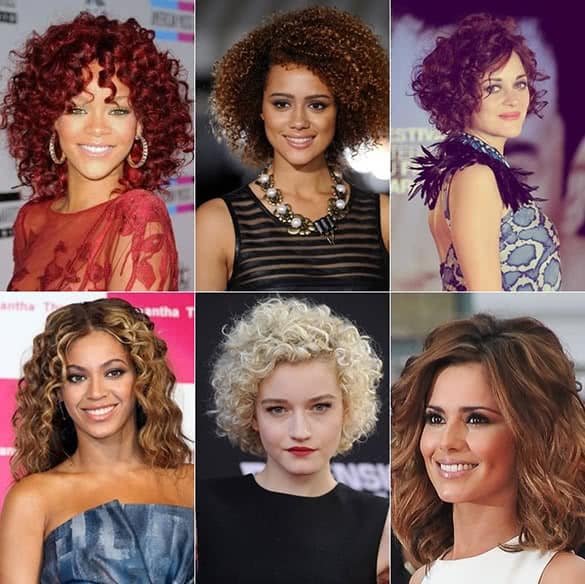 Rihanna, Emma Stone, Ruby Rose…just a few names who are rocking their curly hairstyles in edgy medium or short hairstyles!
Hairstyling Tips For Curly Hair
Braids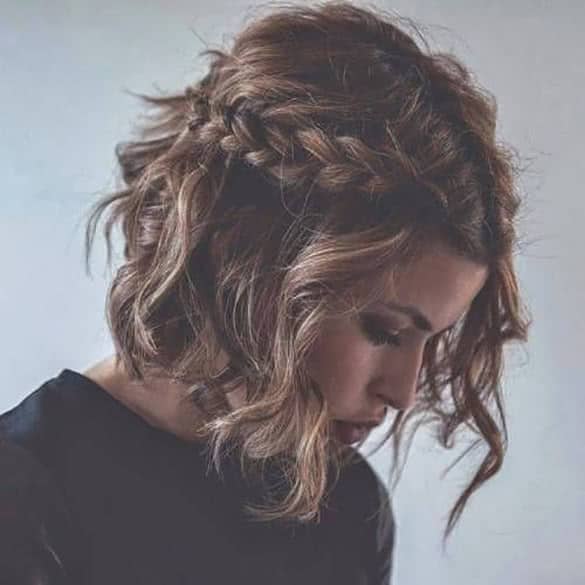 Braids will never go out of style, and they are perfect for special occasions. The most popular braid with a shorter hairstyle is probably the waterfall braid, but we also recommend trying out the Dutch braid or, with medium length hair, the milkmaid braid.
Buns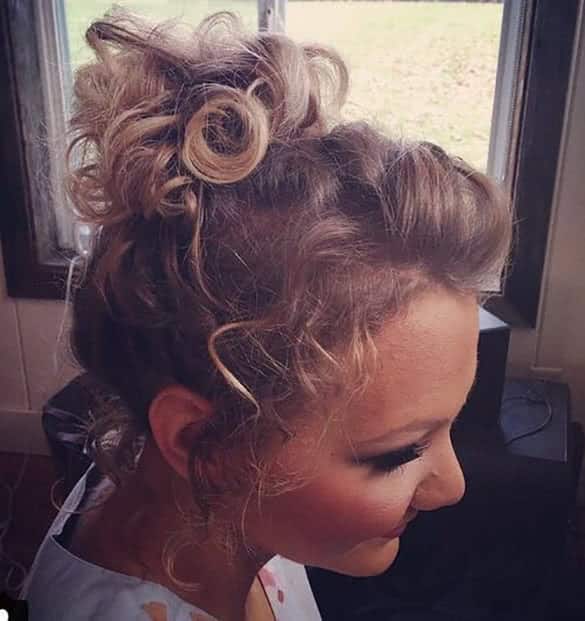 Let's be honest: curly, medium length hair looks adorable in a bun. Instead of the regular, huge messy buns, create a way smaller one by either gathering the layers of your hair on the top of your head for a messy effect, or at the back for a sleeker look.