For past 8 years the customers are allowed to design their own pair of Vans slip-ons, mid-cuts, or high-tops, by simply logging on the company's website. Today, we are going to browse through different styles of Vans footwear and show you what to wear them with.
Vans is made for younger crowd, though some models are just nice and simple, so anyone can wear them. Since this is after all a skateboarding brand, you can match Vans' footwear with other sport oriented brands, like Nike, Puma or Converse. Also, high street brand often find inspiration in various sports, so you might want to see what Mango, Topshop or Forever 21 have to offer. Here are several different styles of Vans sneakers and what to wear them with.
Outfit No 1
Vans footwear mixes comfort and style and these canvas trainers are an excellent example of it. These come in various colors, so you can choose a pair that will match your wardrobe the best. I choose the mint ones, because they seem so soft feminine, that they could be mistaken for a ballerina flats. Fossil bags are a great choice for Vans footwear, because both brands rely on casual, everyday chic and coziness. With a plaid tunic and a pair of leggings all you need are some basic accessories. Choose a long statement necklace and a trendy scarf and don't forget a sporty watch. This is an outfit you can wear to school, when you are taking a walk or going shopping.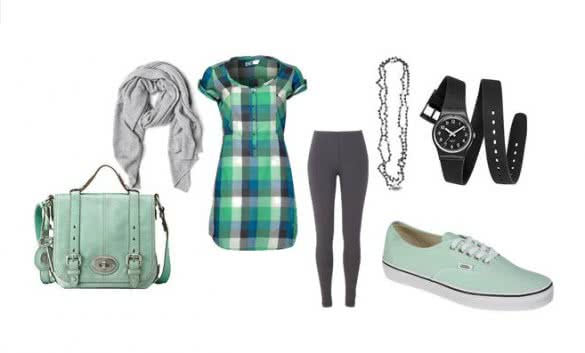 Plaid Green Gray Tunic (roxy.com)
Fossil Handbag (macys.com)
Leggings (peopletree.co.uk)
Macrame Necklace (waxingpoetic.com)
Swatch Watch (macys.com)
Vans Authentic Canvas Trainer (allsole.com)
Outfit No 2
Vans Mohican moccasins are great for all kind of occasions and clothing styles. You can wear them with a pair of jeans and a plain tank top or dress them up with a pink skirt with back drop hem. Wear it with a rich, beaded necklace and a pair of hoop earrings and give your old denim jacket a stylish return. This is rather girly outfit, so you can wear it on a date or when you are off to see a movie with your best friends.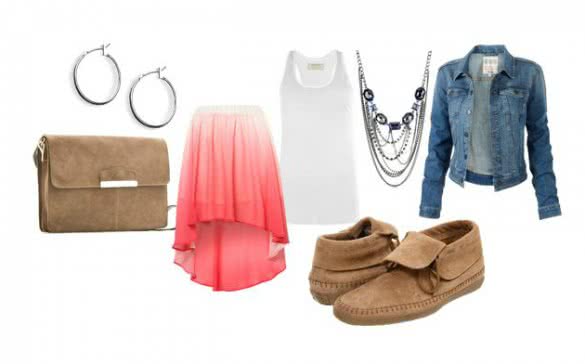 Skirt (topshop.com)
Vans Mohican (zappos.com)
Denim Jacket (fatface.com)
Silk Biker Tank (allsaints.com)
Kenneth Cole New York Necklace (endless.com)
Earrings (lanebryant.com)
Shoulder Bag (mango.com)
Outfit No 3
Vans Slip-Ons are a must have for warmer days, not only because anyone from 7 to 77 can wear them, but also because they became a part of contemporary style. They are versatile and comfortable, so you can wear them while you are on a picnic, shopping for groceries or dresses, at the coffee shops or whenever your feet are tired from high heels. They look great with denim skater or mini skirt, paired with a matching shirt. Dressed up this outfit with a nice looking bag in an unusual color and a matching belt. A necklace will soften up the look, while an oversized cardigan in bold coral is there to keep you warm during spring or late summer days.
Cardigan (mango.com)
Skirt, Belt (topshop.com)
Shirt (hm.com)
Bag (accessorize.com)
Vans Slip-On Lo Pro Shoes (zappos.com)
Outfit No 4
Vans Authentic Lo Pro Tc sneakers with some upgrades have lace up top closure and vulcanized toecap. They are super cute and great for making cozy and dressy outfits. You can wear them with cargo shorts or pants, a soft, printed t-shirt and a classic handbag. Instead of a hoodie, I find these sweat ponchos to be far more interesting and less sporty. Feel free to accessorize this outfit with some jewelry and don't forget a pair of timeless sunglasses, like Ray Ban's Wayfarer.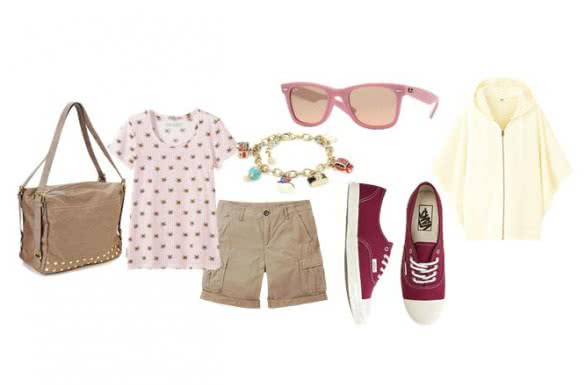 Handbag, Bracelet (accessorize.com)
Vans Authentic Lo Pro Tc (swell.com)
Poncho, Shorts (uniqlo.com)
Ray-Ban Wayfarer Sunglass (mxdirtrider.com)
Outfit No 5
Color block dress can be challenging, but don't be afraid to mix and match it with other colors. This Roxy mini goes great with a patchwork bag in coral, tan and aqua. Put a little summer fedora on your head, a pair of feather earrings and with a pair of Vans Hemp Palisade Vulc espadrilles you can go to a party or just hang out with you friends. You can also wear this outfit to the beach with a white or fusion coral bikini.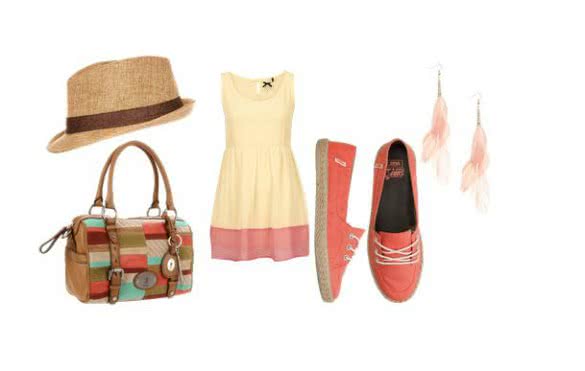 Vans Palisades Vulc Shoes (swell.com)
Fossil Satchel (endless.com)
Roxy Color Block Dress (fashionunion.com)
Earrings (wetseal.com)
Samantha Fedora Hat (2bstores.com)
Outfit No 6
Since dark floral prints are one of the hottest trends for fall, Vans offers a cute pair of classic sneakers which you can wear every day. Since these sneakers are printed, with a polka dot sweater they will look even more delicious. Find a messenger bag in burgundy, which is an excellent color for grey fall days and with a pair of casual trousers and a chic pair of sunglasses, you are good to go.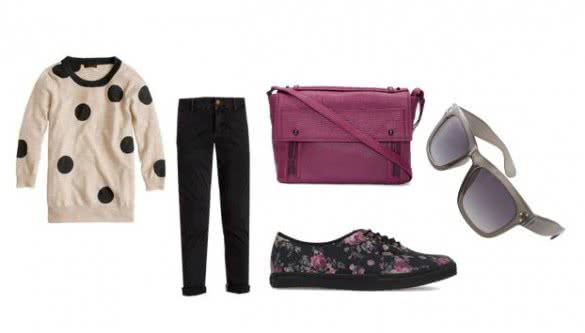 Vans Authentic Lo Pro (vans.com)
Tippi Sweater (jcrew.com)
Current/Elliott Captain Trousers (donnaida.com)
Mango Sunglasses (asos.com)
3.1 Phillip Lim Bag (sense.com)
Outfit No 7
If you are into sport looks, here is an easy and cool outfit that you will love. Converse offers a wide selection of sport tops, which are very sexy and feminine, while no one does casual as good as Diesel. With a pair of these Uniqlo trousers and a hoodie, you can embrace the so called casual elegance. Shades of grey and black are always a good choice, but if you want something brighter you can choose the same combination in your favorite colors, like white and baby blue or red and beige.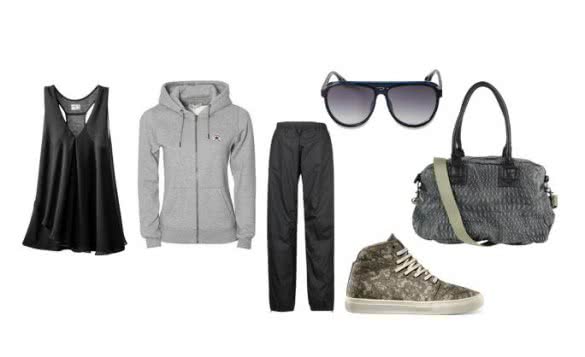 Sunglasses (diesel.com)
Vans OTW Collection (vans.com)
Trousers (uniqlo.com)
Converse Hoodie (bankfashion.co.uk)
Diesel Bag (yoox.com)
Converse Top (target.com)
Cover photo: http://www.pinterest.com