Plaid shirts are a great choice especially for fall and spring outfits. They are always in style, giving your casual, daily style, a colorful and a bit more masculine look. You can wear them when you are going shopping or to a party, it depends on the rest of your outfit and your choice of shoes.
Plaid shirts came a long way from American railways and Scottish rebels, so it is not surprising that many famous designers are fascinated with this print. Here are five different plaid shirts matched with different clothing styles and for different occasions. Find the ones that will fit you the best and enjoy these timeless pieces, while having a piece of history as a part of your everyday outfits.
There are several ways to wear a plaid shirt. You can leave it open and show of a cute little tank top they you are wearing under it, you can bottom it up and accessorize an outfit with a belt or leave 2-3 buttons open and wear a cardigan or blazer over the shirt. Plaid shirts are versatile, with a touch of western style, and even though they are a bit masculine, with the proper accessories they can look very classy and feminine.
Here are five outfits that will help your doubts on how to wear and what shoes to choose for chic looks with plaid shirts.
Date Launch
Wedges are an excellent choice for women who are not too keen on high heels. With a pair of skinny jeans or trousers in a color of your choice, you will get a simple and relaxed look. If you decide to mix light shades of red and olive or navy blue, you will get an outfit that is modest and romantic. All you need is a long necklace and a touch of coral lip gloss to complete this look, which is great for a coffee or a launch with your other half during the day.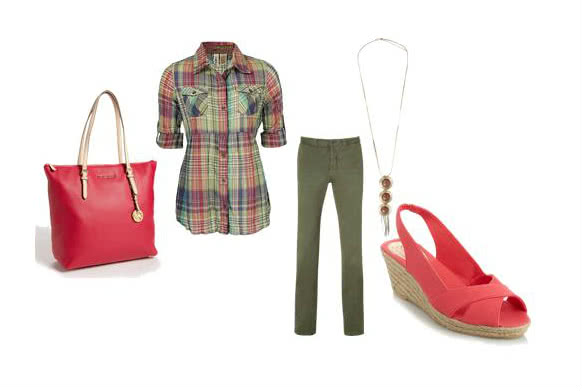 BKE Cinch Plaid Shirt (buckle.com)
Polo Ralph Lauren Chino Pants (shopstyle.co.uk)
French Connection Necklace (psyche.co.uk)
Sandals (debenhams.com)
Michael Kors Soft Venus Tote (nordstrom.com)
Simplicity
Flats are a perfect choice for flair or wide leg jeans. If you decide to go for a classic look, roll up the sleeveles and tuck in your plaid shirt to accent your curves and show what you got. While this outfit is plain and rather common, let's not forget that you don't need to reveal skin in order to feel and look hot. You can choose loafers, moccasins or ballet flats: either way you will be a fashion hit. Wear this outfit to an office, or to a family get together to show how effortlessly chic you are.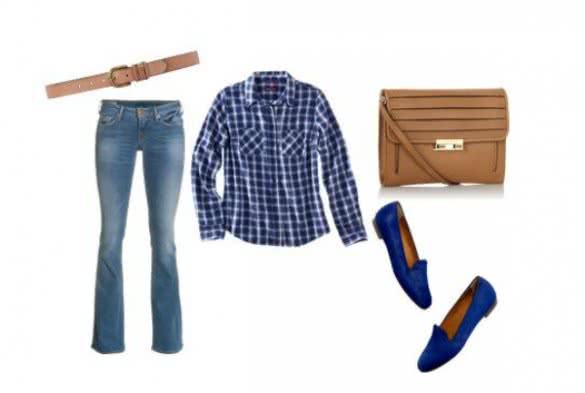 True Religion Jeans (jades24.com)
Belt (dorothyperkins.com)
Madewell Loafers (madewell.com)
Cross Body Bag (debenhams.com)
Merona Plaid Shirt (target.com)
Back to School
Whether you are still in school or you are just feeling nostalgic, you can wear a plaid shirt and a mini skirt for a girly and flirty look. In order to achieve looking chic and not overdoing it, choose a pair of Converse sneakers and complete the look with a cute hat and a long necklace. Wear this outfit when you are out and about, doing some shopping with your best friends or finishing your chores. Choose bright color combinations, like red and yellow or blue and white. Since this outfit is playful, you don't need too much make up, but a smile is a must.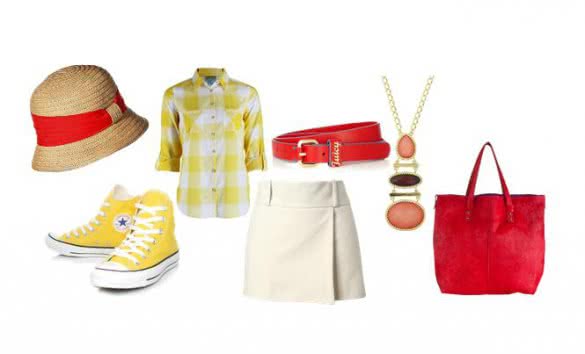 Necklace (1928.com)
Acne Mini Skirt (farfetch.com)
Tote Handbag (johnlewis.com)
Skinny Belt (juicycouture.com)
Converse (kurtgeiger.com)
C&C California Plaid Shirt (marissacollections.com)
Mossimo Supply Co. Hat (target.com)
Modern Cowgirl
With a pair of cowboy inspired boots, feather earrings and a denim shorts, you are ready to make every guy fall head over feet for you. This outfit is rather fun, so play with your plaid shirt and make a tie at the front. It is simple, but edgy and hot, pretty much all you need from an outfit from a relaxed outfit, made for a night out or for a picnic with your friends.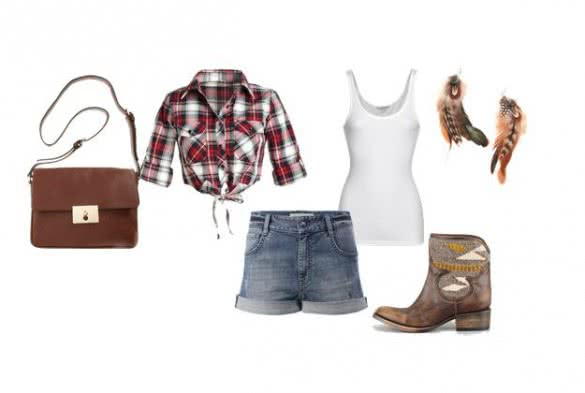 Tie Front Plaid Shirt (delias.com)
Tila March Ella Messenger Bag (barneys.com)
James Perse Tank top (jades24.com)
Feather Earrings (torrid.com)
French Connection Denim Shorts (johnlewis.com)
Freebird by Steven Distressed Boots (cusp.com)
Dare to be Different
Every clothing item deserves to be dressed up properly, once in a while. A plaid shirt is not an exception, so here is how to wear it with a pair of posh pumps and look like a style queen. Choose a pencil skirt in a bold color and let everything else be in black. Make sure that you open a button or two, put on a nice necklace and show some girl power. Wear this outfit to the office or to a dinner, either way you will get noticed.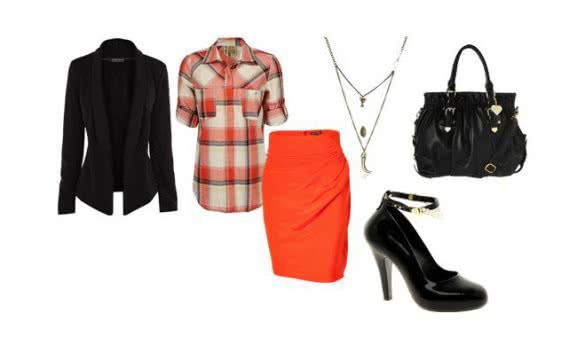 BKE Plaid Shirt (buckle.com)
Sophie Theallet Skirt (stylebop.com)
French Connection Necklace (endless.com)
Harriot Bag (topshop.com)
Vivienne Westwood Shoes (asos.com)
Blazer (warehouse.co.uk)
Cover photo: california-sunlight.blogspot.com