Beauty can be expensive, but common problems can also be dealt with swiftly and with these easy hacks. Keep on reading and find all about our genius tricks.
We've all been caught in a pickle before, haven't we? We have some sort of beauty emergency and we need a solution—fast! These beauty hacks are simple solutions for the most common beauty problems that most women have probably experienced at least once.
Whether you're short on time or money, or you just can't seem to get something right, you are bound to run into one of these cosmetic emergencies at some point in life. Check out these 12 of the most genius beauty hacks that might just save you from a makeup meltdown when you are tight on time!
1. Problem: Clumpy Mascara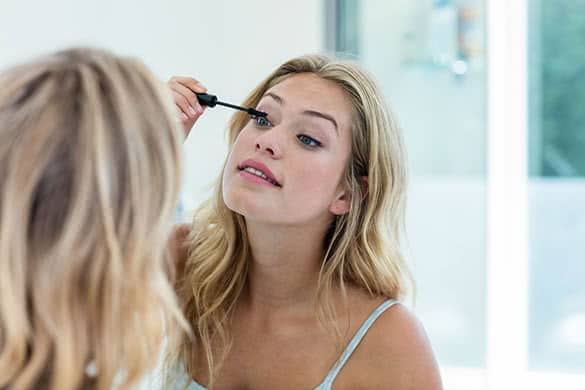 Beauty Hack: Add a few drops of saline contact solution to your mascara tube and stir it in with the wand. This will revitalize the mascara and make it last longer without clumping.
Remember: Make sure you do not use mascara for longer than six months. After six months, mascara is prone to harboring bacteria and causing eye infections.
2. Problem: No Nail Polish Remover
Beauty Hack: Mix one-part lemon juice and one-part vinegar in a container to create a makeshift a nail polisher remover if you find yourself in a pinch. Dab a bit on a cotton ball and swipe over the polished nail, and you'll be good to go!
3. Problem: Uneven Hairline
Beauty Hack: Fix an uneven hairline by using a few swipes of mascara or eye shadow in a shade that matches your hair. Blend a bit into your scalp to create a perfect hairline for that high ponytail.
Remember: Make sure to use a matte eye shadow. You don't want to end up with a shimmery hairline.
4. Problem: Insufficient Foundation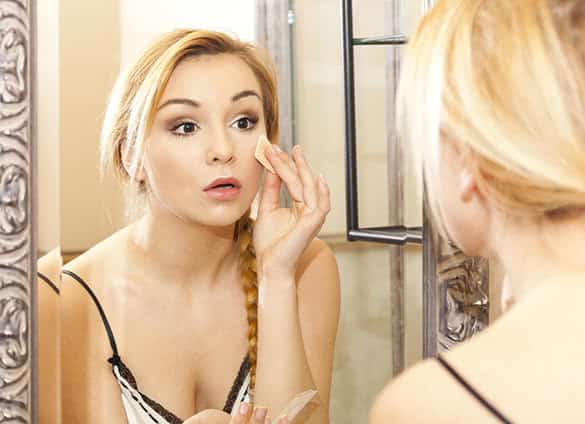 Beauty Hack: Heat up the almost empty bottle of liquid concealer and/or foundation in order to get that last bit. No, do not put your makeup in the microwave. Instead, heat a bowl of water for 60 seconds, and place the bottle of concealer/foundation inside of the water for a few seconds. After that, it should come out like magic!
5. Problem: Red Lipstick on a White Shirt
Beauty Hack: Use clear hairspray and a white wet cloth to rub the stain gently. This should remove the lipstick.
Remember: Spray the stained area with the hairspray and let it sit for 15 minutes. Then, take the clean, wet cloth and rub it until the stain starts to disappear.
6. Problem: Safe Beauty Blender Storage
Beauty Hack: I don't know why it has taken me so long to think of this one: plastic Easter eggs! This is the perfect storage solution for your Beauty Blender—especially if your dog keeps chewing them up (or is this just my dog?).
Remember: The Beauty Blender is so worth the $20, so protect it with an Easter egg—and clean it often!
7. Problem: No Beauty Blender
Beauty Hack: A simple alternative to a Beauty Blender, if you find yourself in need, is to use a sock. Believe it or not, a sock will actually work to blend in your foundation!
Remember: It helps to roll the sock into a ball and pat the makeup to blend it. Just to clarify, I do mean that you should use a clean sock.
8. Problem: Smudged Nails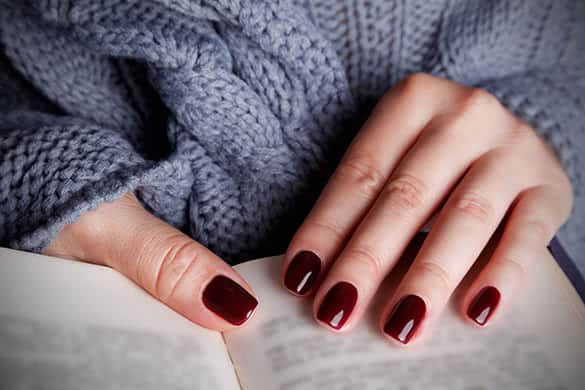 Beauty Hack: After you paint your nails, run your fresh mani under the sink with cold water or soak it in a bowl of ice water. This will help the nail polish to harden and dry much faster than if you just let them air dry—just don't touch anything for a good ten minutes and your mani will be flawless!
Remember: If you are going to stick your fingers into a bowl of cold water, make sure to prepare that icy bowl of water before you paint your nails—don't learn the hard way.
9. Problem: Getting Thicker Lashes/Brows
Beauty Hack: Apply Vaseline to your eyelashes to make them instantly thicker.
Remember: You only need a small amount of Vaseline (any sort of petroleum jelly will work). Seriously, don't make your eyes all goopy—a little goes a long way.
10. Problem: Flaky, Dry Lips
Beauty Hack: Flaky lips are not a good look on anyone—especially if you are a woman attempting to wear lipstick! If you find yourself in need of a quick fix to get rid of flaky skin on your lips, use Vaseline and a disposable (or clean) mascara wand as a lip scrub.
Remember: Base your lips with a nourishing lip balm before attempting to swipe on the lipstick. It will help to prevent the flakes from reappearing.
11. Problem: Treating a Bruise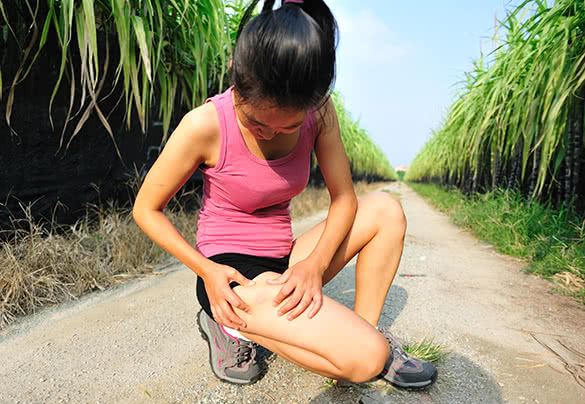 Beauty Hack: You don't want to be known as the office drunk, showing up with suspicious bruises on Monday, or hey, maybe it was just an innocent bruise you got while exercising—who am I to judge? Regardless, it doesn't exactly look pretty. Try using some mouthwash on a cotton ball, and rubbing it over the bruised area. Don't ask me how it works, but people swear by it.
12. Problem: Expensive Perfume Losing its Scent
Beauty Hack: No one wants to spend a fortune on perfume only for the fragrance to last a couple of hours! We want to smell glorious all day long. An easy way to extend the freshness of your perfume is to apply it just after you've toweled off from a shower.
Remember: The pores in the skin are most receptive to soaking in perfumes or lotions right after they've been opened up by the warm shower steam. The moisture on your skin will help to lock in the scent.