Whether you want to cover up those grown out roots or show off the true fairy queen that you are, glitter hair is the perfect trend for you to try out.
With fall and winter making its home in most of the world and taking away our long hours of daylight, we're going to need some fun and inventive new ways to bring a little sparkle into our lives and I think glitter is the key.
With Halloween, Thanksgiving, Christmas and New Year's just around the corner, you have the chance of showing up and blinding your family, friends and strangers on the street with your sparkly festive hair.
Trying out new hairstyles can be intimidating and kind of scary because you're never sure if it's actually going to work out but you can't mess this up! This trend is versatile, pretty and extremely easy to do.
Things You'll Need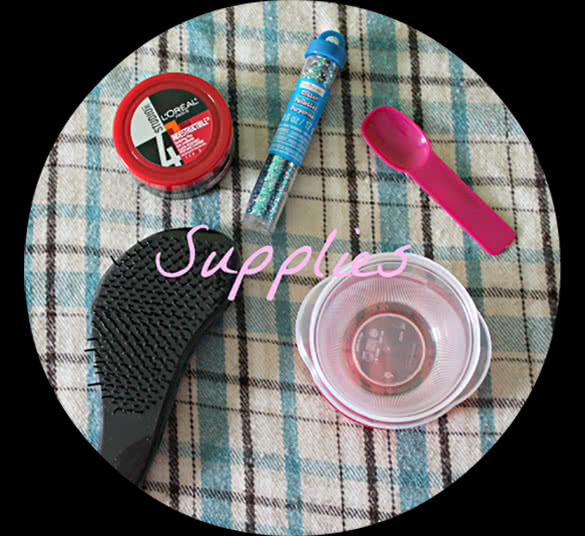 Styling Wax – Any styling wax will work but I'm using L'Oreal Indestructible Sculpting Wax, you can find it at any department store for about $4.00. There's no strong scent and it's very easy to work with.
Glitter – I paid a visit to my local Michael's and grabbed a tube of glitter for $1.29. If you're wanting a bit more variety or looking to mix certain colors, a pack of 10 goes for $3.99. I grabbed the one called princess, which is a mix of pink, teal and silver – the name and colors called to me.
Detangling Brush – Unless you don't mind your everyday brush or comb being forever covered in glitter I would suggest taking a trip to a dollar store and grabbing a detangling brush. The spaced out teeth help out when it's time to apply.
A small bowl and spoon – I suggest grabbing one from the dollar store or using one you don't mind coating in wax and glitter. This also comes in handy if you have leftover glitter wax and want to save it for a later time.
Step one: Wash Your Hair
Start off with freshly washed hair, it's much easier to work with and will help with the end result. Unless you have magical hair that can withstand two days of a product, you can disregard this step but I recommend it because wax is very thick and can leave hair looking weird if there's too much of it or any previous product in your hair.
Step two: It's Mixin' Time!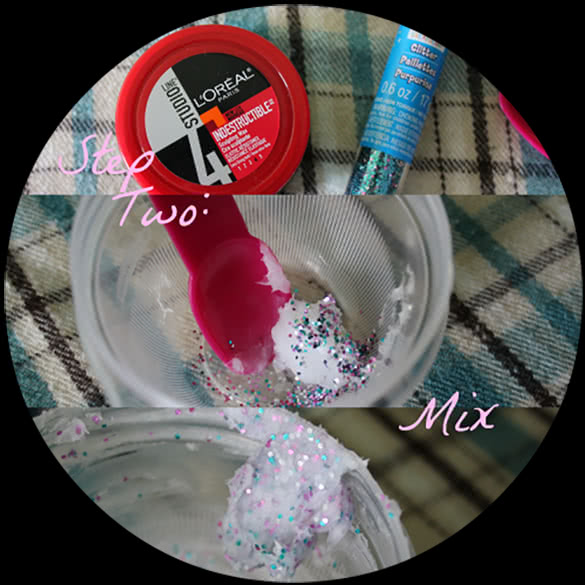 This is where that dollar store container comes in handy! Scoop a small amount of your styling wax into the container, take your glitter of choice, and add to the bowl and mix!
You want it to look like the picture above. You can apply the wax and then the glitter separately but that can be super messy, trust me glitter will be everywhere. Mixing the two together reduces mess and makes the application much easier.
What's so fun about this is you can change the feel of your whole look by the color of glitter; a blue-green can transform you into a mermaid, pink is a little cuter and flirty and yellow is bright and turns you into the sunshine!
I would suggest steering clear of white or clear glitter, while it's very pretty and perfect winter colors it can look less festive and more like you have a dry scalp, silver is the perfect alternative.
Step three: Become a Shining Ball of Glitter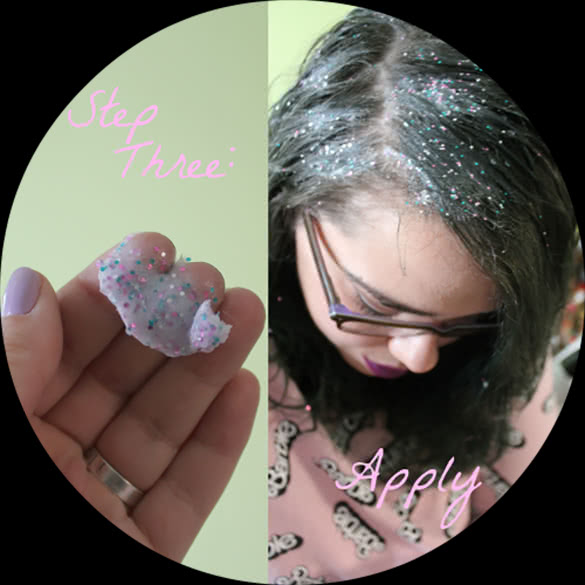 Now for the fun part! Part your hair for the way you plan to style it after, that way the exposed roots have a higher concentration of glitter. Take some of your wax glitter and rub between your fingers to warm it up and apply to your hair starting at the roots and bringing it down a little. Be careful with how much wax you use, a little goes a long way.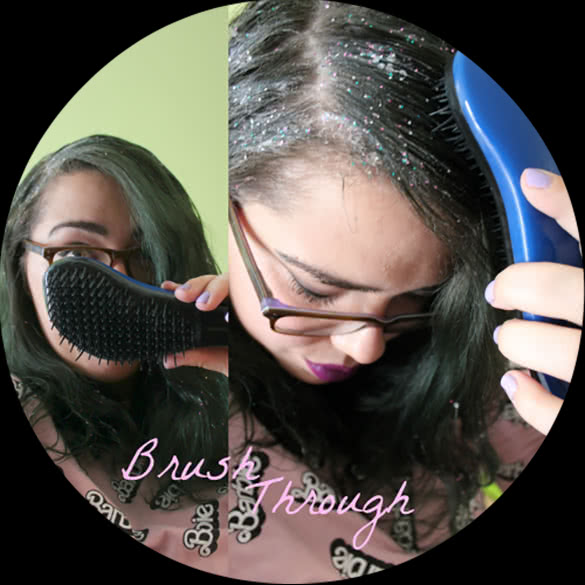 Once you have the desired amount applied, take your detangling brush and slowly run it through your hair starting at your roots. Repeat this until the glitter is evenly distributed throughout your hair or you reach your desired look!
If you want more glitter at the roots or anywhere else carefully take some loose glitter, press it to the areas and brush through; if you're worried about it not staying use a small amount of wax to help it stick.
Step four: Style Those Locks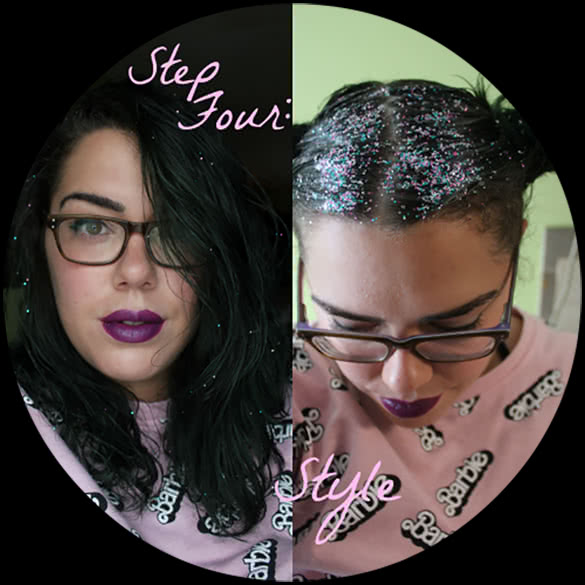 Wax is used to give hair a textured look without drying out your hair but because it coats the hair, rather than soaking in, you're not able to use any heat based styling tools on it. If you want your glitter hair straight, straightening it beforehand will be the best way to achieve that look.
For a wavy do there are two different techniques to try out, putting your hair into braid(s) or the good old fashion way – scrunch it. Curls may be a bit more difficult to get because you can't really use a curling iron but there are several things you can try to get your curls; simply twisting your hair and pinning it up and giving it time to take shape or using no heat curlers – like those little foam ones. Wax is fantastic and really does help your hair take the shape you want but make take a little extra time for certain styles.
If an up-do is what you desire, like a slicked back pony, brush your hair back and follow step 3 but as you're brushing the glitter through start pulling it up into your sleek ponytail.
Same would go with space buns, part your hair accordingly – down the middle – follow step 3 and brush through as your putting your hair into those little buns that even the aliens would be envious of, once they're secure take a bit more wax and apply to your roots and pat on more glitter for a super intense and sparkly look – but don't forever to shake away any excess.
The reason why prepping your hair beforehand – by parting it or brushing it back – is so when you apply the wax you aren't fighting against the product as you go and helps create a cleaner look. Again, you don't want to use too much wax, it does go a long way but if you're worried about flyaways – of both the hair and glitter variety – a bit of hair spray won't hurt.
I was so excited the first time I tried this trend out and extremely happy with the results! It lasted throughout the day with very little fallout and not only did I feel magically transformed by my glitter hair, I got tons of compliments on it. A big plus is that it also shows up so beautifully in both bright and dark lighting.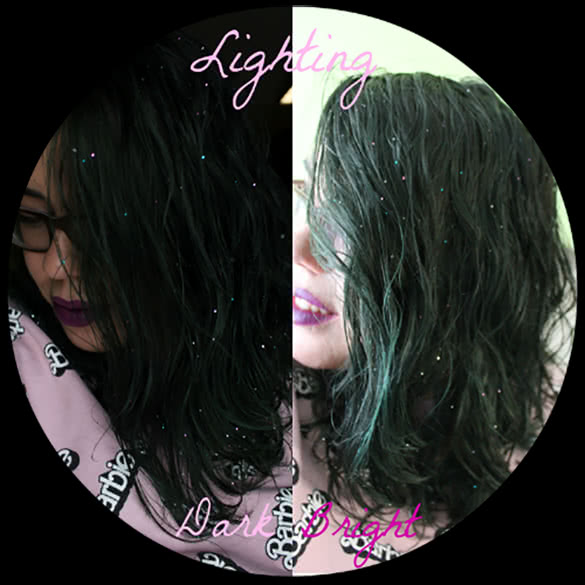 And there you have it! 4 very easy and simple steps to creating this beautiful sparkly look! Playing around with different hair trends – like glitter hair – is a fantastic way to change up your look without spending a lot of money or doing anything permanent but if you're still worried about wearing this on a normal day or to an event, try it out on Halloween!
You might be surprised at how much you love it and may become a regular style for you. Be brave and let your inner glitter ball light shine!
In the comments below let us know your thoughts on this glittery trend or share your results from trying out this tutorial!