Dependent on the blow dryer? Sometimes you need to make a change. Here is an ultimate guide on how to air dry hair without frizz.
Ladies, let's be honest for a minute: blow-drying hair day in and day out can be a huge pain, and sometimes we just need a break from it; not to mention it's not the BEST thing for our hair, so it's good to let our hair have a rest from heat sometimes. But how to air dry hair without frizz? How can you make sure your hair is still in beautiful shape, even without your trusted blow-dryer? Don't fret gals – we've come up with a list of ways you can air dry your hair so you're left with silky, beautiful strands that are completely frizz free.
1. Skip the Shampoo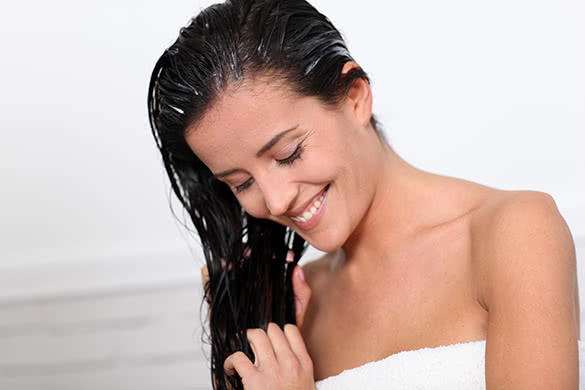 Okay, okay, I know what you're thinking: skip the shampoo? But then my hair won't be clean! Well, if you just washed your hair the day before, you don't necessarily need to do it again. Let your hair indulge in its own oils for a day, as using shampoo with strip your hair of natural oil and cause frizz. If you absolutely cannot go without using shampoo (maybe you have fine hair that's very prone to excess oils!) then you can wash it once with shampoo, but please don't forget to add a ton of conditioner afterward.
2. Minimal Towel Use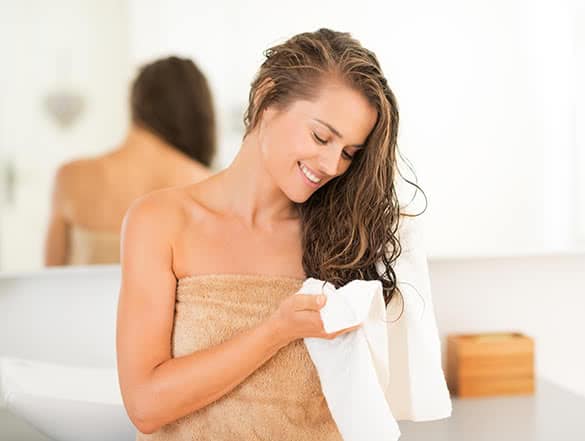 When you're not using a blow-dryer, you may think your towel is your best friend when it comes to drying; but using your towel too much can actually cause your hair to frizz up. Best friend? THINK AGAIN!
Our suggestion is to keep your towel use to a very minimal amount. You only want to use your towel to get rid of excess water on the ends of your hair. That being said, when you're finished with your shower, take your towel and very, VERY gently squeeze out the excess water on the ends of your strands. Seriously, do it gently- it doesn't take a lot of effort to squeeze out water from your hair, and doing it too rough can certainly cause some unwanted frizz to your locks.
3. Comb – DON'T BRUSH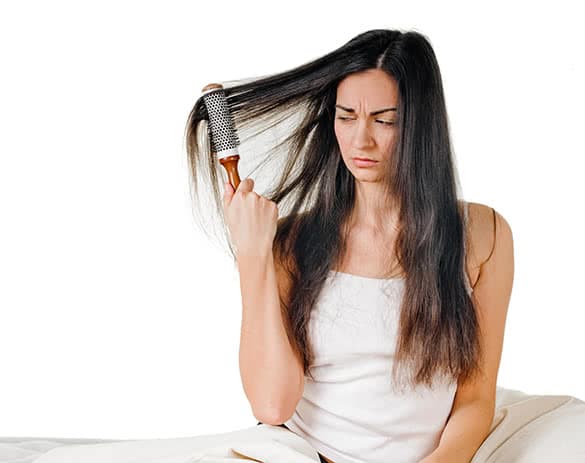 If you didn't know yet, brushes can be a disaster when it comes to frizzing up hair; and it's even worse when you brush your hair while it's wet. The bristles on a brush have a way of causing frizz, so it's best to ditch your brush immediately when you are thinking about air drying your hair. Your best bet is to use a comb. Use the comb either when you're still in the shower or right when you get out, just to get rid of any tangles. After you've run the comb through your hair and it's to your liking, leave it alone! You don't need to keep combing it out, or this may cause a bit of frizz as well. So just remember, a quick comb while your hair is still very wet will do the trick. Don't touch it again until your hair is completely dry, and even then you need to keep combing to a minimal.
4. Leave in Product is Essential
One of the biggest tips I can give you is to always use a leave-in product! The product is absolutely essential for avoiding frizz in your locks. You can use something completely natural like coconut oil, or try on a product from the store to see what works for you. You may have to shop around and try on some different anti-frizz products before finding the one that works for you, but some of the products with the highest ratings and have been proven to work include the L'Oreal Professional Liss Unlimited Masque and the John Frieda Frizz Ease Original 6 Effects Serum.
Whichever product you end up trying, please keep in mind that this is an absolutely essential piece of the puzzle when it comes to drying your hair without frizz. Ensure the product is well massaged into your hair from root to tip. You don't want to use TOO much product, as you may end up with hair that's weighed down and greasy looking; however, you want to make sure your entire mane is covered with enough product to ensure there is no frizz or any other side effects of air drying.
5. Pay Extra Attention to the Ends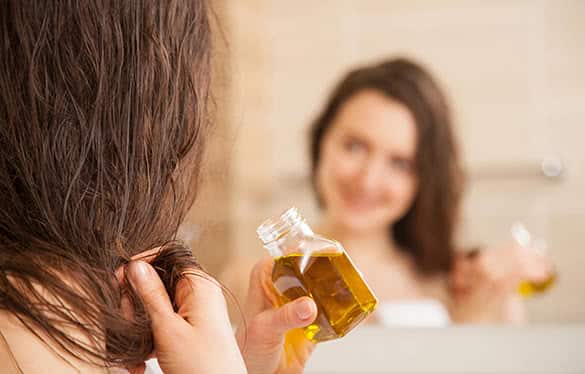 The ends of the hair are the breeding grounds for dryness and brittleness, along with split ends and breakage. Not so pretty, is it? You may have an easier time disguising these ends when you blow dry, but air drying makes it all more obvious that they're there. What's a girl to do? Well, while we are on the subject of products, you need to pay extra close attention to the ends of your hair. Along with your anti-frizz product of choice, you need to add in a leave-in deep conditioner for the ends of your hair. Again, go for something natural like coconut oil or buy a product from the store. Some of the top rated and popular leave-in conditioners include the Pure 100% Moroccan Argan Oil Organic Cold Pressed Natural Moisturizer (which can be used in more places than just your hair), the Image Intrakera Deep Penetrating Leave in Conditioner, and Pantene Pro-V Haircare 3 Minute Miracle Moisture Renewal Deep Conditioner.
6. Scrunch and Product for Curls/Waves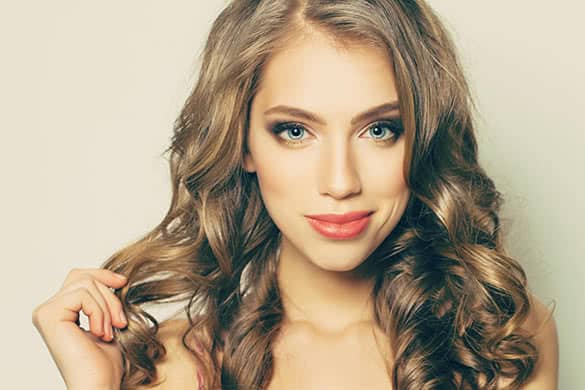 So you've decided on air drying your hair, but you still want to have a bit of body to your locks. You're dead set on those beautiful natural looking loose curls or waves, so what's your best option? First and foremost you need to toss in some product to your mane. The John Frieda Beach Blonde Sea Waves Sea Salt Spray is an excellent option, as is the Beach Waves Sea Salt Spray for Hair Texturizing for the Perfect Curl by the State of Mane. If you prefer a leave in product, consider the Wet N Wavy Vitamin E Leave-In Conditioner. While your hair is air-drying, use your hands to scrunch up your hair to ensure you're left with waves when your hair is completely dry.
7. Volumizing Product for Thin/Fine Hair
One thing about thin/fine hair is that it can be extra flat when you don't blow dry it. When you're air drying thin or fine locks, you need to make sure you toss in some volumizing product so your strands don't look flimsy and flat. You may need to play around with some different volumizing products until you find the right one, but some top rated products include the It's a 10 Miracle Volume Leave-in Lite and the Brocato Swell Volume Leave-In Volumizing Conditioner.
8. Try Wet Braids for Waves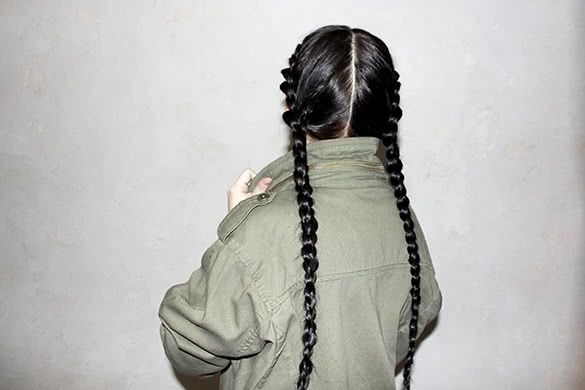 Styling your hair while it is wet may seem like a big no-no, but you'd be surprised what a little bit of styling with your wet hair can do for you. If you consider braiding your hair while it is wet, you'll end up with some beautiful casual waves once it is dried. The size of the waves will depend on the size of your braids: a single traditional three-strand braid will offer up some thicker, looser waves, while doing double French braids will create tighter waves throughout.
9. Try a Wet Topknot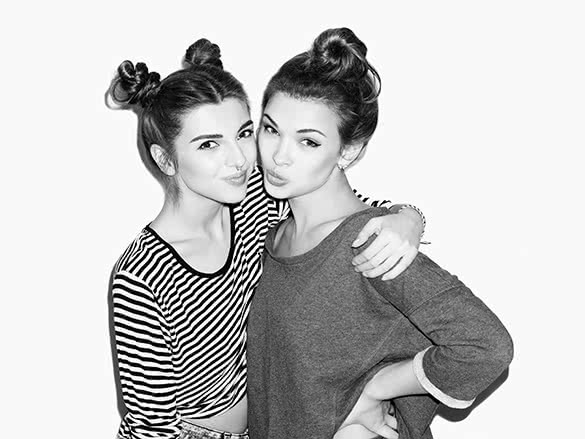 Another way to achieve some nice waves is to tie up your locks into a top knot while it's still wet. This method is extremely quick and easy and will leave you with some glamorous body in the form of casual waves. When you get out of the shower, simply comb through your locks to get rid of tangles. Then, tie up your hair into a trendy topknot. When you let the topknot loose you will be left with some cute waves to wear all day. This is an especially good idea if you go to bed with your hair wet. If you simply leave your hair down and wet while you sleep you may be left with some unwanted kinks and weird waves that simply don't look very nice. Try a top knot (or even braids) when you go to bed with your hair wet to wake up ready to go.
10. Hair Rollers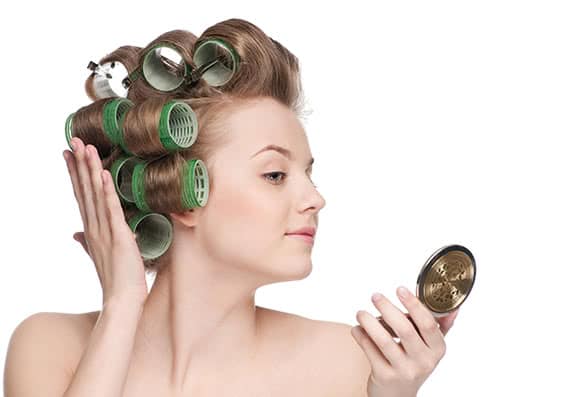 Good old fashioned hair rollers are definitely a great way to style your mane while it's still wet. Depending on the size of the hair roller, you can either be left with some tight curls bursting with volume or some looser, more romantic curls that are glamorous and breathtaking. It's simple: step out of the shower, comb, and roll up your hair into the hair rollers of your choice. Let loose once dry and love your flashy, curly mane!
See? Letting your hair air dry isn't all that bad, and you can still end up with a gorgeous mane to wear anywhere. Just remember to keep shampoo and toweling to a minimum, while ensuring you apply a product to your hair. The conditioner is essential to your ends, but the type of product you use on the rest of your locks will depend on the outcome you're trying to achieve.
Did we miss anything? Do you have your own tip when it comes to air drying hair? Let us know int he comments!