Hippie hairstyles have been gaining their popularity in the last couple of years. They are cute and fun, they usually don't take much of your time and they work perfectly on an unwashed hair. Find out more about them.
Hippie hairstyles are usually reserved for girls with medium or long hair. Still, that doesn't mean that you can't treat yourself with a hippie hairstyle even if you have short hair. I'm presenting you the coolest short hippie hairstyles.
1. The Headband
Any type of hair, any color and any length will instantly become a hippie hairstyle with one simple item. You've guessed it – it's the headband.
Headbands were more than just popular during the 1960s. They were the inevitable accessory of every hippie girl. They are the easiest way to make your hairstyle look like a hippie hairstyle in a matter of seconds.
Choose headbands with earthy colors. Hippies were all about nature, so browns, beige and green could be the best choices for headband color. It's even going to be better if you can add a big flower into the mix. The headband should be placed so that it goes across your forehead.
2. Beach Hippie
I personally think that this is a very romantic and beautiful hair style. It does resemble a hippie style a bit. It is perfect when your hair is a little dirty and you don't have the time to wash it.
This style looks best on girls who have slightly wavy hair. Also, your hair needs to be just below your ears. It looks even better on a long hair, but we're talking short hippie hairstyles here.
You're going to need a curling iron and a couple of bobby pins to make this hairstyle. Make waves on your hair and fix them with a little hair spray. Shake your hair to make it messy. Don't run your fingers through it, there's a chance you will straighten it out that way. Take one section of hair on each side of your face and pull it back. Don't pull to tight, it should look messy. Pin the sections with bobby pins and you're done. Beautiful, right?
3. Psychedelic Waves
As I already mentioned, wavy hair was a style of choice for hippie women. This style is also great when your hair gets a bit dirty, because it is less visible on wavy hair.
The easiest way to make hippie waves is to braid your hair and sleep with the braids. Of course, this is only possible if you have enough hair to braid in the first place. Again, it's best if your hair is not really a boyish haircut. Next morning just unbraid the hair, secure the waves with little hair spray and you're done.
If your hair is a boyish haircut, you can still make small waves. Take a small curling iron and twist one inch sections of your hair. Remember, it doesn't need to look neat. On the contrary – the messier the better.
4. Accessories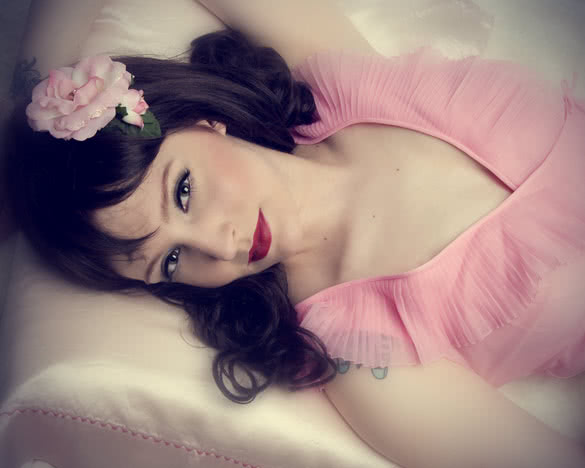 There are a couple of accessories, besides the already mentioned headband, that can help you achieve a hippie hairstyle. None of them are expensive, you probably already have some in your home, and the hairstyle will take just a couple of minutes.
Hair pins with large flowers will always do. Flowers were the trademark of hippies after all. Just pin one behind your ear and you are good to go. You can even pin a fresh flower behind your ear and go for the natural look.
If flowers are not your choice, take a bright colored flowing scarf and tie it around your head. Homemade knit caps are also a good idea.
Hippie hairstyles are really cute and can be done on any hair. Try one of these styles, and release the inner hippie in you. Add a pair of big sunglasses, and a smile to your face and you don't need anything else. If you are looking for more, check out our infographic! Enjoy!