YouQueen sits down for a chat with Israeli artist Tal Peleg, who turns heads with her fine-art approach to makeup design.
It is our pleasure to introduce the fabulous Tal Peleg and her amazing works of art. This 29-year-old Israeli artist mixes her knowledge of design, photography, illustration and makeup to create uniquely stunning looks. She has unique style and secret recipes for creating incredible masterpieces with makeup. Here's what we asked her:
From the Beginning
YQ: How long have you been doing makeup, and how did you get started?
Tal: I started to play around with makeup when I was just a child. I loved to do makeup and make-believe photo shoots with my little sister as the model.
When I was in high school I participated in acting classes. I wanted to be an actress, but I always wound up doing the makeup for the other actors. That was one of my first experiences with serious makeup. Later I went to makeup school. Now I have worked as a makeup artist for many years. I would have to say that makeup has always been one of my great passions.
YQ: What inspired you to choose eyelids as your canvas?
Tal: I've loved painting as long as I can remember. Makeup, for me, is art – just like painting on canvas or paper.
After I finished makeup school I spent four difficult and demanding years studying visual communication – graphic design. After I graduated, I had a hard time choosing my path. Should I become a makeup artist or a designer? In my makeup looks I try to combine my passion for graphic design and makeup.
It began when I started to push the limits between makeup and illustration. I've tried to use the makeup as something more than a tool to make girls look pretty – as a way to express feelings or tell a story.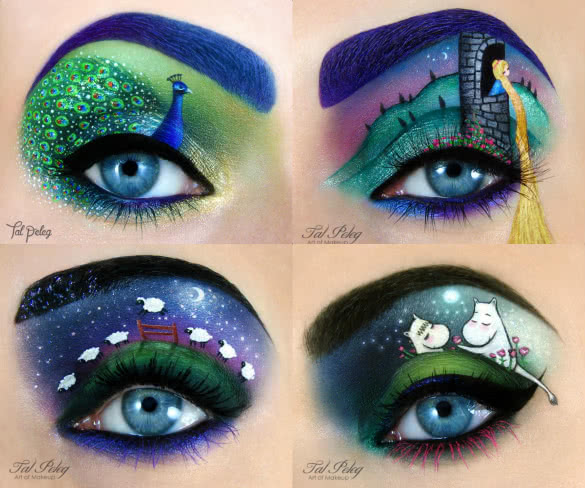 A Canvas For Creativity
YQ: Where do you get your inspiration?
Tal: Usually ideas just pop into my head. Inspiration is everywhere. It can be things that I like – fairy tales, movies, books, favorite foods – or abstract concepts that I find interesting and challenging to transform into makeup: my grandmother's dementia, Anne Frank, anti-bullying or the symptoms of manic depression.
When I have the time, I choose from my "idea bank" and start to create a makeup look.
YQ: What do you love most about doing makeup?
Tal: I find makeup an artistic and expressive technique, and I love how it can transform people. Also, I really like colors and esthetics, and makeup is all about that.
Tools & Techniques
YQ: What kinds of makeup do you use? Do you airbrush?
Tal: I use ordinary eye shadows, loose pigments, eyeliners and Aquacolors. Usually I mix textures and play around with them, like mixing loose eye shadow with water or gel. I use a magnifying mirror so I can see everything very clearly and I can be precise with all the tiny details.
Precision brushes are a must, of course! I use a lot of makeup brushes, but I also buy many brushes at art-supply stores. To make miniature illustrations I need the thinnest brushes I can find. Most makeup brands don't provide such brushes.
I own an airbrush kit, but I use it only to apply foundation sometimes. The eye-art is too precise for airbrushing.
YQ: How long does it take for you to finish one look?
Tal: Usually it takes 1 1/2 to four hours. The average time is about 2 1/2 hours.
Art For Art's Sake
YQ: Which three makeup designs are your most proud of?
Tal: It's hard for me to choose because I give my heart to each of them!
But if I have to:
The anti-bullying design. It has a powerful message and a lot of people have told me they find this work very touching and important.
The black cat playing with yarn. It's one of my best-known works; it has gone viral. It's dedicated to my cat Louis (RIP), so it's very sentimental to me. I also love how simple and minimal it is compared to my other works, yet still very special.
The princess and the pea. I really love how it turned out.

YQ: If you weren't a makeup artist, what would you do?
Tal: I no longer define myself solely as a makeup artist. I'm also doing design and photography.
YQ: Can you tell us three celebrities you would love to work with?
Tal: Katy Perry (she retweeted my black-cat design) and Lady Gaga, first of all. I think they would let me do more of an artistic and expressive design. And Jennifer Lawrence because she is very pretty and seems to be such a sweet person.
YQ:Can you give our readers some suggestions for a perfect and spooky Halloween makeup look?
Tal: A broken doll always looks great, and it can be very dark!
Sugar skulls are spooky and very stylish.
Or pick a character from one of Tim Burton's movies, like Sally from "The Nightmare Before Xmas" or Emily from "Corpse Bride."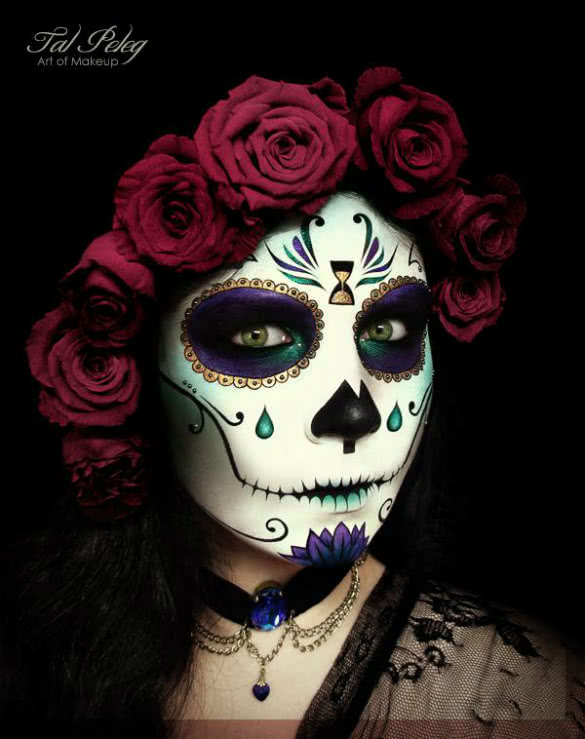 Check out Tal Peleg's amazing art on her Facebook page. Keep current on her new designs by following her on Instagram.