Get the sultry, smoky eye look of a TV star with this easy make-up tutorial!
The smoky eye is a sexy look for the evening, and who would wear it better than Kim K, who gets paid to look good at the events? Follow these easy tutorials to get her look.
Here we show you a tutorial done by her make-up artist on Kim herself, so the best results are guaranteed! Experiment a little, depending on the intensity of the effect that you want to achieve, but also on your eye color and complexion.
You will need the following products, most of which you probably already have in your make-up bag.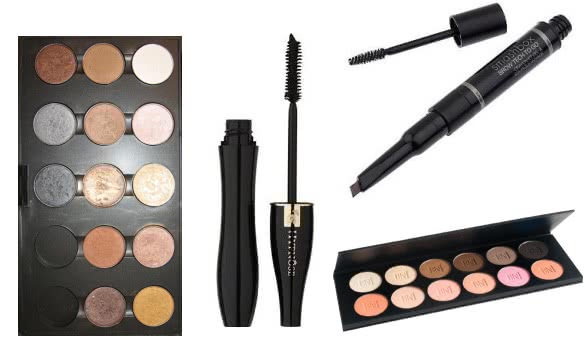 liquid foundation
concealer
loose powder
eyebrow pencil
eyeliner or eye pencil
eye shadow (dark, medium and light in the chosen color)
mascara
highlighter
false eyelashes (optional)
Kim loves Lancôme Hypnôse and L'Oréal Voluminous mascaras, MAC and Ben Nye eye shadows, Ardelle faux eyelashes and Smashbox Brow Tech To Go.
Go for quality products that you are familiar with, because you will be wearing A LOT of makeup on your eyes!
Just a couple of smiles or a sneeze and your make-up will be running down your face in no time, if you don't pick long-lasting products.
The foundation is very important, since it will determine how long the rest of it will stay on your face. The smoky eye requires a lot of eye shadow and pencil/liner, to really make the eyes stand out in your face. What's cool about it is the fact that, while it does look better on dark eyes such as Kim K's, it will also work with blue or green eyes.
The prepping process is the same for all the tutorials. Cleanse, and then apply moisturizer to your whole face. After a couple of minutes, start applying the foundation with a make-up sponge over your whole face, lids included. Cover the area under your eyes with a light concealer, and set all of it with loose powder.
Kim K. also has pretty strong eyebrows, so make your arc more pronounced by drawing in your eyebrows. Apply highlighter across your cheekbones with a wide brush.
Now, for the eyes! Here Kim and her make-up artist show us a smoky eye look in purple and pink, ideal if you don't want to go all out and do it in black.
Apply a light beige or pink shadow across your lid. Taking a dark blue shadow, start on the outside of your lid and work your way towards the inner part, coloring the crease. Black eyeliner goes next – line your whole eye on the inside, near the tear ducts.
Be careful, this might bring a few tears out!
Then line the area under your lower lashes. Don't worry if it smudges, and use a Q-tip to soften the line.
Highlight the inner corner of your eye with a pearly eye shadow, and line your upper lashes with a black shade, going up from the corner just a little bit. Blend it into the crease.
Finish the look with coats of black mascara, and you can also wear falsies for extra glamour! Neutral lips go great with smoky eye, so be generous with peach, rose or beige gloss.
A tip from Kim's make-up artist – use black eye shadow instead of liner whenever you can, because the heat of your body won't affect it as much! If you don't feel confident enough with a brush, liner is fine; it will just require touch-ups during your night.
This look is in a more neutral palette, but you can use the same steps with dark brown or black, or maybe try out some colors outside your comfort zone!
This tutorial is super simple and shown on Kim herself, so you know that you will be getting that certified Hollywood look.
Do you have blue eyes? Here's a smokey eye tutorial for you.
Cover photo: airnation.net