Want to show your boyfriend your love him by cooking him a dinner? You don't need to have big cooking skills! Here's how to plan a romantic dinner at home.
There's something to be said for a super casual night in with your one true love. Sure, sometimes it's fun to get all dressed up and go out to a fancy Italian restaurant so you can stare across a white table-clothed table at your lovely boyfriend as you drink red wine and slurp pasta.
But let's face it, those evenings are few and far between and they can be super expensive… and sometimes the food is not that great.
Why not host your boyfriend for a date night in? You might be super nervous about this since you might be the furthest thing from a domestic goddess that there is.
But there's no reason to fear this. Here's how to plan a romantic dinner at home.
1) Make your boyfriend's favorite food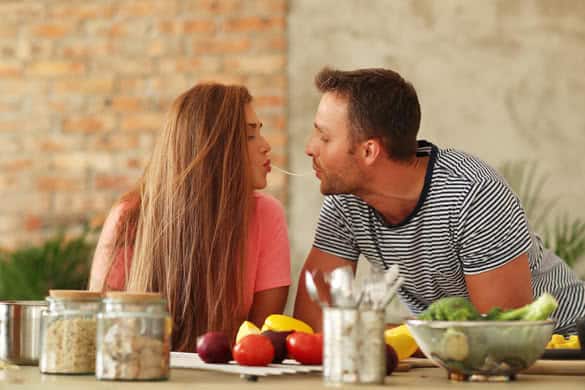 Does your guy love pizza? Spaghetti? Chicken pot pie? Think about what his favorite food is and what he loves to eat the most, and make sure that's what you plan the menu around.
After all, while this evening is about hanging out together and it's not all about the food, let's be real here: it really is about the food for the most part.
For the longest time, people have said that the way to a man's heart is through his stomach, and whether or not you believe doesn't really matter that much.
The truth is that guys love to eat… and they love to eat a lot. If you make your BF's favorite meal, he's going to remember this evening forever, and he's going to really appreciate that you took the time to do something so nice for him. It will go over super well.
2) Take a few short-cuts
Some people are totally comfortable in the kitchen… and others? Not so much. If you're more of a take-out pizza kind of girl than someone who cooks up a storm on a regular basis, then don't worry. You can still figure out how to plan a romantic dinner at home.
In fact, you can make your boyfriend think that you're a hero in the kitchen. He will never know the difference. Don't think so? Consider this: you can take a few short-cuts.
As long as you're smart about it and don't make it super obvious that you didn't do everything yourself, you can still pull off a super romantic and stellar evening.
If you're making chicken pot pie, for example, you could use store-bought or frozen crust and make the chicken and the filling. He will seriously never be able to tell, so don't feel guilty for wanting to make that dough from scratch.
Not everyone is Martha Stewart. You can also buy a bagged, pre-washed salad, make a quick salad dressing with balsamic dressing and olive oil and some honey, and buy some good quality bread from a local bakery. Perfection.
3) Make a unique cocktail
Your boyfriend may be more of a beer-loving dude than a cocktail fan, like most guys, but that doesn't mean that you can't get creative and have some fun.
Choose a classic cocktail or something that you love and then riff on it. Add some fruit or herbs or swap honey or maple syrup for a simple syrup made of white sugar.
Your boyfriend will definitely love that you got in touch with your creative side and he will appreciate that you're showing how much you love him.
This might even become a weekend ritual for you guys and maybe you will always make your own cocktails. Sounds super fun, right?
4) Set the mood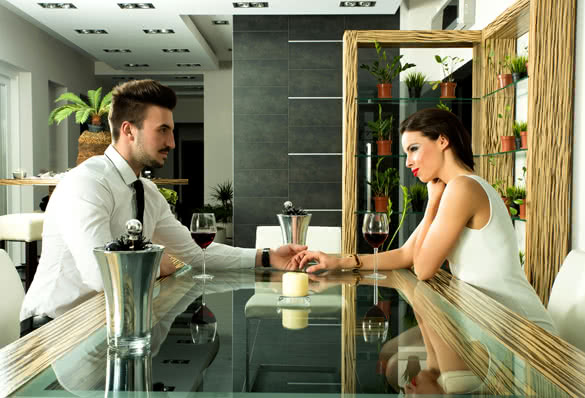 You want a super sweet and romantic mood, so if you're wondering how to plan a romantic dinner at home, then make sure that you're thinking about the setting.
Play some classic musical or something a bit more melodic and calm than the music that you typically listen to, even if it feels a bit strange at first. Soon you will love listening to something different than what you usually do.
You can also do some mood lighting and not have all the bright lights in your apartment on. You don't have to get super dolled and dressed up if you're not into looking fancy and if your boyfriend is more of a casual dresser.
Don't worry about that. As long as you're not sitting under super bright lights, you should be all good in terms of a romantic mood.
5) Have an activity planned
If you just put dinner on the table, that's okay… but it's not an epic romantic evening, and it might leave your BF wondering what else you have up your sleeve. It's a good idea to have an activity planned.
If your boyfriend is a bit on the nerdier (and adorable) side, then maybe you want to play a board game whether it's something new and trendy or something vintage and from his childhood.
You can also watch a movie if there's something that you've both been wanting to see for a while,
6) Don't forget the sweet stuff
Maybe you love baking and it's something that really relaxes you, or maybe you haven't made a sweet treat since you were a kid making chocolate chip cookies with your mom or grandma.
If you love baking, then embrace it and make something for your boyfriend. You definitely don't want to forget dessert.
Just make sure that it fits with the meal that you made. If you made something super rich, you might not want to make a super dense and moist double chocolate cake with a billion eggs and way too much sugar.
It will be delicious… but a bit too much. You can totally make some simple cookies and serve them with ice cream and strawberries, or you can make a blueberry pie using a store-bought crust. No shame there.
7) Remember the entire point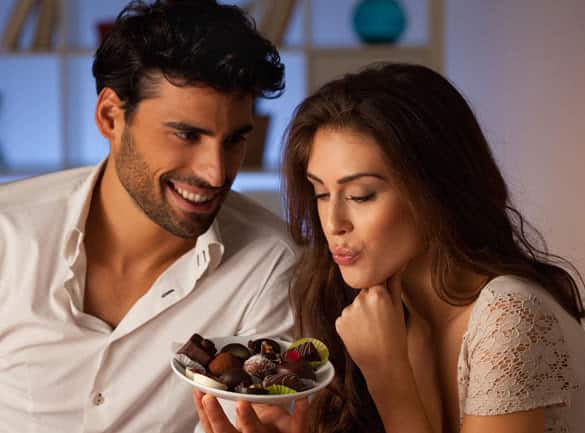 At the end of the day, you're hosting a romantic dinner at home to show your boyfriend how much you care about him. He's a super important part of your life and you really want him to be aware of that (even though hopefully he already knows). A long-term relationship is all about super sweet gestures like these.
Don't let the perfect be the enemy of the good, as the popular saying goes. If you try too hard to make the evening perfect, you might end up having the worst time ever, and that's not what you want.
Calm down, breathe, and remember the point: spending time with the person that you love most in the world. It's always the thought that counts, and when it comes to hosting a romantic dinner at home, that's the secret.
8) Get nostalgic
Why not add something to the evening that has something to do with your very first date? It's great to get nostalgic and sometimes that's what you need to keep the love and romance alive in a long-term relationship.
It's easy to get lost in the everyday details of spending your life with someone, but you should never forget how you guys started.
If you ordered a certain appetizer or dessert on your first date, you can serve that. You can also buy a brand of beer that he ordered or even try to recreate the conversation that you guys had.
Take a trip down memory lane and you will both have so much fun, you will wonder why you don't get nostalgic on a more regular basis.
9) Show him how much you care
If you're wondering how to plan a romantic dinner at home, you have to also get romantic. And that usually involves some sort of touching and getting close to each other.
Sure, good conversation and good food is an important part of a date night, but without physical intimacy, you don't have a great relationship going on.
Cuddle with your boyfriend on the couch after dinner and talk, or watch a movie, or start an old-school make-out session (you know, the kind of make-outs you had when you first started dating… oh, the good old days). Your boyfriend will be thrilled and you will have a great time too.
You may be nervous about cooking for your boyfriend or making sure that everyone goes off without a hitch.
But if you follow these 9 steps, your date night is sure to be a total and complete success. Who knows? You just might want to plan a romantic dinner at home every single weekend.
Have you ever cooked dinner for your boyfriend? Do you prefer to stay in or go out to a fancy restaurant? Share your thoughts with us in the comments below!