So, you've met this guy and he's fun, handsome and married! Here's how to spot the signs a married man is attracted to you and what to do in that situation.
From time to time, married people can find themselves falling for someone else; but in some cases, these feelings can turn into something darker like an affair. But how can you tell whether he is just being friendly or developing strong feelings for you?
Whether it's in the workplace or out socializing with friends, the signs a married man is attracted to you are all the same. It's important to know these hidden signals to stop things before they go too far and head towards messier territory. We've rounded up the red flags you should be looking out for.
Body language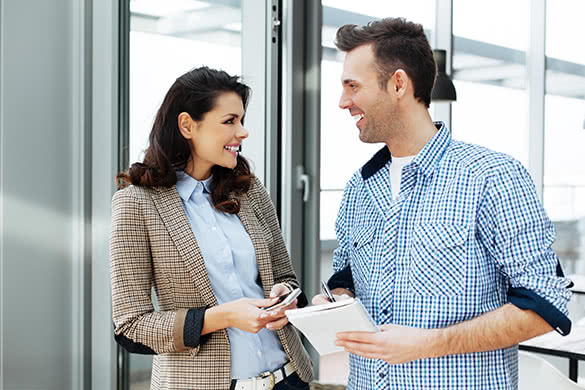 One of the biggest giveaways to tell if a married man is attracted to you is through his body language. He might even be trying to hide his feelings, but usually, someone's body language makes their intentions clear without them even realizing it.
If he is interested in you, he will stand openly, with his chest exposed and his legs slightly open.
It's likely he will subconsciously twist his body in your direction, especially by standing with his shoulders, pelvis, and legs pointing towards you.
If he's sat down, look out for him leaning back in his chair casually with his hands resting behind his head and his elbows sticking out; it's a classic, relaxed stance that is aimed to draw attention to features such as his arms, inviting you in.
Eye contact
A man who makes lots of eye contact for no reason is just another example of behavior, which proves his attraction to you. It is especially important if his gaze lingers in your direction for longer than you would expect the average person to look at someone.
He may try to subtly glance across at you from the other side of the office, but if you catch him looking at you and he looks away suddenly, then it's an obvious giveaway he has feelings for you and is perhaps trying to hide his attraction towards you.
Excessive compliments
Another hidden sign a married man may be attracted to you is if he goes out of his way to compliment you; it could be anything from how you look to something you did at work. But consistently finding a way to compliment you is a clear signal that he thinks of you as more than a work colleague or a friend.
Always near you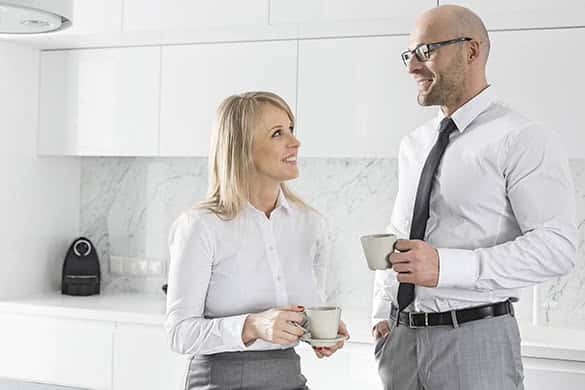 If he does have feelings for you, it's likely he's going to want to find any excuse to spend time with you. You may find he is constantly changing plans, appearing by your desk or lingering at the photocopier when you're there in the hope of spending more time with you. This is just another hidden sign that he might view you as more than a work colleague, and may have developed serious feelings for you.
Initiating conversations
Who is always the first to speak? If the answer's him, and the conversations do not always revolve around work, then this is a hidden sign he has feelings for you.
Ask yourself does he need to be talking to me right now? If the answer's no, then ask yourself why is he? The most plausible answer is that he likes you and therefore wants to speak to you whenever he can, proving he sees you as more than just another colleague.
Constant questions
This may seem odd but one sign a married man is attracted to you is if he asks you excessive questions whenever he's around you. These may be questions, which you think are pointless, and suspect he already knows the answers to but it's simply just another tactic to keep you engaged in conversation for longer than necessary.
You might find him asking you anything and everything, but it's all a ploy to talk to you for as long as possible and find out more about you, like your background, your interests and most importantly, if you are single.
Keen to impress you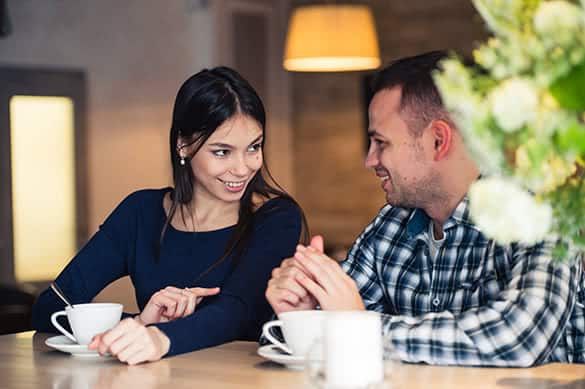 Do you often find him going out of his way to make you laugh? A crucial hidden sign that a married man might be attracted to you is if he's trying to impress you with humor. We all know that humor is a way to connect and build relationships with people, so if you find he's always the first to crack a joke then this may be proof enough that he is attracted to you.
Equally, men acting like the alpha male, and showing off in front of other people to make himself look good is an obvious way to try and impress you. Therefore this gives you added confirmation that it's more likely than not that he does actually like you.
Complaints about his marriage
Perhaps the biggest sign a married man is attracted to you can be seen through the way he talks about his wife. If he brings her up in conversations, only to complain or moan about her, then take this as a massive red flag that he views you as more than a friend.
A married man who has feelings for you will want to look like the victim in order to gain sympathy from you. He might claim she is unloving, unkind or they have grown apart but whatever he says, just ask yourself why is he telling you? It is more than likely that he is looking to develop his relationship with you and dismiss his marriage at the same time by complaining about it.
What to do when you know he likes you
Well firstly, what are your feelings towards him? Do you feel the same way or do you see him as strictly a work colleague or a friend?
If you like him, you have two choices; either tell him your feelings or try and bury them. But remember being the other woman is very dangerous territory. Take a minute to imagine the pain you would feel if you had a husband who behaved in a similar way and imagine the pain and heartbreak his betrayal will cause his wife.
Perhaps you really do have strong feelings for him and want to have a relationship with him; then you should make it clear you aren't interested in being the other woman and don't want to be responsible for breaking up his marriage. It's unlikely he will leave his wife, just ask yourself why he hasn't left her already? Or it may be that he and his wife have had problems for some time now, even before he knew you.
But you will never know unless you have the conversation to find out where you both stand. There's no point starting a relationship that will never go anywhere because you're wasting precious time and energy on it when you could be spending it on someone more worthwhile.
If you don't like him, the most important thing to do is to be upfront. Whilst the flirting might be flattering and a fun way to brighten up your workday, you need to be straightforward in order to avoid leading him on. Let him know you only think of him as a friend, and that you hope to still be friends but there will never be anything more between you.
The conversation is likely to be awkward, and it could create an uncomfortable atmosphere for some time afterward, but it is always better to be honest. Honesty really is the best policy in this case!