Red is the most powerful color, and if you learn which shade fits you the best, and how to wear this amazing color, you can become a style queen. However, you have to be very careful with red, because you want to look sexy and classy, not like a bottle of ketchup. Here are five simple, yet chic ideas on how to wear red, and look fabulous.
Red never goes out of style, so you can brighten up any outfit with it. It goes well with almost every color, and let us not forget, the power of red lipstick, and nail polish. Here are five outfits with different amount of red color. Make sure you look confident, because red is all about making fashion statements.
Dressed To Kill
If you wear a red dress, or a jumpsuit, you need to tone it down with neutrals, or shades of black, or white. With gold details this combination looks expensive, and shoes with studs give the outfit a rock'n'roll note.
This is a great outfit for a friend's wedding, or evening cocktail. It will make other women envy you, while men will look at you like you are the Queen.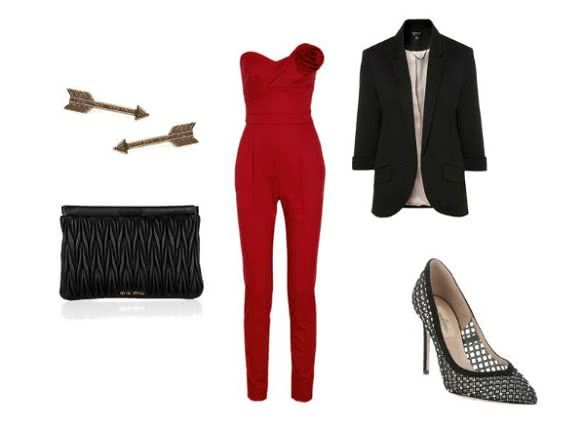 Valentino Strapless wool-blend twill jumpsuit (net-a-porter.com)
Miu Miu Matelassé leather clutch (net-a-porter.com)
House of Harlow 1960 Jewelry Long Accented Arrow Earrings (metroparkusa.com)
Valentino Pointed Court Shoe (farfetch.com)
Ponte Rolled Sleeve Blazer (topshop.com)
Casual Red
Perfect outfit that you can wear pretty much everywhere includes darker shade of red, and lots of neutrals. Wide leg trousers are back, giving us a touch of 70's, so these pants are great, both for summer and following autumn.
Animal printed ballerina flats and sequins on beige top are here to give your look a more interesting twist, while a simple purse and blazer balance everything out, so you don't look overdone.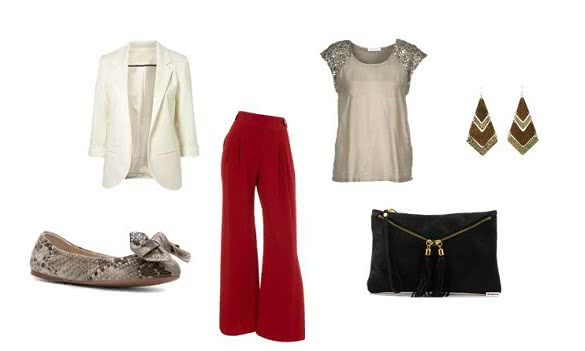 Tuscany Leather Audrey Clutch Leather Handbag (tomsailor.it)
Wood Hammered Metal Earrings (evanity.com)
Selected Femme MALO (zalando.co.uk)
Red Trousers (dorothyperkins.com)
Prada Python Print Ballet Flat Beige Snake (dsw.com)
White Hip length Ponte Blazer with Rolled Sleeves Suit (sheinside.com)
A Touch of Red
With these killer heels you can wear even the simplest combinations. Try a dotted dress, and add red on your ears. You may spice it up with a touch of gold and red nails. It is simple and very chic, perfect for a date, or a night out.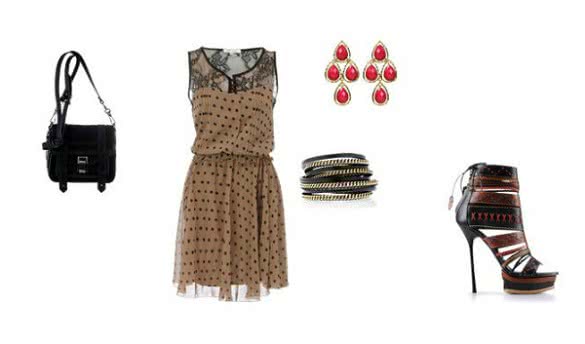 Polka Dot dress (dorothyperkins.com)
Proenza Schouler Ps1 Pouch Suede (proenzaschouler.com)
Women's Sandal (dsquared2.com)
LK DESIGNS Chain Black Wrap Around Bracelet (pret-a-beaute.com)
Sagaponack Earrings (amritasingh.com)
Block It
Green and red are the best contrast you can find. Every piece of this outfit is a statement piece, but the trick is to use the right fabrics and shapes. Romantic, strappy sandals, a silk dress and a touch of aqua on your red earrings make this outfit feminine and super sexy.
If you are doing color-blocking, do it in a lady-like style.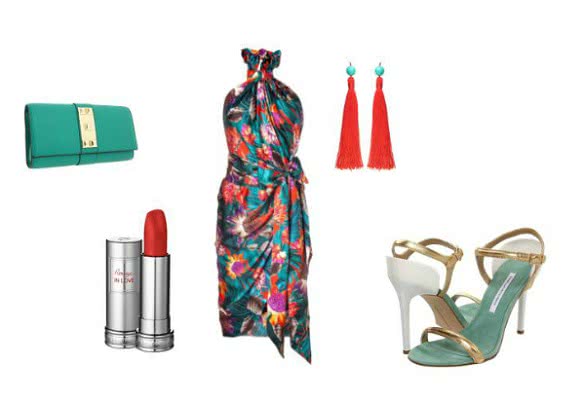 Diane Von Furstenberg Rehani (couture.zappos.com)
Red Tassle Earrings (myflashtrash.com)
Salvatore Ferragamo Multicolor Floral Print Wrap Dress (stylebop.com)
Lancôme Rouge In Love (saksfifthavenue.com)
Vince Camuto Louise Clutch (zappos.com)
Little Red Shoes
Red pumps with a matching bag are always a great investment. Try wearing it with mint, a color that we all learned to love this season, and spice it up with small, yet extravagant pieces of jewelry.
Since these heels are not too high, you can wear this outfit during the day, for lunch or a cocktail party near the beach. Even with the bright red shoes and bag, the whole outfit is rather gentle and sophisticated.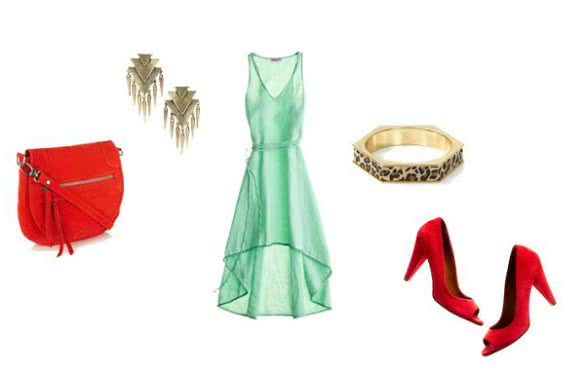 Rosario Linen Cascade Dress (calypsostbarth.com)
Belle Noel 14kt Plated Leopard Hexagon Bangle (bloomingdales.com)
The Peep-Toe Film Noir Pump (madewell.com)
Arrows and Spike Earrings (topshop.com)
Leather Cross Body Bag (oasis-stores.com)
Cover photo: https://www.tumblr.com/