Wide leg jeans are much more versatile than skinny jeans, but at the same time they require much more attention to details. Wide leg and flare jeans are easy to dress up, with a great vintage feel to it.
Unlike skinny and boyfriend jeans, wide leg jeans can flatter any figure, if you find a perfectly fitted pair, especially around the bottom area. Once you found your perfect pair of these jeans, you just have to know what to wear them with in order to look super stylish and trendy.
When you wear a pair of wide leg jeans, you can choose to tuck in your shirt and accessorize the outfit with a belt, or use tops that are not too long. Wide leg jeans are great for any body type, for tall and petite women and all you need to worry about is keeping the hems from fraying.
Since we established how great wide leg jeans are, it is time to pay more attention to choice of shoes. Considering that these jeans represent the spirit of 60's and 70's, some choices are rather obvious. But some might surprise you, so feel free to comment in the section bellow, after you are finished checking out eight selected outfits.
A Nice Pair of Wedges
This outfit is a receipt for a quick chic. Wear a pair of flair jeans with wedge sandals, a chiffon blouse in your favorite color and accessorize it with a floral printed belt and a headband. Wear this outfit on a date, for a dinner with friends or while you are sightseeing a romantic city that you've never seen before. The whole outfit is quite feminine and delicate and it is made for late summer days, especially with that nostalgic feeling it has.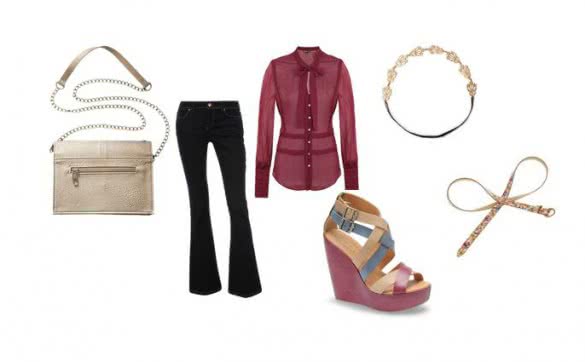 Cross body Bag (target.com)
Elizabeth and James Blouse (harveynichols.com)
Jeans (dorothyperkins.com)
Headband (boticca.com)
Belt (debenhams.com)
Kork-Ease Wedge Sandals (nordstrom.com)
Spirit of the 70's
Clogs are still some what popular, thanks to last year's Chanel fashion show. They are a perfect fit for wide leg jeans, because these two items came straight out of 70's. With a pair of oversized sunglasses, printed loose fit top and a small fringed purse, you will look like the real boho queen. This look is both casual and elegant in a non conventional way, that you can wear it pretty much anywhere you like. You can accessorize it with a pair of feather earrings, especially if you are off to a party.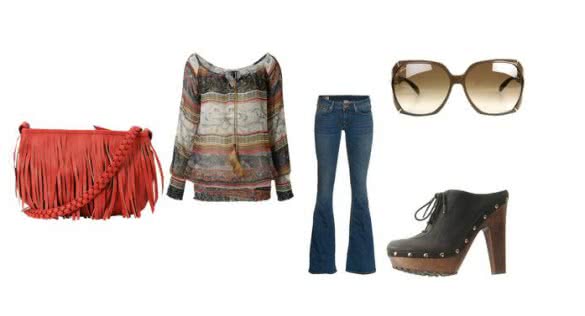 True Religion Jeans (jades24.com)
Izabel London Top (houseoffraser.co.uk)
Vans Cross-Body Purse (zumiez.com)
Sam Edelman Clogs (yoox.com)
Gucci Sunglasses (psyche.co.uk)
Good, Old Loafers
Add some masculine sensibility with a pair of loafers, with a low, chunky heel. Wear them with flair jeans, structured blazer and a romantic and feminine silk blouse, with ruffles. This is an outstanding outfit, which you can wear to work or to some formal launch. Burgundy is one of the hottest colors for fall 2012, especially if you match it with navy. The whole look is however a real classic, so if you are a fan of flair jeans, you simply must invest in a pair of penny inspired loafers or moccasins.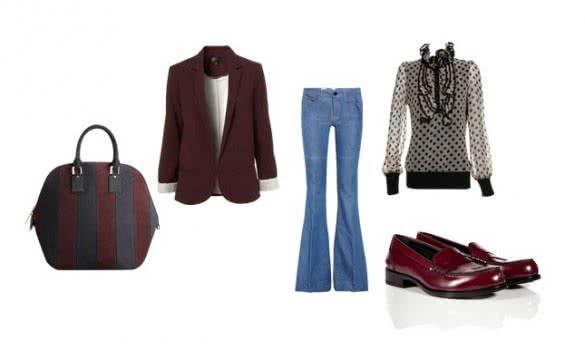 Jil Sander Loafers (stylebop.com)
Burberry Orchard Bag (burberry.com)
Blazer (topshop.com)
M Missoni Jeans (theoutnet.com)
Silk Shirt (sheinside.com)
Night Fever
If you are going to some fancy event, you can still wear flair jeans and shine. Wear the jeans with a sequined top and an interesting pair of sandals with high heels and details in gold. For an additional glamour, wear hot red lipstick and matching nail polish and pack up essentials in a clutch. Just like red, gold and dark denim are a match made in heaven.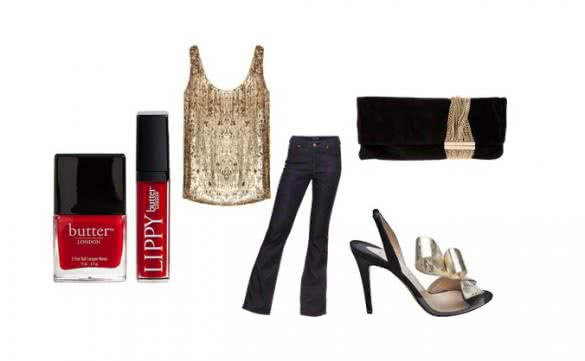 Jimmy Choo Chandra Bag (farfetch.com)
Nicholas Kirkwood Heel (farfetch.com)
Armani Jeans (julesb.co.uk)
Holkham Top (cricket-fashion.com)
Butter London Lip Gloss and Nail Polish (nordstrom.com)
Summertime
For a casual and relaxed look, you can wear thong flat sandals or gladiators. With a beach tote and small, but precious details in silver, you will get a combination that you can wear both during summer days and nights. This is an outfit that is as simple as it is elegant, inspired by the timeless navy style. When it comes to colors, choose whites, reds, shades of blue and tan in order to give away a charismatic summer vibe.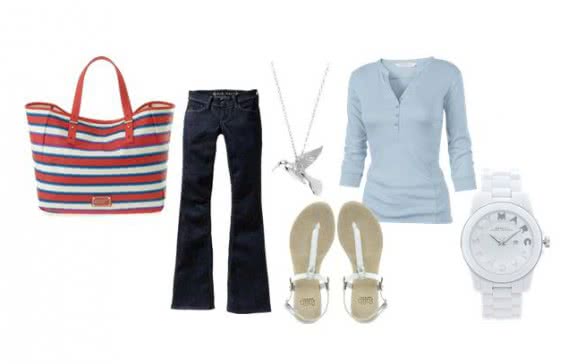 Marc by Marc Jacobs Beach Tote (marcjacobs.com)
Flare Jeans (oldnavy.gap.com)
Thong Flat Sandals (asos.com)
Hatti Henley T-Shirt (fatface.com)
Marc by Marc Jacobs Watch (julesb.co.uk)
Necklace (econe.co.uk)
Pumps Forever
Even though wide leg jeans look better with a pair of peep toe pumps, it doesn't mean that you cannot wear them with a classic pair of rounded pumps. It is best to avoid pointy shoes, though in some cases they might work. But, if you have any doubts, go for clog like and rounded pair of shoes.
Another item that will look great with wide leg jeans is a cropped jacket or blazer. Wear it with a loose fit top and make sure that the jacket or blazers are flattering to your figure. It's all about creating balance, so since your jeans are wider, you need to have a tighter top or outwear piece. Don't forget that darker denim looks amazing with a pair of hot red heels.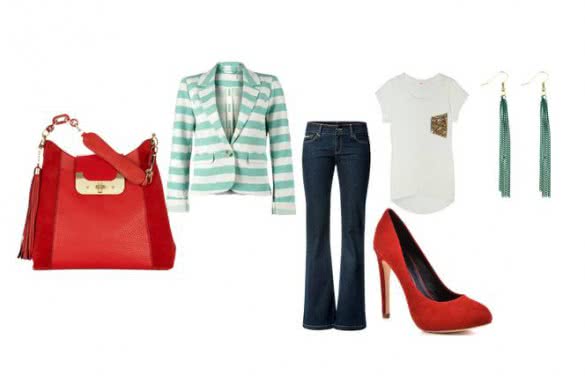 Jeans (mango.com)
Sass & Bide T-shirt (glassworks-studios.com)
Diane Von Furstenberg Hobo Bag (dvf.com)
Long Tassel Earrings (romwe.com)
Dolce Vita Rosetta (heels.com)
Dafne Blazer (bestseller.com)
Flats are the Answer
Ballet flats or oxfords, the choice is yours, because you cannot go wrong with wide leg jeans and flats, especially if you are tall woman. Wear them with a plain top for casual look, or dress up with a cashmere sweater, collar necklace and a matching handbag. Lanvin's flats might be a bit pricey, but they are one of the best out there. Not only they are simple and chic, but they are also versatile and made of the finest quality leather. Wear this outfit for a job interview or to the movies, it looks smart and polished, yet not overdone.
Chanel Lip Gloss (nordstrom.com)
Lanvin Flats (net-a-porter.com)
Joe's Jeans Jeans (farfetch.com)
Pringle of Scotland Sweater (thecorner.com)
Lanvin Bag (kirnazabete.com)
Margot Collar (boticca.com)
Loafers with a Twist
Since the fall is coming, these are the shows that you should invest in. Loafers are timeless, but with a chunky heel they will look more feminine and versatile. Choose a pair in tan or black, because these colors are easy to combine and will look great with your pair of wide leg jeans.
If you think this combination is a bit dark, wear a well fitted printed shirt and a nice, bright cardigan. The ones from this outfit are not pricey, yet they are stylish enough to wear with midi skirts and dresses, both during days and evenings.
For a more womanly look, wear gold stud earrings and red lipstick. A tiny belt in tan or brown will make this outfit look even more flattering, and in case you want to turn this daily outfit into evening look, wear a suede clutch in these colors.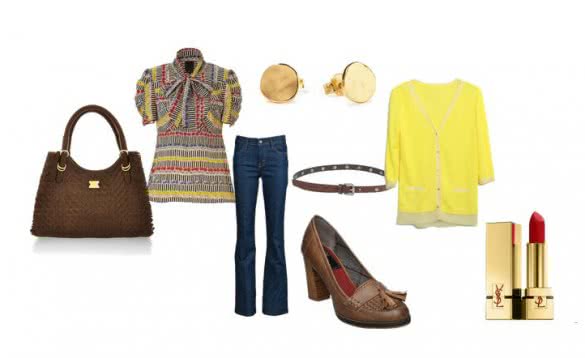 Modalu Bag (pret-a-beaute.com)
Anna Sui Top (stylebop.com)
Levi's Jeans (farfetch.com)
Bertie Benedict Loafers (johnlewis.com)
Belt (patriziapepe.com)
Gorjana Chloe Stud Earrings (piperlime.gap.com)
Rouge (yslbeautyus.com)
Cardigan (romwe.com)
Cover photo: www.chickadvisor.com