Pumpkin season is upon us, and with us the tradition of carving pumpkins for Halloween and seasonal decorations. Here are exciting creative ideas for carving pumpkins.
Halloween is fun. You can fill your home with nature-inspired decorations like cool pumpkin carvings. Cook up a witch's cauldron of fab fall foods in the kitchen.
One of the best aspects of Halloween is the way it allows us to be creative. You can go wild with creative costume ideas that will knock skeletons off their feet. You can turn your home into a spook house that will give neighborhood kids weeks of nightmares. And you can apply your creative skills to transforming the humble pumpkin into beautiful, scary seasonal decorations. There's nothing like cool pumpkin carvings for dressing up your holiday table.
Why We Carve Pumpkins
It's fun to carve pumpkins with kids, and it's still lots of fun if you don't have kids. It's an excuse to set your inner artist free. If your inner artist lacks inspiration, check out the photos in this article. It's exciting to play with different designs and see them come into spooky reality. There are some pretty awesome designs out there already. If you've got a competitive streak, go for it because you might just turn out to be the new pumpkin Picasso.
I'm always looking for a creative outlet. That's because it's like medication for me. Creating something new and beautiful helps me relax and I always look forward to pumpkin season because it's a great excuse to explore creative options.
Pumpkin-carving can be a social event too, it's great moment to Invite some friends. Make hot apple cider and seasonal munchies. and enjoy your time together. You can help each other come up with ideas and refine them as each person creates her own pumpkin masterpiece. You can even offer a prize for the best design. Competition can be a potent fuel for creativity.
Or maybe you can use pumpkin-carving as the central activity of a date with your guy. Meet up for an evening of creativity, put on some music, and get carving, or make it an all-day date: Start in the morning with a trip to the pumpkin patch, stop for a nice lunch, and spend the afternoon carving. Have a delicious, cozy fall dinner, and…well, you can end the date however you like. So, now that you've decided to start carving, draw your design on paper first, and then draw it on the pumpkin before you start cutting.
In addition to the ideas we've gathered here, look for great pumpkin designs at Disney, Southern Living, Pumpkin Pile and Martha Stewart.
We've gathered 15 super ideas to inspire you as you create pumpkin art this year. There are even some options that don't require cutting!
Be sure to send us photos of your masterpiece when you finish carving.
#1 Of Bats and Cats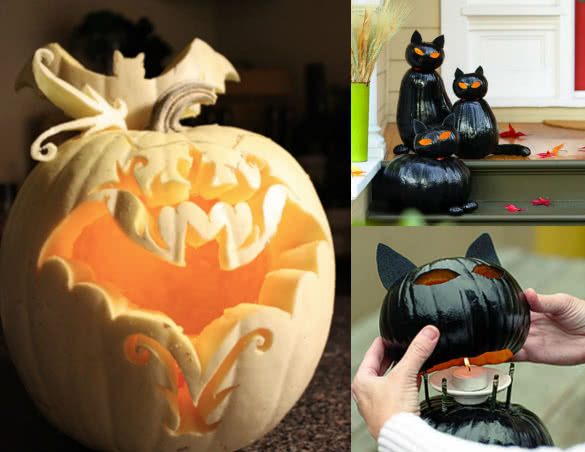 Halloween is the season of bats and black cats, so why not carve your pumpkins accordingly? These pumpkin designs are extremely creative and fun.
You will need a bit of black paint for the decoration of the black cats, but the carving itself is very easy. All you need to cut out is the eyes, which then double as ears. So the extra effort required to do some painting isn't that big a deal.
The bat is more elaborate, admittedly. But isn't it gorgeous? Do you like these cool pumpkin carvings?
#2 A Few Fairy Lights Go a Long Way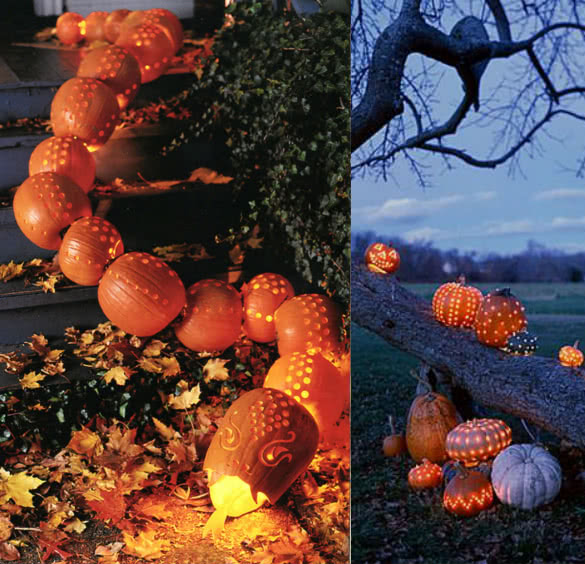 Martha Stewart knows a thing or two about Halloween decorations. These ideas from her Pinterest page are nothing short of brilliant. The do-it-yourself pumpkin patterns here are very simple. Binding small pumpkins in series makes a colorful garland that looks a little like a scary snake.
#3 Never Let a Vampire Through the Door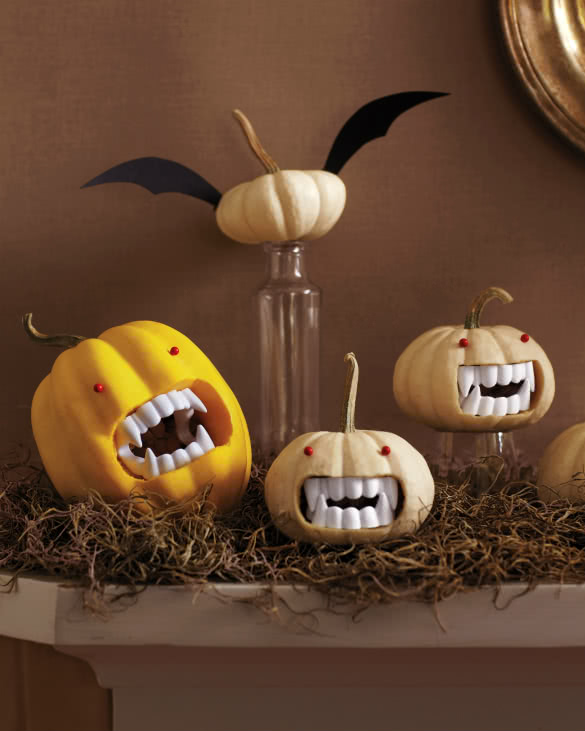 You know the saying – never let a vampire in the door (and always have plenty of garlic, Christian crosses, holy water and silver spears lying about).,. But we'd let these vampire-inspired pumpkins into the house anytime. They're gorgeous, don't you think?
#4 Skeletons Rising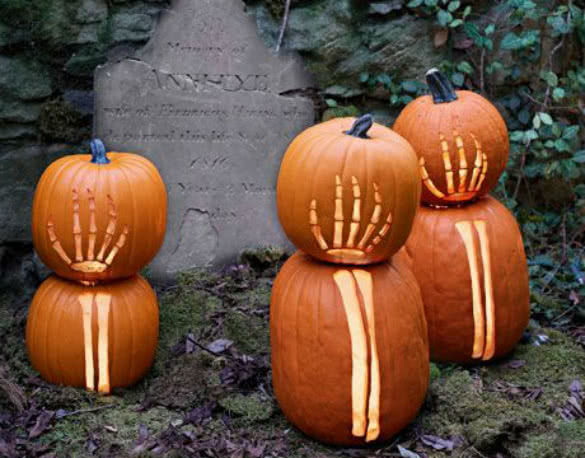 These skeletons look like they are crawling straight out of the grave! This design is simple but extremely scary, especially when you encounter the pumpkin unexpectedly at night. You can also increase the scary effect by painting the pumpkins black so all you see is the skeleton's hand.
#5 Extreme Pumpkin Carvings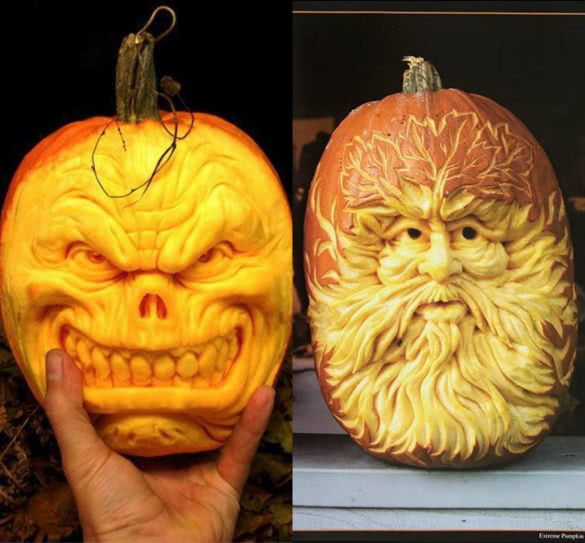 Can a pumpkin be transformed into fine art? In can indeed, in the hands of a true artist. These "extreme" pumpkins are nothing short of art and they require a bit more skill than most of the projects shown here.. They're suitable for accomplished artists who are just getting started with pumpkin art. But if you've got the time and the inspiration, you too can create awesome pumpkins like these.
#6 Cinderella's Enchanted Pumpkin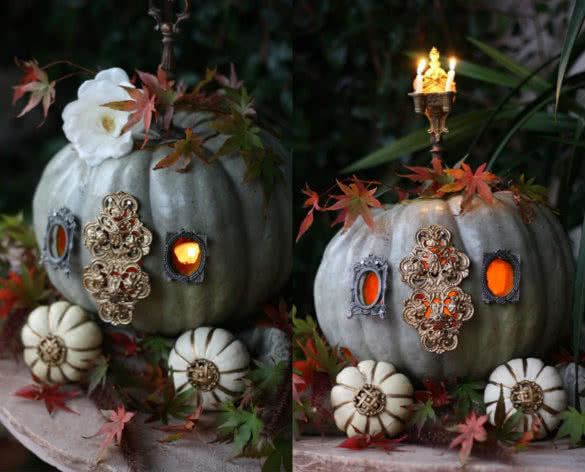 If you are throwing a Halloween party with a fairy-tale theme, or if you have young children, this is the perfect project for you. It's not difficult, as it requires only a few bits and bob and you can also carve castles and other fairy tale-inspired designs. Create a fairy-tale wonderland…made entirely of pumpkins!
#7 For the Fall Party
Pumpkins aren't just for Halloween. Autumn entertaining calls for seasonal decorations, and there's nothing like pumpkins and gourds for setting the tone. These are nice pumpkins to use as party decorations, or just to have around the house. Leaf and flower carvings are simple but very effective especially when made from different sizes and colors of pumpkins. Aren't these cool pumpkin carvings?
#8 The Pumpkin Within the Pumpkin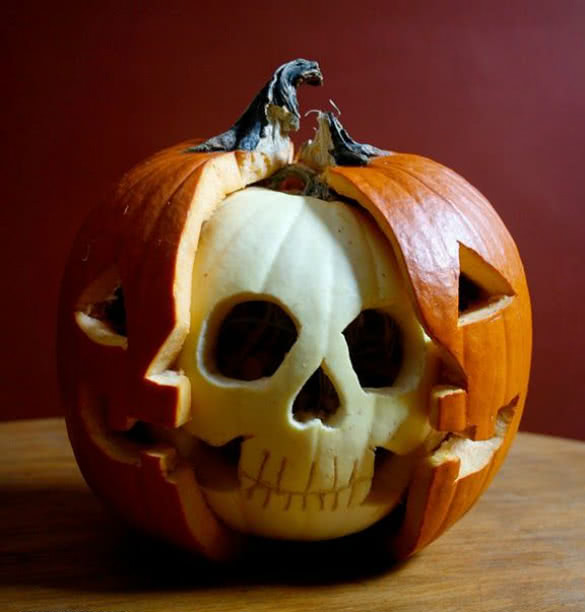 This remarkable design takes a bit of work. You will need a white pumpkin for the skull and a bigger orange one to put it inside. The result is an extremely impressive carving! You'll need time, skill, and patience to craft this design. Set aside a full afternoon so you don't make mistakes while rushing to finish. If you're short on time, split the job with a partner and carve one pumpkin each.
#9 Classic Pumpkin Faces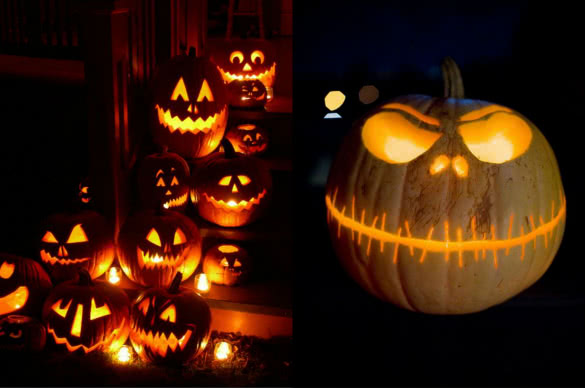 Jack-o'-lanterns are a holiday classic. These traditional carvings are simple to do, but they look great. These are good designs to create with kids. Let your kids draw their own face designs and transfer them onto the pumpkin skins. Each jack-o'-lantern can have a personality of its own.
#10 Pumpkin Candle Holders
If you lack the time or energy to implement an ambitious pumpkin design, you can still get into the spirit of the season. Turn small pumpkins into candle holders. It's simple and it looks fabulous. And it's new way to explore the art of cool pumpkin carvings.
#11 The Un-Carved Pumpkin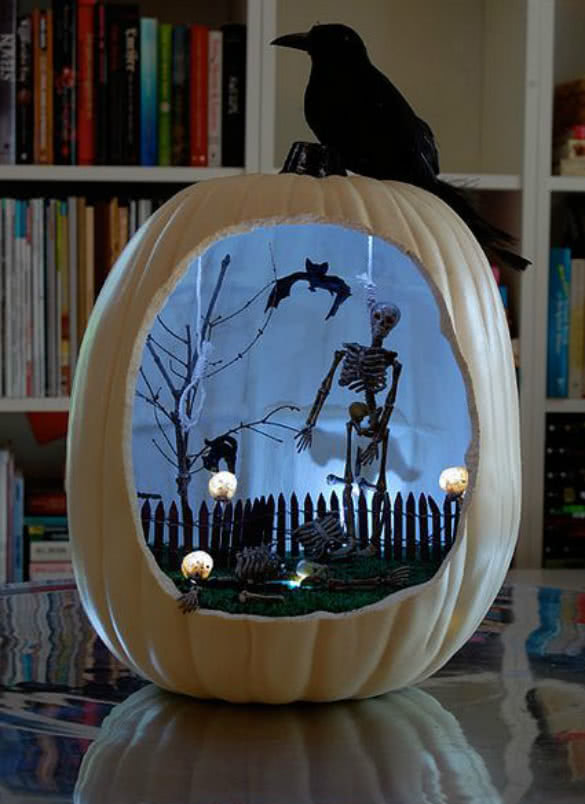 This design is spectacular – and it's not even carved!
It's easy: Cut a large hole in the front of a pumpkin and place paper, fabric, or clay figures inside. The sky's the limit here for both materials and subjects.
You could also make the opening of the pumpkin look like a big window and put silhouettes of skeletons, people or ghosts inside.
You can't light a design like this with candles, of course, so just put some fairy lights inside. Place them on the bottom surface of the pumpkin, hidden by the lower edge of the hole you've carved, or you could place them inside skulls or ghosts so it looks as if they are glowing.
#12 Haunted House Pumpkins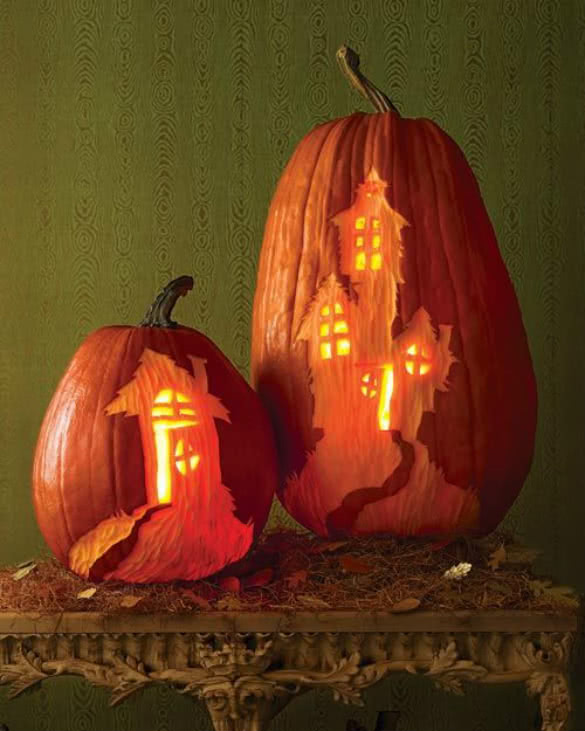 These designs are fairly easy to make and perfect when it comes to the Halloween theme of haunted houses. Place them on a bed of fallen leaves for a nice Autumn touch. You could take this further by turning the bed of leaves into a garden or graveyard, complete with black crows and ghosts. How far you go is up to your imagination (and how much time you spend on Pinterest beforehand, sourcing ideas and inspiration).
#13 Beautiful Patterned Pumpkins
Hate carving? No problem. You can use spray paint instead. Take some laced stockings, wrap them around your pumpkin and spray to create beautiful patterns. We stole this idea from Martha Stewart, who else?
#14 Never Underestimate the Butternut Squash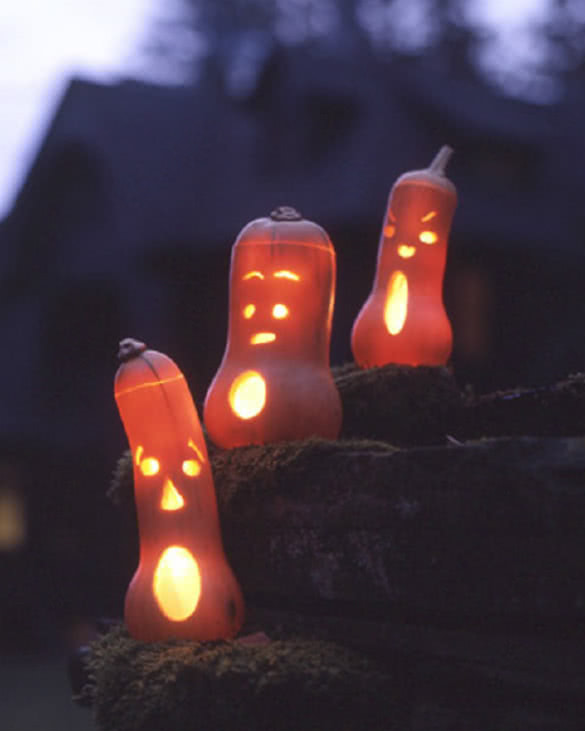 These ghoulish butternut squash designs are pretty amazing! Turns out a butternut squash has a perfect ghost shape. The slight variations among different squashes brings out the character of the ghosts, making even simple carvings like these look super cool.
#15 The Pumpkin Man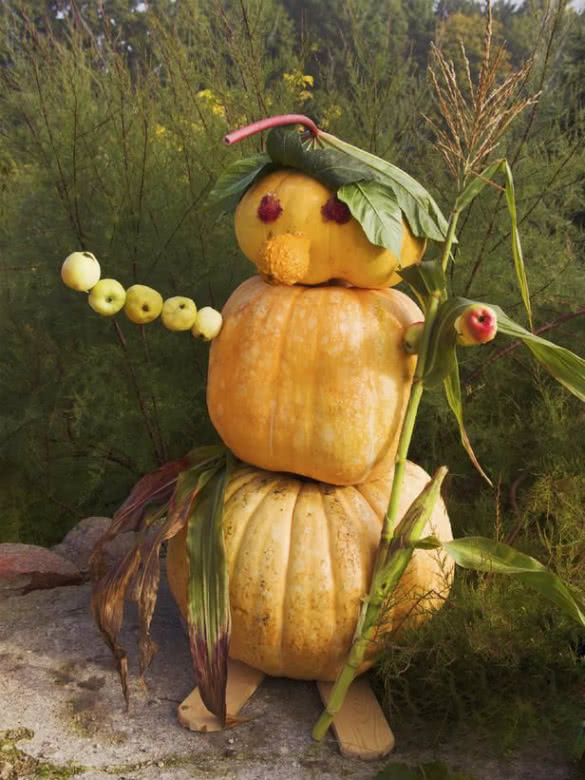 If this li'l man isn't adorable, I don't know what is. This pumpkin sculpture (for lack of better term) is very charming and really sums up the feeling of fall, using pumpkins, chard and apples in the design. As a symbol of the harvest it works as a welcome to invite guests into your home. Perfect if you are aiming for a cozy fall party as opposed to the ghosts and ghouls of Halloween.
Make Your Own Cool Pumpkin Carvings
Where pumpkin-carving is concerned it's best to stick to one overall theme. Some designs are best for harvest-season entertaining, while skeletons, ghouls and vampires are perfect for Halloween. Aside from that, the sky's the limit.
The crazy, charming and outrageous designs we have shared here are just the tip of the pumpkin iceberg. Use these ideas to fuel your own creativity and make your own designs.
Enjoy your carving experience and be sure to send us photos when you're done. If you find some incredible designs on the net, please share them in the comments.
Remember also, that here are so many different things you can do with pumpkin. When you are done with your cool carvings, try some of these delicious pumpkin dishes we recommend. Of course, If you still don't have your costume for Halloween ready here are our 10 easy, last minute costumes you might want to have . Enjoy!