The wedding day is the greatest day in every girl's life. However, we tend to forget one small fact - it's the most important day in the guy's life too. He also deserves something special, right?
Well, you'll have all the attention, the beautiful dress and the perfect hair. Most likely, you will choose how everything will look like, as well. Give something in return – prepare a couple of cool wedding surprises for your new husband. I'm giving you my top 5.
1. Embrace Tradition
Although traditional things are usually something lots of people would love to avoid (me being the first one, don't get me wrong), there are still some things that are worth your attention. One of them is closely related to your wedding day.
You know how they say that it is bad luck for your man to see you before the wedding? Well, I kind of think that this is really cool, no matter if you're superstitious or not. Do not allow your new husband to see you in your wedding dress before the ceremony. Yes, you might think that it's stupid – I mean he has probably seen you with and without all kinds of clothes, but trust me – there's something to it.
The moment when he sees the girl of his dreams, walking down the aisle and ready to say "I do" for the rest of her life is really a special moment. It will be even more special if it's the first time he will see you wearing the wedding dress. Keeping a little mystery until the very end, is always welcome.
2. A Surprise During the Ceremony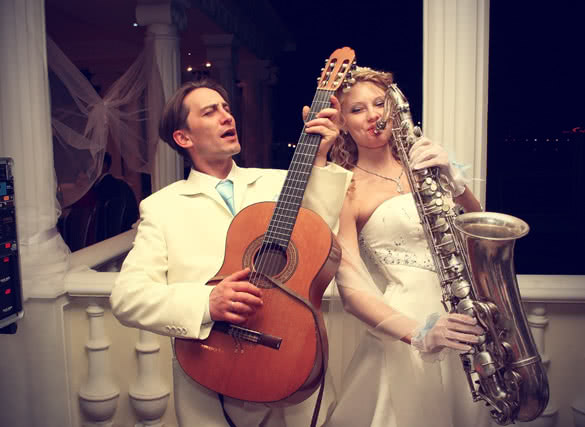 This has become one of my favorite wedding stories. My friend stood up at her wedding, took the microphone and sang a song dedicated to her new husband. The guy was more than just surprised.
So, why don't you do the same thing on your wedding day? You could maybe even announce your first dance by singing "your" song to your man. You need to be a bit brave, and yes – you need to have a good voice. Embarrassing yourself will still be a surprise, but not a very pleasant one. Don't worry, if you can't sing – there's something else you can do.
Choosing a poem and reciting it on your wedding day could be really cool. However, if you're not into this, writing your own vows will do the trick. Don't try to make them sound pompous; just write down all those little things you love about your husband. Speak truly and from your heart and make sure that your guy hears the vows for the first time on your wedding day.
Another cool surprise to try is slipping your husband with a note saying "meet me in the back room." No, I'm not implying that you should have sex on your ceremony (even though I'm not saying it's forbidden), just run away from all the crowd and dedicate ten minutes to each other. Have two glasses of champagne and maybe some food prepared just for the two of you.
3. Plan Something Nice
One of the coolest wedding surprises for your new husband would be to plan something really nice for him. Planning your honeymoon as a complete surprise is of course the first thing that comes up in your mind, right?
What do you think about a non-conventional honeymoon? If you're both adventurous, you could for example book a hot air balloon flight or bungee jumping in pairs. For a really big surprise, accompany your husband to a game of his favorite team as a wedding present. He will love that!
4. The Amazing Wedding Night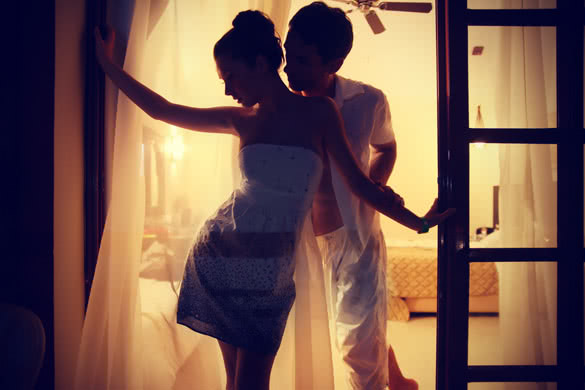 All the not-married couples say that there is nothing special about the wedding night. All the married couples say that there is.
The wedding night is in most cases not what it used to be. Really a small number of us have sex for the first time on their wedding night. But what has stayed the same, and what will never change is that you will have your first sex like husband and wife.
It doesn't sound that special, does it, but it looks like there is something really big about it. And if you put a little effort, you can make it even better. Buying new lingerie for your wedding night is implied; the color and style are up to you. And since we're talking about surprises here – do something to surprise your new husband. It can be anything – from simple champagne and strawberries to naughty sex toys. Whatever is your cup of tea. Make it a night to remember!
5. What if You're Tired?
Ok, let's get serious here. The ceremony that lasted the whole day hasn't really left much strength in your body. If you still can have mind blowing sex, well – good for you, but most couples would probably be too tired for that. That doesn't mean your wedding night can't be amazing.
This is a man you want to spend the rest of your life that's standing in front of you. So, make him a cocktail or pour him a glass of champagne and tell him that. Tell him that you want every day of your life together to be as happy as that day was. Gentle cuddling and kissing could even be better than sex, so engage in it. In fact, engage in whatever you feel like – be it sex, kissing, talking or even simply sleeping. It's your wedding night – it will be wonderful anyhow.
When you look at these five things you might say that there is really nothing special about them. But you know what? Little surprises are sometimes the best ones. Not all of us can afford buying a sports car as a wedding gift for our husband, but we all can do these five things. And they will make that day even more special. Just let your imagination flow and I'm sure you'll come up with a great wedding surprise for your new husband.
If you decide to try them, please share your experience in comments. I'd love to hear how your husband liked it.